Abstract
Background
Increasing healthcare expenditures is a major concern to insurers and governments, but also to patients who must pay a greater proportion of their healthcare costs. The objective of this study was to identify validated tools for measuring the costs of a health condition for patients as well as the different elements to be considered when measuring costs from the patient's perspective.
Methods
A systematic literature review was conducted from 1984 to December 2020. The search strategy was applied to seven different databases that had been identified prior as pertinent sources. Two authors independently extracted and compiled data. In case of disagreement, arbitration by two other researchers was conducted. The methodological quality of the included articles was evaluated using the COnsensus-based Standards for the selection of health Measurement INstruments (COSMIN) checklist.
Results
Among the 679 retrieved articles, nine met the inclusion criteria. The types of costs evaluated in these studies included direct costs for patients as well as for caregivers, indirect costs, and intangible costs. The development and validation processes used in these articles included a literature search, a discussion with the involved stakeholders, the development of an initial questionnaire, the testing of the questionnaire on a sample of patients, and a critical review. Regarding the psychometric properties of the tool, only five studies tested the reliability and validity of the instrument.
Conclusions
There are very few validated tools available to measure the different health-related costs from a patient perspective. Further research is needed to develop and validate a versatile and generalizable tool using a rigorous methodological process.
Access options
Buy single article
Instant access to the full article PDF.
USD 49.95
Price excludes VAT (USA)
Tax calculation will be finalised during checkout.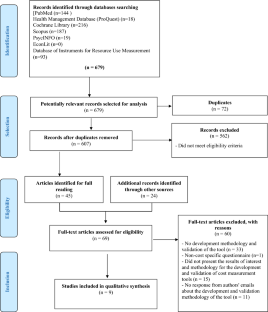 References
Holtz C. Global health care: issues and policies. Jones & Bartlett Publishers; 2013.

Stevens FC, Van Der Zee J. Health system organization models (including targets and goals for health systems). International Encyclopedia of Public Health 2008; 247–56. https://doi.org/10.1016/B978-012373960-5.00309-9.

Globerman S. Select cost sharing in universal health care countries. Fraser Institute; 2016. Fraser Research Bulletin, January. Available at https://www.fraserinstitute.org/sites/default/files/select-cost-sharing-inuniversal-health-care-countries.pdf. Accessed 3 Mar 2021.

Victoor A, Noordman J, Potappel A, Meijers M, Kloek C, de Jong J. Discussing patients' insurance and out-of-pocket expenses during GPs' consultations. BMC Health Serv Res. 2019;19:141.

Drummond M, Towse A. Is it time to reconsider the role of patient co-payments for pharmaceuticals in Europe? Berlin: Springer; 2012.

National Research Council and Institute of Medicine. U.S. health in international perspective: shorter lives, poorer health. Panel on Understanding Cross-National Health Differences Among High-Income Countries. In: Woolf SH, Aron L (eds) Committee on population, division of behavioral and social sciences and education, and board on population health and public health practice, Institute of Medicine. Washington, DC: The National Academies Press; 2013.

Michaela Benzeval LB, Campbell M, Egan M, Theo Lorenc MPAFP. Income and health: opportunities to achieve health equity in Ontario. Toronto: Queen's Printer Ontario; 2016.

Phipps SA. The impact of poverty on health: a scan of research literature. Canadian Institute for Health Information Ottawa; 2003.

Galama TJ, Kapteyn A, Fonseca R, Michaud P-C. Grossman's health threshold and retirement. 2008.

Ruof J, Hülsemann J, Mittendorf T, Handelmann S, Von Der Schulenburg J, Zeidler H, et al. Costs of rheumatoid arthritis in Germany: a micro-costing approach based on healthcare payer's data sources. Ann Rheum Dis. 2003;62:544–9.

Shiroiwa T, Fukuda T, Ikeda S, Shimozuma K. QALY and productivity loss: empirical evidence for "double counting." Value in Health. 2013;16:581–7.

Amelung V, Glied S, Topan A. Health care and the labor market: Learning from the German experience. J Health Polit Policy Law. 2003;28:693–714.

Doherty WJ, Mendenhall TJ. Citizen health care: A model for engaging patients, families, and communities as coproducers of health. Fam Syst Health. 2006;24:251.

Taylor J, Rutherford P. The pursuit of genuine partnerships with patients and family members: The challenge and opportunity for executive leaders. Front Health Serv Manag. 2010;26:3–14.

Mathijssen EG, van Heuckelum M, van Dijk L, Vervloet M, Zonnenberg SM, Vriezekolk JE, et al. A discrete choice experiment on preferences of patients with rheumatoid arthritis regarding disease-modifying antirheumatic drugs: the identification, refinement, and selection of attributes and levels. Patient Prefer Adherence. 2018;12:1537.

Arreskov AB, Graungaard AH, Kristensen MT, Søndergaard J, Davidsen AS. Life goes on… Patient perspectives on having a cancer diagnosis and other comorbid diseases: a qualitative study. Chronic Illn. 2021;17(1):17–28. https://doi.org/10.1177/1742395318815954.

Milovanovic S, Scaldaferri F, Canarecci S, Kheiraoui F, Ciancarella G, De Waure C, et al. Therapy experiences and preferences among patients with anemia: results of a cross-sectional survey among Italian patients with inflammatory bowel disease. Dig Liver Dis. 2017;49:1098–103.

Page MJ, Moher D, Bossuyt PM, Boutron I, Hoffmann TC, Mulrow CD et al. PRISMA 2020 explanation and elaboration: updated guidance and exemplars for reporting systematic reviews BMJ. 2021;372:n160. https://doi.org/10.1136/bmj.n160

Mokkink LB, de Vet HCW, Prinsen CAC, Patrick DL, Alonso J, Bouter LM, Terwee CB. COSMIN Risk of Bias checklist for systematic reviews of Patient-Reported Outcome Measures. Qual Life Res. 2018;27(5):1171–9. https://doi.org/10.1007/s11136-017-1765-4.

Mokkink LB, De Vet HC, Prinsen CA, Patrick DL, Alonso J, Bouter LM, et al. COSMIN risk of bias checklist for systematic reviews of patient-reported outcome measures. Qual Life Res. 2018;27:1171–9.

Prinsen CA, Mokkink LB, Bouter LM, Alonso J, Patrick DL, De Vet HC, et al. COSMIN guideline for systematic reviews of patient-reported outcome measures. Qual Life Res. 2018;27:1147–57.

Mason SJ, Catto JW, Downing A, Bottomley SE, Glaser AW, Wright P. Evaluating patient-reported outcome measures (PROM s) for bladder cancer: a systematic review using the CO nsensus-based Standards for the selection of health Measurement INstruments (COSMIN) checklist. BJU Int. 2018;122:760–73.

Cooper NJ, Mugford M, Symmons DP, Barrett EM, Scott DG. Development of resource-use and expenditure questionnaires for use in rheumatology research. J Rheumatol. 2003;30:2485–91.

Duncan P, Murphy M, Man M-S, Chaplin K, Gaunt D, Salisbury C. Development and validation of the multimorbidity treatment burden questionnaire (MTBQ). BMJ Open. 2018;8:e019413.

Chernyak N, Ernsting C, Icks A. Pre-test of questions on health-related resource use and expenditure, using behaviour coding and cognitive interviewing techniques. BMC Health Serv Res. 2012;12:303.

Longo CJ, Fitch M, Deber RB, Williams AP. Financial and family burden associated with cancer treatment in Ontario, Canada. Support Care Cancer. 2006;14:1077–85.

Mello JDA, Macq J, Van Durme T, Cès S, Spruytte N, Van Audenhove C, et al. The determinants of informal caregivers' burden in the care of frail older persons: a dynamic and role-related perspective. Aging Ment Health. 2017;21:838–43.

Lerner D, Amick BC III, Rogers WH, Malspeis S, Bungay K, Cynn D. The work limitations questionnaire. MedCare. 2001;39(1):72–85.

Fox M, Voordouw J, Mugford M, Cornelisse J, Antonides G, Frewer L. Social and economic costs of food allergies in Europe: development of a questionnaire to measure costs and health utility. Health Serv Res. 2009;44:1662–78.

World Health Organization. The tool to estimate patients' costs. Geneva: World Health Organization; 2008. p. 1–83.

Hülsemann J, Ruof J, Zeidler H, Mittendorf T. Costs in rheumatology: results and lessons learned from the 'Hannover Costing Study.' Rheumatol Int. 2006;26:704–11.

Schweikert B, Hahmann H, Leidl R. Development and first assessment of a questionnaire for health care utilization and costs for cardiac patients. BMC Health Serv Res. 2008;8:187.

Wundes A, Brown T, Bienen EJ, Coleman CI. Contribution of intangible costs to the economic burden of multiple sclerosis. J Med Econ. 2010;13:626–32.

Opoku-Boateng YN, Kretchy IA, Aryeetey GC, Dwomoh D, Decker S, Agyemang SA, et al. Economic cost and quality of life of family caregivers of schizophrenic patients attending psychiatric hospitals in Ghana. BMC Health Serv Res. 2017;17:697.

Kobelt G, Berg J, Lindgren P, Fredrikson S, Jönsson B. Costs and quality of life of patients with multiple sclerosis in Europe. J Neurol Neurosurg Psychiatry. 2006;77:918–26.

Leggett LE, Khadaroo RG, Holroyd-Leduc J, Lorenzetti DL, Hanson H, Wagg A, et al. Measuring resource utilization: a systematic review of validated self-reported questionnaires. Medicine. 2016;95(10):e2759.

World Health Organization. Tuberculosis patient cost surveys: a handbook. 2017. https://www.who.int/tb/publications/patient_cost_surveys/en/. Accessed 3 Mar 2021.

Topp J, Andrees V, Heesen C, Augustin M, Blome C. Recall of health-related quality of life: how does memory affect the SF-6D in patients with psoriasis or multiple sclerosis? A prospective observational study in Germany. BMJ Open. 2019;9:032589.

Kotsopoulos IA, Evers SM, Ament AJ, Kessels FG, de Krom MC, Twellaar M, et al. The costs of epilepsy in three different populations of patients with epilepsy. Epilepsy Res. 2003;54:131–40.

Longo C, Deber R, Fitch M, Williams A, D'souza D. An examination of cancer patients' monthly 'out-of-pocket' costs in Ontario, Canada. Eur J Cancer Care. 2007;16:500–7.

Longo C, Bereza B. A comparative analysis of monthly out-of-pocket costs for patients with breast cancer as compared with other common cancers in Ontario, Canada. Curr Oncol. 2011;18:e1.

MacMahon S. Multimorbidity: a priority for global health research. London: The Academy of Medical Sciences; 2018; p 127. https://acmedsci.ac.uk/file-download/82222577

Mole L, Kent B, Abbott R, Wood C, Hickson M. The nutritional care of people living with dementia at home: A scoping review. Health Soc Care Community. 2018;26:e485–96.

Bujang MA, Baharum N. A simplified guide to determination of sample size requirements for estimating the value of intraclass correlation coefficient: a review. Arch Orofac Sci. 2017;12.
Acknowledgements
The authors would like to thank the Quebec Support Unit of the Strategy for Patient Oriented Research (SPOR) for their financial support to conduct this study. We also thank the ÉcoSanté team for their support. TGP is a member of the FRQS-funded Centre de recherche de l'IUSMM. ML is a member of the Centre de recherche du CHU de Québec, and of Vitam, Centre de recherche en santé durable, both funded by the FRQS. TGP and ML are fellows of the FRQS.
Ethics declarations
Funding
This study was funded by the Quebec Support Unit of the Strategy for Patient Oriented Research (SPOR).
Conflict of interest
The authors declare that they have no conflicts of interest.
Ethics approval
Not applicable.
Consent to participate
Not applicable.
Consent for publication
Not applicable.
Availability of data and material
Not applicable.
Code availability
Not applicable.
Authors' contributions
TGP, LPC, MG, SB, and ML conceived of and planned the review. TGP, LPC, and ML wrote the protocol. TGP and ML wrote the search terms. LPC and MG ran the searches and screened titles and abstracts. All authors reviewed full texts. LPC and MG extracted data and conducted the quality review. LPC wrote the manuscript with direction from TGP and ML. All authors were involved in revising the article and approved the final manuscript.
Role of the Funder/Sponsor
The funder had no role in the design and conduct of the study; collection, management, analysis, and interpretation of the data; preparation, review, or approval of the manuscript; and decision to submit the manuscript for publication.
Supplementary Information
Below is the link to the electronic supplementary material.
About this article
Cite this article
Poder, T.G., Coulibaly, L.P., Gaudreault, M. et al. Validated Tools to Measure Costs for Patients: A Systematic Review. Patient 15, 3–19 (2022). https://doi.org/10.1007/s40271-021-00527-x
Accepted:

Published:

Issue Date:

DOI: https://doi.org/10.1007/s40271-021-00527-x