Abstract
Background
Benzodiazepines and Z-drugs are used to treat complaints like insomnia, anxiety and pain. These drugs are recommended for short-term use only, but many studies report long-term use, particularly in older people.
Objective
The aim of this study was to identify and synthesise qualitative studies exploring patients' experiences and perceptions of receiving benzodiazepines and Z-drugs, and through this identify factors which perpetuate use of these drugs, and strategies for achieving safer prescribing.
Methods
A systematic search of six databases for qualitative studies exploring patients' experiences and perceptions of primary care benzodiazepine and z-drug prescribing published between January 2000 and April 2014 in a European language, and conducted in Europe, the United States, Australia or New Zealand. Reference lists of included papers were also searched. Study quality was assessed using the Critical Appraisal Skills Programme qualitative checklist. Findings were synthesised using thematic synthesis.
Results
Nine papers were included and seven analytical themes were identified relating to patients' experiences and perceptions and, within that, strategies for safer prescribing of benzodiazepines and Z-drugs: (1) patients' negative perceptions of insomnia and its impact, (2) failed self-care strategies, (3) triggers to medical help-seeking, (4) attitudes towards treatment options and service provision, (5) varying patterns of use, (6) withdrawal, (7) reasons for initial or ongoing use.
Conclusions
Inappropriate use and prescribing of benzodiazepines and Z-drugs is perpetuated by psychological dependence, absence of support and patients' denial/lack of knowledge of side effects. Education strategies, increased availability of alternatives, and targeted extended dialogue with patients could support safer prescribing.
Access options
Buy single article
Instant access to the full article PDF.
US$ 49.95
Tax calculation will be finalised during checkout.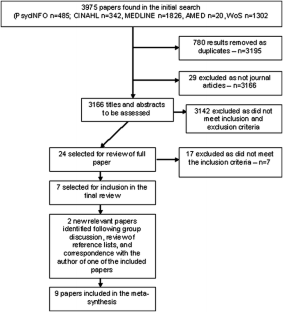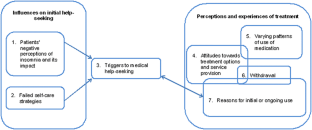 Notes
1.

By 'healthcare professionals', we mean a wide variety of roles including GPs, psychiatrists, psychologists, practice nurses, community pharmacists and other allied health professionals.
References
1.

National Institute for Clinical Excellence. Managing long-term insomnia (>4 weeks). 2015. http://cks.nice.org.uk/insomnia#!scenario:1. Accessed 17 Nov 2015.

2.

National Institute for Clinical Excellence. Scenario: managing short-term insomnia (<4 weeks). 2015. http://cks.nice.org.uk/insomnia#!scenariorecommendation. Accessed 17 Nov 2015.

3.

National Institute for Health and Clinical Excellence. Guidance on the use of zaleplon, zolpidem and zopiclone for the short term management of insomnia. London: NICE; 2004.

4.

National Institute for Clinical Excellence. Generalised anxiety disorder and panic disorder in adults: management. NICE guidelines [CG113]. National Institute for Clinical Excellence. 2011. http://www.nice.org.uk/guidance/cg113/chapter/1-Guidance. Accessed 24 Nov 2015.

5.

Neutel CI. The epidemiology of long-term benzodiazepine use. Int Rev Psychiatry. 2005;17(3):189–97. doi:10.1080/09540260500071863.

6.

Ashton H. The diagnosis and management of benzodiazepine dependence. Curr Opin Psychiatry. 2005;18(3):249–55.

7.

Olfson M, King M, Schoenbaum M. Benzodiazepine use in the United States. JAMA Psychiatry. 2015;72(2):136–42.

8.

Sirdifield C, Anthierens S, Creupelandt H, Chipchase SY, Christiaens T, Siriwardena AN. General practitioners' experiences and perceptions of benzodiazepine prescribing: systematic review and meta-synthesis. BMC Fam Prac. 2013. doi:10.1186/1471-2296-14-191.

9.

Canham SL. What's loneliness got to do with it? Older women who use benzodiazepines. Australas J Ageing. 2015;34(1):E7–12.

10.

Public Health Resource Unit. C.A.S.P: Critical Appraisal Skills Programme: 10 questions to help you make sense of qualitative research. England: Public Health Resource Unit; 2006.

11.

Thomas J, Harden A. Methods for the thematic synthesis of qualitative research in systematic reviews. BMC Med Res Methodol. 2008. doi:10.1186/1471-2288-8-45.

12.

Andrews LK, Coviello J, Hurley E, Rose L, Redeker NS. "I'd eat a bucket of nails if you told me it would help me sleep:" perceptions of insomnia and its treatment in patients with stable heart failure. Heart Lung J Crit Care. 2013;42(5):339–45. doi:10.1016/j.hrtlng.2013.05.003.

13.

Anthierens S, Habraken H, Petrovic M, Deveugele M, De Maeseneer J, Christiaens T. First benzodiazepine prescriptions: qualitative study of patients' perspectives. Can Fam Physician. 2007;53:1200–1.

14.

Canham SL, Gallo J, Simoni-Wastila L. Perceptions of benzodiazepine dependence among women age 65 and older. J Gerontol Soc Work. 2014;57(8):872–88.

15.

Cook JM, Biyanova T, Masci C, Coyne JC. Older patient perspectives on long-term anxiolytic benzodiazepine use and discontinuation: A qualitative study. J Gen Intern Med. 2007;22(8):1094–100. doi:10.1007/s11606-007-0205-5.

16.

Dollman WB, LeBlanc VT, Roughead EE. Managing insomnia in the elderly—what prevents us using non-drug options? J Clin Pharm Ther. 2003;28(6):485–91. doi:10.1046/j.0269-4727.2003.00523.x.

17.

Dyas JV, Apekey TA, Tilling M, Ørner R, Middleton H, Siriwardena AN. Patients' and clinicians' experiences of consultations in primary care for sleep problems and insomnia: a focus group study. Br J Gen Prac. 2010;60(574):e180–200.

18.

Kapadia N, Fox D, Rowlands G, Ashworth M. Developing primary care services for high-dose benzodiazepine-dependent patients: a consultation survey. Drugs Educ Prev Policy. 2007;14(5):429–42. doi:10.1080/09687630601108256.

19.

Parr JM, Kavanagh DJ, Young RM, McCafferty K. Views of general practitioners and benzodiazepine users on benzodiazepines: a qualitative analysis. Soc Sci Med. 2006;62(5):1237–49. doi:10.1016/j.socscimed.2005.07.016.

20.

Mechanic D. Editorial. The concept of illness behaviour: culture, situation and personal predisposition. Psychol Med. 1986;16:1–7.

21.

Morin CM, LeBlanc M, Daley M, Gregoire JP, Mérette C. Epidemiology of insomnia: prevalence, self-help treatments, consultations, and determinants of help-seeking behaviors. Sleep Med. 2006;7(2):123–30.

22.

Aikens JE, Rouse ME. Help-seeking for insomnia among adult patients in primary care. J Am Board Fam Med. 2005;18(4):257–61.

23.

Roness A, Mykletun A, Dahl AA. Help-seeking behaviour in patients with anxiety disorder and depression. Acta Psychiatr Scand. 2005;111:51–8.

24.

Barker C, Pistrang N, Shapiro DA, Shaw I. Coping and help-seeking in the UK adult population. Br J Clin Psychol. 1990;29(3):271–85.

25.

Reeve E, To J, Hendrix I, Shakib S, Roberts MS, Wiese MD. Patient barriers to and enablers of deprescribing: a systematic review. Drugs Aging. 2013;30(10):793–807. doi:10.1007/s40266-013-0106-8.

26.

Tannenbaum C, Martin P, Tamblyn R, Benedetti A, Ahmed S. Reduction of inappropriate benzodiazepine prescriptions among older adults through direct patient education. The EMPOWER cluster randomized trial. JAMA Intern Med. 2014;174(6):890–8.

27.

Morin CM, Espie CA. Insomnia. A clinical guide to assessment and treatment. New York: Kluwer Academic/Plenum Publishers; 2003.

28.

Kemani MK, Olsson GL, Lekander M, Hesser H, Andersson E, Wicksell RK. Efficacy and cost-effectiveness of acceptance and commitment therapy and applied relaxation for longstanding pain: a randomized controlled trial. Clin J Pain. 2015;31(11):1004–16. doi:10.1097/AJP.0000000000000203.

29.

Andrews G, Cuijpers P, Craske MG, McEnvoy P, Titov N. Computer therapy for the anxiety and depressive disorders is effective, acceptable and practical health care: a meta-analysis. Plos One. 2010;5(10):e13196.

30.

Hofmann SG, Smits JAJ. Cognitive-behavioral therapy for adult anxiety disorders: a meta-analysis of randomized placebo-controlled trials. J Clin Psychiatry. 2008;69(4):621–32.

31.

Vincent N, Lewycky S. Logging on for better sleep: RCT of the effectiveness of online treatment for insomnia. Sleep. 2009;32(6):807–15.

32.

Pollmann AS, Murphy AL, Bergman JC, Gardner DM. Deprescribing benzodiazepines and Z-drugs in community-dwelling adults: a scoping review. BMC Pharmacol Toxicol. 2015;16:19.

33.

Horsch C, Lancee J, Beun RJ, Neerincx MA, Brinkman WP. Adherence to technology-mediated insomnia treatment: a meta-analysis, interviews, and focus groups. J Med Internet Res. 2015;17(9):e214. doi:10.2196/jmir.4115.

34.

Cullinan S, O'Mahony D, Fleming A, Byrne S. A meta-synthesis of potentially inappropriate prescribing in older patients. Drugs Aging. 2014;31:631–8.
Acknowledgements
Thank you to Rebecca Porter (School of Health and Social Care, University of Lincoln) for her support with data extraction for this project.
Author contributions
Sirdifield led the study and contributed to all stages of the analysis and write-up. Chipchase contributed to all stages of the analysis and write up. Owen read and commented on drafts of the paper and model, and proof read the final version. Siriwardena had the idea for this study, and has contributed to the design, conception, analysis and drafts of the paper (including final revisions).
Ethics declarations
Compliance with Ethical Standards
This study was funded by a University of Lincoln College Research Fund grant. There are no conflicts of interest for Sirdifield, Chipchase, Owen or Siriwardena.
Electronic supplementary material
Below is the link to the electronic supplementary material.
About this article
Cite this article
Sirdifield, C., Chipchase, S.Y., Owen, S. et al. A Systematic Review and Meta-Synthesis of Patients' Experiences and Perceptions of Seeking and Using Benzodiazepines and Z-Drugs: Towards Safer Prescribing. Patient 10, 1–15 (2017). https://doi.org/10.1007/s40271-016-0182-z
Keywords
Healthcare Professional

Cognitive Behavioural Therapy

Zolpidem

Zopiclone

Zaleplon