Abstract
Objective
This study addresses the perspectives of patients with osteoarthritis (OA) about the gap between available support and their needs, with a focus on patient experience and what is important to them. It was a key component of a research initiative to co-develop an evidence-based model for central referral from primary to specialty care for arthritis patients.
Methods
Patients with OA and trained in engagement methods used adapted qualitative methods to co-design and conduct the study. OA patients (N = 25) participated in a three-step peer-to-peer process: a focus group clarified and explored the topic ("set"), and guided the creation of the interview guide used in the second phase ("collect"). Using a collaborative analysis process, the researchers identified eight concepts that they then brought to a last focus group ("reflect"). Here, participants reviewed the findings, identifying implications for arthritis care in Alberta, Canada.
Results
An overarching theme of "supporting us in managing a meaningful life with OA" was underpinned by three components of quality care: (1) right knowledge—specific and detailed knowledge and information; (2) right professional support—ongoing access to health professionals with OA expertise; and (3) right professional relationship—a partnership with health professionals who help them develop and revise personal self-management plans.
Conclusion
Peer-to-peer research informed and challenged the research team and stakeholders to consider the need for upstream support for OA patients. Results are helping to transform arthritis care, shifting the health system from an acute episodic model to one that meets the needs of the growing number of patients with chronic diseases.
This is a preview of subscription content, log in to check access.
Access options
Buy single article
Instant access to the full article PDF.
US$ 49.95
Tax calculation will be finalised during checkout.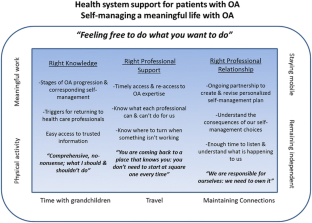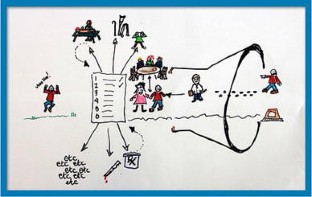 References
1.

Committee on Quality of Health Care in America, Institute of Medicine. Crossing the quality chasm: a new health system for the 21st Century. Washington, DC: National Academies Press; 2001.

2.

World Health Organization. Innovative care for chronic conditions: building blocks for action. Geneva: World Health Organization; 2002.

3.

MacDonald KV, Sanmartin C, Langlois K, Marshall DA. Symptom onset, diagnosis and management of osteoarthritis. Health Rep. 2014;25(9):10–7.

4.

Conner-Spady BL, Johnston GH, Sanmartin C, McGurran JJ, Noseworthy TW, Saskatchewan Surgical Care Network/Western Canada Waiting List Project R, et al. A bird can't fly on one wing: patient views on waiting for hip and knee replacement surgery. Health Expect. 2007;10(2):108–16.

5.

Parsons GE, Godfrey H, Jester RF. Living with severe osteoarthritis while awaiting hip and knee joint replacement surgery. Musculoskeletal Care. 2009;7(2):121–35.

6.

Sjoling RN, Agren RN, Olofsson N, Hellzen RN, Asplund RN. Waiting for surgery; living a life on hold: a continuous struggle against a faceless system. Int J Nurs Stud. 2005;42(5):539–47.

7.

Marlett N, Shklarov S, Marshall D, Santana MJ, Wasylak T. Building new roles and relationships in research: a model of patient engagement research. Qual Life Res. 2014;24(5):1057–67. doi:10.1007/s11136-014-0845-y. (Patient Engagement Special Section).

8.

Sjöling M, Norbergh K-G, Malker H, Asplund K. What information do patients waiting for and undergoing arthroplastic surgery want? Their side of the story. J Orthop Nurs. 2006;10(1):5–14.

9.

Canadian Institute for Health Information. International comparisons: a focus on quality of care. Ottawa: Canadian Institute of Health Information; 2014.

10.

Robert G, Cornwell J, Locock L, Purushotham A, Sturney G, Gager M. Patients and staff as codesigners of healthcare services. Br Med J. 2015;350:g7714.

11.

Hampson M, Baeck P, Langford K. By us, for us: the power of co-design and co-delivery. Nesta [online]. http://www.nesta.org.uk/publications/us-us-power-co-design-and-co-delivery. Accessed 3 Dec 2015.

12.

Fooks C, Obarski G, Hale L, Hylmar S. The patient experience in Ontario 202: what is possible? Longwoods Healthc Pap. 2015;14(4):8–18.

13.

Barello S, Graffigna G, Vegni E. Patient engagement as an emerging challenge for healthcare services: mapping the literature. Nurs Res Pract. 2012;2012:905934.

14.

Doyle D, Lennox L, Bell D. A systematic review of evidence on links between patient experience and clinical safety and effectiveness. BMJ Open. 2013;3:e0015790. doi:10.1136/bmjopen-2012-00157.

15.

Barber C, Patel J, Woodhouse L, et al. Development of key performance indicators to evaluate centralized intake for patients with osteoarthritis and rheumatoid arthritis. Arthritis Res Ther. 2015;17:322.

16.

Wadsworth Y. What is participatory action research? Action Res Int. 1998 [online]. Available from: http://www.aral.com.au/ari/p-ywadsworth98.html. Accessed 3 Dec 2015.

17.

Carpenter DR. Phenomenology as method. In: Streubert HJ, Carpenter DR, editors. Qualitative research in nursing: advancing the humanistic imperative. Philadelphia: Lippincott; 1999.

18.

Glaser BG, Strauss AL. The discovery of grounded theory: strategies for qualitative research. New Brunswick: Aldine Publishing; 1967.

19.

Hallberg LRM. The "core category" of grounded theory: making constant comparisons. Int J Qual Stud Health Well Being. 2006;1(3):8.

20.

Marlett NJ, Emes C, Jennett P, Stebbins B, Ryan J, Dooley D. Grey matters: a guide for collaborative research with seniors. Calgary: University of Calgary Press; 2014.

21.

Domecq JP, Prutsky G, Elraiyah T, Wang Z, Nabhan M, Shippee N, et al. Patient engagement in research: a systematic review. BMC Health Serv Res. 2014;14(1):89.

22.

Carman KL, Dardess P, Maurer M, Sofaer S, Adams K, Bechtel C, et al. Patient and family engagement: a framework for understanding the elements and developing interventions and policies. Health Aff (Project Hope). 2013;32(2):223–31.

23.

Kovacs-Burns K, Bellows M, Eigenseher C, Gallivan J. 'Practical' resources to support patient and family engagement in healthcare decisions: a scoping review. BMC Health Serv Res. 2014;14:175.
Acknowledgments
The authors would like to thank the participants and collaborators in this study, particularly PaCER, which provides the 1-year internship where patients learn to apply qualitative research methods to maximize patient engagement. The authors also thank the supporters of PaCER: the Alberta Health Services and its Strategic Clinical Networks, as well as the Community Rehabilitation and Disability Studies Program and the O'Brien Institute for Public Health at Cumming School of Medicine, the University of Calgary. The PaCER Program was founded following the success of the pilot project "Patients Matter: Engaging Patients as Collaborators to Improve Osteoarthritis (OA) Care in Alberta" (2011–2013), funded through the Canadian Foundation for Healthcare Improvement (CFHI).
Author contributions
Jean Miller participated in study design, conducted the study, collected qualitative data, analyzed the data, interpreted the results and drafted the manuscript. Sylvia Teare participated in study design, conducted the study, collected qualitative data, analyzed the data, interpreted the results and assisted with drafting the manuscript. Nancy Marlett led the development of the overall study methodology and assisted in data interpretation and manuscript drafting. Svetlana Shklarov assisted with development of the overall study methodology, data interpretation, and with drafting the manuscript. As the Principal Investigator, Deborah Marshall conceived the study, participated in the development of the design, assisted in analyzing and interpreting the data and drafting the manuscript, and provided approval for the final version of the manuscript. All authors have reviewed and approved the final version of this manuscript.
Ethics declarations
Potential conflict of interest
Deborah Anne Marshall is supported as a Canada Research Chair, Health Services and Systems Research and Arthur J.E. Child Chair in Rheumatology Outcomes Research. Jean Louise Miller, Sylvia Ruth Teare, Nancy Marlett, and Svetlana Shklarov declare that they have no conflict of interest.
Funding
This study was funded by Canadian Institutes for Health Research (Planning Grant 20132PLH, funded through Priority Announcement Health Services and Policy Research), The Arthritis Society (Models of Care Catalyst Grant, Grant Number MOC-13-007), and Alberta Innovates–Health Solutions (Partnership for Research and Innovation in the Health System PRIHS Grant, Grant Number 201300472).
Ethical approval
All procedures performed in studies involving human participants were in accordance with the ethical standards of the institutional and/or national research committee and with the 1964 Helsinki declaration and its later amendments or comparable ethical standards.
Informed consent
Informed consent was obtained from all individual participants included in the study.
About this article
Cite this article
Miller, J.L., Teare, S.R., Marlett, N. et al. Support for Living a Meaningful Life with Osteoarthritis: A Patient-to-Patient Research Study. Patient 9, 457–464 (2016). https://doi.org/10.1007/s40271-016-0169-9
Keywords
Quality Care

Family Doctor

Professional Support

Patient Engagement

Meaningful Life