Abstract
Background
Inner ear balance (or vestibular) function declines with age and is associated with decreased mobility and an increased risk of falls in older individuals. We sought to understand the lived experience of older adults with vestibular loss in order to improve care in this population.
Methods
Qualitative data were derived from semi-structured interviews of individuals aged 65 years or older presenting to the Balance and Falls Prevention Clinic from February 1, 2014 to March 30, 2015 for evaluation of age-related vestibular loss. Transcripts were analyzed using interpretive phenomenological analysis. We created a taxonomy of overarching superordinate themes based on the World Health Organization's International Classification of Functioning, Disability, and Health (ICF) Framework, and classified key dimensions within each of these themes.
Results
Sixteen interviews were conducted with individuals (mean age 76.0 years, 75 % female) with age-related vestibular loss. The three superordinate themes and associated key dimensions were (1) body impairment (including depression, fatigue, fear/anxiety, and problems with concentrating and memory); (2) activity limitation and participation restriction (isolation, needing to stop in the middle of activities, reduced participation relative to expectations, reduced ability to drive or travel, and problems with bending/looking up, standing, and walking); and (3) environmental influences (needing help with daily activities). All participants reported difficulty walking.
Conclusions
Older adults report that vestibular loss impacts their body functioning and restricts their participation in activities. The specific key dimensions uncovered by this qualitative study can be used to evaluate care from the patient's perspective.
This is a preview of subscription content,
to check access.
Access this article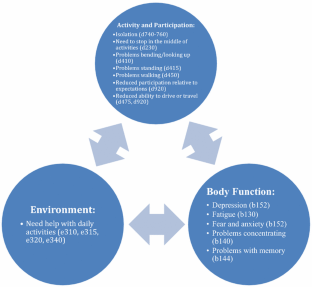 References
Agrawal Y, Carey JP, Della Santina CC, Schubert MC, Minor LB. Disorders of balance and vestibular function in US adults: data from the National Health and Nutrition Examination Survey, 2001–2004. Arch Intern Med. 2009;169(10):938–44. doi:10.1001/archinternmed.2009.66.

Ishiyama G. Imbalance and vertigo: the aging human vestibular periphery. Sem Neurol. 2009;29(5):491–9. doi:10.1055/s-0029-1241039.

Iwasaki S, Yamasoba T. Dizziness and imbalance in the elderly: age-related decline in the vestibular system. Aging Dis. 2015;6(1):38–47. doi:10.14336/ad.2014.0128.

Jonsson R, Sixt E, Landahl S, Rosenhall U. Prevalence of dizziness and vertigo in an urban elderly population. J Vestib Res. 2004;14(1):47–52.

Agrawal Y, Davalos-Bichara M, Zuniga MG, Carey JP. Head impulse test abnormalities and influence on gait speed and falls in older individuals. Otol Neurotol. 2013;34(9):1729–35. doi:10.1097/MAO.0b013e318295313c.

Layman AJ, Li C, Simonsick E, Ferrucci L, Carey JP, Agrawal Y. Association between saccular function and gait speed: data from the Baltimore Longitudinal Study of Aging. Otol Neurotol. 2015;36(2):260–6. doi:10.1097/mao.0000000000000544.

Marchetti GF, Whitney SL, Blatt PJ, Morris LO, Vance JM. Temporal and spatial characteristics of gait during performance of the Dynamic Gait Index in people with and people without balance or vestibular disorders. Phys Ther. 2008;88(5):640–51. doi:10.2522/ptj.20070130.

Herdman SJ, Blatt P, Schubert MC, Tusa RJ. Falls in patients with vestibular deficits. Am J Otol. 2000;21(6):847–51.

Whitney SL, Hudak MT, Marchetti GF. The dynamic gait index relates to self-reported fall history in individuals with vestibular dysfunction. J Vestib Res. 2000;10(2):99–105.

Honrubia V, Bell TS, Harris MR, Baloh RW, Fisher LM. Quantitative evaluation of dizziness characteristics and impact on quality of life. Am J Otol. 1996;17(4):595–602.

Li C, Layman AJ, Carey JP, Agrawal Y. Epidemiology of vestibular evoked myogenic potentials: data from the baltimore longitudinal study of aging. Clin Neurophysiol. 2015. doi:10.1016/j.clinph.2015.01.008.

Oghalai JS, Manolidis S, Barth JL, Stewart MG, Jenkins HA. Unrecognized benign paroxysmal positional vertigo in elderly patients. Otolaryngol Head Neck Surg. 2000;122(5):630–4.

Schrack JA, Zipunnikov V, Goldsmith J, Bai J, Simonsick EM, Crainiceanu C, et al. Assessing the "physical cliff": detailed quantification of age-related differences in daily patterns of physical activity. J Gerontol A Biol Sci Med Sci. 2014;69(8):973–9. doi:10.1093/gerona/glt199.

Clark J. How to peer review a qualitative manuscript. Peer Rev Health Sci. 2003;2:219–35.

Halmagyi GM, Yavor RA, McGarvie LA. Testing the vestibulo-ocular reflex. Adv Otorhinolaryngol. 1997;53:132–54.

Rosengren SM, Welgampola MS, Colebatch JG. Vestibular evoked myogenic potentials: past, present and future. Clin Neurophysiol. 2010;121(5):636–51. doi:10.1016/j.clinph.2009.10.016.

Nguyen KD, Welgampola MS, Carey JP. Test-retest reliability and age-related characteristics of the ocular and cervical vestibular evoked myogenic potential tests. Otol Neurotol. 2010;31(5):793–802. doi:10.1097/MAO.0b013e3181e3d60e.

Francis JJ, Johnston M, Robertson C, Glidewell L, Entwistle V, Eccles MP, et al. What is an adequate sample size? Operationalising data saturation for theory-based interview studies. Psychol Health. 2010;25(10):1229–45. doi:10.1080/08870440903194015.

Maura D. ATLAS.ti (Software). The SAGE encyclopedia of qualitative research methods. CA: SAGE Publications, Inc. p. 37–38.

Larkin M, Watts S, Clifton E. Giving voice and making sense in interpretative phenomenological analysis. Qual Res Psychol. 2006;3(2):102–20.

Smith JA. Qualitative psychology: a practical guide to research methods. Thousand Oaks: SAGE Publications; 2007.

Smith JA, Flowers P, Larkin M. Interpretative phenomenological analysis: theory method and research. Thousand Oaks: SAGE Publications; 2009.

Ustun TB, Chatterji S, Bickenbach J, Kostanjsek N, Schneider M. The international classification of functioning, disability and health: a new tool for understanding disability and health. Disabil Rehabil. 2003;25(11–12):565–71. doi:10.1080/0963828031000137063.

Grill E, Bronstein A, Furman J, Zee DS, Muller M. International Classification of Functioning, Disability and Health (ICF) Core Set for patients with vertigo, dizziness and balance disorders. J Vestib Res. 2012;22(5–6):261–71. doi:10.3233/VES-120459.

Obermann M, Bock E, Sabev N, Lehmann N, Weber R, Gerwig M, et al. Long-term outcome of vertigo and dizziness associated disorders following treatment in specialized tertiary care: the Dizziness and Vertigo Registry (DiVeR) Study. J Neurol. 2015. doi:10.1007/s00415-015-7803-7.

Ward BK, Agrawal Y, Hoffman HJ, Carey JP, Della Santina CC. Prevalence and impact of bilateral vestibular hypofunction: results from the 2008 US National Health Interview Survey. JAMA Otolaryngol Head Neck Surg. 2013;139(8):803–10. doi:10.1001/jamaoto.2013.3913.

Killington MJ, Speck K, Kahlbaum J, Fabian J, Edwards D, Stobie J. Quality-of-life for individuals with a vestibular impairment following an acquired brain injury (ABI); the clients' perspective. Brain Inj. 2015;29(4):490–500. doi:10.3109/02699052.2014.995226.

Kirby SE, Yardley L. Physical and psychological triggers for attacks in Meniere's disease: the patient perspective. Psychother Psychosom. 2012;81(6):396–8. doi:10.1159/000337114.

Morris AE, Lutman ME, Yardley L. Measuring outcome from vestibular rehabilitation, part I: qualitative development of a new self-report measure. Int J Audiol. 2008;47(4):169–77. doi:10.1080/14992020701843129.

Yardley L. Vertigo and dizziness. London: Routledge; 1994.

Brandt T, Schautzer F, Hamilton DA, Bruning R, Markowitsch HJ, Kalla R, et al. Vestibular loss causes hippocampal atrophy and impaired spatial memory in humans. Brain. 2005;128(Pt 11):2732–41. doi:10.1093/brain/awh617.

Hartmann M, Farkas R, Mast FW. Self-motion perception influences number processing: evidence from a parity task. Cogn Process. 2012;13(Suppl 1):S189–92. doi:10.1007/s10339-012-0484-6.

Loetscher T, Schwarz U, Schubiger M, Brugger P. Head turns bias the brain's internal random generator. Curr Biol. 2008;18(2):R60–2. doi:10.1016/j.cub.2007.11.015.
Author contributions
A. Harun contributed to the study design, data acquisition, data analysis and interpretation, and drafting of the manuscript. C. Li contributed to the study design, data acquisition, data analysis, and drafting of the manuscript. J. Bridges contributed to study design and critical revision of the manuscript. Y. Agrawal contributed to study design, data analysis, and critical revision of the manuscript. Y. Agrawal had full access to all of the study data and takes responsibility for the integrity of the data and accuracy of the data analysis.
Ethics declarations
Aisha Harun was funded by a T32 Award (5T32DC000027-25). Yuri Agrawal was funded by a NIH K23 Award (5K23DC013056-02). Aisha Harun, Carol Li, John F. P. Bridges, and Yuri Agrawal have no conflicts of interest to report. The hospital institutional review board approved this study (Baltimore, MD: study number CR00007456) and the study was performed in accordance with the ethical standards of the Declaration of Helsinki. Informed consent was obtained from all individuals who participated in the study.
Electronic supplementary material
Below is the link to the electronic supplementary material.
About this article
Cite this article
Harun, A., Li, C., Bridges, J.F.P. et al. Understanding the Experience of Age-Related Vestibular Loss in Older Individuals: A Qualitative Study. Patient 9, 303–309 (2016). https://doi.org/10.1007/s40271-015-0156-6
Published:

Issue Date:

DOI: https://doi.org/10.1007/s40271-015-0156-6
Keywords