Abstract
Background and objective
Little is known about the attributes of care that most strongly impact satisfaction in real-world settings where patients' limited medical knowledge may restrict their ability to ascertain the true quality of care. We therefore examined the association between patient-centered attributes of physician care (thoroughness, explanation, and listening), in-office waiting time, and patient satisfaction.
Methods
We used the Community Tracking Study Household Survey, a US nationally representative dataset (n = 71,594). Using logistic regression models, we analyzed the association between patient ratings of care attributes and patient satisfaction for the total sample and by subgroups, according to health status, physician type, and visit type.
Results
Patients' perception of excellent or very good care attributes was strongly associated with being very satisfied with care received (thoroughness of care, odds ratio [OR] 2.64, 95 % confidence interval [CI] 2.31–3.02; listening, OR 2.04, 95 % CI 1.77–2.36; explanation, OR 1.63, 95 % CI 1.42–1.86), as was a waiting time of ≤10 min (OR 1.50, 95 % CI 1.39–1.63). The effect magnitude of thoroughness on satisfaction is particularly strong relative to high-quality listening and explanation among respondents in poor health, and for whom the most recent office visit was to see a generalist or for curative care.
Conclusions
Thoroughness of care was the strongest determinant of patient satisfaction, followed by physician listening and explanation. Especially with patients' improved access to current medical information, it is important for physicians to recognize that excellent communication cannot serve as a substitute for high-quality, thorough care.
Access options
Buy single article
Instant access to the full article PDF.
US$ 49.95
Tax calculation will be finalised during checkout.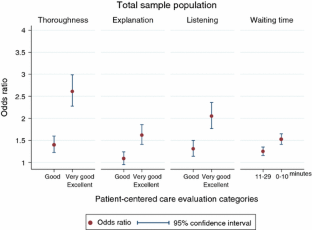 References
1.

Emanuel E, Emanuel L. Four models of the physician–patient relationship. JAMA. 1992;267(16):2221–6.

2.

Charles C, Gafni A, Whelan T. Shared decision-making in the medical encounter: what does it mean? Soc Sci Med. 1997;44(5):681–92.

3.

Ende J, Kazis L, Ash A, et al. Measuring patients' desire for autonomy: decision making and information-seeking preferences among medical patients. J Gen Intern Med. 1989;4:23–30.

4.

Mead N, Bower P. Patient-centeredness: a conceptual framework and review of the empirical literatures. Soc Sci Med. 2000;51:1087–110.

5.

Dy S, Purnell T. Key concepts relevant to quality of complex and shared decision-making in health care: a literature review. Soc Sci Med. 2012;74(4):582–7.

6.

Otani K, Kurz R, Harris L. Managing primary care using patient satisfaction measures. J Healthc Manag. 2005;50(5):311–24.

7.

Ekdahl A, Andersson L, Friedrichsen M. "They do what they think is the best for me". Frail elderly patients' preferences for participation in their care during hospitalization. Patient Educ Couns. 2010;80:233–40.

8.

Swenson S, Buell S, Zettler P, et al. Patient-centered communication: do patients really prefer it? J Gen Intern Med. 2004;19:1069–79.

9.

Epstein R, Fiscella K, Lesser C, et al. Why the nation needs a policy push on patient-centered health care. Health Aff (Millwood). 2010;29(8):1489–95.

10.

Institute of Medicine. Crossing the quality chasms: a new health system for the 21st century. Washington, DC: National Academies Press; 2001.

11.

Patient-Centered Outcomes Research Institute. National priorities for research and research agenda. Washington, DC: PCORI Board of Governors; 2012.

12.

Wouda J, Van de Wiel H. Education in patient–physician communication: how to improve effectiveness? Patient Educ Couns. 2013;90:46–53.

13.

Levinson W, Lesser C, Epstein R. Developing physician communication skills for patient-centered care. Health Aff (Millwood). 2010;29(7):1310–8.

14.

Epstein R, Franks P, Fiscella K, et al. Measuring patient-centered communication in patient–physician consultations: theoretical and practical issues. Soc Sci Med. 2005;61:1516–28.

15.

Rosenberg E, Lussier M, Beaudoin C. Lessons for clinicians from physician–patient communication literature. Arch Fam Med. 1997;6:279–83.

16.

Pompili C, Brunelli A, Rocco G, et al. Patient satisfaction after pulmonary resection for lung cancer: a multicenter comparative analysis. Respiration. 2013;85:106–11.

17.

Gronroos C. Quality comes to service. In: The service quality handbook. New York: American Management Association;1991.

18.

Lim P, Tang N, Jackson P. An innovative framework for health care performance measurement. Manag Serv Qual. 1999;9(6):423–33.

19.

Brown J, Boles M, Mullooly J, Levinson W. Effect of clinician communication skills training on patient satisfaction: a randomized, controlled trial. Ann Intern Med. 1999;131:822–9.

20.

Smith R, Lyles J, Mettler J, et al. The effectiveness of intensive training for residents in interviewing: a randomized, controlled study. Ann Intern Med. 1998;128(2):118–26.

21.

Hill C, Joonas K. The impact of unacceptable wait time on health care patients' attitudes and actions. Health Mark Q. 2005;23(2):69–87.

22.

Meterko M, Wright S, Lin H, Lowy E, Cleary P. Mortality among patients with acute myocardial infarction: the influences of patient-centered care and evidence-based medicine. Health Serv Res. 2010;45(5):1188–204.

23.

Loftus R, Nugent Z, Graff L, et al. Patient satisfaction with the endoscopy experience and willingness to return in a central Canadian health region. Can J Gastroenterol. 2013;27(5):259–66.

24.

Andersen R, Newman J. Societal and individual determinants of medical care utilization in the United States. Milbank Q. 1973;51(1):95–124.

25.

Sitzia J, Wood N. Patient satisfaction: a review of issues and concepts. Soc Sci Med. 1997;45(12):1829–43.

26.

Jackson J, Chamberlin J, Kroenke K. Predictors of patient satisfaction. Soc Sci Med. 2001;52:609–20.

27.

Tak H, Ruhnke G, Meltzer D. Association of patient preferences for participation in decision making with length of stay and costs among hospitalized patients. JAMA Intern Med. 2013;173(13):1195–203.

28.

Hulka B, Wheat J. Patterns of utilization: the patient perspective. Med Care. 1985;23:438–60.

29.

Hall J, Dornan M. Patient sociodemographic characteristics as predictors of satisfaction with medical care: a meta-analysis. Soc Sci Med. 1990;30(7):811–8.

30.

Taylor J. Technology and planned organizational change. Ann Arbor: Institute for Social Research, University of Michigan; 1971.

31.

Center for Studying Health System Change. Community tracking study household survey, 1998–1999, 2000–2001, and 2003: (United States) (computer file). ICPSR version. Washington, DC: Center for Studying Health System Change (producer), 2002, 2003, and 2006. Ann Arbor, MI: Inter-University Consortium for Political and Social Research (distributor), 2002, 2003, and 2007.

32.

Aickin M, Gensler H. Adjusting for multiple testing when reporting research results: the Bonferroni vs Holm methods. Am J Public Health. 1996;86:726–8.

33.

Hosmer D, Lemeshow S, Sturdivant R. Applied logistic regression. Hoboken: Wiley; 2013.

34.

Hendrickx J, Pelzer B, Te Grotenhuis M, et al. Collinearity involving ordered and unordered categorical variables. http://fmwww.bc.edu/RePEc/bocode/p/perturb.html. Accessed 30 Jun 2014.

35.

Greeven A, Van Balkom A, Visser S, et al. Cognitive behavior therapy and paroxetine in the treatment of hypochondriasis: a randomized controlled trial. Am J Psychiatr. 2007;164(1):91–9.

36.

Olatunji B, Etzel E, Tomarken A, et al. The effects of safety behaviors on health anxiety: an experimental investigation. Behav Res Ther. 2011;49:719–28.

37.

Oliver R. Satisfaction: a behavioral perspective on the consumer. New York: McGraw-Hill; 1997.

38.

Woodside A, Frey L, Daly R. Linking service quality, customer satisfaction, and behavioral intention. J Health Care Mark. 1989;9(4):5–17.

39.

Taylor S, Cronin J. Modeling patient satisfaction and service quality. J Health Care Mark. 1994;14(1):34–44.

40.

Kaiser K, Rauscher G, Jacobs E, et al. The import of trust in regular providers to trust in cancer physicians among white, African American, and Hispanic breast cancer patients. J Gen Intern Med. 2010;26(1):51–7.

41.

Kraetschmer N, Sharpe N, Urowitz S, et al. How does trust affect patient preferences for participation in decision-making? Health Expect. 2004;7(4):317–26.

42.

McGlone T, Butler E, McGlone V. Factors influencing consumers' selection of a primary care physician. Health Mark Q. 2002;19(3):21–37.

43.

Ferris L, Williams J, Llewellynthomas H, et al. A guide to direct measures of patient satisfaction in clinical practice. Can Med Assoc J. 1992;146(10):1727–31.

44.

Tai-Seale M. Voting with their feet: patient exit and intergroup differences in propensity for switching usual source of care. J Health Polit Policy Law. 2004;29(3):491–514.

45.

Shih YT, Tai-Seale M. Physicians' perception of demand-induced supply in the information age: a latent class model analysis. Health Econ. 2012;21:252–69.

46.

Stone A, Shiffman S, Atienza A, et al. The science of real-time data capture: self-reports in health research. Oxford: Oxford University Press; 2007.

47.

Shiffman S, Stone A, Hufford R. Ecological momentary assessment. Ann Rev Clin Psychol. 2008;4:1–32.

48.

Wyrwich K, Metz S, Kroenke K, et al. Measuring patient and clinician perspectives to evaluate change in health-related quality of life among patients with chronic obstructive pulmonary disease. J Gen Intern Med. 2007;22(2):161–70.

49.

Mechanic D, Bilder S. Treatment of people with mental illness: a decade-long perspective. Health Aff (Millwood). 2004;23(4):84–95.

50.

Cleary P, Edgman-Levitan S. Health care quality: incorporating consumer perspectives. JAMA. 1997;278(19):1608–12.
Acknowledgments
Dr. Tak had full access to all of the data in the study and takes responsibility for the integrity of the data and the accuracy of the data analysis. Drs. Tak, Ruhnke, and Shih have all made significant contributions in developing the hypotheses, designing and performing the empirical analysis, and writing and revising the manuscript. All the authors have approved the final manuscript and attest to the validity and legitimacy of the data, as well as its interpretation.
Conflict of interest
The authors declare no conflicts of interest that are directly relevant to this manuscript, including financial interests, activities, relationships, and affiliations with organizations or entities.
About this article
Cite this article
Tak, H., Ruhnke, G.W. & Shih, YC.T. The Association between Patient-Centered Attributes of Care and Patient Satisfaction. Patient 8, 187–197 (2015). https://doi.org/10.1007/s40271-014-0073-0
Keywords
Patient Satisfaction

Technical Quality

Physician Type

Care Attribute

Andersen Model