Abstract
Background
Cancer often affects the quality of life and well-being of patients as well as their relatives. Previous studies have suggested that relatives should be involved in psychosocial rehabilitation to address the needs for an interpersonal relationship with others in the disease trajectory. We developed an innovative rehabilitation program to be offered to the patient and a relative as a pair.
Objective
The aim of the present pilot study was to examine the feasibility of the intervention in a randomized controlled trial (RCT) and to evaluate the impact on quality of life.
Methods
The study was designed as an RCT comparing the new multimodal psychosocial rehabilitation with the usual services. The intervention comprised three 'supportive talks' and a residential rehabilitation course. From March 2010 to March 2011, participation was offered at the time of diagnosis to patients with lung or gynecological cancer from two departments at Odense University Hospital in Denmark. Questionnaires were used to estimate changes in quality of life (EORTC-QLQ-C30 on global health status) and well-being (WHO-Five Well-Being Index) at baseline and after 2 and 12 months. Information on the participants' views about the rehabilitation intervention was obtained from assessment charts and qualitative interviews.
Results
A total of 209 patients were assessed for eligibility, but only 42 pairs were randomized to the study. The 2-month follow-up was completed by 34 patients and 32 relatives, and 19 patients and 21 relatives completed the 12-month follow-up. A higher dropout rate at the 12-month follow-up was reported in the intervention group compared with controls. Quality of life and well-being increased for patients and relatives in both the intervention and the control group, and no clinically significant difference was observed between the intervention and the control group. Pairs reported that the time of inclusion was inconvenient and that rehabilitation ought to meet their changing needs.
Conclusions
The pilot study showed that it may be difficult to conduct an RCT of a psychosocial rehabilitation intervention for pairs, and difficulties with inclusion and drop out have to be addressed. Interventions need to be carefully developed and tested before evaluating an effect in a large-scale study.
This is a preview of subscription content, log in to check access.
Access options
Buy single article
Instant access to the full article PDF.
US$ 49.95
Price includes VAT for USA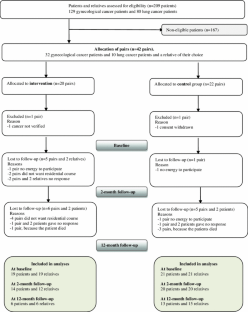 References
1.

Hansen HP, Tjornhoj-Thomsen T. Cancer rehabilitation in Denmark: the growth of a new narrative. Med Anthropol Q. 2008;22(4):360–80.

2.

Kræftens B, Bispebjerg Hospital. Palliativ Medicinsk Afdeling. Forskningsenheden. Kræftpatientens verden: en undersøgelse af hvad danske kræftpatienter har brug for: resultater, vurderinger og forslag. [The world of the cancer patient—a study of problems expirienced by Danish cancer patients]. In Danish; 2006. http://www.cancer.dk/NR/rdonlyres/60C1A9F7-8B1A-400A-8455-547180CB0189/0/behovsundersogkort2006.pdf.

3.

Hellbom M, Bergelt C, Bergenmar M, Gijsen B, Loge JH, Rautalahti M, et al. Cancer rehabilitation: A Nordic and European perspective. Acta Oncol. 2011;50(2):179–86.

4.

Sundhedsstyrelsen [The Danish National Board of Health]. Styrket indsats på kræftområdet: et sundhedsfagligt oplæg. [Increased efforts within the field of cancer—suggestions from the health professionals.] In Danish; 2010 Version: 1.1. http://www.sst.dk/publ/Publ2010/PLAN/Kraeft/StyrketIndsatsPaaKraeftomraadet2010.pdf.

5.

Ugolini D, Neri M, Cesario A, Bonassi S, Milazzo D, Bennati L, et al. Scientific production in cancer rehabilitation grows higher: a bibliometric analysis. Support Care Cancer. 2012;20(8):1629–38.

6.

Northouse LL, Katapodi MC, Schafenacker AM, Weiss D. The impact of caregiving on the psychological well-being of family caregivers and cancer patients. Semin Oncol Nurs. 2012;28(4):236–45.

7.

Pinto BM, Eakin E, Maruyama NC. Health behavior changes after a cancer diagnosis: what do we know and where do we go from here? Ann Behav Med. 2000;22(1):38–52.

8.

Li J, Girgis A. Supportive care needs: are patients with lung cancer a neglected population? Psychooncology 2006;15(6):509–16.

9.

Hoybye MT, Dalton SO, Christensen J, Larsen LR, Kuhn KG, Jensen JN, et al. Research in Danish cancer rehabilitation: social characteristics and late effects of cancer among participants in the FOCARE research project. Acta Oncol. 2008;47(1):47–55.

10.

Chambers SK, Pinnock C, Lepore SJ, Hughes S, O'Connell DL. A systematic review of psychosocial interventions for men with prostate cancer and their partners. Patient Educ Couns. 2011;85(2):e75–88.

11.

Thorsen L, Gjerset GM, Loge JH, Kiserud CE, Skovlund E, Flotten T, et al. Cancer patients' needs for rehabilitation services. Acta Oncol. 2011;50(2):212–22.

12.

Dalton SO, Bidstrup PE, Johansen C. Rehabilitation of cancer patients: needed, but how? Acta Oncol 2011;50(2):163–6.

13.

Boesen EH, Ross L, Frederiksen K, Thomsen BL, Dahlstrom K, Schmidt G, et al. Psychoeducational intervention for patients with cutaneous malignant melanoma: a replication study. J Clin Oncol. 2005;23(6):1270–7.

14.

Ross L, Boesen EH, Dalton SO, Johansen C. Mind and cancer: does psychosocial intervention improve survival and psychological well-being? Eur J Cancer. 2002;38(11):1447–57.

15.

Ernstmann N, Neumann M, Ommen O, Galushko M, Wirtz M, Voltz R, et al. Determinants and implications of cancer patients' psychosocial needs. Support Care Cancer. 2009;17(11):1417–23.

16.

Glasdam S, Timm H, Vittrup R. Support efforts for caregivers of chronically ill persons. Clin Nurs Res. 2010;19(3):233–65.

17.

Adamsen L, Quist M, Andersen C, Moller T, Herrstedt J, Kronborg D, et al. Effect of a multimodal high intensity exercise intervention in cancer patients undergoing chemotherapy: randomised controlled trial. BMJ 2009;339(oct13_1):b3410.

18.

Fors EA, Bertheussen GF, Thune I, Juvet LK, Elvsaas IK, Oldervoll L, et al. Psychosocial interventions as part of breast cancer rehabilitation programs? Results from a systematic review. Psycho-Oncology. 2011;20(9):909–18.

19.

Northouse LL, Katapodi MC, Song L, Zhang L, Mood DW. Interventions with family caregivers of cancer patients: meta-analysis of randomized trials. CA Cancer J Clin. 2010;60(5):317–39.

20.

Ockerby C, Livingston P, O'Connell B, Gaskin CJ. The role of informal caregivers during cancer patients' recovery from chemotherapy. Scand J Caring Sci. 2013;27(1):147–55

21.

Given BA, Northouse L. Who cares for family caregivers of patients with cancer? Clin J Oncol Nurs. 2011;15(5):451–2.

22.

Foged M, Schulze S, Freil M. Pårørendes forventninger og behov for medinddragelse i patienters indlæggelsesforløb: en kvalitativ undersøgelse af pårørende til medicinske patienter: forsknings- og udviklingsrapport om pårørendes behov for medinddragelse. [The relatives' expectations of and needs for involvement in the admission trajectory. A qualitative study of the relatives to medical patients]. Hillerød Region Hovedstaden; 2007. In Danish.

23.

Eriksson E, Arve S, Lauri S. Informational and emotional support received by relatives before and after the cancer patient's death. Eur J Oncol Nurs. 2006;10(1):48–58.

24.

Teschendorf B, Schwartz C, Ferrans CE, O'Mara A, Novotny P, Sloan J. Caregiver role stress: when families become providers. Cancer Control. 2007;14(2):183–9.

25.

Arnaert A, Gabos T, Ballenas V, Rutledge RDH. Contributions of a retreat weekend to the healing and coping of cancer patients' relatives. Qual Health Res. 2010;20(2):197–208.

26.

Thomas C, Morris SM, Harman JC. Companions through cancer: the care given by informal carers in cancer contexts. Soc Sci Med. 2002;54(4):529–44.

27.

Nakaya N, Saito-Nakaya K, Bidstrup PE, Dalton SO, Frederiksen K, Steding-Jessen M, et al. Increased risk of severe depression in male partners of women with breast cancer. Cancer. 2010;116(23):5527–34.

28.

Northouse LL, Mood DW, Montie JE, Sandler HM, Forman JD, Hussain M, et al. Living with prostate cancer: patients' and spouses' psychosocial status and quality of life. J Clin Oncol. 2007;25(27):4171–7.

29.

Chan YM, Ngan HYS, Yip PSF, Li BYG, Lau OWK, Tang GWK. Psychosocial adjustment in gynecologic cancer survivors: a longitudinal study on risk factors for maladjustment. Gynecol Oncol. 2001;80(3):387–94.

30.

Klee M, Thranov I, Machin PD. The patients' perspective on physical symptoms after radiotherapy for cervical cancer. Gynecol Oncol. 2000;76(1):14–23.

31.

Chapple A, Ziebland S, McPherson A. Stigma, shame, and blame experienced by patients with lung cancer: qualitative study. BMJ. 2004;328(7454):1470.

32.

Bakas T, Lewis RR, Parsons JE. Caregiving tasks among family caregivers of patients with lung cancer. Oncol Nurs Forum. 2001;28(5):847–54.

33.

Angen MJ, Simpson JS, Macrae H, Hundleby M. Impact of a residential psychosocial program for cancer patients: a focus group investigation. Adv Mind Body Med. 2003;19(3–4):24–34.

34.

Eriksson E, Lauri S. Informational and emotional support for cancer patients' relatives. Eur J Cancer Care (Engl). 2000;9(1):8–15.

35.

Ka'opua LS, Gotay CC, Boehm PS. Spiritually based resources in adaptation to long-term prostate cancer survival: perspectives of elderly wives. Health Soc Work. 2007;32(1):29–39.

36.

Scott JL, Halford WK, Ward BG. United we stand? The effects of a couple-coping intervention on adjustment to early stage breast or gynecological cancer. J Consult Clin Psychol. 2004;72(6):1122–35.

37.

Hagedoorn M, Dagan M, Puterman E, Hoff C, Meijerink WJ, DeLongis A, et al. Relationship satisfaction in couples confronted with colorectal cancer: the interplay of past and current spousal support. J Behav Med. 2011;34(4):288–97.

38.

Hagedoorn M, Kreicbergs U, Appel C. Coping with cancer: the perspective of patients' relatives. Acta Oncol. 2011;50(2):205–11.

39.

Hagedoorn M, Kuijer RG, Buunk BP, DeJong GM, Wobbes T, Sanderman R. Marital satisfaction in patients with cancer: does support from intimate partners benefit those who need it the most? Health Psychol. 2000;19(3):274–82.

40.

Parker PA, Davison BJ, Tishelman C, Brundage MD. What do we know about facilitating patient communication in the cancer care setting? Psychooncology. 2005;14(10):848–58.

41.

Northouse LL, Mood DW, Schafenacker A, Montie JE, Sandler HM, Forman JD, et al. Randomized clinical trial of a family intervention for prostate cancer patients and their spouses. Cancer. 2007;110(12):2809–18.

42.

Northouse LL. Helping patients and their family caregivers cope with cancer. Oncol Nurs Forum. 2012;39(5):500–6.

43.

Sutton LB, Erlen JA. Effects of mutual dyad support on quality of life in women with breast cancer. Cancer Nurs. 2006;29(6):488–98.

44.

McLean LM, Jones JM, Rydall AC, Walsh A, Esplen MJ, Zimmermann C, et al. A couples intervention for patients facing advanced cancer and their spouse caregivers: outcomes of a pilot study. Psychooncology. 2008;17(11):1152–6.

45.

Myers SB, Manne SL, Kissane DW, Ozga M, Kashy DA, Rubin S, et al. Social-cognitive processes associated with fear of recurrence among women newly diagnosed with gynecological cancers. Gynecol Oncol. 2013;128(1):120–7.

46.

Northouse LL, Mood D, Templin T, Mellon S, George T. Couples' patterns of adjustment to colon cancer. Soc Sci Med. 2000;50(2):271–84.

47.

Manne S, Badr H, Kashy DA. A longitudinal analysis of intimacy processes and psychological distress among couples coping with head and neck or lung cancers. J Behav Med. 2012;35(3):334–46.

48.

Seibaek L, Petersen LK, Blaakaer J, Hounsgaard L. Hoping for the best, preparing for the worst: the lived experiences of women undergoing ovarian cancer surgery. Eur J Cancer Care (Engl). 2012;21(3):360–71.

49.

Johnson RL, Gold MA, Wyche KF. Distress in women with gynecologic cancer. Psychooncology. 2010;19(6):665–8.

50.

Stone AM, Mikucki-Enyart S, Middleton A, Caughlin JP, Brown LE. Caring for a parent with lung cancer. Qual Health Res. 2012;22(7):957–70.

51.

Angen MJ, MacRae JH, Simpson JS, Hundleby M. Tapestry: a retreat program of support for persons living with cancer. Cancer Pract. 2002;10(6):297–304.

52.

Grunfeld E. Primary care physicians and oncologists are players on the same team. J Clin Oncol. 2008;26(14):2246–7.

53.

Chan R, Webster J, Bennett L. Effects and feasibility of a multi-disciplinary orientation program for newly registered cancer patients: design of a randomised controlled trial. BMC Health Serv Res. 2009;9:203.

54.

Wynia K, Annema C, Nissen H, De KJ, Middel B. Design of a randomised controlled trial (RCT) on the effectiveness of a Dutch patient advocacy case management intervention among severely disabled multiple sclerosis patients. BMC Health Serv Res. 2010;10:142.

55.

Patton MQ. Depth Interviewing. In: Patton MQ, editor. How to use qualitative methods in evaluation. 2nd ed. 1987. p. 108–44.

56.

Emerson RM, Fretz RI, Shaw LL. Writing ethnographic fieldnotes. Chicago guides to writing, editing, and publishing1995, Chicago: University of Chicago Press. xviii, 254 p.

57.

Sprangers MA, Cull A, Groenvold M, Bjordal K, Blazeby J, Aaronson NK. The European Organization for Research and Treatment of Cancer approach to developing questionnaire modules: an update and overview. EORTC Quality of Life Study Group. Qual Life Res. 1998;7(4):291–300.

58.

Bech P, Gudex C, Johansen KS. The WHO (Ten) Well-Being Index: validation in diabetes. Psychother Psychosom. 1996;65(4):183–90.

59.

Aaronson NK, Ahmedzai S, Bergman B, Bullinger M, Cull A, Duez NJ, et al. The European Organization for Research and Treatment of Cancer QLQ-C30: a quality-of-life instrument for use in international clinical trials in oncology. J Natl Cancer Inst. 1993;85(5):365–76.

60.

Bech P, Olsen LR, Kjoller M, Rasmussen NK. Measuring well-being rather than the absence of distress symptoms: a comparison of the SF-36 Mental Health subscale and the WHO-Five Well-Being Scale. Int J Methods Psychiatr Res. 2003;12(2):85–91.

61.

Strauss A, Corbin J. Basics of qualitative research. Techniques and procedures for developing grounded theory. 2nd ed. Thousand Oaks: Sage; 1998.

62.

Bird L, Arthur A, Cox K. "Did the trial kill the intervention?" Experiences from the development, implementation and evaluation of a complex intervention. BMC Med Res Methodol. 2011;11:24.

63.

Ross L, Frederiksen K, Boesen SH, Karlsen RV, Rasmussen MS, Sorensen LT, et al. No effect on survival of home psychosocial intervention in a randomized study of Danish colorectal cancer patients. Psychooncology. 2009;18(8):875–85.

64.

Rottmann N, Dalton SO, Bidstrup PE, Wurtzen H, Hoybye MT, Ross L, et al. No improvement in distress and quality of life following psychosocial cancer rehabilitation. A randomised trial. Psychooncology. 2012;21(5):505–14.

65.

Boesen EH, Karlsen R, Christensen J, Paaschburg B, Nielsen D, Bloch IS, et al. Psychosocial group intervention for patients with primary breast cancer: a randomised trial. Eur J Cancer. 2011;47(9):1363–72.

66.

McCabe C, Cronin P. Issues for researchers to consider when using health-related quality of life outcomes in cancer research. Eur J Cancer Care (Engl). 2011;20(5):563–9.

67.

Campbell M, Fitzpatrick R, Haines A, Kinmonth AL, Sandercock P, Spiegelhalter D, et al. Framework for design and evaluation of complex interventions to improve health. BMJ. 2000;321(7262):694–6.

68.

Hansen HP, Tjornhoj-Thomsen T, Johansen C. Rehabilitation interventions for cancer survivors: The influence of context. Acta Oncol. 2011;50(2):259–64.

69.

Hack TF, Carlson L, Butler L, Degner LF, Jakulj F, Pickles T, et al. Facilitating the implementation of empirically valid interventions in psychosocial oncology and supportive care. Support Care Cancer. 2011;19(8):1097–105.
Acknowledgments
The study was funded by the Danish Cancer Society (Grant number OKV 08008).
Author Contributions
JK, OM, EJ, and HPH conceived the study and developed the design of the overall study. The study was conducted by LL in collaboration with OM, EJ, KLC, and HPH. RDC performed the statistical analyses in collaboration with LL. LL drafted the manuscript, and all authors were involved in critically revising it. All authors have read and approved the final manuscript.
Contributors
We thank the patients and their relatives who participated in the study. We acknowledge the work of the project nurse, Biddy Madsen, and the important collaboration with nurses from Odense University Hospital, Gitte Bekker, Susanne Pedersen, and Camilla A. Holt, and also the staff at Rehabilitation Center Dallund. The Danish Milieu for Humanistic Cancer Research (http://www.mifohuk.dk) provided support for discussions and writing seminars.
Conflicts of interests
The authors declare no conflict of interest, and the authors alone are responsible for the content of the paper.
About this article
Cite this article
Ledderer, L., la Cour, K., Mogensen, O. et al. Feasibility of a Psychosocial Rehabilitation Intervention to Enhance the Involvement of Relatives in Cancer Rehabilitation: Pilot Study for a Randomized Controlled Trial. Patient 6, 201–212 (2013). https://doi.org/10.1007/s40271-013-0019-y
Keywords
Gynecological Cancer

Rehabilitation Service

Rehabilitation Intervention

Global Health Status

Supportive Talk