Abstract
Diagnostic evaluation of women with hirsutism is essential to identify and manage the underlying cause of the condition, which is often an endocrine disorder. Physical and pharmacological treatments for hirsutism are available, and should be individualized according to the needs and preferences of the patient, the severity and extent of hirsutism, and the potential benefits and harms of therapy.
Access options
Buy single article
Instant access to the full article PDF.
US$ 49.95
Tax calculation will be finalised during checkout.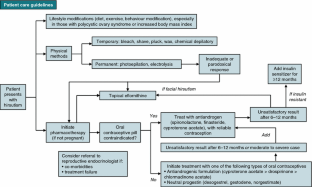 References
1.

Somani N, Turvy D. Hirsutism: an evidence-based treatment update. Am J Clin Dermatol. 2014;15(3):247–66.

2.

Richards RN, Meharg GE. Electrolysis: observation from 13 years and 140,000 h of experience. J Am Acad Dermatol. 1995;33(4):662–6.

3.

Kligman AM, Peters L. Histologic changes of human hair follicles after electrolysis: a comparison of two methods. Cutis. 1984;34(2):169–76.

4.

Thaysen-Petersen D, Bjerring P, Dierickx C, et al. A systematic review of light-based home-use devices for hair removal and considerations on human safety. J Eur Acad Dermatol Venereol. 2012;26(5):545–53.

5.

Haedersdal M, Wolf HC. Evidence-based review of hair removal using lasers and light sources. J Eur Acad Dermatol Venereol. 2006;20(1):9–20.

6.

Eremia S, Li C, Newman N. Laser hair removal with alexandrite versus diode laser using four treatment sessions: 1-year results. Dermatol Surg. 2001;27(11):925–9.

7.

Lapidoth M, Dierickx C, Lanigan S, et al. Best practice options for hair removal in patients with unwanted facial hair using combination therapy with laser: guidelines drawn up by an expert working group. Dermatology. 2010;221(1):34–42.

8.

Martin KA, Chang RJ, Ehrmann DA, et al. Evaluation and treatment of hirsutism in premenopausal women: an endocrine society clinical practice guideline. J Clin Endocrinol Metab. 2008;93(4):1105–20.

9.

Lidegarrd Ø, Nielsen LH, Skovlund CW, et al. Risk of venous thromboembolism from use of oral contraceptives containing different progestogens and oestrogen doses: Danish cohort study, 2001–2009. BMJ. 2011;343:d6423.

10.

Swiglo BA, Cosma M, Flynn DN, et al. Antiandrogens for the treatment of hirsutism: a systematic review and metaanalyses of randomized controlled trials. J Clin Endocrinol Metab. 2008;93(4):1153–60.

11.

Belisle S, Love EJ. Clinical efficacy and safety of cyproterone acetate in severe hirsutism: results of a multicentered Canadian study. Fertil Steril. 1986;46(6):1015–20.

12.

Cosma M, Swiglo BA, Flynn DN, et al. Insulin sensitizers for the treatment of hirsuitsm: a systematic review and metaanalyses of randomized controlled trials. J Clin Endocrinol Metab. 2008;93(4):1135–42.

13.

Escobar-Morreale HF, Carmina E, Dewailly D, et al. Epidemiology, diagnosis and management of hirsutism: a consensus statement by the Androgen Excess and Polycystic Ovary Syndrome Society. Hum Reprod Update. 2012;18(2):146–70.

14.

Moran LJ, Hitchison SK, Norman RJ, et al. Lifestyle changes in women with polycystic ovary syndrome. Cochrane Databse Syst Rev. 2011(7):CD007506.

15.

Thomson RL, Spedding S, Buckley JD. Vitamin D in the aetiology and management of polycystic ovary syndrome. Clin Endocrinol (Oxf). 2012;77(3):343–50.
Disclosure
This article was adapted from the American Journal of Clinical Dermatology 2014;15(3):247–66 [1] by salaried/contracted employees of Adis/Springer. The preparation of these articles was not supported by any external funding.
About this article
Cite this article
Adis Medical Writers. Identify underlying cause of hirsutism and individualize treatment as required. Drugs Ther Perspect 30, 417–421 (2014). https://doi.org/10.1007/s40267-014-0159-8
Keywords
Pituitary Adenoma

Acromegaly

Congenital Adrenal Hyperplasia

Finasteride

Hyperandrogenism