Abstract
Introduction
Deprescribing, the intentional reduction of medication, is recognized as an important component of clinical care; however, standardized identification of patient attitudes and beliefs that contribute to deprescribing may be limited due to the length of current surveys. We sought to develop a short-form (≤ 15 items) of the patient perceptions of deprescribing (PPoD) questionnaire, a validated 30-item instrument that assesses dimensions relevant to deprescribing, to be used in clinical and research settings.
Methods
We conducted a secondary analysis of data from 803 US veteran respondents to the original PPoD survey, randomly divided into derivation and validation samples. In the derivation sample, we used ordinary least squares linear regression with R2 model selection to identify candidate items reflective of overall readiness for deprescribing. We then used iterative multitrait analysis, followed by confirmatory factor analysis (CFA) in the validation sample to assess the psychometric properties of the proposed short form.
Results
The resulting short-form PPoD consisted of 11 items representing two overarching domains reflective of overall readiness for deprescribing: 'Motivation for Deprescribing' and 'Primary Care Provider Relationship'. CFA fit statistics supported the proposed structure and the two new scales demonstrated high internal consistency reliability (Cronbach alphas: 0.82 and 0.91, respectively) and good discriminant validity (interscale correlation − 0.30).
Discussion
The proposed short-form PPoD captures two important sources of variance in patient readiness for deprescribing: motivation and patients' relationships with their primary care providers. This brief, 11-item survey may help foster the inclusion of patient perceptions into clinical decision making for deprescribing to yield safer, more appropriate medication use.
Access options
Buy single article
Instant access to the full article PDF.
USD 49.95
Price excludes VAT (USA)
Tax calculation will be finalised during checkout.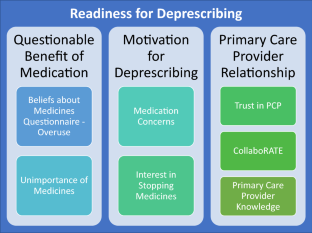 References
Chrischilles EA, VanGilder R, Wright K, Kelly M, Wallace RB. Inappropriate medication use as a risk factor for self-reported adverse drug effects in older adults. J Am Geriatr Soc. 2009;57(6):1000–6.

Sarkar U, Lopez A, Maselli JH, Gonzales R. Adverse drug events in U.S. adult ambulatory medical care. Health Serv Res. 2011;46(5):1517–33. https://doi.org/10.1111/j.1475-6773.2011.01269.x.

Scott IA, Hilmer SN, Reeve E, Potter K, Le Couteur D, Rigby D, et al. Reducing inappropriate polypharmacy: the process of deprescribing. JAMA Intern Med. 2015;175(5):827–34. https://doi.org/10.1001/jamainternmed.2015.0324.

Ostini R, Hegney D, Jackson C, Williamson M, Mackson JM, Gurman K, et al. Systematic review of interventions to improve prescribing. Ann Pharmacother. 2009;43(3):502–13. https://doi.org/10.1345/aph.1L488.

Ostini R, Jackson C, Hegney D, Tett SE. How is medication prescribing ceased? A systematic review. Med Care. 2011;49(1):24–36. https://doi.org/10.1097/MLR.0b013e3181ef9a7e.

Farrell B, Richardson L, Raman-Wilms L, de Launay D, Alsabbagh MW, Conklin J. Self-efficacy for deprescribing: a survey for health care professionals using evidence-based deprescribing guidelines. Res Soc Adm Pharm. 2018;14(1):18–25. https://doi.org/10.1016/j.sapharm.2017.01.003.

Linsky A, Simon SR, Stolzmann K, Bokhour BG, Meterko M. Prescribers' perceptions of medication discontinuation: survey instrument development and validation. Am J Manag Care. 2016;22(11):747–54.

Reeve E, Wolff JL, Skehan M, Bayliss EA, Hilmer SN, Boyd CM. Assessment of attitudes toward deprescribing in older medicare beneficiaries in the United States. JAMA Intern Med. 2018;178(12):1673–80. https://doi.org/10.1001/jamainternmed.2018.4720.

Reeve E, Low LF, Shakib S, Hilmer SN. Development and validation of the revised patients' attitudes towards deprescribing (rPATD) Questionnaire: versions for older adults and caregivers. Drugs Aging. 2016;33(12):913–28. https://doi.org/10.1007/s40266-016-0410-1.

Sahlqvist S, Song Y, Bull F, Adams E, Preston J, Ogilvie D, et al. Effect of questionnaire length, personalisation and reminder type on response rate to a complex postal survey: randomised controlled trial. BMC Med Res Methodol. 2011;11(1):62. https://doi.org/10.1186/1471-2288-11-62.

Galesic M, Bosnjak M. Effects of questionnaire length on participation and indicators of response quality in a web survey. Public Opin Q. 2009;73(2):349–60. https://doi.org/10.1093/poq/nfp031.

Burkhart Q, Orr N, Brown JA, Hays RD, Cleary PD, Beckett MK, et al. Associations of mail survey length and layout with response rates. Med Care Res Rev. 2019. https://doi.org/10.1177/1077558719888407(Epub 20 Nov).

Edwards PJ, Roberts I, Clarke MJ, Diguiseppi C, Wentz R, Kwan I, et al. Methods to increase response to postal and electronic questionnaires. Cochrane Database Syst Rev. 2009. https://doi.org/10.1002/14651858.MR000008.pub4.

Goodyear-Smith F, Warren J, Elley CR. The eCHAT program to facilitate healthy changes in New Zealand primary care. J Am Board Fam Med. 2013;26(2):177–82. https://doi.org/10.3122/jabfm.2013.02.120221.

Emery JD, Reid G, Prevost AT, Ravine D, Walter FM. Development and Validation of a Family History Screening Questionnaire in Australian Primary Care. Ann Fam Med. 2014;12(3):241–9. https://doi.org/10.1370/afm.1617.

Linsky A, Simon SR, Stolzmann K, Meterko M. Patient perceptions of deprescribing: survey development and psychometric assessment. Med Care. 2017;55(3):306–13. https://doi.org/10.1097/mlr.0000000000000642.

Horne R, Weinman J, Hankins M. The beliefs about medicines questionnaire: the development and evaluation of a new method for assessing the cognitive representation of medication. Psychol Health. 1999;14(1):1–24.

Gordon HS, Street RL Jr, Sharf BF, Kelly PA, Souchek J. Racial differences in trust and lung cancer patients' perceptions of physician communication. J Clin Oncol. 2006;24(6):904–9. https://doi.org/10.1200/JCO.2005.03.1955.

Elwyn G, Barr PJ, Grande SW, Thompson R, Walsh T, Ozanne EM. Developing CollaboRATE: a fast and frugal patient-reported measure of shared decision making in clinical encounters. Patient Educ Couns. 2013;93(1):102–7. https://doi.org/10.1016/j.pec.2013.05.009.

Linsky A, Simon SR, Bokhour B. Patient perceptions of proactive medication discontinuation. Patient Educ Couns. 2015;98(2):220–5. https://doi.org/10.1016/j.pec.2014.11.010.

Reeve E, To J, Hendrix I, Shakib S, Roberts MS, Wiese MD. Patient barriers to and enablers of deprescribing: a systematic review. Drugs Aging. 2013;30(10):793–807. https://doi.org/10.1007/s40266-013-0106-8.

Campbell DT, Fiske DW. Convergent and discriminant validation by the multitrait-multimethod matrix. Psychol Bull. 1959;56(2):81–105.

Bowling A. Measuring health: a review of quality of life measurement scales. 2nd ed. Buckingham: Open University Press; 1997.

Brown TA. Confirmatory factor analysis for applied research. New York: Guilford Press; 2006.

Hu Lt, Bentler PM. Cutoff criteria for fit indexes in covariance structure analysis: conventional criteria versus new alternatives. Struct Equation Model Multidiscip J. 1999;6(1):1–55. https://doi.org/10.1080/10705519909540118.

Cronbach LJ. Coefficient alpha and the internal structure of tests. Psychometrika. 1951;16(3):297–334. https://doi.org/10.1007/bf02310555.

Cohen J, Cohen P, West SG, Aiken LS. Applied multiple regression/correlation analysis for the behavioral sciences. 3rd ed. New York: Routledge; 2013.

Reeve E, Shakib S, Hendrix I, Roberts MS, Wiese MD. Development and validation of the patients' attitudes towards deprescribing (PATD) questionnaire. Int J Clin Pharm. 2013;35(1):51–6. https://doi.org/10.1007/s11096-012-9704-5.
Ethics declarations
Funding
Data collection and analyses were performed while Dr. Linsky was supported by a Department of Veterans Affairs (VA), Veterans Health Administration, Health Services Research and Development Career Development Award (CDA12-166), and the study was conducted using resources from the VA Boston Healthcare System. The views expressed in this article are those of the authors and do not necessarily represent the views of the Department of Veterans Affairs. The funding organization had no role in the design and conduct of the study; collection, management, analysis, and interpretation of the data; preparation, review, or approval of the manuscript; or the decision to submit the manuscript for publication.
Conflict of Interest
To the best of our knowledge, no conflicts of interest, financial or otherwise, exist.
Ethics Approval
This study was approved by the Institutional Review Board of the VA Boston Healthcare System.
Consent to participate
Implied informed consent, indicated by survey completion, was obtained from all individual participants included in the study.
Consent for publication
Not applicable.
Data and Code Availability
Data are available upon request and with approval of the Institutional Privacy Officer.
Author Contributions
All authors contributed to the study conception and design. Material preparation and data collection and analysis were performed by Amy Linsky and Kelly Stolzmann. Data interpretation was performed by all authors. The first draft of the manuscript was written by Amy Linsky and all authors commented on subsequent versions of the manuscript. All authors read and approved the final version of the manuscript.
About this article
Cite this article
Linsky, A.M., Stolzmann, K. & Meterko, M. The Patient Perceptions of Deprescribing (PPoD) Survey: Short-Form Development. Drugs Aging 37, 909–916 (2020). https://doi.org/10.1007/s40266-020-00802-w
Accepted:

Published:

Issue Date:

DOI: https://doi.org/10.1007/s40266-020-00802-w