Abstract
Background
In nursing homes, residents with dementia frequently receive potentially inappropriate medications that are associated with an increased risk of adverse events. Despite known sex differences in clinical presentation and sociodemographic characteristics among persons with dementia, few studies have examined sex differences in patterns and predictors of potentially inappropriate medication use.
Objectives
The objectives of this study were to examine sex differences in the patterns of antipsychotic and benzodiazepine use in the 180 days following admission to a nursing home, estimate clinical and sociodemographic predictors of antipsychotic and benzodiazepine use in male and female residents, and explore the effects of modification by sex on the predictors of using these drug therapies.
Methods
We conducted a retrospective cohort study of 35,169 adults aged 66 years and older with dementia who were newly admitted to nursing homes in Ontario, Canada between 2011 and 2014. Health administrative databases were linked to detailed clinical assessment data collected using the Resident Assessment Instrument (RAI-MDS 2.0). Cox proportional hazards models were adjusted for clinical and sociodemographic covariates to estimate the rate of antipsychotic and benzodiazepine initiation and discontinuation in the 180 days following nursing home admission in the total sample and stratified by sex. Sex-covariate interaction terms were used to assess whether sex modified the association between covariates and the rate of drug therapy initiation or discontinuation following nursing home entry.
Results
Across 638 nursing homes, our analytical sample included 22,847 females and 12,322 males. At admission, male residents were more likely to be prevalent antipsychotic users than female residents (33.8% vs 28.3%; p < 0.001), and female residents were more likely to be prevalent benzodiazepine users than male residents (17.2% vs 15.3%, p < 0.001). In adjusted models, female residents were less likely to initiate an antipsychotic after admission (hazard ratio [HR] 0.79, 95% confidence interval [CI] 0.73–0.86); however, no sex difference was observed in the rate of benzodiazepine initiation (HR 1.04, 95% CI 0.96–1.12). Female residents were less likely than males to discontinue antipsychotics (HR 0.89, 95% CI 0.81–0.98) and benzodiazepines (HR 0.82, 95% CI 0.75–0.89). Sex modified the association between some covariates and the rate of changes in drug use (e.g., widowed males exhibited an increased rate of antipsychotic discontinuation (p-interaction = 0.03) compared with married males), but these associations were not statistically significant among females. Sex did not modify the effect of frailty on the rates of initiation and discontinuation.
Conclusions
Males and females with dementia differed in their exposure to antipsychotics and benzodiazepines at nursing home admission and their patterns of use following admission. A greater understanding of factors driving sex differences in potentially inappropriate medication use may help tailor interventions to reduce exposure in this vulnerable population.
Access options
Buy single article
Instant access to the full article PDF.
USD 49.95
Price excludes VAT (USA)
Tax calculation will be finalised during checkout.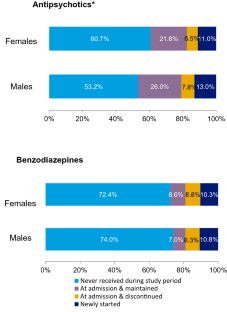 References
Morin L, Laroche ML, Texier G, Johnell K. Prevalence of potentially inappropriate medication use in older adults living in nursing homes: a systematic review. J Am Med Dir Assoc. 2016;17(9):862 e1–9.

Niwata S, Yamada Y, Ikegami N. Prevalence of inappropriate medication using Beers criteria in Japanese long-term care facilities. BMC Geriatr. 2006;11(6):1.

Nyborg G, Brekke M, Straand J, Gjelstad S, Romoren M. Potentially inappropriate medication use in nursing homes: an observational study using the NORGEP-NH criteria. BMC Geriatr. 2017;17(1):220.

O'Sullivan DP, O'Mahony D, Parsons C, Hughes C, Murphy K, Patterson S, et al. A prevalence study of potentially inappropriate prescribing in Irish long-term care residents. Drugs Aging. 2013;30(1):39–49.

Hosia-Randell HM, Muurinen SM, Pitkala KH. Exposure to potentially inappropriate drugs and drug-drug interactions in elderly nursing home residents in Helsinki, Finland: a cross-sectional study. Drugs Aging. 2008;25(8):683–92.

Maclagan LC, Maxwell CJ, Gandhi S, Guan J, Bell CM, Hogan DB, et al. Frailty and potentially inappropriate medication use at nursing home transition. J Am Geriatr Soc. 2017;65(10):2205–12.

Tjia J, Briesacher BA, Peterson D, Liu Q, Andrade SE, Mitchell SL. Use of medications of questionable benefit in advanced dementia. JAMA Intern Med. 2014;174(11):1763–71.

O'Mahony D, O'Sullivan D, Byrne S, O'Connor MN, Ryan C, Gallagher P. STOPP/START criteria for potentially inappropriate prescribing in older people: version 2. Age Ageing. 2015;44(2):213–8.

By the American Geriatrics Society Beers Criteria Update Expert P. American Geriatrics Society 2015 updated beers criteria for potentially inappropriate medication use in older adults. J Am Geriatr Soc. 2015;63(11):2227–46.

Tolppanen A-M, Koponen M, Tanskanen A, Lavikainen P, Sund R, Tiihonen J, et al. Antipsychotic use and risk of hospitalization or death due to pneumonia in persons with and those without Alzheimer disease. Chest. 2016;150(6):1233–41.

Maxwell CJ, Campitelli MA, Hogan DB, Diong C, Austin PC, Amuah JE, et al. Relevance of frailty to mortality associated with the use of antipsychotics among community-residing older adults with impaired cognition. Pharmacoepidemiol Drug Saf. 2018;27(3):289–98.

Defrancesco M, Marksteiner J, Fleischhacker WW, Blasko I. Use of benzodiazepines in Alzheimer's disease: a systematic review of literature. Int J Neuropsychopharmacol. 2015;18(10):pyv055.

Mittal V, Kurup L, Williamson D, Muralee S, Tampi RR. Risk of cerebrovascular adverse events and death in elderly patients with dementia when treated with antipsychotic medications: a literature review of evidence. Am J Alzheimer's Dis Other Dement. 2011;26(1):10–28.

Moga DC, Taipale H, Tolppanen AM, Tanskanen A, Tiihonen J, Hartikainen S, et al. A comparison of sex differences in psychotropic medication use in older people with Alzheimer's disease in the US and Finland. Drugs Aging. 2017;34(1):55–65.

Stevenson DG, Decker SL, Dwyer LL, Huskamp HA, Grabowski DC, Metzger ED, et al. Antipsychotic and benzodiazepine use among nursing home residents: findings from the 2004 National Nursing Home Survey. Am J Geriatr Psychiatry. 2010;18(12):1078–92.

Morgan SG, Weymann D, Pratt B, Smolina K, Gladstone EJ, Raymond C, et al. Sex differences in the risk of receiving potentially inappropriate prescriptions among older adults. Age Ageing. 2016;45(4):535–42.

Mielke MM, Ferretti MT, Iulita MF, Hayden K, Khachaturian AS. Sex and gender in Alzheimer's disease—does it matter? Alzheimers Dement. 2018;14(9):1101–3.

Mazure CM, Swendsen J. Sex differences in Alzheimer's disease and other dementias. Lancet Neurol. 2016;15(5):451–2.

Nebel RA, Aggarwal NT, Barnes LL, Gallagher A, Goldstein JM, Kantarci K, et al. Understanding the impact of sex and gender in Alzheimer's disease: a call to action. Alzheimers Dement. 2018;14(9):1171–83.

Ferretti MT, Martinkova J, Biskup E, Benke T, Gialdini G, Nedelska Z, et al. Sex and gender differences in Alzheimer's disease: current challenges and implications for clinical practice. Eur J Neurol. 2020;27(6):928–43.

Hawkes S, Haseen F, Aounallah-Skhiri H. Measurement and meaning: reporting sex in health research. Lancet. 2019;393(10171):497–9.

Mauvais-Jarvis F, Merz NB, Barnes PJ, Brinton RD, Carrero J-J, DeMeo DL, et al. Sex and gender: modifiers of health, disease, and medicine. Lancet. 2020;396(10250):565–82.

Hubbard RE, O'Mahony MS, Woodhouse KW. Medication prescribing in frail older people. Eur J Clin Pharmacol. 2013;69(3):319–26.

Yu Y, Chen J, Li D, Wang L, Wang W, Liu H. Systematic analysis of adverse event reports for sex differences in adverse drug events. Sci Rep. 2016;22(6):24955.

Gandhi M, Aweeka F, Greenblatt RM, Blaschke TF. Sex differences in pharmacokinetics and pharmacodynamics. Annu Rev Pharmacol Toxicol. 2004;44:499–523.

Lovheim H, Sandman PO, Karlsson S, Gustafson Y. Sex differences in the prevalence of behavioral and psychological symptoms of dementia. Int Psychogeriatr. 2009;21(3):469–75.

Kitamura T, Kitamura M, Hino S, Tanaka N, Kurata K. Gender differences in clinical manifestations and outcomes among hospitalized patients with behavioral and psychological symptoms of dementia. J Clin Psychiatry. 2012;73(12):1548–54.

Steinberg M, Corcoran C, Tschanz JT, Huber C, Welsh-Bohmer K, Norton MC, et al. Risk factors for neuropsychiatric symptoms in dementia: the Cache County Study. Int J Geriatr Psychiatry. 2006;21(9):824–30.

Buchanan RJ, Wang S, Ju H, Graber D. Analyses of gender differences in profiles of nursing home residents with Alzheimer's disease. Gend Med. 2004;1(1):48–59.

Lucas C, Byles J, Martin JH. Medicines optimisation in older people: taking age and sex into account. Maturitas. 2016;93:114–20.

Seeman MV. Gender differences in the prescribing of antipsychotic drugs. Am J Psychiatry. 2004;161(8):1324–33.

Maxwell CJ, Campitelli MA, Diong C, Mondor L, Hogan DB, Amuah JE, et al. Variation in the health outcomes associated with frailty among home care clients: relevance of caregiver distress and client sex. BMC Geriatr. 2018;18(1):211.

McLachlan AJ, Pont LG. Drug metabolism in older people—a key consideration in achieving optimal outcomes with medicines. J Gerontol A Biol Sci Med Sci. 2012;67(2):175–80.

Snowden M, Sato K, Roy-Byrne P. Assessment and treatment of nursing home residents with depression or behavioral symptoms associated with dementia: a review of the literature. J Am Geriatr Soc. 2003;51(9):1305–17.

Jaakkimainen RL, Bronskill SE, Tierney MC, Herrmann N, Green D, Young J, et al. Identification of physician-diagnosed Alzheimer's disease and related dementias in population-based administrative data: a validation study using family physicians' electronic medical records. J Alzheimers Dis. 2016;54(1):337–49.

By the American Geriatrics Society Beers Criteria Update Expert P. American Geriatrics Society 2019 Updated AGS Beers Criteria(R) for potentially inappropriate medication use in older adults. J Am Geriatr Soc. 2019;67(4):674–94.

Reus VI, Fochtmann LJ, Eyler AE, Hilty DM, Horvitz-Lennon M, Jibson MD, et al. The American Psychiatric Association practice guideline on the use of antipsychotics to treat agitation or psychosis in patients with dementia. Am J Psychiatry. 2016;173(5):543–6.

Ontario Go. Get coverage for prescription drugs. 2020 March 23 2020 [cited 2020 May 25 2020]. https://www.ontario.ca/page/get-coverage-prescription-drugs

Austin PC, van Walraven C, Wodchis WP, Newman A, Anderson GM. Using the Johns Hopkins Aggregated Diagnosis Groups (ADGs) to predict mortality in a general adult population cohort in Ontario, Canada. Med Care. 2011;49(10):932–9.

Campitelli MA, Bronskill SE, Hogan DB, Diong C, Amuah JE, Gill S, et al. The prevalence and health consequences of frailty in a population-based older home care cohort: a comparison of different measures. BMC Geriatr. 2016;7(16):133.

SAS Version 9.4. SAS Institute Inc., Cary; 2014.

Donoghue J, Lader M. Usage of benzodiazepines: a review. Int J Psychiatry Clin Pract. 2010;14(2):78–87.

Trenaman SC, Rideout M, Andrew MK. Sex and gender differences in polypharmacy in persons with dementia: a scoping review. SAGE Open Med. 2019;7:2050312119845715.

Morabia A, Fabre J, Dunand JP. The influence of patient and physician gender on prescription of psychotropic drugs. J Clin Epidemiol. 1992;45(2):111–6.

van der Waals FW, Mohrs J, Foets M. Sex differences among recipients of benzodiazepines in Dutch general practice. BMJ. 1993;307(6900):363–6.

Verbrugge LM, Steiner RP. Physician treatment of men and women patients: sex bias or appropriate care? Med Care. 1981;19(6):609–32.

Kamble P, Chen H, Sherer JT, Aparasu RR. Use of antipsychotics among elderly nursing home residents with dementia in the US: an analysis of National Survey Data. Drugs Aging. 2009;26(6):483–92.

Taipale H, Koponen M, Tanskanen A, Tolppanen AM, Tiihonen J, Hartikainen S. Antipsychotic doses among community-dwelling persons with Alzheimer disease in Finland. J Clin Psychopharmacol. 2014;34(4):435–40.

Drummond N, McCleary L, Freiheit E, Molnar F, Dalziel W, Cohen C, et al. Antidepressant and antipsychotic prescribing in primary care for people with dementia. Can Family Physician. 2018;64(11):e488–97.

Rochon PA, Gruneir A, Gill SS, Wu W, Fischer HD, Bronskill SE, et al. Older men with dementia are at greater risk than women of serious events after initiating antipsychotic therapy. J Am Geriatr Soc. 2013;61(1):55–61.

Canadian Institute for Health Information. Drug Use Among Seniors in Canada, 2016. Ottawa: CIHI; 2018.
Acknowledgements
We thank IMS Brogan Inc. for use of their Drug Information Database.
Ethics declarations
Funding
This research was funded in part by the Canadian Institutes of Health Research (CIHR) through operating grants (Exploring frailty and its role in the assessment of high risk medications and risk of poor health outcomes in vulnerable populations—MOP-326559). This research was conducted with support from the Ontario Neurodegenerative Disease Research Initiative (ONDRI) through the Ontario Brain Institute, an independent non-profit corporation, funded partially by the Ontario government. This study was supported by ICES, which is funded by an annual grant from the Ontario Ministry of Health and Long-Term Care (MOHLTC). The opinions, results and conclusions reported are those of the authors and are independent from the funding sources. No endorsement by ICES or the Ontario MOHLTC is intended or should be inferred. Parts of this material are based on data and information compiled and provided by the Canadian Institute for Health Information (CIHI). However, the analyses, conclusions, opinions and statements expressed herein are those of the authors, and not necessarily those of CIHI.
Conflict of interest
The authors have no conflicts of interest to report.
Ethics approval
The use of data in this project was authorized under section 45 of Ontario's Personal Health Information Protection Act, which does not require review by a Research Ethics Board.
Consent to participate
Not applicable.
Consent for publication
Not applicable.
Availability of data and material
The dataset from this study is held securely in coded form at ICES. While data-sharing agreements prohibit ICES from making the dataset publicly available, access may be granted to those who meet pre-specified criteria for confidential access, available at http://www.ices.on.ca/DAS.
Code availability
The full dataset creation plan and underlying analytic code are available from the authors upon request, understanding that the computer programs may rely upon coding templates or macros that are unique to ICES and are therefore either inaccessible or may require modification.
Authors' contributions
LM, DH, MC, CM, and SB conceived and designed the investigation. LM and CD performed the statistical analysis. LM, DH, and SB wrote the paper. All authors interpreted the data and contributed important intellectual content during manuscript drafting.
Electronic supplementary material
Below is the link to the electronic supplementary material.
About this article
Cite this article
Maclagan, L.C., Maxwell, C.J., Harris, D.A. et al. Sex Differences in Antipsychotic and Benzodiazepine Prescribing Patterns: A Cohort Study of Newly Admitted Nursing Home Residents with Dementia in Ontario, Canada. Drugs Aging 37, 817–827 (2020). https://doi.org/10.1007/s40266-020-00799-2
Accepted:

Published:

Issue Date:

DOI: https://doi.org/10.1007/s40266-020-00799-2