Abstract
Interest in the medicinal use of cannabis and cannabinoids is mounting worldwide. Fueled by enthusiastic media coverage, patients perceive cannabinoids as a natural remedy for many symptoms. Cannabinoid use is of particular interest for older individuals who may experience symptoms such as chronic pain, sleep disturbance, cancer-related symptoms and mood disorders, all of which are often poorly controlled by current drug treatments that may also incur medication-induced side effects. This review provides a summary of the evidence for use of cannabinoids, and medical cannabis in particular, for this age group, with attention to efficacy and harms. Evidence of efficacy for relief of an array of symptoms is overall scanty, and almost all study participants are aged < 60 years. The risk of known and potential adverse effects is considerable, with concerns for cognitive, cardiovascular and gait and stability effects in older adults. Finally, in light of the paucity of clinical evidence and increasing patient requests for information or use, we propose a pragmatic clinical approach to a rational dialogue with older patients, highlighting the importance of individual benefit–risk assessment and shared patient–clinician decision making.
Access options
Buy single article
Instant access to the full article PDF.
USD 49.95
Price includes VAT (USA)
Tax calculation will be finalised during checkout.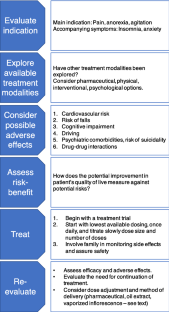 References
1.

D'Souza DC, Ranganathan M. Medical marijuana: is the cart before the horse? JAMA. 2015;313(24):2431–2.

2.

Hauser W, Petzke F, Fitzcharles MA. Efficacy, tolerability and safety of cannabis-based medicines for chronic pain management—an overview of systematic reviews. Eur J Pain. 2018;22(3):455–70.

3.

Schauer GL, King BA, Bunnell RE, Promoff G, McAfee TA. Toking, vaping, and eating for health or fun: marijuana use patterns in adults, U.S., 2014. Am J Prev Med. 2016;50(1):1–8.

4.

Han BH, Palamar JJ. Marijuana use by middle-aged and older adults in the United States, 2015–2016. Drug Alcohol Depend. 2018;1(191):374–81.

5.

Devinsky O, Cross JH, Laux L, Marsh E, Miller I, Nabbout R, et al. Trial of cannabidiol for drug-resistant seizures in the dravet syndrome. N Engl J Med. 2017;376(21):2011–20.

6.

Leal-Galicia P, Betancourt D, Gonzalez-Gonzalez A, Romo-Parra H. A brief history of marijuana in the western world. Rev Neurol. 2018;67(4):133–40.

7.

Friedman D, Sirven JI. Historical perspective on the medical use of cannabis for epilepsy: ancient times to the 1980s. Epilepsy Behav. 2017;70(Pt B):298–301.

8.

Haffajee RL, MacCoun RJ, Mello MM. Behind schedule—reconciling federal and state marijuana policy. N Engl J Med. 2018;379(6):501–4.

9.

Lucas PG. Regulating compassion: an overview of Canada's federal medical cannabis policy and practice. Harm Reduct J. 2008;28(5):5.

10.

Bogdanoski T. Accommodating the medical use of marijuana: surveying the differing legal approaches in Australia, the United States and Canada. J Law Med. 2010;17(4):508–31.

11.

Ablin J, Ste-Marie PA, Schafer M, Hauser W, Fitzcharles MA. Medical use of cannabis products: lessons to be learned from Israel and Canada. Schmerz (Berlin, Germany). 2016;30(1):3–13.

12.

Hazekamp A, Heerdink ER. The prevalence and incidence of medicinal cannabis on prescription in The Netherlands. Eur J Clin Pharmacol. 2013;69(8):1575–80.

13.

Bicher HI, Mechoulam R. Pharmacological effects of two active constituents of marihuana. Arch Int Pharmacodyn Ther. 1968;172(1):24–31.

14.

Howlett AC. The cannabinoid receptors. Prostaglandins Other Lipid Mediat. 2002;68–69:619–31.

15.

Pertwee RG. Targeting the endocannabinoid system with cannabinoid receptor agonists: pharmacological strategies and therapeutic possibilities. Philos Trans R Soc Lond B Biol Sci. 2012;367(1607):3353–63.

16.

Anand P, Whiteside G, Fowler CJ, Hohmann AG. Targeting CB2 receptors and the endocannabinoid system for the treatment of pain. Brain Res Rev. 2009;60(1):255–66.

17.

Mechoulam R, Hanus LO, Pertwee R, Howlett AC. Early phytocannabinoid chemistry to endocannabinoids and beyond. Nat Rev Neurosci. 2014;15(11):757–64.

18.

Pertwee RG, Howlett AC, Abood ME, Alexander SP, Di Marzo V, Elphick MR, International Union of Basic and Clinical Pharmacology. LXXIX, et al. Cannabinoid receptors and their ligands: beyond CB(1) and CB(2). Pharmacol Rev. 2010;62(4):588–631.

19.

Henstridge CM. Off-target cannabinoid effects mediated by GPR55. Pharmacology. 2012;89(3–4):179–87.

20.

Henstridge CM, Balenga NA, Kargl J, Andradas C, Brown AJ, Irving A, et al. Minireview: recent developments in the physiology and pathology of the lysophosphatidylinositol-sensitive receptor GPR55. Mol Endocrinol. 2011;25(11):1835–48.

21.

Howlett AC. A short guide to the nomenclature of seven-transmembrane spanning receptors for lipid mediators. Life Sci. 2005;77(14):1522–30.

22.

Cravatt BF, Lichtman AH. The endogenous cannabinoid system and its role in nociceptive behavior. J Neurobiol. 2004;61(1):149–60.

23.

Pertwee RG. Cannabinoid receptors and pain. Prog Neurobiol. 2001;63(5):569–611.

24.

Croxford JL, Yamamura T. Cannabinoids and the immune system: potential for the treatment of inflammatory diseases? J Neuroimmunol. 2005;166(1–2):3–18.

25.

Howlett AC. Cannabinoid receptor signaling. Handb Exp Pharmacol. 2005;168:53–79.

26.

Ligresti A, Cascio MG, Di Marzo V. Endocannabinoid metabolic pathways and enzymes. Curr Drug Targets CNS Neurol Disord. 2005;4(6):615–23.

27.

Pertwee RG. Cannabinoid pharmacology: the first 66 years. Br J Pharmacol. 2006;147(Suppl 1):S163–71.

28.

Savage SR, Romero-Sandoval A, Schatman M, Wallace M, Fanciullo G, McCarberg B, et al. Cannabis in pain treatment: clinical and research considerations. J Pain. 2016;17(6):654–68.

29.

Mechoulam R, Parker LA, Gallily R. Cannabidiol: an overview of some pharmacological aspects. J Clin Pharmacol. 2002;42(11 Suppl):11S–9S.

30.

Gould J. The cannabis crop. Nature. 2015;525(7570):S2–3.

31.

Mehmedic Z, Chandra S, Slade D, Denham H, Foster S, Patel AS, et al. Potency trends of Delta9-THC and other cannabinoids in confiscated cannabis preparations from 1993 to 2008. J Forensic Sci. 2010;55(5):1209–17.

32.

ElSohly MA, Mehmedic Z, Foster S, Gon C, Chandra S, Church JC. Changes in cannabis potency over the last 2 decades (1995–2014): analysis of current data in the United States. Biol Psychiatry. 2016;79(7):613–9.

33.

Andre CM, Hausman JF, Guerriero G. Cannabis sativa: the plant of the thousand and one molecules. Front Plant Sci. 2016;7:19.

34.

Grof CPL. Cannabis, from plant to pill. Br J Clin Pharmacol. 2018;84(11):2463–7.

35.

Romero-Sandoval EA, Fincham JE, Kolano AL, Sharpe BN, Alvarado-Vazquez PA. Cannabis for chronic pain: challenges and considerations. Pharmacotherapy. 2018;38(6):651–62.

36.

Lucas CJ, Galettis P, Schneider J. The pharmacokinetics and the pharmacodynamics of Cannabinoids. Br J Clin Pharmacol. 2018;Jul:12.

37.

MacCallum CA, Russo EB. Practical considerations in medical cannabis administration and dosing. Eur J Intern Med. 2018;49:12–9.

38.

Devinsky O, Cilio MR, Cross H, Fernandez-Ruiz J, French J, Hill C, et al. Cannabidiol: pharmacology and potential therapeutic role in epilepsy and other neuropsychiatric disorders. Epilepsia. 2014;55(6):791–802.

39.

Starowicz K, Di Marzo V. Non-psychotropic analgesic drugs from the endocannabinoid system: "magic bullet" or "multiple-target" strategies? Eur J Pharmacol. 2013;716(1–3):41–53.

40.

Kerbrat A, Ferre JC, Fillatre P, Ronziere T, Vannier S, Carsin-Nicol B, et al. Acute neurologic disorder from an inhibitor of fatty acid amide hydrolase. N Engl J Med. 2016;375(18):1717–25.

41.

Lowin T, Straub RH. Cannabinoid-based drugs targeting CB1 and TRPV1, the sympathetic nervous system, and arthritis. Arthritis Res Ther. 2015;17:226.

42.

Kaur R, Sidhu P, Singh S. What failed BIA 10-2474 phase I clinical trial? Global speculations and recommendations for future phase I trials. J Pharmacol Pharmacother. 2016;7(3):120–6.

43.

Ahmed AI, van den Elsen GA, Colbers A, van der Marck MA, Burger DM, Feuth TB, et al. Safety and pharmacokinetics of oral delta-9-tetrahydrocannabinol in healthy older subjects: a randomized controlled trial. Eur Neuropsychopharmacol. 2014;24(9):1475–82.

44.

Ahmed AI, van den Elsen GA, Colbers A, Kramers C, Burger DM, van der Marck MA, et al. Safety, pharmacodynamics, and pharmacokinetics of multiple oral doses of delta-9-tetrahydrocannabinol in older persons with dementia. Psychopharmacology. 2015;232(14):2587–95.

45.

Corsonello A, Pedone C, Incalzi RA. Age-related pharmacokinetic and pharmacodynamic changes and related risk of adverse drug reactions. Curr Med Chem. 2010;17(6):571–84.

46.

Hauser W, Finn DP, Kalso E, Krcevski-Skvarc N, Kress HG, Morlion B, et al. European Pain Federation (EFIC) position paper on appropriate use of cannabis-based medicines and medical cannabis for chronic pain management. Eur J Pain. 2018;22(9):1547–64.

47.

Kahan M, Srivastava A, Spithoff S, Bromley L. Prescribing smoked cannabis for chronic noncancer pain: preliminary recommendations. Can Fam Physician. 2014;60(12):1083–90.

48.

Allan GM, Ramji J, Perry D, Ton J, Beahm NP, Crisp N, et al. Simplified guideline for prescribing medical cannabinoids in primary care. Can Fam Physician. 2018;64(2):111–20.

49.

Abuhasira R, Schleider LB, Mechoulam R, Novack V. Epidemiological characteristics, safety and efficacy of medical cannabis in the elderly. Eur J Intern Med. 2018;49:44–50.

50.

van den Elsen GA, Ahmed AI, Lammers M, Kramers C, Verkes RJ, van der Marck MA, et al. Efficacy and safety of medical cannabinoids in older subjects: a systematic review. Ageing Res Rev. 2014;14:56–64.

51.

National Academies of Sciences E, and Medicine. The health effects of cannabis and cannabinoids: the current state of evidence and recommendations for research. Washington, DC: The National Academies Press; 2017.

52.

Allan GM, Finley CR, Ton J, Perry D, Ramji J, Crawford K, et al. Systematic review of systematic reviews for medical cannabinoids: pain, nausea and vomiting, spasticity, and harms. Can Fam Physician. 2018;64(2):e78–94.

53.

Whiting PF, Wolff RF, Deshpande S, Di Nisio M, Duffy S, Hernandez AV, et al. Cannabinoids for medical use: a systematic review and meta-analysis. JAMA. 2015;313(24):2456–73.

54.

Nugent SM, Morasco BJ, O'Neil ME, Freeman M, Low A, Kondo K, et al. The effects of cannabis among adults with chronic pain and an overview of general harms: a systematic review. Ann Intern Med. 2017;167(5):319–31.

55.

Mucke M, Phillips T, Radbruch L, Petzke F, Hauser W. Cannabis-based medicines for chronic neuropathic pain in adults. Cochrane Database Syst Rev. 2018;7(3):CD012182.

56.

Stockings E, Campbell G, Hall WD, Nielsen S, Zagic D, Rahman R, et al. Cannabis and cannabinoids for the treatment of people with chronic non-cancer pain conditions: a systematic review and meta-analysis of controlled and observational studies. Pain. 2018;May:25.

57.

Breivik H, Cherny N, Collett B, de Conno F, Filbet M, Foubert AJ, et al. Cancer-related pain: a pan—European survey of prevalence, treatment, and patient attitudes. Ann Oncol. 2009;20(8):1420–33.

58.

Webb JA, LeBlanc TW. Evidence-based Management of cancer pain. Semin Oncol Nurs. 2018;34(3):215–26.

59.

Wiffen PJ, Wee B, Moore RA. Oral morphine for cancer pain. Cochrane Database Syst Rev. 2013;22(7):CD003868.

60.

Johnson JR, Burnell-Nugent M, Lossignol D, Ganae-Motan ED, Potts R, Fallon MT. Multicenter, double-blind, randomized, placebo-controlled, parallel-group study of the efficacy, safety, and tolerability of THC:CBD extract and THC extract in patients with intractable cancer-related pain. J Pain Symptom Manag. 2010;39(2):167–79.

61.

Portenoy RK, Ganae-Motan ED, Allende S, Yanagihara R, Shaiova L, Weinstein S, et al. Nabiximols for opioid-treated cancer patients with poorly-controlled chronic pain: a randomized, placebo-controlled, graded-dose trial. J Pain. 2012;13(5):438–49.

62.

Babson KA, Sottile J, Morabito D. Cannabis, cannabinoids, and sleep: a review of the literature. Curr Psychiatry Rep. 2017;19(4):23.

63.

Gates P, Albertella L, Copeland J. Cannabis withdrawal and sleep: a systematic review of human studies. Subst Abus. 2016;37(1):255–69.

64.

Rice J, Cameron M. Cannabinoids for treatment of MS symptoms: state of the evidence. Curr Neurol Neurosci Rep. 2018;18(8):50.

65.

Yadav V, Narayanaswami P. Complementary and alternative medical therapies in multiple sclerosis—the American Academy of Neurology guidelines: a commentary. Clin Ther. 2014;36(12):1972–8.

66.

Nielsen S, Germanos R, Weier M, Pollard J, Degenhardt L, Hall W, et al. The use of cannabis and cannabinoids in treating symptoms of multiple sclerosis: a systematic review of reviews. Curr Neurol Neurosci Rep. 2018;18(2):8.

67.

Stampanoni Bassi M, Sancesario A, Morace R, Centonze D, Iezzi E. Cannabinoids in Parkinson's disease. Cannabis Cannabinoid Res. 2017;2(1):21–9.

68.

Noel C. Evidence for the use of "medical marijuana" in psychiatric and neurologic disorders. Ment Health Clin. 2017;7(1):29–38.

69.

Lim K, See YM, Lee J. A systematic review of the effectiveness of medical cannabis for psychiatric, movement and neurodegenerative disorders. Clin Psychopharmacol Neurosci. 2017;15(4):301–12.

70.

Shishko I, Oliveira R, Moore TA, Almeida K. A review of medical marijuana for the treatment of posttraumatic stress disorder: real symptom re-leaf or just high hopes? Ment Health Clin. 2018;8(2):86–94.

71.

Mucke M, Weier M, Carter C, Copeland J, Degenhardt L, Cuhls H, et al. Systematic review and meta-analysis of cannabinoids in palliative medicine. J Cachexia Sarcopenia Muscle. 2018;9(2):220–34.

72.

Lavie-Ajayi M, Shvartzman P. Restored self: a phenomenological study of pain relief by cannabis. Pain Med. 2018;Sep:12.

73.

Colizzi M, Bhattacharyya S. Does cannabis composition matter? Differential effects of delta-9-tetrahydrocannabinol and cannabidiol on human cognition. Curr Addict Rep. 2017;4(2):62–74.

74.

Cohen K, Weinstein A. The effects of cannabinoids on executive functions: evidence from cannabis and synthetic cannabinoids—a systematic review. Brain Sci. 2018;8(3):10.

75.

Choi NG, Marti CN, DiNitto DM, Choi BY. Older adults' marijuana use, injuries, and emergency department visits. Am J Drug Alcohol Abuse. 2018;44(2):215–23.

76.

Mensinga TT, de Vries I, Kruidenier M, Hunault CC, van den Hengel-Koot IS, Fijen JW, et al. A double-blind, randomized, placebocontrolled, cross-over study on the pharmacokinetics and effects of cannabis: Nationaal Vergiftigingen Informatie Centrum; 2006. Report no.: RIVM 267002002.

77.

Beirness DJ, Beasley EE, Boase P. A comparison of drug use by fatally injured drivers and drivers at risk. In: Proceedings of the the 20th international conference on alcohol, drugs and traffic safety T-2013; Brisbane, Australia: International Council on Alcohol, Drugs, and Traffic Safety (ICADTS). 2013.

78.

Asbridge M, Hayden JA, Cartwright JL. Acute cannabis consumption and motor vehicle collision risk: systematic review of observational studies and meta-analysis. BMJ. 2012;344:e536.

79.

Singh A, Saluja S, Kumar A, Agrawal S, Thind M, Nanda S, et al. Cardiovascular complications of marijuana and related substances: a review. Cardiol Ther. 2018;7(1):45–59.

80.

Thomas G, Kloner RA, Rezkalla S. Adverse cardiovascular, cerebrovascular, and peripheral vascular effects of marijuana inhalation: what cardiologists need to know. Am J Cardiol. 2014;113(1):187–90.

81.

Hackam DG. Cannabis and stroke: systematic appraisal of case reports. Stroke. 2015;46(3):852–6.

82.

Volkow ND, Compton WM, Weiss SR. Adverse health effects of marijuana use. N Engl J Med. 2014;371(9):879.

83.

Desai R, Patel U, Sharma S, Amin P, Bhuva R, Patel MS, et al. Recreational marijuana use and acute myocardial infarction: insights from nationwide inpatient sample in the United States. Cureus. 2017;9(11):e1816.

84.

Moore TH, Zammit S, Lingford-Hughes A, Barnes TR, Jones PB, Burke M, et al. Cannabis use and risk of psychotic or affective mental health outcomes: a systematic review. Lancet. 2007;370(9584):319–28.

85.

Feingold D, Weiser M, Rehm J, Lev-Ran S. The association between cannabis use and mood disorders: a longitudinal study. J Affect Disord. 2015;1(172):211–8.

86.

Ragazzi TCC, Shuhama R, Menezes PR, Del-Ben CM. Cannabis use as a risk factor for psychotic-like experiences: a systematic review of non-clinical populations evaluated with the Community Assessment of Psychic Experiences. Early Interv Psychiatry. 2018;Jun:21.

87.

Oh DJ, Park JY, Oh M, Kim K, Hong J, Kim T, et al. Suicidality-based prediction of suicide attempts in a community-dwelling elderly population: results from the Osan Mental Health Survey. J Affect Disord. 2015;15(184):286–92.

88.

Borges G, Bagge CL, Orozco R. A literature review and meta-analyses of cannabis use and suicidality. J Affect Disord. 2016;195:63–74.

89.

Waterreus A, Di Prinzio P, Badcock JC, Martin-Iverson M, Jablensky A, Morgan VA. Is cannabis a risk factor for suicide attempts in men and women with psychotic illness? Psychopharmacology. 2018;May:16.

90.

Nussbaum AM, Thurstone C, McGarry L, Walker B, Sabel AL. Use and diversion of medical marijuana among adults admitted to inpatient psychiatry. Am J Drug Alcohol Abuse. 2015;41(2):166–72.

91.

Megale RZ, Deveza LA, Blyth FM, Naganathan V, Ferreira PH, McLachlan AJ, et al. Efficacy and safety of oral and transdermal opioid analgesics for musculoskeletal pain in older adults: a systematic review of randomized, placebo-controlled trials. J Pain. 2018;19(5): 475:e1–24.

92.

Hauser W, Finnerup NB, Moore RA. Systematic reviews with meta-analysis on cannabis-based medicines for chronic pain: a methodological and political minefield. Pain. 2018;May:25.
Ethics declarations
Conflict of interest
AM and WH have no conflicts of interest. MAF has received consulting fees, speaking fees, and/or honoraria from AbbVie, Amgen, UCB Canada, Palladin Labs, and Pfizer in the last 3 years.
Funding
No sources of funding were used in the preparation of this manuscript.
About this article
Cite this article
Minerbi, A., Häuser, W. & Fitzcharles, MA. Medical Cannabis for Older Patients. Drugs Aging 36, 39–51 (2019). https://doi.org/10.1007/s40266-018-0616-5