Abstract
Aging skin is subject to morphological change due to both intrinsic (skin tone, genetics, endogenous hormones) and extrinsic (chronic sun exposure, medications, exogenous pigments) factors. The broad spectrum of transformation includes both hypo- and hyperpigmentation. Although cutaneous pigmentary disorders are common in younger individuals, certain disorders are more prevalent in the geriatric population. This article reviews the epidemiology, pathophysiology, clinical appearance, treatment, and prognosis of pigmentary lesions that are predominant in the elderly.
This is a preview of subscription content,
to check access.
Access this article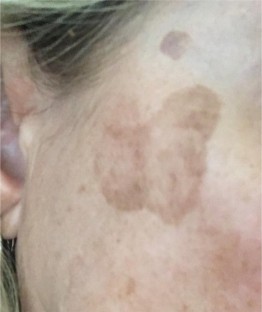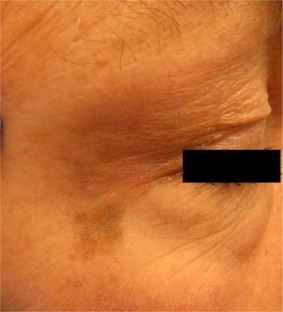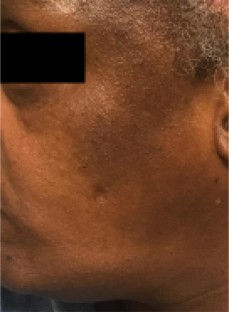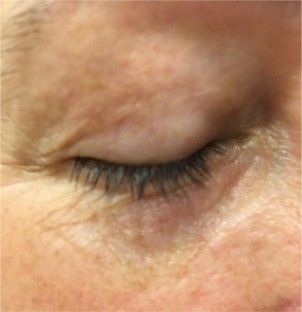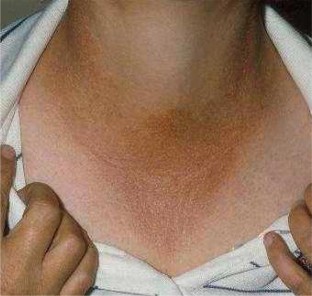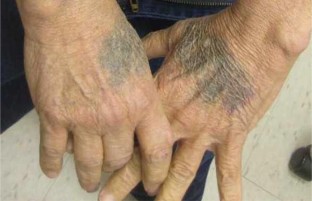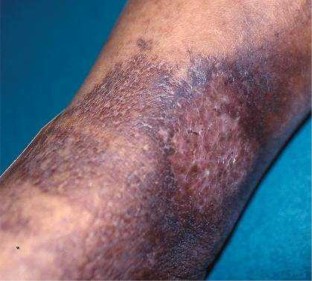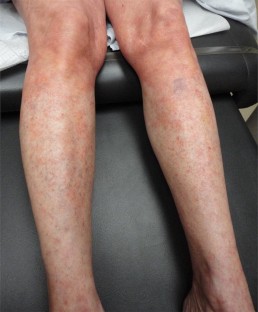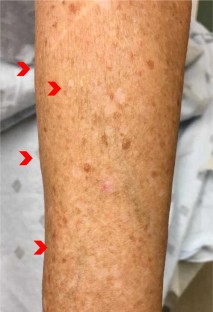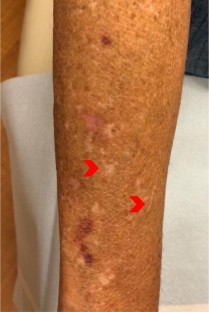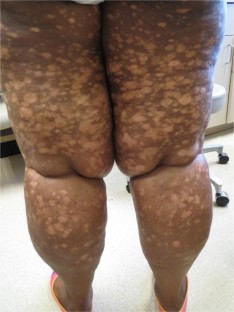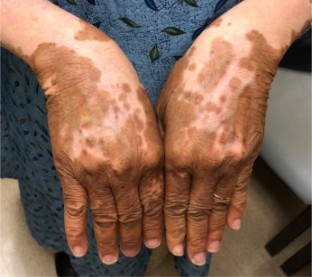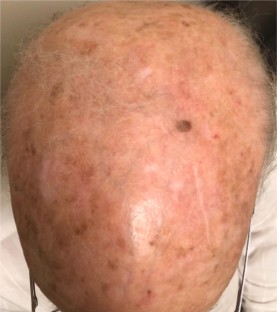 References
Ortonne JP. Changes in skin pigmentation in the elderly. J Eur Acad Dermatol Venereol. 1998;11:S33.

Marcos-Garcés V, Molina Aguilar P, Bea Serrano C, García Bustos V, Benavent Seguí J, Ferrández Izquierdo A, Ruiz-Saurí A. Age-related dermal collagen changes during development, maturation and ageing—a morphometric and comparative study. J Anat. 2014;225(1):98–108.

Uitto J. The role of elastin and collagen in cutaneous aging: intrinsic aging versus photoexposure. J Drugs Dermatol JDD. 2008;7(2 Suppl):s12–6.

Gunin AG, Petrov VV, Vasil'eva OV, Golubtsova NN. Blood vessels in human dermis during aging. Adv Gerontol. 2014;27(1):54–61.

Taylor A, Pawaskar M, Taylor SL, Balkrishnan R, Feldman SR. Prevalence of pigmentary disorders and their impact on quality of life: a prospective cohort study. J Cosmet Dermatol. 2008;7(3):164–8.

Wang KY, Wang KH, Zhang ZP. Health-related quality of life and marital quality of vitiligo patients in China. J Eur Acad Dermatol Venereol. 2011;25(4):429–35.

Ortonne JP. Pigmentary changes of the ageing skin. Br J Dermatol. 1990;122:21–8.

Haddad MM, Xu W, Medrano EE. Aging in epidermal melanocytes: cell cycle genes and melanins. J Investig Dermatol Symp Proc. 1998;3(1):36–40.

Hodgson C. Senile lentigo. Arch Dermatol. 1963;87:197–207.

Montagna W, Hu F, Carlisle K. A reinvestigation of solar lentigines. Arch Dermatol. 1980;116(10):1151–4.

Cohen LM. Lentigo maligna and lentigo maligna melanoma. J Am Acad Dermatol. 1997;36(6 Pt 1):913.

Farshad A, Burg G, Panizzon R, Dummer R. A retrospective study of 150 patients with lentigo maligna and lentigo maligna melanoma and the efficacy of radiotherapy using Grenz or soft X-rays. Br J Dermatol. 2002;146(6):1042–6.

Kasprzak JM, Xu YG. Diagnosis and management of lentigo maligna: a review. Drugs Context. 2015;4:212281.

Marsden JR, Newton-Bishop JA, Burrows L, Cook M, Corrie PG, Cox NH, Gore ME, Lorigan P, MacKie R, Nathan P, Peach H. Revised UK guidelines for the management of cutaneous melanoma 2010. Br J Dermatol. 2010;163(2):238–56.

Rajpar SF, Marsden JR. Imiquimod in the treatment of lentigo maligna. Br J Dermatol. 2006;155(4):653–6.

Buettiker UV, Yawalkar NY, Braathen LR, Hunger RE. Imiquimod treatment of lentigo maligna: an open-label study of 34 primary lesions in 32 patients. Arch Dermatol. 2008;144(7):943–5.

Powell AM, Robson AM, Russell-Jones R, Barlow RJ. Imiquimod and lentigo maligna: a search for prognostic features in a clinicopathological study with long-term follow-up. Br J Dermatol. 2009;160(5):994–8.

Ortonne JP, Pandya AG, Lui H, Hexsel D. Treatment of solar lentigines. J Am Acad Dermatol. 2006;54(5 Suppl 2):S262–71.

Alexander A. Maturational hyperpigmentation. Dermatol Skin Color. 2009;1:344.

Vashi NA, Kundu RV. Facial hyperpigmentation: causes and treatment. Br J Dermatol. 2013;169:41–56.

Larocca CA, Kundu RV, Vashi NA. Physiologic pigmentation: molecular mechanisms and clinical diversity. Pigment Int. 2014;1(2):44.

Baumann L, Rodriguez D, Taylor SC, Wu J. Natural considerations for skin of color. Cutis. 2006;78(6 Suppl):2–19.

Roh MR, Chung KY. Infraorbital dark circles: definition, causes, and treatment options. Dermatol Surg. 2009;35(8):1163–71.

Sarkar R. Idiopathic cutaneous hyperchromia at the orbital region or periorbital hyperpigmentation. J Cutan Aesthet Surg. 2012;5(3):183.

Lowe NJ, Wieder JM, Shorr N, Boxrud C, Saucer D, Chalet M. Infmorbital pigmented skin: preliminary observations of laser therapy. Dermatol Surg. 1995;21(9):767–70.

Ranu H, Thng S, Goh BK, Burger A, Goh CL. Periorbital hyperpigmentation in Asians: an epidemiologic study and a proposed classification. Dermatol Surg. 2011;37(9):1297–303.

Bernardini FP, Cetinkaya A, Devoto MH, Zambelli A. Calcium hydroxyl-apatite (Radiesse) for the correction of periorbital hollows, dark circles, and lower eyelid bags. Ophthalmic Plast Reconstr Surg. 2014;30(1):34–9.

Katoulis AC, Stavrianeas NG, Georgala S, Katsarou-Katsari A, Koumantaki-Mathioudaki E, Antoniou C, Stratigos JD. Familial cases of poikiloderma of Civatte: genetic implications in its pathogenesis? Clin Exp Dermatol. 1999;24(5):385–7.

Cestari TF, Dantas LP, Boza JC. Acquired hyperpigmentations. Anais Brasileiros de Dermatologia. 2014;89(1):11–25.

Katoulis AC, Stavrianeas NG, Georgala S, Bozi E, Kalogeromitros D, Koumantaki E, Katsambas AD. Poikiloderma of Civatte: a clinical and epidemiological study. J Eur Acad Dermatol Venereol. 2005;19(4):444–8.

Katoulis AC, Stavrianeas NG, Katsarou A, Antoniou C, Georgala S, Rigopoulos D, Koumantaki E, Avgerinou G, Katsambas AD. Evaluation of the role of contact sensitization and photosensitivity in the pathogenesis of poikiloderma of Civatte. Br J Dermatol. 2002;147(3):493–7.

Katoulis AC, Stavrianeas NG, Panayiotides JG, Bozi E, Vamvasakis E, Kalogeromitros D, Georgala S. Poikiloderma of Civatte: a histopathological and ultrastructural study. Dermatology. 2007;214(2):177–82.

Rusciani A, Motta A, Fino P, Menichini G. Treatment of poikiloderma of Civatte using intense pulsed light source: 7 years of experience. Dermatol Surg. 2008;34(3):314–9.

Nicolaidou E, Katsambas AD. Pigmentation disorders: hyperpigmentation and hypopigmentation. Clin Dermatol. 2014;32(1):66–72.

Krause W. Drug-induced hyperpigmentation: a systematic review. JDDG Journal der Deutschen Dermatologischen Gesellschaft. 2013;11(7):644–51.

Dereure O. Drug-induced skin pigmentation. Am J Clin Dermatol. 2001;2(4):253–62.

Qato DM, Wilder J, Schumm LP, Gillet V, Alexander GC. Changes in prescription and over-the-counter medication and dietary supplement use among older adults in the United States, 2005 vs 2011. JAMA Intern Med. 2016;176(4):473–82.

Robins AH. Phenothiazine melanosis in schizophrenic patients. Psychopharmacologia. 1972;27(4):327–42.

Hommer A. A review of preserved and preservative-free prostaglandin analogues for the treatment of open-angle glaucoma and ocular hypertension. Drugs Today. 2010;46(6):409–16.

Cho EB, Kim BC, Park EJ, et al. Hydroxychloroquine-induced hyperpigmentation. J Dermatol. 2012;39:859–60.

Levin CY, Maibach H. Exogenous ochronosis. Am J Clin Dermatol. 2001;2(4):213–7.

Kim A, Finch J. Q-switched alexandrite laser for the treatment of drug-induced hyperpigmentation. J Am Acad Dermatol. 2016;74:AB22.

Riemenschneider K, Powers JG. Successful treatment of minocycline-induced pigmentation with combined use of Q-switched and pulsed dye lasers. Photodermatol Photoimmunol Photomed. 2017;33(2):117–9.

Bergan JJ, Schmid-Schonbein GW, Smith PD, Nicolaides AN, Boisseau MR, Eklof B. Chronic venous disease. N Engl J Med. 2006;355(5):488–98.

Sippel K, Mayer D, Ballmer B, Dragieva G, Läuchli S, French LE, Hafner J. Evidence that venous hypertension causes stasis dermatitis. Phlebology. 2011;26:361–5.

Beebe-Dimmer JL, Pfeifer JR, Engle JS, Schottenfeld D. The epidemiology of chronic venous insufficiency and varicose veins. Ann Epidemiol. 2005;15(3):175–84.

Yalçın B, Tamer E, Toy GG, Öztaş P, Hayran M, Allı N. The prevalence of skin diseases in the elderly: analysis of 4099 geriatric patients. Int J Dermatol. 2006;45(6):672–6.

Fiebig A, Krusche P, Wolf A, Krawczak M, et al. Heritability of chronic venous disease. Hum Genet. 2010;127(6):669–74.

Sundaresan S, Migden MR, Silapunt S. Stasis dermatitis: pathophysiology, evaluation, and management. Am J Clin Dermatol. 2017;18(3):383–90.

Myers MB, Cherry G, Heimburger S, Hay M, Haydel H, Cooley L. The effect of edema and external pressure on wound healing. Arch Surg. 1967;94(2):218–22.

Padberg FT Jr, Johnston MV, Sisto SA. Structured exercise improves calf muscle pump function in chronic venous insufficiency: a randomized trial. J Vasc Surg. 2004;39(1):79–87.

Weiss SC, Nguyen J, Chon S, Kimball AB. A randomized controlled clinical trial assessing the effect of betamethasone valerate 0.12% foam on the short-term treatment of stasis dermatitis. J Drugs Dermatol. 2005;4(3):339–45.

Mirande LM, Landolfi JM, Pedemonte LH. Multiple applications of closed permanent wet dressings Their mode of action. Medicina Cutanea Ibero-latino-americana. 1981;9(1):67–71.

McCafferty L. Schamberg's "Peculiar progressive pigmentary disease of the skin". Arch JAMA Dermatol. 1926;14(1):53–8.

Roehm HR. Progressive pigmentary dermatosis (Schamberg). Clin Pediatr. 1968;7(5):307–8.

Ratnam KV, Su WD, Peters MS. Purpura simplex (inflammatory purpura without vasculitis): a clinicopathologic study of 174 cases. J Am Acad Dermatol. 1991;25(4):642–7.

Sardana K, Sarkar R, Sehgal VN. Pigmented purpuric dermatoses: an overview. Int J Dermatol. 2004;43(7):482–8.

Kim DH, Seo SH, Ahn HH, Kye YC, Choi JE. Characteristics and clinical manifestations of pigmented purpuric dermatosis. Ann Dermatol. 2015;27(4):404–10.

Fathy H, Abdelgaber S. Treatment of pigmented purpuric dermatoses with narrow-band UVB: a report of six cases. J Eur Acad Dermatol Venereol. 2011;25(5):603–6.

Shin MK, Jeong KH, Oh IH, Choe BK, Lee MH. Clinical features of idiopathic guttate hypomelanosis in 646 subjects and association with other aspects of photoaging. Int J Dermatol. 2011;50(7):798–805.

Juntongjin P, Laosakul K. Idiopathic guttate hypomelanosis: a review of its etiology, pathogenesis, findings, and treatments. Am J Clin Dermatol. 2016;17(4):403–11.

Kim SK, Kim EH, Kang HY, Lee ES, Sohn S, Kim YC. Comprehensive understanding of idiopathic guttate hypomelanosis: clinical and histopathological correlation. Int J Dermatol. 2010;49(2):162–6.

Falabella R, Escobar C, Giraldo N, Rovetto P, Gil J, Barona MI, Acosta F, Alzate A. On the pathogenesis of idiopathic guttate hypomelanosis. J Am Acad Dermatol. 1987;16(1):35–44.

Gordon JR, Reed KE, Sebastian KR, Ahmed AM. Excimer light treatment for idiopathic guttate hypomelanosis: a pilot study. Dermatol Surg. 2017;43(4):553–7.

Zak FG, Pai SH, Kanshepolsky J. Stellate spontaneous pseudoscars (Colomb). Arch Dermatol. 1968;98(5):499–501.

Colomb D. Stellate spontaneous pseudoscars: senile and presenile forms: especially those forms caused by prolonged corticoid therapy. Arch Dermatol. 1972;105(4):551–4.

Kaya G, Saurat JH. Dermatoporosis: a new concept in skin aging. Eur Geriatr Med. 2010;1(4):216–9.

Randhawa M, Rossetti D, Leyden JJ, Fantasia J, Zeichner J, Cula GO, Southall M, Tucker-Samaras S. One-year topical stabilized retinol treatment improves photodamaged skin in a double-blind, vehicle-controlled trial. J Drugs Dermatol. 2015;14(3):271–80.

Pimpinelli N, Olsen EA, Santucci M, Vonderheid E, Haeffner AC, Stevens S, Burg G, Cerroni L, Dreno B, Glusac E, Guitart J. Defining early mycosis fungoides. J Am Acad Dermatol. 2005;53(6):1053–63.

Boulos S, Vaid R, Aladily TN, Ivan DS, Talpur R, Duvic M. Clinical presentation, immunopathology, and treatment of juvenile-onset mycosis fungoides: a case series of 34 patients. J Am Acad Dermatol. 2014;71(6):1117–26.

Sant M, Allemani C, Tereanu C, De Angelis R, Capocaccia R, Visser O, Marcos-Gragera R, Maynadié M, Simonetti A, Lutz JM, Berrino F. Incidence of hematologic malignancies in Europe by morphologic subtype: results of the HAEMACARE project. Blood. 2010;116(19):3724–34.

Fung MA, Murphy MJ, Hoss DM, Grant-Kels JM. Practical evaluation and management of cutaneous lymphoma. J Am Acad Dermatol. 2002;46(3):325–60.

Zackheim HS, Kashani-Sabet M, Amin S. Topical corticosteroids for mycosis fungoides: experience in 79 patients. Arch Dermatol. 1998;134(8):949–54.

Kaye FJ, Bunn PA Jr, Steinberg SM, Stocker JL, Ihde DC, Fischmann AB, Glatstein EJ, Schechter GP, Phelps RM, Foss FM, Parlette HL III. A randomized trial comparing combination electron-beam radiation and chemotherapy with topical therapy in the initial treatment of mycosis fungoides. N Engl J Med. 1989;321(26):1784–90.

Schwartz C, Javvaji S, Feinberg JS. Linear rays of hypopigmentation following intra-articular corticosteroid injection for post-traumatic degenerative joint disease. Dermatol Online J. 2012;18(5):11.

Llamas-Velasco M, Fraga J, Kutzner H, Steegmann JL, García-Diez A, Requena L. Hypopigmented macules secondary to imatinib for the treatment of chronic myeloid leukemia: a histopathologic and immunohistochemical study. J Cutan Pathol. 2014;41(5):417–26.

Dai J, Belum VR, Wu S, Sibaud V, Lacouture ME. Pigmentary changes in patients treated with targeted anticancer agents: a systematic review and meta-analysis. J Am Acad Dermatol. 2017;77(5):902–10.

Naveh HP, Rao UN, Butterfield LH. Melanoma-associated leukoderma—immunology in black and white? Pigment Cell Melanoma Res. 2013;26(6):796–804.

Nordlund JJ, Kirkwood JM, Forget BM, Milton G, Albert DM, Lerner AB. Vitiligo in patients with metastatic melanoma: a good prognostic sign. J Am Acad Dermatol. 1983;9(5):689–96.

Edmondson LA, Smith LV, Mallik A. Nivolumab-induced vitiligo in a metastatic melanoma patient: a case report. J Oncol Pharm Pract. 2017;23(8):629–34.

Mooney E, Rademaker M, Dailey R, Daniel BS, Drummond C, Fischer G, Foster R, Grills C, Halbert A, Hill S, King E. Adverse effects of topical corticosteroids in paediatric eczema: Australasian consensus statement. Australas J Dermatol. 2015;56(4):241–51.

Vachiramon V, Thadanipon K. Postinflammatory hypopigmentation. Clin Exp Dermatol Clin Dermatol. 2011;36(7):708–14.

Salasche SJ. Epidemiology of actinic keratoses and squamous cell carcinoma. J Am Acad Dermatol. 2000;42(1):S4–7.

Uhlenhake EE. Optimal treatment of actinic keratoses. Clin Interv Aging. 2013;8:29.

Linos E, Chren MM, Covinsky K. Geriatric dermatology—a framework for caring for older patients with skin disease. JAMA Dermatol. 2018;154:757–8.
Ethics declarations
Funding
No sources of funding were used to conduct this study or prepare this manuscript.
Conflict of interest
A. M. Armenta, E. D. Henkel, and A. M. Ahmed have no conflicts of interest that are directly relevant to the content of this article.
About this article
Cite this article
Armenta, A.M., Henkel, E.D. & Ahmed, A.M. Pigmentation Disorders in the Elderly. Drugs Aging 36, 235–245 (2019). https://doi.org/10.1007/s40266-018-00633-w
Published:

Issue Date:

DOI: https://doi.org/10.1007/s40266-018-00633-w