Abstract
Introduction
Extensive clinical research has consistently shown statins lower the risk of cardiovascular events and mortality. Some studies also suggest statins increase the risk of new-onset diabetes. Research to date has rarely included elderly women, hence little is known about the risk of diabetes after statin exposure in this population.
Objectives
Our objectives were to evaluate and estimate the risk of new-onset diabetes associated with statin exposure in a cohort of elderly Australian women.
Methods
We performed an analysis of a population-based longitudinal cohort study with data linkage to the national death index and to national databases of non-hospital episodes of medical care and prescription medications dispensing. Participants included 8372 Australian women born between 1921 and 1926, alive at 1 January 2003, free of diabetes, and eligible for data linkage. Statin exposure was ascertained based on prescriptions dispensed between 1 July 2002 and 31 August 2013.
Results
Over 10 years of follow up, 49% of the cohort had filled a prescription for statins and 5% had initiated treatment for new-onset diabetes. Multivariable Cox regression showed statin exposure was associated with a higher risk of treatment for new-onset diabetes (hazard ratio 1.33; 95% confidence interval [CI] 1.04–1.70; p = 0.024). This equates to a number needed to harm (NNH) of 131 (95% CI 62–1079) for 5 years of exposure to statins. Risk increased with increasing dose of statin from the hazard ratio of 1.17 (95% CI 0.84–1.65) for the lowest dose to 1.51 (95% CI 1.14–1.99) for the highest dose.
Conclusion
The dose–response for statins on new onset of diabetes suggests elderly women should not be exposed to higher doses of statins. Elderly women currently taking statins should be carefully and regularly monitored for increased blood glucose to ensure early detection and appropriate management of this potential adverse effect, including consideration of de-prescribing.
Access options
Buy single article
Instant access to the full article PDF.
USD 49.95
Price excludes VAT (USA)
Tax calculation will be finalised during checkout.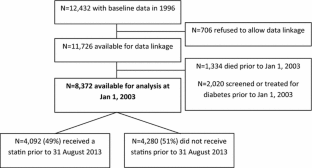 References
Ward S, Lloyd Jones M, Pandor A, et al. A systematic review and economic evaluation of statins for the prevention of coronary events. Health Technol Assess. 2007;11(14):1–160.

Afilalo J, Duque G, Steele R, et al. Statins for secondary prevention in elderly patients: a hierarchical Bayesian meta-analysis. J Am Coll Cardiol. 2008;51(1):37–45.

Cholesterol Treatment Trialists' (CTT) Collaboration. Efficacy and safety of LDL-lowering therapy among men and women: meta-analysis of individual data from 174,000 participants in 27 randomised trials. Lancet. 2015;385(9976):1397–405.

Bandyopadhyay S, Bayer A, O'Mahony M. Age and gender bias in statin trials. Q J Med. 2001;94:127–32.

Taylor F, Huffman M, Macedo A, et al. Statins for the primary prevention of cardiovascular disease. Cochrane Database Syst Rev. 2013;(1):CD004916. doi:10.1002/14651858.CD004816.pub5.

Abramson J, Rosenberg H, Jewell N, et al. Should people at low risk of cardiovascular disease take a statin? BMJ. 2013;347:f6123.

Ray K, Seshasai S, Erqou S, et al. Statins and all-cause mortality in high-risk primary prevention: a meta-analysis of 11 randomized controlled trials involving 65,229 participants. Arch Intern Med. 2010;170:1024–31.

Savarese G, Gotto A, Paolillo S, et al. Benefits of statins in elderly subjects without established cardiovascular disease. J Am Coll Cardiol. 2013;62:2090–9.

Dormuth C, Filion K, Paterson J, et al. Higher potency statins and the risk of new diabetes: multicentre, observational study of administrative databases. BMJ. 2014;348:g3244.

Carter A, Gomes T, Camacho X, et al. Risk of incident diabetes among patients treated with statins: population based study. BMJ. 2013;346:f2610.

Sattar N, Preiss D, Murray H, et al. Statins and risk of incident diabetes: a collaborative meta-analysis of randomised statin trials. Lancet. 2010;375:735–42.

Culver A, Ockene I, Balasubramanian R, et al. Statin use and risk of diabetes mellitus in postmenopausal women in the women's health initiative. Arch Int Med. 2012;172:144–52.

Mills E, Wu P, Chong G, et al. Efficacy and safety of statin treatment for cardiovascular disease: a network meta-analysis of 170,255 patients from 76 randomized trials. Q J Med. 2011;104:109–24.

World Health Organization. Global report on diabetes. Geneva: WHO; 2016.

Australian Institute of Health and Welfare. Australia's health 2014. Canberra: AIHW; 2014.

Swerdlow D, Preiss D, Kuchenbaecker K, et al. HMG-coenzyme A reductase inhibition, type 2 diabetes, and bodyweight: evidence from genetic analysis and randomised trials. Lancet. 2015;385:351–61.

The Australian Longitudinal Study on Women's Health. 2016. http://www.alswh.org.au/. Accessed 15 Jan 2016.

Dobson AJ, Hockey R, Brown WJ, et al. Cohort profile update: Australian longitudinal study on women's health. Int J Epidemiol. 2015;44(5):1547a–1547f.

Australian Government Department of Health. The Pharmaceutical Benefits Scheme. General statement for lipid-lowering drugs prescribed as pharmaceutical benefits. 2016. http://www.pbs.gov.au/info/healthpro/explanatory-notes/gs-lipid-lowering-drugs. Accessed 15 Jan 2016.

Australian Government Department of Health. Medicare benefits schedule. 2016. http://www.health.gov.au/internet/mbsonline/publishing.nsf/Content/Medicare-Benefits-Schedule-MBS-1. Accessed 15 Jan 2016.

Australian Government. Australian Institute of Health and Welfare. National Death Index (NDI). 2016. http://www.aihw.gov.au/national-death-index/. Accessed 15 Jan 2016.

McAuley D. Drug comparisons: statins. 2016. http://www.globalrph.com/statins_comparisons.htm. Accessed 15 Jan 2016.

Blazing MA. Incidence of new-onset diabetes in the IMPROVE-IT trial: does adding ezetimibe to simvastatin increase risk compared to simvastatin alone? European Society of Cardiology Congress. 29 August–2 September 2015, London.

Suissa S. Immortal time bias in pharmacoepidemiology. Am J Epidemiol. 2008;167:492–9.

Fine J, Gray R. A proportional hazards model for the subdistribution of a competing risk. J Am Stat Assoc. 1999;94:496–509.

von Elm E, Altman D, Egger M, et al. Strengthening the reporting of observational studies in epidemiology (STROBE) statement: guidelines for reporting observational studies. BMJ. 2007;335:806.

Cederberg H, Stančáková A, Yaluri N, et al. Increased risk of diabetes with statin treatment is associated with impaired insulin sensitivity and insulin secretion: a 6 year follow-up study of the METSIM cohort. Diabetologia. 2015;58(5):1109–17. doi:10.1007/s00125-015-3528-5.

Kutner JS, Blatchford PJ, Taylor DH Jr, et al. Safety and benefit of discontinuing statin therapy in the setting of advanced, life-limiting illness: a randomized clinical trial. JAMA Intern Med. 2015;175(5):691–700.

Scott IA, Hilmer SN, Reeve E, et al. Reducing inappropriate polypharmacy: the process of deprescribing. JAMA Intern Med. 2015;175(5):827–34.

Golomb B, Evans M. Statin adverse effects: a review of the literature and evidence for a mitochondrial mechanism. Am J Cardiovasc Drugs. 2008;8(6):373–418.
Ethics declarations
Contributors
MJ drafted the protocol, conducted the analysis and drafted the manuscript. ST, GMEEP, GDM and AD contributed to the study design and interpretation of results and provided critical input to the writing of the protocol and manuscript.
Funding
The Australian Longitudinal Study on Women's Health is funded by the Australian Department of Health. MJ and GDM are funded by the Australian National Health and Medical Research Council (APP1000986). The funding bodies had no role in the collection, analysis or interpretation of data, the writing of the manuscript or the decision to submit the manuscript for publication.
Conflict of interest
All authors have completed the ICMJE uniform disclosure form at http://www.icmje.org/coi_disclosure.pdf and declare no support from any organisation for the submitted work apart from that described above; no financial relationships with any organisations that might have an interest in the submitted work in the previous 3 years; and no other relationships or activities that could appear to have influenced the submitted work.
About this article
Cite this article
Jones, M., Tett, S., Peeters, G.M.E.E. et al. New-Onset Diabetes After Statin Exposure in Elderly Women: The Australian Longitudinal Study on Women's Health. Drugs Aging 34, 203–209 (2017). https://doi.org/10.1007/s40266-017-0435-0
Published:

Issue Date:

DOI: https://doi.org/10.1007/s40266-017-0435-0
Keywords
Statin

Ezetimibe

Body Mass Index Group

Australian Woman

Statin User