Abstract
Cardiovascular disease affects more than 90 million Americans. Recent studies support an increased cardiovascular disease risk in inflammatory conditions, such as gout. Increased serum urate levels, or hyperuricemia, are a precursor to gout. Data from meta-analyses have shown hyperuricemia to be linked to hypertension and coronary heart disease. Similarly, gout has been associated with an increased risk of myocardial infarction, cerebrovascular accidents, and death from cardiovascular disease in randomized clinical trials. Urate-lowering therapy reduces serum urate and may decrease systemic inflammation, generation of oxidative species, and reverses endothelial dysfunction through hyperuricemia-dependent or hyperuricemia-independent pathways. Cardioprotective benefits of allopurinol, a first-line agent for the treatment of gout, have been demonstrated to potentially prevent myocardial infarction, stroke, atrial fibrillation, and other cardiovascular diseases in observational studies in select populations. Randomized controlled trials (RCTs) have also examined the role of newer urate-lowering therapies, such as febuxostat and lesinurad, and their risk of cardiovascular-specific mortality in comparison to allopurinol. A large post-marketing study of febuxostat vs. allopurinol showed higher all-cause and cardiovascular-specific mortality in the febuxostat group than in the allopurinol group; a major study limitation was that large numbers of patients were lost to follow-up or discontinued treatment. RCTs are required to assess the comparative effectiveness of urate-lowering therapies, validate findings of observational studies, and to determine which subgroup populations of gout are most likely to benefit from appropriate long-term urate-lowering therapy. This review examines the data for increased cardiovascular disease in gout and potential underlying mechanisms (including hyperuricemia, inflammation, endothelial dysfunction, oxidative stress) and the effect of urate-lowering therapy on cardiovascular disease.
Access options
Buy single article
Instant access to the full article PDF.
US$ 49.95
Tax calculation will be finalised during checkout.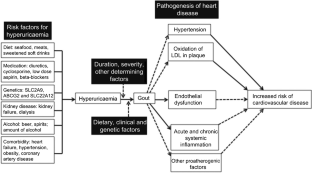 References
1.

Benjamin EJ, Blaha MJ, Chiuve SE, Cushman M, Das SR, Deo R, et al. Heart disease and stroke statistics-2017 update: a report from the American Heart Association. Circulation. 2017;135:e146–603.

2.

Dawber TR, Moore FE, Mann GV. Coronary heart disease in the Framingham study. Am J Public Health Nations Health. 1957;47:4–24.

3.

Choi HK, Curhan G. Independent impact of gout on mortality and risk for coronary heart disease. Circulation. 2007;116:894–900.

4.

Krishnan E, Baker JF, Furst DE, Schumacher HR. Gout and the risk of acute myocardial infarction. Arthritis Rheumatol. 2006;54:2688–96.

5.

Ridker PM, Everett BM, Thuren T, MacFadyen JG, Chang WH, Ballantyne C, et al. Antiinflammatory therapy with canakinumab for atherosclerotic disease. N Engl J Med. 2017;377:1119–31.

6.

Bardin T, Richette P. Impact of comorbidities on gout and hyperuricaemia: an update on prevalence and treatment options. BMC Med. 2017;15:123.

7.

Zhu Y, Pandya BJ, Choi HK. Prevalence of gout and hyperuricemia in the US general population: the National Health and Nutrition Examination Survey 2007–2008. Arthritis Rheumatol. 2011;63:3136–41.

8.

Breckenridge A. Hypertension and hyperuricaemia. Lancet. 1966;1:15–8.

9.

Tykarski A. Evaluation of renal handling of uric acid in essential hypertension: hyperuricemia related to decreased urate secretion. Nephron. 1991;59:364–8.

10.

Feig DI, Johnson RJ. Hyperuricemia in childhood primary hypertension. Hypertension. 2003;42:247–52.

11.

Sanchez-Lozada LG, Tapia E, Avila-Casado C, Soto V, Franco M, Santamaria J, et al. Mild hyperuricemia induces glomerular hypertension in normal rats. Am J Physiol Renal Physiol. 2002;283:F1105–10.

12.

Grayson PC, Kim SY, LaValley M, Choi HK. Hyperuricemia and incident hypertension: a systematic review and meta-analysis. Arthritis Care Res (Hoboken). 2011;63:102–10.

13.

Wang J, Qin T, Chen J, Li Y, Wang L, Huang H, et al. Hyperuricemia and risk of incident hypertension: a systematic review and meta-analysis of observational studies. PLoS One. 2014;9:e114259.

14.

Kim SY, Guevara JP, Kim KM, Choi HK, Heitjan DF, Albert DA. Hyperuricemia and coronary heart disease: a systematic review and meta-analysis. Arthritis Care Res (Hoboken). 2010;62:170–80.

15.

Franse LV, Pahor M, Di Bari M, Shorr RI, Wan JY, Somes GW, et al. Serum uric acid, diuretic treatment and risk of cardiovascular events in the Systolic Hypertension in the Elderly Program (SHEP). J Hypertens. 2000;18:1149–54.

16.

Santos RD, Nasir K, Orakzai R, Meneghelo RS, Carvalho JA, Blumenthal RS. Relation of uric acid levels to presence of coronary artery calcium detected by electron beam tomography in men free of symptomatic myocardial ischemia with versus without the metabolic syndrome. Am J Cardiol. 2007;99:42–5.

17.

Fang J, Alderman MH. Serum uric acid and cardiovascular mortality the NHANES I epidemiologic follow-up study, 1971–1992. National Health and Nutrition Examination Survey. JAMA. 2000;283:2404–10.

18.

Culleton BF, Larson MG, Kannel WB, Levy D. Serum uric acid and risk for cardiovascular disease and death: the Framingham Heart Study. Ann Intern Med. 1999;131:7–13.

19.

De Vera MA, Rahman MM, Bhole V, Kopec JA, Choi HK. Independent impact of gout on the risk of acute myocardial infarction among elderly women: a population-based study. Ann Rheum Dis. 2010;69:1162–4.

20.

Clarson LE, Hider SL, Belcher J, Heneghan C, Roddy E, Mallen CD. Increased risk of vascular disease associated with gout: a retrospective, matched cohort study in the UK clinical practice research datalink. Ann Rheum Dis. 2015;74:642–7.

21.

Singh JA, Ramachandaran R, Yu S, Yang S, Xie F, Yun H, et al. Is gout a risk equivalent to diabetes for stroke and myocardial infarction? A retrospective claims database study. Arthritis Res Ther. 2017;19:228.

22.

Jalal DI, Jablonski KL, McFann K, Chonchol MB, Seals DR. Vascular endothelial function is not related to serum uric acid in healthy adults. Am J Hypertens. 2012;25:407–13.

23.

Kotur-Stevuljevic J, Memon L, Stefanovic A, Spasic S, Spasojevic-Kalimanovska V, Bogavac-Stanojevic N, et al. Correlation of oxidative stress parameters and inflammatory markers in coronary artery disease patients. Clin Biochem. 2007;40:181–7.

24.

Tsutsumi Z, Moriwaki Y, Takahashi S, Ka T, Yamamoto T. Oxidized low-density lipoprotein autoantibodies in patients with primary gout: effect of urate-lowering therapy. Clin Chim Acta. 2004;339:117–22.

25.

Ridker PM, Pradhan A, MacFadyen JG, Libby P, Glynn RJ. Cardiovascular benefits and diabetes risks of statin therapy in primary prevention: an analysis from the JUPITER trial. Lancet. 2012;380:565–71.

26.

Nakajima T, Origuchi N, Matsunaga T, Kawai S, Hokari S, Nakamura H, et al. Localization of oxidized HDL in atheromatous plaques and oxidized HDL binding sites on human aortic endothelial cells. Ann Clin Biochem. 2000;37(Pt 2):179–86.

27.

Singh JA. When gout goes to the heart: does gout equal a cardiovascular disease risk factor? Ann Rheum Dis. 2015;74:631–4.

28.

Pironti G, Bersellini-Farinotti A, Agalave NM, Sandor K, Fernandez-Zafra T, Jurczak A, et al. Cardiomyopathy, oxidative stress and impaired contractility in a rheumatoid arthritis mouse model. Heart. 2018;104(24):2026–34.

29.

Ikonomidis I, Lekakis JP, Nikolaou M, Paraskevaidis I, Andreadou I, Kaplanoglou T, et al. Inhibition of interleukin-1 by anakinra improves vascular and left ventricular function in patients with rheumatoid arthritis. Circulation. 2008;117:2662–9.

30.

Boekholdt SM, Hovingh GK, Mora S, Arsenault BJ, Amarenco P, Pedersen TR, et al. Very low levels of atherogenic lipoproteins and the risk for cardiovascular events: a meta-analysis of statin trials. J Am Coll Cardiol. 2014;64:485–94.

31.

Gavin AR, Struthers AD. Hyperuricemia and adverse outcomes in cardiovascular disease: potential for therapeutic intervention. Am J Cardiovasc Drugs. 2003;3:309–14.

32.

Khosla UM, Zharikov S, Finch JL, Nakagawa T, Roncal C, Mu W, et al. Hyperuricemia induces endothelial dysfunction. Kidney Int. 2005;67:1739–42.

33.

Choi YJ, Yoon Y, Lee KY, Hien TT, Kang KW, Kim KC, et al. Uric acid induces endothelial dysfunction by vascular insulin resistance associated with the impairment of nitric oxide synthesis. FASEB J. 2014;28:3197–204.

34.

Hopps E, Noto D, Caimi G, Averna MR. A novel component of the metabolic syndrome: the oxidative stress. Nutr Metab Cardiovasc Dis. 2010;20:72–7.

35.

Choi HK, Ford ES, Li C, Curhan G. Prevalence of the metabolic syndrome in patients with gout: the Third National Health and Nutrition Examination Survey. Arthritis Rheumatol. 2007;57:109–15.

36.

Khanna D, Fitzgerald JD, Khanna PP, Bae S, Singh MK, Neogi T, et al. 2012 American College of Rheumatology guidelines for management of gout. Part 1: systematic nonpharmacologic and pharmacologic therapeutic approaches to hyperuricemia. Arthritis Care Res (Hoboken). 2012;64:1431–46.

37.

Bove M, Cicero AF, Veronesi M, Borghi C. An evidence-based review on urate-lowering treatments: implications for optimal treatment of chronic hyperuricemia. Vasc Health Risk Manag. 2017;13:23–8.

38.

Sautner J. Diagnosis and management of gout in Austria: survey of current practice considering the EULAR recommendations. Z Rheumatol. 2014;73:836–42.

39.

Stamp LK, Chapman PT. Urate-lowering therapy: current options and future prospects for elderly patients with gout. Drugs Aging. 2014;31:777–86.

40.

Saag KG, Fitz-Patrick D, Kopicko J, Fung M, Bhakta N, Adler S, et al. Lesinurad combined with allopurinol: a randomized, double-blind, placebo-controlled study in gout patients with an inadequate response to standard-of-care allopurinol (a US-based study). Arthritis Rheumatol. 2017;69:203–12.

41.

Melendez-Ramirez G, Perez-Mendez O, Lopez-Osorio C, Kuri-Alfaro J, Espinola-Zavaleta N. Effect of the treatment with allopurinol on the endothelial function in patients with hyperuricemia. Endocr Res. 2012;37:1–6.

42.

Feig DI, Kang DH, Johnson RJ. Uric acid and cardiovascular risk. N Engl J Med. 2008;359:1811–21.

43.

Feig DI, Soletsky B, Johnson RJ. Effect of allopurinol on blood pressure of adolescents with newly diagnosed essential hypertension: a randomized trial. JAMA. 2008;300:924–32.

44.

Singh JA, Yu S. Allopurinol reduces the risk of myocardial infarction (MI) in the elderly: a study of Medicare claims. Arthritis Res Ther. 2016;18:209.

45.

White WB, Saag KG, Becker MA, Borer JS, Gorelick PB, Whelton A, et al. Cardiovascular safety of febuxostat or allopurinol in patients with gout. N Engl J Med. 2018;378:1200–10.

46.

Singh JA, Yu S. Allopurinol and the risk of stroke in older adults receiving medicare. BMC Neurol. 2016;16:164.

47.

Singh JA, Yu S. Allopurinol and the risk of atrial fibrillation in the elderly: a study using Medicare data. Ann Rheum Dis. 2017;76:72–8.

48.

Singh JA, Cleveland J. Allopurinol and the risk of incident peripheral arterial disease in the elderly: a US Medicare claims data study. Rheumatology (Oxford). 2018;57:451–61.

49.

Kok VC, Horng JT, Chang WS, Hong YF, Chang TH. Allopurinol therapy in gout patients does not associate with beneficial cardiovascular outcomes: a population-based matched-cohort study. PLoS One. 2014;9:e99102.

50.

de Abajo FJ, Gil MJ, Rodriguez A, Garcia-Poza P, Alvarez A, Bryant V, et al. Allopurinol use and risk of non-fatal acute myocardial infarction. Heart. 2015;101:679–85.

51.

Grimaldi-Bensouda L, Alperovitch A, Aubrun E, Danchin N, Rossignol M, Abenhaim L, et al. Impact of allopurinol on risk of myocardial infarction. Ann Rheum Dis. 2015;74:836–42.

52.

Becker MA, Schumacher HR, Espinoza LR, Wells AF, MacDonald P, Lloyd E, et al. The urate-lowering efficacy and safety of febuxostat in the treatment of the hyperuricemia of gout: the CONFIRMS trial. Arthritis Res Ther. 2010;12:R63.

53.

MacDonald TM, Ford I, Nuki G, Mackenzie IS, De Caterina R, Findlay E, et al. Protocol of the Febuxostat versus Allopurinol Streamlined Trial (FAST): a large prospective, randomised, open, blinded endpoint study comparing the cardiovascular safety of allopurinol and febuxostat in the management of symptomatic hyperuricaemia. BMJ Open. 2014;4:e005354.

54.

Poiley J, Steinberg AS, Choi YJ, Davis CS, Martin RL, McWherter CA, et al. A randomized, double-blind, active- and placebo-controlled efficacy and safety study of arhalofenate for reducing flare in patients with gout. Arthritis Rheumatol. 2016;68:2027–34.

55.

Borgi L, McMullan C, Wohlhueter A, Curhan GC, Fisher ND, Forman JP. Effect of uric acid-lowering agents on endothelial function: a randomized, double-blind, placebo-controlled trial. Hypertension. 2017;69:243–8.

56.

Juraschek SP, Kovell LC, Miller ER 3rd, Gelber AC. Gout, urate-lowering therapy, and uric acid levels among adults in the United States. Arthritis Care Res (Hoboken). 2015;67:588–92.

57.

Zhang M, Solomon DH, Desai RJ, Kang EH, Liu J, Neogi T, et al. Assessment of cardiovascular risk in older patients with gout initiating febuxostat versus allopurinol. Circulation. 2018;138(11):1116–26.

58.

Crittenden DB, Lehmann RA, Schneck L, Keenan RT, Shah B, Greenberg JD, et al. Colchicine use is associated with decreased prevalence of myocardial infarction in patients with gout. J Rheumatol. 2012;39:1458–64.

59.

Kawashima M, Wada K, Ohta H, Terawaki H, Aizawa Y. Association between asymptomatic hyperuricemia and new-onset chronic kidney disease in Japanese male workers: a long-term retrospective cohort study. BMC Nephrol. 2011;12:31.

60.

Kuwabara M, Niwa K, Hisatome I, Nakagawa T, Roncal-Jimenez CA, Andres-Hernando A, et al. Asymptomatic hyperuricemia without comorbidities predicts cardiometabolic diseases: five-year Japanese cohort study. Hypertension. 2017;69:1036–44.

61.

Yamanaka H, Metabolism TG. Essence of the revised guideline for the management of hyperuricemia and gout. Jpn Med Assoc J. 2012;55:324–9.

62.

Vinik O, Wechalekar MD, Falzon L, Buchbinder R, van der Heijde DM, Bombardier C. Treatment of asymptomatic hyperuricemia for the prevention of gouty arthritis, renal disease, and cardiovascular events: a systematic literature review. J Rheumatol Suppl. 2014;92:70–4.

63.

Akkineni R, Tapp S, Tosteson AN, Lee A, Miller KL, Choi HK, et al. Treatment of asymptomatic hyperuricemia and prevention of vascular disease: a decision analytic approach. J Rheumatol. 2014;41:739–48.
Ethics declarations
Conflict of interest
Jasvinder A. Singh has received consultant fees from Crealta/Horizon, Fidia, UBM LLC, Medscape, WebMD, the National Institutes of Health, and the American College of Rheumatology. He owns stock options in Amarin Pharmaceuticals and Viking Therapeutics. He is a member of the executive of OMERACT, an organization that develops outcome measures in rheumatology and receives arms-length funding from 36 companies. Jasvinder A. Singh is also a member of the Veterans Affairs Rheumatology Field Advisory Committee and is the editor and the Director of the UAB Cochrane Musculoskeletal Group Satellite Center on Network Meta-analysis. Manik K. Gupta has no conflicts of interest that are directly relevant to the content of this article.
Funding
No sources of funding were received for the preparation of this review.
About this article
Cite this article
Gupta, M.K., Singh, J.A. Cardiovascular Disease in Gout and the Protective Effect of Treatments Including Urate-Lowering Therapy. Drugs 79, 531–541 (2019). https://doi.org/10.1007/s40265-019-01081-5