Abstract
Introduction
Several studies have reported increasing prevalence of prescription opioid use among pregnant women. However, little is known regarding the effects of maternal opioid use on neurodevelopmental disorders in early childhood in pregnant women with no evidence of opioid use disorders or drug dependence.
Objective
The aim of this study was to quantify the association between prenatal opioid exposure from maternal prescription use and neurodevelopmental outcomes in early childhood.
Methods
This retrospective study included pregnant women aged 12–55 years and their live-birth infants born from 2010 to 2012 present in Optum's deidentified Clinformatics® Data Mart database. Eligible infants born to mothers without opioid use disorders or drug dependence were followed till occurrence of neurodevelopmental disorders, loss to follow-up, or study end (December 31, 2017), whichever came first. Propensity score by fine stratification was applied to adjust for confounding by demographic characteristics, obstetric characteristics, maternal comorbid mental and pain conditions, and measures of burden of illnesses and to obtain adjusted hazard ratios (HR) and 95% confidence intervals (CI). Exposed and unexposed infants were compared on the incidence of neurodevelopmental disorders.
Results
Of 24,910 newborns, 7.6% (1899) were prenatally exposed to prescription opioids. Overall, 1562 children were diagnosed with neurodevelopmental disorders, with crude incidence rates of 2.9 per 100 person-years in exposed children versus 2.5 per 100 person-years in unexposed children. After adjustment, we observed no association between fetal opioid exposure and the risk of neurodevelopmental disorders (HR 1.10; 95% CI 0.92–1.32). However, increased risk of neurodevelopmental disorders were observed in children with longer cumulative exposure duration (HR 1.70; 95% CI 1.05–2.96) or high cumulative opioid doses (HR 1.22; 95% CI 1.01–1.54).
Conclusion and Relevance
In pregnant women without opioid use disorders or drug dependence, maternal opioid use was not associated with increased risk of neurodevelopmental disorders in early childhood. However, increased risks of early neurodevelopmental disorders were observed in children born to women receiving prescription opioids for longer duration and at higher doses during pregnancy.
Access options
Buy single article
Instant access to the full article PDF.
USD 49.95
Price excludes VAT (USA)
Tax calculation will be finalised during checkout.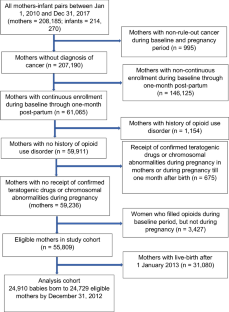 References
Desai RJ, Huybrechts KF, Hernandez-Diaz S, Mogun H, Patorno E, Kaltenbach K, et al. Exposure to prescription opioid analgesics in utero and risk of neonatal abstinence syndrome: population based cohort study. BMJ. 2015;350:h2102.

Yazdy MM, Mitchell AA, Tinker SC, Parker SE, Werler MM. Periconceptional use of opioids and the risk of neural tube defects. Obstet Gynecol. 2013;122:838–44.

Broussard CS, Rasmussen SA, Reefhuis J, Friedman JM, Jann MW, Riehle-Colarusso T, et al. Maternal treatment with opioid analgesics and risk for birth defects. Am J Obstet Gynecol. 2011;204(314):e1-11.

Nørgaard M, Nielsson MS, Heide-Jørgensen U. Birth and neonatal outcomes following opioid use in pregnancy: a Danish population-based study. Subst Abuse. 2015;9:5–11.

Patrick SW, Dudley J, Martin PR, Harrell FE, Warren MD, Hartmann KE, et al. Prescription opioid epidemic and infant outcomes. Pediatrics. 2015;135:842–50.

Salihu HM, Salemi JL, Aggarwal A, Steele BF, Pepper RC, Mogos MF, et al. Opioid drug use and acute cardiac events among pregnant women in the United States. Am J Med. 2018;131:64-71.e1.

Bajic D, Commons KG, Soriano SG. Morphine-enhanced apoptosis in selective brain regions of neonatal rats. Int J Dev Neurosci. 2013;31:258–66.

Golalipour MJ, Ghafari S. Purkinje cells loss in off spring due to maternal morphine sulfate exposure: a morphometric study. Anat Cell Biol. 2012;45:121–7.

Wang Y, Han T-Z. Prenatal exposure to heroin in mice elicits memory deficits that can be attributed to neuronal apoptosis. Neuroscience. 2009;160:330–8.

Ross EJ, Graham DL, Money KM, Stanwood GD. Developmental consequences of fetal exposure to drugs: what we know and what we still must learn. Neuropsychopharmacology. 2015;40:61–87.

Epstein RA, Bobo WV, Martin PR, Morrow JA, Wang W, Chandrasekhar R, et al. Increasing pregnancy-related use of prescribed opioid analgesics. Ann Epidemiol. 2013;23:498–503.

Desai RJ, Hernandez-Diaz S, Bateman BT, Huybrechts KF. Increase in prescription opioid use during pregnancy among Medicaid-enrolled women. Obstet Gynecol. 2014;123:997–1002.

Knight J, Cassell CH, Meyer RE, Strauss RP. Academic outcomes of children with isolated orofacial clefts compared with children without a major birth defect. Cleft Palate Craniofac J. 2015;52:259–68.

Steinlin M. Cerebellar disorders in childhood: cognitive problems. Cerebellum. 2008;7:607–10.

Hunt RW, Tzioumi D, Collins E, Jeffery HE. Adverse neurodevelopmental outcome of infants exposed to opiate in-utero. Early Hum Dev. 2008;84:29–35.

Moe V. Foster-placed and adopted children exposed in utero to opiates and other substances: prediction and outcome at four and a half years. J Dev Behav Pediatr. 2002;23:330–9.

Ornoy A. The impact of intrauterine exposure versus postnatal environment in neurodevelopmental toxicity: long-term neurobehavioral studies in children at risk for developmental disorders. Toxicol Lett. 2003;140–141:171–81.

Bunikowski R, Grimmer I, Heiser A, Metze B, Schäfer A, Obladen M. Neurodevelopmental outcome after prenatal exposure to opiates. Eur J Pediatr. 1998;157:724–30.

Hans SL, Jeremy RJ. Postneonatal mental and motor development of infants exposed in utero to opioid drugs. Infant Ment Health J. 2001;22:300–15.

Ornoy A, Michailevskaya V, Lukashov I, Bar-Hamburger R, Harel S. The developmental outcome of children born to heroin-dependent mothers, raised at home or adopted. Child Abuse Negl. 1996;20:385–96.

Speltz ML, Endriga MC, Hill S, Maris CL, Jones K, Omnell ML. Brief report: Cognitive and psychomotor development of infants with orofacial clefts. J Pediatr Psychol Oxf Acad. 2000;25:185–90.

Optum Inc. Retrospective Database Analysis [Internet]. Retrospective database analysis. 2013. Available from: https://www.optum.com/content/dam/optum/resources/productSheets/Retrospective-Database-Analysis.pdf

Palmsten K, Huybrechts KF, Mogun H, Kowal MK, Williams PL, Michels KB, et al. Harnessing the Medicaid Analytic eXtract (MAX) to Evaluate Medications in Pregnancy: Design Considerations. PLoS ONE. 2013;8:e67405.

Bandoli G, Chambers CD, Wells A, Palmsten K. Prenatal Antidepressant Use and Risk of Adverse Neonatal Outcomes. Pediatrics [Internet]. American Academy of Pediatrics; 2020 [cited 2020 Jul 6];146. Available from: https://pediatrics.aappublications.org/content/146/1/e20192493

Veeravalli N, Thayer S, Bandoli G. An Unbreakable Bond: Linking Mothers and Newborns in Large, De-Identified Claims Database. AcademyHealth; 2019 [cited 2021 Feb 21]. Available from: https://academyhealth.confex.com/academyhealth/2019arm/meetingapp.cgi/Paper/31468

Margulis AV, Setoguchi S, Mittleman MA, Glynn RJ, Dormuth CR, Hernández-Díaz S. Algorithms to estimate the beginning of pregnancy in administrative databases. Pharmacoepidemiol Drug Saf. 2013;22:16–24.

Chastek B, Harley C, Kallich J, Newcomer L, Paoli CJ, Teitelbaum AH. Health care costs for patients with cancer at the end of life. J Oncol Pract. 2012;8:75s–80s.

Haight SC, Ko JY, Tong VT, Bohm MK, Callaghan WM. Opioid use disorder documented at delivery hospitalization - United States, 1999–2014. MMWR Morb Mortal Wkly Rep. 2018;67:845–9.

Dowell D, Haegerich TM, Chou R. CDC Guideline for Prescribing Opioids for Chronic Pain—United States, 2016. JAMA. 2016;315:1624–45.

Opioid morphine equivalent conversion factors [Internet]. [cited 2020 Jul 6]. Available from: https://www.cms.gov/Medicare/Prescription-Drug-Coverage/PrescriptionDrugCovContra/Downloads/Opioid-Morphine-EQ-Conversion-Factors-March-2015.pdf

Halloran DR, Swindle J, Takemoto SK, Schnitzler MA. Multiple psychiatric diagnoses common in privately insured children on atypical antipsychotics. Clin Pediatr (Phila). 2010;49:485–90.

Thapar A, Cooper M, Rutter M. Neurodevelopmental disorders. Lancet Psychiatry. 2017;4:339–46.

Doernberg E, Hollander E. Neurodevelopmental Disorders (ASD and ADHD): DSM-5, ICD-10, and ICD-11. CNS Spectr. 2016;21:295–9.

Chakrabarti S, Fombonne E. Pervasive developmental disorders in preschool children. JAMA. 2001;285:3093–9.

DiMaggio C, Sun LS, Kakavouli A, Byrne MW, Li G. A retrospective cohort study of the association of anesthesia and hernia repair surgery with behavioral and developmental disorders in young children. J Neurosurg Anesthesiol. 2009;21:286–91.

American Psychiatric Association. Neurodevelopmental Disorders. Diagnostic and Statistical Manual of Mental Disorders [Internet]. 5th ed. American Psychiatric Association; 2013 [cited 2021 Feb 21]. Available from: https://dsm.psychiatryonline.org/doi/abs/https://doi.org/10.1176/appi.books.9780890425596.dsm01

Bateman BT, Mhyre JM, Hernandez-Diaz S, Huybrechts KF, Fischer MA, Creanga AA, et al. Development of a comorbidity index for use in obstetric patients. Obstet Gynecol. 2013;122:957–65.

Kleinbaum DG, Klein M. Survival Analysis: A Self-Learning Text, Third Edition [Internet]. 3rd ed. New York: Springer-Verlag; 2012 [cited 2019 Jun 15]. Available from: https://www.springer.com/us/book/9781441966452

Desai RJ, Rothman KJ, Bateman BT, Hernandez-Diaz S, Huybrechts KF. A propensity-score-based fine stratification approach for confounding adjustment when exposure is infrequent. Epidemiology. 2017;28:249–57.

Austin PC. Balance diagnostics for comparing the distribution of baseline covariates between treatment groups in propensity-score matched samples. Stat Med. 2009;28:3083–107.

Louis GB, Dukic V, Heagerty PJ, Louis TA, Lynch CD, Ryan LM, et al. Analysis of repeated pregnancy outcomes. Stat Methods Med Res. 2006;15:103–26.

Bateman BT, Hernandez-Diaz S, Rathmell JP, Seeger JD, Doherty M, Fischer MA, et al. Patterns of opioid utilization in pregnancy in a large cohort of commercial insurance beneficiaries in the United States. Anesthesiology. 2014;120:1216–24.

VanderWeele TJ, Ding P. Sensitivity analysis in observational research: introducing the E-value. Ann Intern Med. 2017;167:268–74.

Šlamberová R. Drugs in pregnancy: the effects on mother and her progeny. Physiol Res. 2012;61(Suppl 1):S123-135.

Walhovd KB, Moe V, Slinning K, Due-Tønnessen P, Bjørnerud A, Dale AM, et al. Volumetric cerebral characteristics of children exposed to opiates and other substances in utero. Neuroimage. 2007;36:1331–44.

Sirnes E, Oltedal L, Bartsch H, Eide GE, Elgen IB, Aukland SM. Brain morphology in school-aged children with prenatal opioid exposure: a structural MRI study. Early Hum Dev. 2017;106–107:33–9.

Yaniv SP, Naor Z, Yanai J. Prenatal heroin exposure alters cholinergic receptor stimulated activation of the PKCbetaII and PKCgamma isoforms. Brain Res Bull. 2004;63:339–49.

Steingart RA, Abu-Roumi M, Newman ME, Silverman WF, Slotkin TA, Yanai J. Neurobehavioral damage to cholinergic systems caused by prenatal exposure to heroin or phenobarbital: cellular mechanisms and the reversal of deficits by neural grafts. Brain Res Dev Brain Res. 2000;122:125–33.

Steingart RA, Silverman WF, Barron S, Slotkin TA, Awad Y, Yanai J. Neural grafting reverses prenatal drug-induced alterations in hippocampal PKC and related behavioral deficits. Brain Res Dev Brain Res. 2000;125:9–19.

Vathy I. Prenatal opiate exposure: long-term CNS consequences in the stress system of the offspring. Psychoneuroendocrinology. 2002;27:273–83.

Nelson LF, Yocum VK, Patel KD, Qeadan F, Hsi A, Weitzen S. Cognitive outcomes of young children after prenatal exposure to medications for opioid use disorder: a systematic review and meta-analysis. JAMA Netw Open. 2020;3:e201195.

Lee SJ, Bora S, Austin NC, Westerman A, Henderson JMT. Neurodevelopmental outcomes of children born to opioid-dependent mothers: a systematic review and meta-analysis. Acad Pediatr. 2020;20:308–18.

Yeoh SL, Eastwood J, Wright IM, Morton R, Melhuish E, Ward M, et al. Cognitive and motor outcomes of children with prenatal opioid exposure: a systematic review and meta-analysis. JAMA Netw Open. 2019;2:e197025.

Nair P, Black MM, Ackerman JP, Schuler ME, Keane VA. Children's cognitive-behavioral functioning at age 6 and 7: prenatal drug exposure and caregiving environment. Ambul Pediatr. 2008;8:154–62.

Suchman NE, McMahon TJ, Slade A, Luthar SS. How early bonding, depression, illicit drug use, and perceived support work together to influence drug-dependent mothers' caregiving. Am J Orthopsychiatry. 2005;75:431–45.

Skovlund E, Handal M, Selmer R, Brandlistuen RE, Skurtveit S. Language competence and communication skills in 3-year-old children after prenatal exposure to analgesic opioids. Pharmacoepidemiol Drug Saf. 2017;26:625–34.

Skovlund E, Selmer R, Skurtveit S, Brandlistuen RE, Handal M. In utero exposure to analgesic opioids and language development in 5-year old children. Pharmacoepidemiol Drug Saf. 2020.

Feldman HM, Campbell TF, Kurs-Lasky M, Rockette HE, Dale PS, Colborn DK, et al. Concurrent and predictive validity of parent reports of child language at ages 2 and 3 years. Child Dev. 2005;76:856–68.

Dale PS, Price TS, Bishop DVM, Plomin R. Outcomes of early language delay: I. Predicting persistent and transient language difficulties at 3 and 4 years. J Speech Lang Hear Res. 2003;46:544–60.

Skurtveit S, Selmer R, Odsbu I, Handal M. Self-reported data on medicine use in the Norwegian Mother and Child cohort study compared to data from the Norwegian Prescription Database. 1 [Internet]. 2014 [cited 2019 Jun 15];24. Available from: https://www.ntnu.no/ojs/index.php/norepid/article/view/1824

Thapar A, Rutter M. Neurodevelopmental disorders. Rutter's Child and Adolescent Psychiatry [Internet]. John Wiley & Sons, Ltd; 2015 [cited 2021 Feb 21]. p. 31–40. Available from: https://onlinelibrary.wiley.com/doi/abs/https://doi.org/10.1002/9781118381953.ch3

Meador KJ, Baker GA, Browning N, Cohen MJ, Bromley RL, Clayton-Smith J, et al. Fetal antiepileptic drug exposure and cognitive outcomes at age 6 years (NEAD study): a prospective observational study. Lancet Neurol. 2013;12:244–52.
Ethics declarations
Author contributions
All authors were responsible for critical revision of the manuscript for intellectual content. All authors read and approved the final version. Wen, Lawal and Meador conceptualized and designed this study, and drafted the initial version of the manuscript. Wen, Meador, Lawal and Belviso contributed to data preparation, statistical analyses, and interpretation. Wang contributed to statistical analyses and interpretation. Matson and Quilliam provided clinical and technical support, and contribution to interpretation of study findings.
Funding/support
Research reported in this publication was supported by the Eunice Kennedy Shriver National Institute Of Child Health & Human Development of the National Institutes of Health under Award Number R15HD097588. The content is solely the responsibility of the authors and does not necessarily represent the official views of the National Institutes of Health. Principal Investigator: Wen X. The funding source had no role in the design or conduct of the study; collection, management, analysis, or the interpretation of the data preparation, review, or approval of the manuscript; or the decision to submit the manuscript for publication.
Conflicts of interest and financial disclosures
Dr Meador has received research support from the National Institutes of Health and Sunovion Pharmaceuticals, and travel support from Eisai. The Epilepsy Study Consortium pays Dr Meador's university for his research consultant time related to Eisai, GW Pharmaceuticals, NeuroPace, Novartis, Supernus, Upsher-Smith Laboratories, and UCB Pharma. The other authors have no conflicts of interests to declare.
Ethics approval
This study uses deidentified data, hence was considered exempt by the University of Rhode Island Institutional Review Board.
Consent to participate
Not applicable.
Consent for publication
Not applicable.
Availability of data and material
A data use agreement exists between The University of Rhode Island College of Pharmacy and Optum. The Optum Clinformatics Data Mart database cannot be shared by authors with parties external to this agreement.
Code availability
Not applicable.
Supplementary Information
Below is the link to the electronic supplementary material.
About this article
Cite this article
Wen, X., Lawal, O.D., Belviso, N. et al. Association Between Prenatal Opioid Exposure and Neurodevelopmental Outcomes in Early Childhood: A Retrospective Cohort Study. Drug Saf 44, 863–875 (2021). https://doi.org/10.1007/s40264-021-01080-0
Accepted:

Published:

Issue Date:

DOI: https://doi.org/10.1007/s40264-021-01080-0