Abstract
Introduction
There have been reports of clinically relevant uterine bleeding events among women of reproductive age exposed to rivaroxaban.
Objective
The aim of this study was to compare the risk of severe abnormal uterine bleeding (SAUB) resulting in transfusion or surgical intervention among women on rivaroxaban versus apixaban, dabigatran and warfarin.
Methods
We conducted a retrospective cohort study in the FDA's Sentinel System (10/2010–09/2015) among females aged 18+ years with venous thromboembolism (VTE), or atrial flutter/fibrillation (AF) who newly initiated a direct oral anticoagulant (DOAC; rivaroxaban, apixaban, dabigatran) or warfarin. We followed women from dispensing date until the earliest of transfusion or surgery following vaginal bleeding, disenrollment, exposure or study end date, or recorded death. We estimated hazard ratios (HRs) using Cox proportional hazards regression via propensity score stratification. Four pairwise comparisons were conducted for each intervention.
Results
Overall, there was an increased risk of surgical intervention with rivaroxaban when compared with dabigatran (HR 1.19; 95% CI 1.03–1.38), apixaban (1.23; 1.04–1.47), and warfarin (1.34; 1.22–1.47). No difference in risk for surgical intervention was observed for dabigatran–apixaban comparisons. Increased risk of transfusion was observed for rivaroxaban compared with dabigatran (1.49; 1.03–2.17) only. For patients with no gynecological history, rivaroxaban was associated with risk of surgical intervention compared with dabigatran (1.22; 1.05–1.42), apixaban (1.25; 1.04–1.49), and warfarin (1.36; 1.23–1.50).
Conclusion
Our study found increased SAUB risk with rivaroxaban use compared with other DOACs or warfarin. Increased risk with rivaroxaban was present among women without underlying gynecological conditions. Women on anticoagulant therapy should be aware of a risk of SAUB.
Access options
Buy single article
Instant access to the full article PDF.
US$ 49.95
Tax calculation will be finalised during checkout.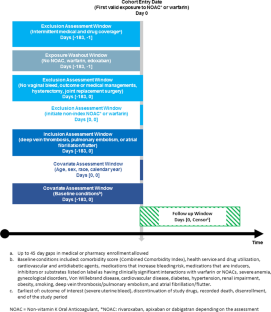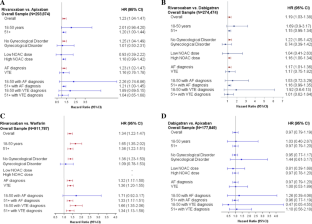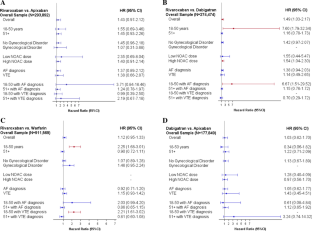 References
1.

Cohen H, Arachchillage DRJ, Beyer-Westendorf J, Middeldorp S, Kadir RA. Direct oral anticoagulants and women. Semin Thromb Hemost. 2016;42(07):789–97.

2.

Myers B, Webster A. Heavy menstrual bleeding on rivaroxaban—comparison with apixaban. Br J Haematol. 2017;176(5):833–5.

3.

Beyer-Westendorf J, Michalski F, Tittl L, Hauswald-Dörschel S, Marten S. Management and outcomes of vaginal bleeding and heavy menstrual bleeding in women of reproductive age on direct oral anti-factor Xa inhibitor therapy: a case series. Lancet Haematol. 2016;3(10):e480–8.

4.

Ferreira M. Direct oral anti-Xa inhibitors and vaginal bleeding. Lancet Haematol. 2016;3(10):e451–2.

5.

Ferreira M, Barsam S, Patel JP, Czuprynska J, Roberts LN, Patel RK, et al. Heavy menstrual bleeding on rivaroxaban. Br J Haematol. 2016;173(2):314–5.

6.

Bryk AH, Piróg M, Plens K, Undas A. Heavy menstrual bleeding in women treated with rivaroxaban and vitamin K antagonists and the risk of recurrent venous thromboembolism. Vasc Pharmacol. 2016;87:242–7.

7.

De Crem N, Peerlinck K, Vanassche T, Vanheule K, Debaveye B, Middeldorp S, et al. Abnormal uterine bleeding in VTE patients treated with rivaroxaban compared to vitamin K antagonists. Thromb Res. 2015;136(4):749–53.

8.

Huq FY, Tvarkova K, Arafa A, Kadir RA. Menstrual problems and contraception in women of reproductive age receiving oral anticoagulation. Contraception. 2011;84(2):128–32.

9.

Cheong Y, Cameron IT, Critchley HOD. Abnormal uterine bleeding. Br Med Bull. 2017;123(1):103–14.

10.

Singh S, Best C, Dunn S, Leyland N, Wolfman WL. Abnormal uterine bleeding in pre-menopausal women. J Obstetr Gynaecol Canada. 2013;35(5):473–5.

11.

Tobenkin AMM, Munoz M. Accepted abstract: direct oral anticoagulants and menorrhagia in premenopausal women: data from the food and drug administration adverse event reporting system and US drug utilization. Haemophilia. 2017;23(S3):3–49.

12.

Martinelli I, Lensing AW, Middeldorp S, Levi M, Beyer-Westendorf J, van Bellen B, et al. Recurrent venous thromboembolism and abnormal uterine bleeding with anticoagulant and hormone therapy use. Blood. 2016;127(11):1417–25.

13.

Brekelmans MP, Scheres LJ, Bleker SM, Hutten BA, Timmermans A, Buller HR, et al. Abnormal vaginal bleeding in women with venous thromboembolism treated with apixaban or warfarin. Thromb Haemost. 2017;117(4):809–15.

14.

Munro MG, Critchley HOD, Fraser IS. The two FIGO systems for normal and abnormal uterine bleeding symptoms and classification of causes of abnormal uterine bleeding in the reproductive years: 2018 revisions. Int J Gynaecol Obstet. 2018;143(3):393–408.

15.

Connolly JG, Wang SV, Fuller CC, Toh S, Panozzo CA, Cocoros N, et al. Development and application of two semi-automated tools for targeted medical product surveillance in a distributed data network. Curr Epidemiol Rep. 2017;4(4):298–306.

16.

Curtis LH, Weiner MG, Boudreau DM, Cooper WO, Daniel GW, Nair VP, et al. Design considerations, architecture, and use of the Mini-Sentinel distributed data system. Pharmacoepidemiol Drug Saf. 2012;21(Suppl 1):23–31.

17.

Sentinel Operations Center. Sentinel Common Data Model. [cited 2020 March 1, 2020]; Available from: https://www.sentinelinitiative.org/sentinel/data/distributed-database-common-data-model/sentinel-common-data-model

18.

McGraw D, Rosati K, Evans B. A policy framework for public health uses of electronic health data. Pharmacoepidemiol Drug Saf. 2012;21(Suppl 1):18–22.

19.

Forrow S, Campion DM, Herrinton LJ, Nair VP, Robb MA, Wilson M, et al. The organizational structure and governing principles of the Food and Drug Administration's Mini-Sentinel pilot program. Pharmacoepidemiol Drug Saf. 2012;21(Suppl 1):12–7.

20.

Gagne JJ, Glynn RJ, Avorn J, Levin R, Schneeweiss S. A combined comorbidity score predicted mortality in elderly patients better than existing scores. J Clin Epidemiol. 2011;64(7):749–59.

21.

Fireman B, Lee J, Lewis N, Bembom O, van der Laan M, Baxter R. Influenza vaccination and mortality: differentiating vaccine effects from bias. Am J Epidemiol. 2009;170(5):650–6.

22.

Zhou M, Wang SV, Leonard CE, Gagne JJ, Fuller C, Hampp C, et al. Sentinel modular program for propensity-score matched cohort analyses: application to glyburide, glipizide, and serious hypoglycemia. Epidemiology. 2017.

23.

Graham DJ, Baro E, Zhang R, Liao J, Wernecke M, Reichman ME, et al. Comparative stroke, bleeding, and mortality risks in older medicare patients treated with oral anticoagulants for nonvalvular atrial fibrillation. Am J Med. 2019;132(5):596-604.e11.

24.

Deitelzweig S, Luo X, Gupta K, Trocio J, Mardekian J, Curtice T, et al. Comparison of effectiveness and safety of treatment with apixaban vs other oral anticoagulants among elderly nonvalvular atrial fibrillation patients. Curr Med Res Opin. 2017;33(10):1745–54.

25.

Hernandez I, Zhang Y, Saba S. Comparison of the effectiveness and safety of apixaban, dabigatran, rivaroxaban, and warfarin in newly diagnosed atrial fibrillation. Am J Cardiol. 2017;120(10):1813–9.

26.

Abraham NS, Noseworthy PA, Yao X, Sangaralingham LR, Shah ND. Gastrointestinal safety of direct oral anticoagulants: a large population-based study. Gastroenterology. 2017;152(5):1014-22.e1.

27.

FDA Administration. Meeting Materials, Cardiovascular and Renal Drugs Advisory Committee. 2011.
Acknowledgements
The authors thank the Sentinel Data Partners who provided data used in the analysis: Aetna, a CVS Health company, Blue Bell, PA; Duke University School of Medicine, Department of Population Health Sciences, Durham, NC, through the Centers for Medicare and Medicaid Services which provided data; HealthCore, Inc., Translational Research for Affordability and Quality, Alexandria, VA; Humana, Inc., Healthcare Research, Miramar, FL; and OptumInsight, Life Sciences Inc., Boston, MA. The authors thank Andrew Petrone, MPH, Rajani Rajbhandari, MS, Elizabeth Dee, MPH, Joy Kolonoski, MPH, Judith C. Maro, PhD, and Anita Wagner, PhD at the Sentinel Operations Center for their programming, operational, and clinical review assistance.
Ethics declarations
Authors' contribution
All authors contributed to the study conception and design. Material preparation, data collection and analysis were performed by LH and T-YH. The first draft of the manuscript was written by EE and all authors commented on previous versions of the manuscript. All authors read and approved the final manuscript.
Funding
The Sentinel Initiative is funded by the U.S. Food and Drug Administration through the Department of Health and Human Services contract number HHSF223200910006I.
Data availability
The datasets generated during and/or analyzed during the current study are not publicly available due to confidentiality agreements.
Conflict of interest
All authors have no conflict of interest to disclose.
Ethics approval
This study was conducted as part of the public health surveillance activities under the auspices of the Food and Drug Administration and therefore not under the purview of Institutional Review Boards.
Consent to participate
Not applicable.
Consent for publication
Not applicable.
Code availability (software application or custom code)
https://dev.sentinelsystem.org/projects/AP/repos/sentinel-analytic-packages/browse?at=refs%2Fheads%2Fcder_mpl2p_wp018. The views expressed in this publication are those of the authors and do not necessarily reflect the official policy of the US Food and Drug Administration.
Supplementary Information
Below is the link to the electronic supplementary material.
About this article
Cite this article
Eworuke, E., Hou, L., Zhang, R. et al. Risk of Severe Abnormal Uterine Bleeding Associated with Rivaroxaban Compared with Apixaban, Dabigatran and Warfarin. Drug Saf 44, 753–763 (2021). https://doi.org/10.1007/s40264-021-01072-0
Accepted:

Published:

Issue Date: