Abstract
Introduction
Although the burden of adverse drug reactions (ADRs) has a significant impact on patients' quality of life, thorough knowledge about patients' perspectives on the burden of ADRs attributed to biologics is lacking.
Objectives
This study was conducted to gain insight into the patient burden of ADRs experienced with biologic use.
Methods
The Dutch Biologic Monitor is a prospective, multicentre, event monitoring cohort system including information collected by web-based questionnaires from patients using biologics, mainly for immune-mediated inflammatory diseases (IMIDs). Patients were asked to complete bimonthly questionnaires on biologics used, indication for the biologic, experienced ADRs, consequences of ADRs and burden on a five-point Likert-type scale, ranging from 1 (no burden) to 5 (very high burden). We assessed potential factors associated with patient-reported burden of ADRs.
Results
A total of 1355 patients completed 6293 questionnaires between 1 January 2017 and 1 May 2019. Almost half of the patients (665 patients, 49%), 69% with rheumatic diseases and 31% with other diseases, collectively reported 1720 unique ADRs. Infections and musculoskeletal complaints were the most burdensome ADRs and injection-site reactions were the least burdensome. ADRs leading to healthcare professional contact were more burdensome than ADRs without healthcare professional contact. Smoking, respiratory and psychiatric comorbidities were associated with higher burden of ADRs. Crohn's disease, use of adalimumab and use of sulfasalazine as combination therapy were associated with lower burden of ADRs.
Conclusions
The patient perspective gives important insights into the burden of ADRs experienced with biologics. This information could be used by healthcare professionals to optimise treatment with biologics.
Access options
Buy single article
Instant access to the full article PDF.
US$ 49.95
Tax calculation will be finalised during checkout.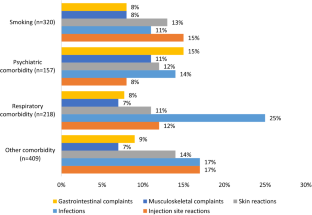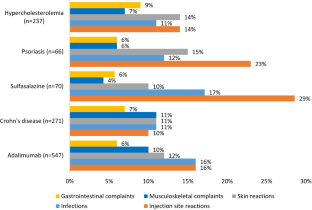 References
1.

Favalli EG, Pontikaki I, Becciolini A, Biggioggero M, Ughi N, Romano M, et al. Real-life 10-year retention rate of first line anti-TNF drug for inflammatory arthritides in adult- and juvenile-onset populations: similarities and differences. Clin Rheumatol. 2017;36:1747–55.

2.

Ingrasciotta Y, Cutronea PM, Marcianò I, Giezen T, Atzeni F, Trifirò G. Safety of biologics, including biosimilars: perspectives on current status and future direction. Drug Saf. 2018;41:1013–22.

3.

Leon L, Gomez A, Vadillo C, Pato E, Rodriguez-Rodriguez L, Jover JA, et al. Severe adverse drug reactions to biological disease-modifying anti-rheumatic drugs in elderly patients with rheumatoid arthritis in clinical practice. Clin Exp Rheumatol. 2018;36:29–35.

4.

Sakai R, Tanaka M, Nanki T, Watanabe K, Yamazaki H, Koike R, et al. Drug retention rates and relevant risk factors for drug discontinuation due to adverse events in rheumatoid arthritis patients receiving anticytokine therapy with different target molecules. Ann Rheum Dis. 2012;71:1820–6.

5.

Gäwert L, Hierse F, Zink A, Strangfeld A. How well do patient reports reflect adverse drug reactions reported by rheumatologists? Agreement of physician- and patient-reported adverse events in patients with rheumatoid arthritis observed in the German biologic register. Rheumatology. 2011;50:152–60.

6.

Leporini C, De Sarro G, Russo E. Adherence to therapy and adverse drug reactions: is there a link? Expert Opin Drug Saf. 2014;13(1):S41–55.

7.

Kosse LJ, Jessurun NT, Hebing RCF, Huiskes VJB, Spijkers KM, van den Bemt BJF, et al. Patients with inflammatory rheumatic diseases: quality of self-reported medical information in a prospective cohort event monitoring system. Rheumatology. 2020;59(6):1253–61. https://doi.org/10.1093/rheumatology/kez412.

8.

Brown EG, Wood L, Wood S. The medical dictionary for regulatory activities (MedDRA). Drug Saf. 1999;20(2):109–17.

9.

Den Broeder AA, Schers HJ. Serious infection due to biologicals: risk only mildly elevated in patients with rheumatoid arthritis. Ned Tijdschr Geneesk. 2015;159:A9385 (Dutch).

10.

Helby J, Nordestgaard BG, Benfield T, Bojesen SE. Asthma, other atopic conditions and risk of infections in 105,519 general population never and ever smokers. J Intern Med. 2017;282(3):254–67.

11.

Obert J, Burgel PR. Pneumococcal infections: association with asthma and COPD. Med Mal Infect. 2012;42(5):272–7.

12.

Watson D, Clark LA, Carey G. Positive and negative affectivity and their relation to anxiety and depressive disorders. J Abnorm Psychol. 1988;97(3):346–53.

13.

American Psychiatric Association. Diagnostic and statistical manual of mental disorders. 4th ed. Washington DC: Harcourt Book Publishers; 2000. p. 247.

14.

Mok CC, Chan KY, Lee KL, Tam LS, Lee KW. Factors associated with withdrawal of the anti-TNFa biologics in the treatment of rheumatic diseases: data from the Hong Kong Biologics Registry. Int J Rheum Dis. 2014. https://doi.org/10.1111/1756-185X.12264.

15.

Fafá BP, Louzada-Junior P, Titton DC, Zandonade E, Ranza R, Laurindo I, et al. Drug survival and causes of discontinuation of the first anti-TNF in ankylosing spondylitis compared with rheumatoid arthritis: analysis from BIOBADABRASIL. Clin Rheumatol. 2015;34:921–7.

16.

Aaltonen KJ, Virkki LM, Malmivaara A, Konttinen YT, Nordström DC, Blom M. Systematic review and meta-analysis of the efficacy and safety of existing TNF blocking agents in treatment of rheumatoid arthritis. PLoS One. 2012;7(1):e30275. https://doi.org/10.1371/journal.pone.0030275.
Acknowledgements
We would like to thank all patients for participating in the Dutch Biologic Monitor and all centres for inviting patients to participate: Academic Medical Center, Amsterdam; Sint Maartenskliniek, Nijmegen; Radboud University Medical Centre, Nijmegen; Reade Rheumatology, Amsterdam; Jeroen Bosch Hospital, 's-Hertogenbosch; Medisch Spectrum Twente, Enschede; Ziekenhuisgroep Twente, Almelo/Hengelo; Franciscus Gasthuis & Vlietland, Rotterdam; Haga Hospital, Den Haag.
Ethics declarations
Funding
The Dutch Biologic Monitor work was supported by the Netherlands Organisation for Health Research and Development (ZonMw) [grant number 848050005]. No funding was received for this study.
Conflicts of interest
JA van Lint, NT Jessurun, RCF Hebing, SW Tas, HE Vonkeman, A Sobels, EP van Puijenbroek, MT Nurmohamed and BJF van den Bemt declare that they have no conflicts of interest. PI Spuls reports unpaid consultancies for Sanofi and Abbvie in the past, a departmental independent research grant for the TREAT NL registry from Leopharma, financial compensation from pharmaceutical industries to her department/hospital for involvement in performing clinical trials and she is chief investigator in the Netherlands national systemic and phototherapy atopic eczema registry (TREAT NL). MBA van Doorn reports grants from Novartis; consulting fees or honorarium from Leopharma, Novartis, Abbvie, BMS, Celgene, Janssen-Cilag, Lily, MSD, Pfizer and Sanofi-Genzyme; support for travel, manuscript preparation or other purposes from Sanofi-Genzyme, Novartis and Pfizer; payment for lectures from Leopharma, Novartis, Janssen-Cilag and Pfizer, all outside the submitted work. F Hoentjen reports received grants, consulting fees or honorarium and payment for lectures, all outside the submitted work.
Ethics approval
Ethical approval was waived for the Dutch Medical Research Involving Human Subjects Act (WMO) by the Medical Research Ethical Committee of Brabant, the Netherlands (file number: NW2016-66). The Dutch Biologic Monitor was approved by the medical ethics committees of the participating hospitals. All participants received information about the Dutch Biologic Monitor prior to participation and signed a digital informed consent form.
Data availability
The dataset analysed during the current study is available from the corresponding author on reasonable request.
Electronic supplementary material
Below is the link to the electronic supplementary material.
About this article
Cite this article
van Lint, J.A., Jessurun, N.T., Hebing, R.C.F. et al. Patient-Reported Burden of Adverse Drug Reactions Attributed to Biologics Used for Immune-Mediated Inflammatory Diseases. Drug Saf 43, 917–925 (2020). https://doi.org/10.1007/s40264-020-00946-z