Abstract
Introduction
Surveillance of drug safety during pregnancy is a special interest of pharmacovigilance (PV). The role that national PV centres take in this field is, however, unclear.
Aim
The aim of this study was to provide insight into current activities, future intentions and need for support of national PV centres in the field of drug safety during pregnancy.
Method
A web-based questionnaire was used to ask PV centres about their current activities concerning the surveillance of drug safety during pregnancy, their intentions to implement or improve activities and need for support. For these three main topics, questions were posed about spontaneous adverse drug reaction (ADR) reporting, additional activities to obtain information, signal detection and informing healthcare professionals and the public.
Results
The questionnaire was sent to PV centres of 172 countries. Response was 40%. In general, the PV centres received limited numbers of reports of ADRs in the (unborn) child, related to drug exposure during pregnancy. Signal detection in pregnancy cases is carried out by 8 out of 58 PV centres (13.5%). Most PV centres mention they have intentions to implement or improve activities, mainly for spontaneous reporting (69.4%) and methods for signal detection (67.2%). Support was needed for all topics of the questionnaire.
Conclusion
Current activities of national PV centres concerning drug safety during pregnancy are limited. The majority of PV centres are, however, willing to improve or implement activities. Programmes should be set up in order to support and stimulate PV centres with these activities. The aim of all these activities is to increase knowledge about the safety of drugs during pregnancy.
Access options
Buy single article
Instant access to the full article PDF.
US$ 49.95
Tax calculation will be finalised during checkout.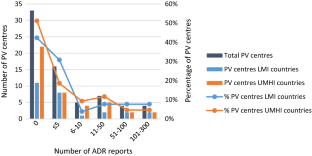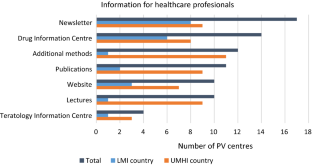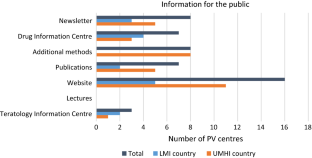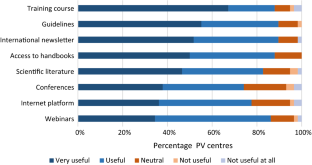 References
1.

Mitchell AA. Systematic identification of drugs that cause birth defects–a new opportunity. N Engl J Med. 2003;349(26):2556–9.

2.

World Health Organization. The importance of pharmacovigilance: safety monotoring of medicinal products. 2002. http://apps.who.int/medicinedocs/en/d/Js4893e/ (cited 1 Dec 2016).

3.

Coscia LA, Armenti DP, King RW, Sifontis NM, Constantinescu S, Moritz MJ. Update on the teratogenicity of maternal Mycophenolate Mofetil. J Pediatr Genet. 2015;4(2):42–55.

4.

Mittendorf R. Teratogen update: carcinogenesis and teratogenesis associated with exposure to diethylstilbestrol (DES) in utero. Teratology. 1995;51(6):435–45.

5.

World Health Organization. Potential safety issue affecting women living with HIV using dolutegravir ar the time of coenception. 2018. http://www.who.int/medicines/publications/drugalerts/Statement_on_DTG_18May_2018final.pdf (cited 13 Jun 2018).

6.

World Health Organization. The WHO Programme for International Drug Monitoring. 2018. http://www.who.int/medicines/areas/quality_safety/safety_efficacy/National_PV_Centres_Map/en/ (cited 28 Aug 2018).

7.

Kasliwal R. Spontaneous reporting in pharmacovigilance: strengths, weaknesses and recent methods of analysis. JCPC. 2012;1:20–3.

8.

Carey JC, Martinez L, Balken E, Leen-Mitchell M, Robertson J. Determination of human teratology by the astute clinical method: review of illustrative agents and a proposal of guidelines. Birth Defects Res (Part A). 2009;85:63–8.

9.

Ishiguro C, Hall M, Neyarapally GA, Dal PG. Post-market drug safety evidence sources: an analysis of FDA drug safety communications. Pharmacoepidemiol Drug Saf. 2012;21(10):1134–6.

10.

Pacurariu AC, Coloma PM, van Haren A, Genov G, Sturkenboom MC, Straus SM. A description of signals during the first 18 months of the EMA pharmacovigilance risk assessment committee. Drug Saf. 2014;37(12):1059–66.

11.

Uppsala Monitoring Centre. VigiBase. 2017. http://www.who-umc.org/ (cited 28 Aug 2017).

12.

MedDRA®. MedDRA®: Medical Dictionary for Regulatory Activities. 2018. https://www.meddra.org/ (cited 13 Jun 2018).

13.

Survey Monkey. 2016. http://www.surveymonckey.com (cited 2016 Sep 1).

14.

World Bank. World Bank list of economies. 2018. http://cmsdata.iucn.org/downloads/world_bank_list_of_economies_january_2015.pdfpdf (cited 8 Mar 2018).

15.

Widnes SF, Schjott J. Risk perception regarding drug use in pregnancy. Am J Obstet Gynecol. 2017;216(4):375–8.

16.

Polika JE, Faustman EM, Neil N. Weighting the risk and the benefits: a call for the empirical assessment of perceived teratogenic risk. Reprod Toxicol. 1997;11(4):633–40.

17.

Härmark L. Web-based intensive monitoring: a patient based pharmacovigilance tool. Thesis, University of Groningen; 2012.

18.

Pal SN, Duncombe C, Falzon D, Olsson S. WHO strategy for collecting safety data in public health programmes: complementing spontaneous reporting systems. Drug Saf. 2013;36(2):75–81.

19.

Suku CK, Hill G, Sabblah G, Darko M, Muthuri G, Abwao E, et al. Experiences and lessons from implementing cohort event monitoring programmes for antimalarials in four African countries: results of a questionnaire-based survey. Drug Saf. 2015;38(11):1115–26.

20.

Wallberg M. Tools for pharmacovigilance and cohort event monitoring. 2009. http://www.who.int/hiv/topics/pharmacovigilance/4_pharmacovigilance_cem.pdf (cited 2018 Jun 13).

21.

Sinclair SM, Miller RK, Chambers C, Cooper EM. Medication safety during pregnancy: improving evidence-based practice. J Midwifery Womens Health. 2016;61(1):52–67.

22.

Charlton RA, Neville AJ, Jordan S, Pierini A, Damase-Michel C, et al. Healthcare databases in Europe for studying medicine use and safety during pregnancy. Pharmacoepidemiol Drug Saf. 2014;23(6):586–94. https://doi.org/10.1002/pds.3613.

23.

Montastruc F, Salvo F, Arnaud M, Begaud B, Pariente A. Signal of gastrointestinal congenital malformations with antipsychotics after minimising competition bias: a disproportionality analysis using data from Vigibase. Drug Saf. 2016;39(7):689–96.
Acknowledgements
The authors would like to thank Dr. N. Iessa and Dr. S. Pal from the WHO for reviewing this article. The authors are indebted to the national centres that make up the WHO Programme for International Drug Monitoring and contribute reports to VigiBase. However, the opinions and conclusions of this study are not necessarily those of the various centres, nor of the WHO.
Ethics declarations
Conflicts of Interest
Agnes Kant, Loes de Vries and Leàn Rolfes declare that they have no conflicts of interest that are directly relevant to the content of this study.
Funding/Support
Writing this article was one of the activities of Lareb as World Health Organization (WHO) Collaborating Centre for Pharmacovigilance in Education and Patient Reporting (http://www.who.int/medicines/regulation/medicines-safety/about/collab-centres-netherlands/en/). Lareb received support from the WHO Programme for International Drug Monitoring.
Electronic supplementary material
Below is the link to the electronic supplementary material.
About this article
Cite this article
Kant, A., de Vries, L. & Rolfes, L. Surveillance of Drug Safety During Pregnancy: Insight in Current International Activities, Future Intentions and Need for Support of National Pharmacovigilance Centres. Drug Saf 42, 35–43 (2019). https://doi.org/10.1007/s40264-018-0729-0