Abstract
Introduction
The epidemic of prescription opioid overdose and mortality parallels the dispensing rates of prescription opioids, and the availability of increasingly potent opioid analgesics.
Objective
The common assumption that more potent opioid analgesics are associated with higher rates of adverse outcomes has not been adequately substantiated. We compared the rate of serious adverse events among commonly prescribed opioid analgesics of varying potency.
Methods
Serious adverse events (SAEs; defined as death, major medical effect, or hospitalization) resulting from exposure to tablets containing seven opioid analgesics (oxycodone, hydrocodone, morphine, hydromorphone, oxymorphone, tapentadol, and tramadol) captured by the Researched Abuse, Diversion and Addiction-Related Surveillance (RADARS®) System Poison Center Program were evaluated from 2010 through 2016. Rates of SAEs were adjusted for availability through outpatient dispensing data and regressed on morphine milligram equivalents (MME).
Results
There were 19,480 cases of SAE during the 7-year study period. Hydrocodone and oxycodone contributed to 77% of SAE cases. Comparing rates of outcome by relative potency, a hierarchy was observed with hydromorphone (8.02 SAEs/100 kg) and tapentadol (0.27 SAE/100 kg) as the highest and lowest rates, reflecting a 30-fold difference among individual opioid products. SAE rate and potency were related linearly—SAEs increased 2.04 per 100 kg drug dispensed for each 1-unit rise in MME (p = 0.004). Linear regression of SAE/100 kg drug dispensed and drug potency identified that MME comprised 96% of the variation observed. In contrast, potency did not explain variation seen using other study denominators (prescriptions dispensed, dosage units dispensed, and the number of individuals filling a prescription).
Conclusions and Relevance
Potency of a prescription opioid analgesic demonstrates a significant, highly positive linear relationship with exposures resulting in SAEs per 100 kg drug dispensed reported to poison centers. Potency should be carefully considered from both individual provider and public health perspectives.
Access options
Buy single article
Instant access to the full article PDF.
USD 49.95
Price includes VAT (USA)
Tax calculation will be finalised during checkout.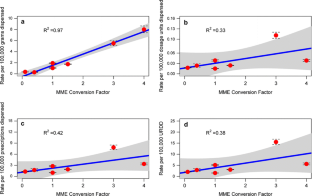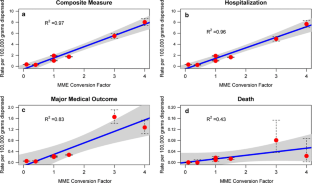 References
1.

Nora D. Prescription Opioid and Heroin Abuse. Presentation included IMS Health, Vector One source data of National Prescription Audit, years 1997-2013, delivered at 2014 Testimony to U.S. Congress, House Committee on Energy and Commerce Subcommittee on Oversight and Investigations. Available at https://www.drugabuse.gov/about-nida/legislative-activities/testimony-to-congress/2016/prescription-opioid-heroin-abuse.

2.

Volkow N. Characteristics of Opioid Prescriptions in 2009. JAMA. 2011;305(13):1299.

3.

U.S. Department of Health and Human Services. Results from the 2013 National Survey on Drug Use and Health: Summary of National Findings. Rockville: Substance Abuse and Mental Health Services Administration, Center for Behavioral Health Statistics and Quality; 2014. Available at https://www.samhsa.gov/data/sites/default/files/NSDUHresultsPDFWHTML2013/Web/NSDUHresults2013.pdf.

4.

Center for Disease Control and Prevention, National Center for Health Statistics, National Vital Statistics System, Mortality File. Number and Age-Adjusted Rates of Drug-poisoning Deaths Involving Opioid Analgesics and Heroin: United States, 2000–2014. Atlanta: Center for Disease Control and Prevention; 2015. Available at https://www.cdc.gov/nchs/data/health_policy/AADR_drug_poisoning_involving_OA_Heroin_US_2000-2014.pdf.

5.

Florence C, Zhou C, Luo F, Xu L. The Economic Burden of Prescription Opioid Overdose, Abuse, and Dependence in the United States, 2013. Med Care. 2016;54(10):901–6.

6.

Wightman R, Perrone J, Portelli I, Nelson L. Likeability and Abuse Liability of Commonly Prescribed Opioids. J Med Toxicol. 2012;8(4):335–40.

7.

Paulozzi L, Kilbourne E, Desai H. Prescription drug monitoring programs and death rates from drug overdose. Pain Med. 2011;12(5):747–54.

8.

Rudd R, Aleshire N, Zibbell J, Gladden R. Increases in drug and opioid overdose deaths—United States, 2000–2014. MMWR Morb Mortal Wkly Rep. 2016;64(50–51):1378–82.

9.

Frenk S, Porter K, Paulozzi L. Prescription opioid analgesic use among adults: United States, 1999–2012. NCHS Data Brief. 2015;189:1–8.

10.

Dasgupta N, Kramer E, Zalman M, Carino S Jr, Smith M, Haddox J, et al. Association between non-medical and prescriptive usage of opioids. Drug Alcohol Depend. 2006;82(2):135–42.

11.

Smith M, Dart R, Hughes A, Geller A, Senay E, Woody G, et al. Clinician validation of poison control center (PCC) intentional exposure cases involving prescription opioids. Am J Drug Alcohol Abuse. 2006;32(3):465–78.

12.

Compton W, Volkow N. Major increases in opioid analgesic abuse in the United States: concerns and strategies. Drug Alcohol Depend. 2006;81(2):103–7.

13.

Jones C, Lurie P, Throckmorton D. Effect of US drug enforcement administration's rescheduling of hydrocodone combination analgesic products on opioid analgesic prescribing. JAMA Intern Med. 2016;176(3):399.

14.

Budnitz D, Lovegrove M, Sapiano M, Mathew J, Kegler S, Geller A, et al. Notes from the field: pediatric emergency department visits for buprenorphine/naloxone ingestion—United States, 2008–2015. MMWR Morb Mortal Wkly Rep. 2016;65(41):1148–9.

15.

Ritchey M, Tsipas S, Loustalot F, Wozniak G. Use of pharmacy sales data to assess changes in prescription- and payment-related factors that promote adherence to medications commonly used to treat hypertension, 2009 and 2014. PLoS One. 2016;11(7):e0159366.

16.

Gummin D, Mowry J, Spyker D, Brooks D, Fraser M, Banner W. 2016 annual report of the American Association of Poison Control Centers' National Poison Data System (NPDS): 34th Annual Report. Clin Toxicol. 2017;55(10):1072–254.

17.

Iwanicki J, Severtson S, McDaniel H, Rosenblum A, Fong C, Cicero T, et al. Abuse and diversion of immediate release opioid analgesics as compared to extended release formulations in the United States. PLoS One. 2016;11(12):e0167499.

18.

Green J, Bucher Bartelson B, Le Lait M, Roland C, Masters E, Mardekian J et al. Medical outcomes associated with prescription opioid abuse via oral and non-oral routes of administration. Drug Alcohol Depend. 2017;175:140–5.

19.

Von Korff M, Saunders K, Thomas Ray G, Boudreau D, Campbell C, Merrill J, et al. De facto long-term opioid therapy for noncancer pain. Clin J Pain. 2008;24(6):521–7.

20.

Hoppe-Roberts J, Lloyd L, Chyka P. Poisoning mortality in the United States: comparison of national mortality statistics and poison control center reports. Ann Emerg Med. 2000;35(5):440–8.

21.

Dart R, Surratt H, Cicero T, Parrino M, Severtson S, Bucher-Bartelson B, et al. Trends in opioid analgesic abuse and mortality in the United States. N Engl J Med. 2015;372(3):241–8.

22.

Dasgupta N, Davis J, Jonsson Funk M, Dart R. Using poison center exposure calls to predict methadone poisoning deaths. PLoS One. 2012;7(7):e41181.

23.

Katz N, Dart R, Bailey E, Trudeau J, Osgood E, Paillard F. Tampering with prescription opioids: nature and extent of the problem, health consequences, and solutions. Am J Drug Alcohol Abuse. 2011;37(4):205–17.

24.

Hall A. Patterns of abuse among unintentional pharmaceutical overdose fatalities. JAMA. 2008;300(22):2613.

25.

Hirsch A, Proescholdbell S, Bronson W, Dasgupta N. Prescription histories and dose strengths associated with overdose deaths. Pain Med. 2014;15(7):1187–95.

26.

Ryan N, Isbister G. Tramadol overdose causes seizures and respiratory depression but serotonin toxicity appears unlikely. Clin Toxicol. 2015;53(6):545–50.

27.

Moulis F, Rousseau V, Abadie D, Masmoudi K, Micallef J, Vigier C, et al. Serious adverse drug reactions with tramadol reported to the French pharmacovigilance database between 2011 and 2015. Thérapie. 2017;72(6):615–24.

28.

Secora A, Trinidad J, Zhang R, Gill R, Dal Pan G. Drug availability adjustments in population-based studies of prescription opioid abuse. Pharmacoepidemiol Drug Saf. 2016;26(2):180–91.

29.

Dunn K. Opioid prescriptions for chronic pain and overdose. Ann Intern Med. 2010;152(2):85.

30.

Gomes T, Mamdani M, Dhalla I, Paterson J, Juurlink D. Opioid dose and drug-related mortality in patients with nonmalignant pain. Arch Intern Med. 2011;171(7):686–91.

31.

Dowell D, Haegerich T, Chou R. CDC guideline for prescribing opioids for chronic Pain—United States, 2016. MMWR Recomm Rep. 2016;65(1):1–49.

32.

Mowry J, Spyker D, Cantilena L, Bailey J, Ford M. 2012 Annual report of the american association of poison control centers' national poison data system (NPDS): 30th annual report. Clin Toxicol. 2013;51(10):949–1229.

33.

Fischer B, Jones W, Urbanoski K, Skinner R, Rehm J. Correlations between prescription opioid analgesic dispensing levels and related mortality and morbidity in Ontario, Canada, 2005–2011. Drug Alcohol Rev. 2013;33(1):19–26.

34.

Paulozzi L, Ryan G. Opioid analgesics and rates of fatal drug poisoning in the United States. Am J Prev Med. 2006;31(6):506–11.
Ethics declarations
Ethics approval
The Poison Center Program study protocol received its most recent review and approval from the Colorado Multiple Institutional Review Board (COMIRB) on 21 December 2016. In addition, the study protocol was reviewed and approved by the IRB of each participating poison center.
Funding
There were no sources of financial assistance that were used to conduct this study or used to assist with the preparation of the manuscript.
Conflict of interest
David Murphy, Jacob Lebin, Stevan Severtson, Nabarun Dasgupta, Heather Olsen, and Richard Dart have no conflicts of interest that are directly relevant to the content of this study. It should be noted that most manufacturers of prescription opioid analgesics or stimulants have subscription contracts to receive data from RADARS System. RADARS System is the property of Denver Health and Hospital Authority, a political subdivision of the State of Colorado (public hospital for Denver, Colorado). The subscribers receive data, they do not participate in developing the System, participate in data collection or the analysis of the data, nor do they have access to the raw data. No employee of Denver Health has a financial relationship nor receives any payment from any pharmaceutical company.
Electronic supplementary material
Below is the link to the electronic supplementary material.
About this article
Cite this article
Murphy, D.L., Lebin, J.A., Severtson, S.G. et al. Comparative Rates of Mortality and Serious Adverse Effects Among Commonly Prescribed Opioid Analgesics. Drug Saf 41, 787–795 (2018). https://doi.org/10.1007/s40264-018-0660-4