Abstract
Introduction
Although the mortality risk associated with tramadol use in children has triggered the revision of tramadol drug labeling, the mortality risk in adults has not been thoroughly explored.
Objective
The objective of this study was to evaluate whether tramadol use is associated with mortality in various risk groups.
Methods
This was a case-crossover study addressing the period of 2004–2013, using data from the National Sample Cohort (National Health Insurance Service, South Korea). Patients who were prescribed tramadol at least once prior to their death were included. A 30-day hazard (case) period (with a 10-day washout period) was adopted and matched to three control periods. Logistic regression was used to estimate adjusted odds ratios (aORs) and their 95% confidence intervals (CIs). Adjustments were made for time-variant factors (co-medications, surgeries, and acute respiratory conditions).
Results
A total of 19,443 individuals were identified, with a small number of young individuals (n = 33, 0.2%). Tramadol use was associated with an increased mortality risk (aOR 1.77, 95% CI 1.67–1.87). Advanced age (> 75 years) (aOR 2.61, 95% CI 2.28–2.99) and renal (aOR 2.90, 95% CI 1.67–1.87) and hepatic (aOR 2.09, 95% CI 1.62–2.68) diseases were associated with the highest risks.
Conclusion
Overall, there was an increased mortality risk associated with tramadol in the adult population. However, as residual confounding cannot be completely removed in large observational studies, this must be carefully interpreted in the decision-making regarding patient care.
Access options
Buy single article
Instant access to the full article PDF.
USD 49.95
Price includes VAT (USA)
Tax calculation will be finalised during checkout.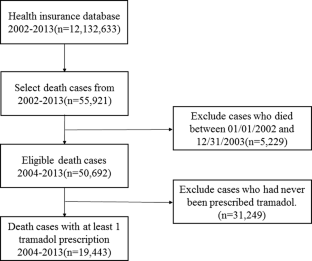 References
1.

World Health Organization. Tramadol—update review report (agenda item 6.1). Geneva: World Health Organization; 2014.

2.

Scott LJ, Perry CM. Tramadol: a review of its use in perioperative pain. Drugs. 2000;60(1):139–76.

3.

Miranda H, Pinardi G. Antinociception, tolerance, and physical dependence comparison between morphine and tramadol. Pharmacol Biochem Behav. 1998;61:357–60.

4.

Murano T, Yamamoto H, Endo N, Kudo Y, Okada N, Masuda Y, et al. Studies on dependence on tramadol in rats. Arzneimittelforschung. 1978;28:152–8.

5.

Cami J, Lamas X, Farre M. Acute effects of tramadol in methadone-maintained volunteers. Drugs. 1994;47(Suppl 1):39–43.

6.

Jasinski D, Preston K, Sullivan J, Testa M. Abuse potential of oral tramadol. NIDA Res Monogr. 1993;132:103.

7.

Richter W, Barth H, Flohe L, Giertz H. Clinical investigation on the development of dependence during oral therapy with tramadol. Arzneimittelforschung. 1985;35:1742–4.

8.

Raffa R, Buschmann H, Christoph T, Eichenbaum G, Englberger W, Flores C, et al. Mechanistic and functional differentiation of tapentadol and tramadol. Expert Opin Pharmacother. 2012;13(10):1437–49.

9.

Hennies H, Friderichs E, Schneider J. Receptor binding, analgesic and antitussive potency of tramadol and other selected opioids. Arzneimittelforschung. 1988;38(7):877–80.

10.

Sansone RA, Sansone LA. Tramadol: seizures, serotonin syndrome, and coadministered antidepressants. Psychiatry (Edgmont). 2009;6(4):17–21.

11.

Keskinbora K, Aydinli I. An atypical opioid analgesic: tramadol. Agri. 2006;18(1):5–19.

12.

Duehmke RM, Derry S, Wiffen PJ, Bell RF, Aldington D, Moore RA. Tramadol for neuropathic pain in adults. Cochrane Database Syst Rev. 2017;6:CD003726. https://doi.org/10.1002/14651858.CD003726.pub4.

13.

Cepeda MS, Camargo F, Zea C, Valencia L. Tramadol for osteoarthritis. Cochrane Database Syst Rev. 2006;3:CD005522.

14.

Ho ML, Chung CY, Wang CC, Lin HY, Hsu NC, Chang CS. Efficacy and safety of tramadol/acetaminophen in the treatment of breakthrough pain in cancer patients. Saudi Med J. 2010;31(12):1315–9.

15.

US Food and Drug Administration. FDA Drug Safety Communication: FDA restricts use of prescription codeine pain and cough medicines and tramadol pain medicines in children; recommends against use in breastfeeding women. Washington, DC: FDA; 2017. https://www.fda.gov/Drugs/DrugSafety/ucm549679.htm. Accessed 25 Apr 2018.

16.

Orliaguet G, Hamza J, Couloigner V, Denoyelle F, Loriot M, Broly F, et al. A case of respiratory depression in a child with ultrarapid CYP2D6 metabolism after tramadol. Pediatrics. 2015;135:e753–5.

17.

European Medicines Agency. Annex I. Scientific conclusions and grounds for the variation to the terms of the Marketing Authorisation(s). UK: European Medicines Agency; 2018. https://www.ema.europa.eu/documents/psusa/tramadol-cmdh-scientific-conclusions-groundsvariation-amendments-product-information-timetable/00003002/201705_en.pdf. Accessed 5 Oct 2018.

18.

Druginfo. Tramadol HCl. Basic information. Osong: Ministry of Food and Drug Safety; 2018. http://drug.mfds.go.kr/html/bxsDrugChange.jsp?scItemSeq=198300327. Accessed 11 Oct 2018.

19.

Handley S, Flanagan R. Drugs and other chemicals involved in fatal poisoning in England and Wales during 2000–2011. Clin Toxicol (Phila). 2014;52(1):1–12.

20.

Office for National Statistics. Deaths related to drug poisoning in England and Wales. 2012. http://www.ons.gov.uk/ons/rel/subnational-health3/deaths-related-to-drugpoisoning/2012/index.html. Accessed 18 Aug 2018.

21.

Lee M-J. Korea Biomedical Review. Misuse, abuse of tramadol-based painkillers need factual survey; 2017. http://www.koreabiomed.com/news/articleView.html?idxno=1715. Accessed 18 Aug 2018.

22.

Harrigan TM. Schedules of controlled substances: placement of tramadol into Schedule IV. Springfield: Drug Enforcement Administration/Department of Justice; 2014. https://www.deadiversion.usdoj.gov/fed_regs/rules/2014/fr0702.htm. Accessed 11 Oct 2018.

23.

Schneider DM. Clinical inquiries. What is the addiction risk associated with tramadol? J Fam Pract. 2005;54(1):5–6.

24.

Jung Y-S, Kim D-K, Kim M-K, Kim H-J, Cha I-H, Han M-Y, et al. Comparison of tramadol/acetaminophen and codeine/acetaminophen/ibuprofen in onset of analgesia and analgesic efficacy for postoperative acute pain. J Korean Oral Maxillofac Surg. 2004;30:143–9.

25.

Kim J, Kim Y-H, Lee Y, Seong W-K, Hong S-I, Jang C-G, et al. Dependence potential of tramadol: behavioral pharmacology in rodents. Biomol Ther (Seoul). 2014;22(6):558–62.

26.

National Association of Boards of Pharmacy. Tennessee News: tramadol and carisoprodol now classified Schedule IV. Mount Prospect: National Association of Boards of Pharmacy; 2011. https://archive.is/20130222125410/http://www.nabp.net/news/tennessee-news-tramadol-and-carisoprodol-now-classified-schedule-iv. Accessed 18 Aug 2018.

27.

Drug Enforcement Administration. TRAMADOL (trade names: Ultram®, Ultracet®). Office of Diversion Control: Springfield, VA 22152, Drug and Chemical Evaluation Section; 2011.

28.

Daubin C, Quentin C, Goullé J, Guillotin D, Lehoux P, Lepage O, et al. Refractory shock and asystole related to tramadol overdose. Clin Toxicol. 2007;45(8):961–4.

29.

Gnanadesigan N, Espinoza R, Smith R, Israel M, Reuben D. Interaction of serotonergic antidepressants and opioid analgesics: is serotonin syndrome going undetected? J Am Med Direct Assoc. 2005;6(4):265–9.

30.

Jovanović-Cupić V, Martinović Z, Nesić N. Seizures associated with intoxication and abuse of tramadol. Clin Toxicol (Phila). 2006;44(2):143–6.

31.

Abadie D, Durrieu G, Roussin A, Montastruc JL. Réseau Français des Centres Régionaux de Pharmacovigilance. "Serious" adverse drug reactions with tramadol: a 2010–2011 pharmacovigilance survey in France [in French]. Thérapie. 2013;68(2):77–84.

32.

Robb G, Loe E, Maharaj A, Hamblin R, Seddon M. Medication-related patient harm in New Zealand hospitals. N Z Med J. 2017;130(1460):21–32.

33.

Garrett P. Tramadol overdose and serotonin syndrome manifesting as acute right heart dysfunction. Anaesth Intensive Care. 2004;32(4):575–7.

34.

Michaud K, Augsburger M, Romain N, Giroud C, Mangin P. Fatal overdose of tramadol and alprazolam. Forensic Sci Int. 1999;105(3):185–9.

35.

Moore K, Cina S, Jones R, Selby D, Levine B, Smith M. Tissue distribution of tramadol and metabolites in an overdose fatality. Am J Forensic Med Pathol. 1999;20(1):98–100.

36.

Barsotti C, Mycyk M, Reyes J. Withdrawal syndrome from tramadol hydrochloride. Am J Emerg Med. 2003;21(1):87–8.

37.

Freye E, Levy J. Acute abstinence syndrome following abrupt cessation of long-term use of tramadol (Ultram): a case study. Eur J Pain. 2000;43(3):307–11.

38.

Ojha R, Bhatia S. Tramadol dependence in a patient with no previous substance history. Prim Care Companion. J Clin Psychiatry. 2010;12(1):PCC.09100779.

39.

Soyka M, Backmund M, Hasemann S. Tramadol use and dependence in chronic noncancer pain patients. Pharmacopsychiatry. 2004;37(4):191–2.

40.

Woody G, Senay E, Geller A, Adams E, Inciardi J, Schnoll S, et al. An independent assessment of MEDWatch reporting for abuse/dependence and withdrawal from Ultram (tramadol hydrochloride). Drug Alcohol Depend. 2003;72(2):163–8.

41.

Madea B. Sudden death, especially in infancy—improvement of diagnoses by biochemistry, immunohistochemistry and molecular pathology. Legal Med (Tokyo). 2009;11:S36–42.

42.

Klingmann A, Skopp G, Pedal I, Pötsch L, Aderjan R. Distribution of morphine and morphine glucuronides in body tissue and fluids–postmortem findings in brief survival. Arch Kriminol. 2000;206(1–2):38–49.

43.

Oertel R, Pietsch J, Arenz N, Zeitz S, Goltz L, Kirch W. Distribution of metoprolol, tramadol, and midazolam in human autopsy material. J Chromatogr A. 2011;1218(30):4988–94.

44.

Costa I, Oliveira A, Guedes de Pinho P, Teixeira H, Moreira R, Carvalho F, et al. Postmortem redistribution of tramadol and O-desmethyltramadol. J Anal Toxicol. 2013;37(9):670–5.

45.

Wiebe T, Watterson J. Analysis of tramadol and O-desmethyltramadol in decomposed skeletal tissues following acute and repeated tramadol exposure by gas chromatography mass spectrometry. Forensic Sci Int. 2014;242:261–5.

46.

Maclure M. The case-crossover design: a method for studying transient effects on the risk of acute events. Am J Epidemiol. 1991;133(2):144–53.

47.

Lee J, Lee J, Park S. Cohort Profile: The National Health Insurance Service-National Sample Cohort (NHIS-NSC), South Korea. Int J Epidemiol. 2017;46(2):e15. https://doi.org/10.1093/ije/dyv319.

48.

WHO Collaborating Center for Drug Statistics Methodology. ATC/DDD index: tramadol. 2017. https://www.whocc.no/atc_ddd_index/?code=N02AX02. Accessed 18 Aug 2018

49.

Fournier J-P, Azoulay L, Yin H, Montastruc J-L, Suissa S. Tramadol use and the risk of hospitalization for hypoglycemia in patients with noncancer pain. JAMA Intern Med. 2015;175(2):186–93.

50.

Fournier JP, Yin H, Nessim SJ, Montastruc JL, Azoulay L. Tramadol for noncancer pain and the risk of hyponatremia. Am J Med. 2015;128(4):418–25.e5. https://doi.org/10.1016/j.amjmed.2014.10.046.

51.

Söderberg K, Laflamme L, Möller J. Newly initiated opioid treatment and the risk of fall-related injuries. A nationwide, register-based, case-crossover study in Sweden. CNS Drugs. 2013;27(2):155–61.

52.

Möller J, Laflamme L, Söderberg Löfdal K. CYP2D6-inhibiting drugs and the increased risk of fall-related injuries due to newly initiated opioid treatment—a Swedish, register-based case-crossover study. Basic Clin Pharmacol Toxicol. 2014;116(2):134–9.

53.

Jann M, Kennedy W, Lopez G. Benzodiazepines: a major component in unintentional prescription drug overdoses with opioid analgesics. J Pharm Pract. 2014;27(1):5–16.

54.

Substance Abuse and Mental Health Services Administration (SAMHSA). The TEDS Report: admissions reporting benzodiazepine and narcotic pain reliever abuse at treatment entry. Rockville: Center for Behavioral Health Statistics and Quality; 2012.

55.

Liston HL, Markowitz JS. Opioid drug–drug interactions: a review. J Pharm Pract. 1988;11(5):325–41.

56.

Healthcare Bigdata Hub. Lab/surgery statistics. Wonju: Health Insurance Review and Assessment Service; 2018. http://opendata.hira.or.kr/op/opc/olapDiagBhvInfo.do. Accessed 22 Oct 2018.

57.

ICD10Data.com. The web's free 2018 ICD-10-CM/PCS medical coding reference; 2018. https://www.icd10data.com/. Accessed 30 June 2017.

58.

Charlson ME, Pompei P, Ales KL, MacKenzie CR. A new method of classifying prognostic comorbidity in longitudinal studies: development and validation. J Chronic Dis. 1987;40(5):373–83.

59.

WHO Collaborating Center for Drug Statistics Methodology. DDD: definition and general considerations. Oslo: WHO; 2018. https://www.whocc.no/ddd/definition_and_general_considera/. Accessed 20 May 2018.

60.

Hassanian-Moghaddam H, Farnaghi F, Rahimi M. Tramadol overdose and apnea in hospitalized children, a review of 20 cases. Res Pharm Sci. 2015;10:544–52.

61.

Jenco M. The Children's Clinic. Do not use codeine, tramadol in children: FDA. AAP News; 2017. http://www.aappublications.org/news/2017/04/20/Codeine042017. Accessed 27 Dec 2018.

62.

Bush D. The CBHSQ report: emergency department visits for adverse reactions involving the pain medication tramadol; 2015. http://www.samhsa.gov/data/sites/default/files/report_1965/ShortReport-1965.html. Accessed 12 Oct 2018.

63.

Bourne C, Gouraud A, Daveluy A, Grandvuillemin A, Auriche P, Descotes J, et al. Tramadol and hypoglycaemia: comparison with other step 2 analgesic drugs. Br J Clin Pharmacol. 2013;75(4):1063–7.

64.

White M. Tramadol deaths in the United Kingdom. London: Public Health England and UK Focal Point on Drugs, Alcohol Drugs and Tobacco Division; 2016. http://www.emcdda.europa.eu/system/files/attachments/3236/Martin%20White-UKTramadol%20deaths%20in%20the%20United%20Kingdom%20EMCDDA.pdf. Accessed 21 Oct 2018.

65.

Crawford K. Studies show opioid deaths less likely in cancer patients, post-surgery opioid use can be reduced successfully. Alexandria: American Society of Clinical Oncology; 2018. https://www.asco.org/about-asco/press-center/news-releases/studies-show-opioid-deaths-less-likely-cancer-patients-post. Accessed 12 Oct 2018.

66.

Nersesyan H, Slavin KV. Current aproach to cancer pain management: availability and implications of different treatment options. Ther Clin Risk Manag. 2007;3(3):381–400.

67.

Broglio K, Cole BE. Pain management and terminal illness. In: Practical pain management. Vertical Health; 2011. https://www.practicalpainmanagement.com/resources/hospice/pain-management-terminal-illness. Accessed 12 Oct 2018.

68.

Ortho-McNeil Pharmaceutical Inc. ULTRAM®: (tramadol hydrochloride) tablets. Full prescribing information. Raritan: Ortho-McNeil Pharmaceutical, Inc.; 2008.

69.

Barbosa J, Faria J, Leal S, Afonso L, Lobo J, Queirós O, et al. Acute administration of tramadol and tapentadol at effective analgesic and maximum tolerated doses causes hepato- and nephrotoxic effects in Wistar rats. Toxicology. 2017;389:118–29.

70.

Sera L, McPherson ML, Holmes HM. Commonly prescribed medications in a population of hospice patients. Am J Hosp Palliat Care. 2014;31(2):126–31.

71.

Skinner D, Epstein J, Pappagallo M. Tramadol. In: Smith HS, editor. Current therapy in pain. Philadelphia: Elsevier; 2009. p. 508–12.

72.

Ryan N, Isbister G. Tramadol overdose causes seizures and respiratory depression but serotonin toxicity appears unlikely. Clin Toxicol (Phila). 2015;53(6):545–50.

73.

Tantry TP, Kadam D, Shetty P, Adappa KK. Tramadol-induced respiratory depression in a morbidly obese patient with normal renal function. Indian J Anaesth. 2011;55(3):318–20.

74.

Teppema L, Nieuwenhuijs D, Olievier C, Dahan A. Respiratory depression by tramadol in the cat: involvement of opioid receptors. Anesthesiology. 2003;98:420–7.

75.

Stamer U, Musshoff F, Kobilay M, Madea B, Hoeft A, Stüber F. Concentrations of tramadol and O-desmethyltramadol enantiomers in different CYP2D6 genotypes. Clin Pharmacol Ther. 2007;82:41–7.

76.

Leppert W. CYP2D6 in the metabolism of opioids for mild to moderate pain. Pharmacology. 2011;87(5–6):274–85.

77.

Samer C, Lorenzini K, Rollason V, Daali Y, Desmeules J. Applications of CYP450 testing in the clinical setting. Mol Diagn Ther. 2013;17(3):165–84.

78.

Bernarda S, Nevilleb KA, Nguyenb AT, Flockhartb DA. Interethnic differences in genetic polymorphisms of CYP2D6 in the U.S. population: clinical implications. Oncologist. 2006;11(2):126–35.

79.

Garg RK, Fulton-Kehoe D, Franklin G. Patterns of opioid use and risk of opioid overdose death among medicaid patients. Med Care. 2017;55(7):661–8.

80.

U.S. Department of Health and Human Services. What is the U.S. opioid epidemic? Washington, DC: U.S. Department of Health and Human Services; 2017. https://www.hhs.gov/opioids/about-the-epidemic/index.html. Accessed 11 Oct 2018.

81.

Weinstein M, Vaupel JW, Wachter KW. Biosocial Surveys. 16. Mendelian randomization: genetic variants as instruments for strengthening causal inference in observational studies. Washington, DC: The National Academies Press; 2008.

82.

Hallas J, Pottegård A, Wang S, Schneeweiss S, Gagne J. Persistent user bias in case-crossover studies in pharmacoepidemiology. Am J Epidemiol. 2016;184(10):761–9. https://doi.org/10.1093/aje/kww079.
Ethics declarations
Conflict of interest
Sohyun Jeong, Ha Jin Tchoe, Junqing Li, and Ju-Young Shin have no conflicts of interest that are directly relevant to the content of this study.
Funding
This research was supported by a Grant from the Korean Health Technology R&D Project through the Korea Health Industry Development Institute (KHIDI), funded by the Ministry of Health & Welfare, Republic of Korea (Grant no.: NHCR-HC17C0020).
Ethical approval
This study was approved by the institutional review board of the Sungkyunkwan University in South Korea (SKKU-IRB-2016-10-013). All personal identifying information of patients was anonymous; therefore, informed consent was waived by the institutional review board for this study.
Transparency declaration
The guarantors affirm that the manuscript is an honest, accurate, and transparent account of the study being reported; that no important aspects of the study have been omitted; and that any discrepancies from the study as planned (and, if relevant, registered) have been explained.
Data sharing
No additional data available.
Electronic supplementary material
Below is the link to the electronic supplementary material.
About this article
Cite this article
Jeong, S., Tchoe, H.J., Li, J. et al. All-Cause Mortality Associated with Tramadol Use: A Case-Crossover Study. Drug Saf 42, 785–796 (2019). https://doi.org/10.1007/s40264-018-00786-y