Abstract
Introduction
Pregnancy registries and spontaneous reports are essential pharmacovigilance tools to evaluate drug safety during pregnancy.
Objectives
The aim of this study was to evaluate postmarket capture of exposed pregnancies.
Methods
Pregnancy registries for drugs and biologics were identified in a systematic review. Through a standardized questionnaire, manufacturers provided information on (1) pregnancy registry enrollment and retention, and (2) worldwide receipt of spontaneous reports for exposed pregnancies. A validated algorithm for live-birth pregnancies allowed calculation of exposure rates per 100,000 live births using claims data.
Results
Among 34 products with a pregnancy registry, median (interquartile range) registry enrollment was 36 pregnancies (5–258) and median spontaneous report capture was 450 pregnancies (89–1192). Products used in >20/100,000 live births had a median registry enrollment of 490 pregnancies and median capture of 1061 spontaneously reported exposed pregnancies. Lower median registry enrollment and spontaneous report capture was observed for products used in 0.5–20/100,000 live births (36 from registries, 541 spontaneous reports) and <0.5/100,000 live births (3 from registries, 41 spontaneous reports). Among 24 registries enrolling ≥10 pregnancies, median capture of pregnancy outcomes (e.g. live birth, spontaneous abortion) was 83.9%. For 19 registries enrolling ≥10 infants, the median proportion of infants achieving protocol-specified follow-up was 89.9% for up to 4 weeks post-birth, 75.0% for 1–5 months, and 57.1% for ≥6 months.
Conclusions
Relatively higher product utilization among pregnant women predicted greater pregnancy registry enrollment. For products rarely used during pregnancy, registry enrollment was low and differences in registry enrollment compared with worldwide spontaneous report receipt were most pronounced. Products with very low utilization levels during pregnancy may require a combination of worldwide pharmacovigilance, pregnancy registries, and additional study methods to achieve adequate surveillance.
Access options
Buy single article
Instant access to the full article PDF.
US$ 49.95
Tax calculation will be finalised during checkout.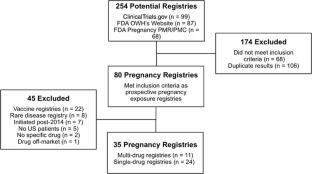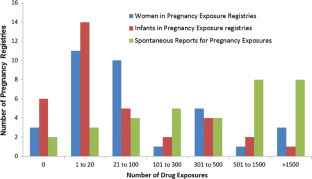 References
1.

US Food and Drug Administration. Guidance for Industry. Establishing Pregnancy Exposure Registries. Aug 2002. Available at: https://www.fda.gov/downloads/drugs/guidancecomplianceregulatoryinformation/guidances/ucm071639.pdf. Accessed 10 June 2016.

2.

Vannappagari V, Albano JD, Koram N, Tilson H, Scheuerle AE, Napier MD. Prenatal exposure to zidovudine and risk for ventricular septal defects and congenital heart defects: data from the Antiretroviral Pregnancy Registry. Eur J Obstet Gynecol Reprod Biol. 2016;197:6–10.

3.

Hernández-Díaz S, Smith CR, Shen A, Mittendorf R, Hauser WA, Yerby M, Holmes LB. North American AED Pregnancy Registry. Comparative safety of antiepileptic drugs during pregnancy. Neurology. 2012;78(21):1692–9.

4.

Zagouri F, Sergentanis TN, Chrysikos D, Papadimitriou CA, Dimopoulos MA, Bartsch R. Trastuzumab administration during pregnancy: a systematic review and meta-analysis. Breast Cancer Res Treat. 2013;137:349–57.

5.

Dai WS, LaBraico JM, Stern RS. Epidemiology of isotretinoin exposure during pregnancy. J Am Acad Dermatol. 1992;26(4):599–606.

6.

Gelperin K, Hammad H, Leishear K, Bird ST, Taylor L, Hampp C, Sahin L. A systematic review of pregnancy exposure registries: examination of protocol-specified pregnancy outcomes, target sample size, and comparator selection. Pharmacoepidemiol Drug Saf. 2017;26(2):208–14.

7.

US Food and Drug Administration. Office of Women's Health. List of pregnancy registries. Available at: https://www.fda.gov/ScienceResearch/SpecialTopics/WomensHealthResearch/ucm251314.htm. Accessed 10 June 2016.

8.

Behrman RE, Benner JS, Brown JS, McClellan M, Woodcock J, Platt R. Developing the sentinel system: a national resource for evidence development. N Engl J Med. 2011;364(6):498–9.

9.

Li Q, Andrade SE, Cooper WO, et al. Validation of an algorithm to estimate gestational age in electronic health plan databases. Pharmacoepidemiol Drug Saf. 2013;22(5):524–32.

10.

Raebel MA, Ellis JL, Andrade SE. Evaluation of gestational age and admission date assumptions used to determine prenatal drug exposure from administrative data. Pharmacoepidemiol Drug Saf. 2005;14(12):829–36.

11.

Andrade SE, Toh S, Houstoun M, et al. Surveillance of medication use during pregnancy in the mini-sentinel program. Matern Child Health J. 2016;20(4):895–903.

12.

IMS Institute for Healthcare Informatics. NSRD Data Brief: National Sales Perspectives™. Available at: https://www.imshealth.com/files/web/IMSH%20Institute/NSP_Data_Brief-.pdf. Accessed 31 June 2016.

13.

McGraw D, Rosati K, Evans B. A policy framework for public health uses of electronic health data. Pharmacoepidemiol Drug Saf. 2012;21(Suppl 1):18–22.

14.

GlaxoSmithKline. The Bupropion Pregnancy Registry Final Report. Issued Aug 2008. Available at: http://pregnancyregistry.gsk.com/documents/bup_report_final_2008.pdf. Accessed 20 July 2017.

15.

Cunnington MC, Weil JG, Messenheimer JA, Ferber S, Yerby M, Tennis P. Final results from 18 years of the International Lamotrigine Pregnancy Registry. Neurology. 2011;76(21):1817–23.

16.

Antiretroviral Pregnancy Registry Steering Committee. Antiretroviral Pregnancy Registry International Interim Report for 1 January 1989 through 31 January 2017. Wilmington: Registry Coordinating Center; 2017. Available at: http://www.APRegistry.com. Accessed 20 July 2017.

17.

US Food and Drug Administration. 2014 meeting materials; Study approaches and methods to evaluate the safety of drugs and biological products during pregnancy in the post-approval setting; public meeting, request for comments. 2014. Available at: https://www.fda.gov/Drugs/NewsEvents/ucm386560.htm. Accessed 20 July 2017.

18.

Chavez N. The key role of social media in registry recruitment [abstract no. S5]. In: Presented at the 57th Annual Meeting of the Teratology Society: Denver; 24–28 June 2017.
Ethics declarations
Conflict of interest
Steven Bird, Kate Gelperin, Lockwood Taylor, Leyla Sahin, Hoda Hammad, Susan Andrade, Mohamed Mohamoud, Sengwee Toh, and Christian Hampp have no conflicts of interest to declare that are directly relevant to the content of this study. This study represents the opinions of the authors and not necessarily those of the FDA. Susan Andrade received a grant from Pfizer Inc. unrelated to this study or any drugs evaluated in our study. No other conflicts are present.
Funding
Sentinel is funded by the US FDA. No other funding was received for this study.
Electronic supplementary material
Below is the link to the electronic supplementary material.
About this article
Cite this article
Bird, S.T., Gelperin, K., Taylor, L. et al. Enrollment and Retention in 34 United States Pregnancy Registries Contrasted with the Manufacturer's Capture of Spontaneous Reports for Exposed Pregnancies. Drug Saf 41, 87–94 (2018). https://doi.org/10.1007/s40264-017-0591-5