Abstract
Introduction
Attorneys sponsor television advertisements that include repeated warnings about adverse drug events to solicit consumers for lawsuits against drug manufacturers. The relationship between such advertising, safety actions by the US Food and Drug Administration (FDA), and healthcare use is unknown.
Objectives
To investigate the relationship between attorney advertising, FDA actions, and prescription drug claims.
Methods
The study examined total users per month and prescription rates for seven drugs with substantial attorney advertising volume and FDA or other safety interventions during 2009. Segmented regression analysis was used to detect pre-intervention trends, post-intervention level changes, and changes in post-intervention trends relative to the pre-intervention trends in the use of these seven drugs, using advertising volume, media hits, and the number of Medicare enrollees as covariates. Data for these variables were obtained from the Center for Medicare and Medicaid Services, Kantar Media, and LexisNexis.
Results
Several types of safety actions were associated with reductions in drug users and/or prescription rates, particularly for fentanyl, varenicline, and paroxetine. In most cases, attorney advertising volume rose in conjunction with major safety actions. Attorney advertising volume was positively correlated with prescription rates in five of seven drugs, likely because advertising volume began rising before safety actions, when prescription rates were still increasing. On the other hand, attorney advertising had mixed associations with the number of users per month.
Conclusion
Regulatory and safety actions likely reduced the number of users and/or prescription rates for some drugs. Attorneys may have strategically chosen to begin advertising adverse drug events prior to major safety actions, but we found little evidence that attorney advertising reduced drug use. Further research is needed to better understand how consumers and physicians respond to attorney advertising.
This is a preview of subscription content, log in to check access.
Access options
Buy single article
Instant access to the full article PDF.
US$ 49.95
Tax calculation will be finalised during checkout.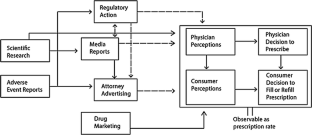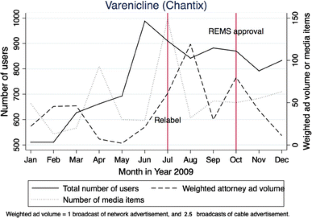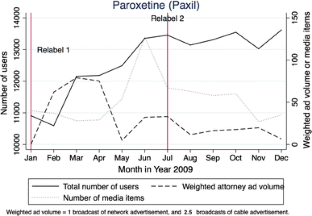 References
1.

Tippett EC. Medical advice from lawyers: an analysis of attorney advertising for drug injury lawsuits. Am J Law Med. 2015;41(1):7–48.

2.

Dusetzina SB, Higashi AS, Dorsey ER, et al. Impact of FDA drug risk communications on health care utilization and health behaviors: a systematic review. Med Care. 2012;50(6):466–78.

3.

Nielsen. Local television market universe estimates. Available from: http://www.nielsen.com/content/dam/corporate/us/en/newswire/uploads/2009/08/2009-2010-dma-ranks.pdf.

4.

Drugs@FDA. FDA approved drug products. Available from: http://www.accessdata.fda.gov/scripts/cder/drugsatfda/index.cfm. Accessed 24 Feb 2015.

5.

Watson announces limited recall of fentanyl transdermal system, published August 7, 2009. Available from: http://phx.corporate-ir.net/phoenix.zhtml?c=65778&p=irol-newsArticle&ID=1318770. Accessed 24 Feb 2015.

6.

Centers for Medicare and Medicaid Services, Monthly Enrollment by Contract/Plan/State/County. Available from: https://www.cms.gov/Research-Statistics-Data-and-Systems/Statistics-Trends-and-Reports/MCRAdvPartDEnrolData/Monthly-Enrollment-by-Contract-Plan-State-County.html. Accessed 13 June 2015.

7.

SeventhPoint, Nielsen DMA—Designated Market Area Regions 2012–2013. Available from: http://seventhpoint.com/images/pdfs/2012-2013%20Large%20DMA%20Map.pdf. Accessed 13 June 2015.

8.

Wagner AK, Soumerai SB, Zhang F, Ross-Degnan D. Segmented regression analysis of interrupted time series studies in medication use research. J Clin Pharm Ther. 2002;27(4):299–309.

9.

Wyeth v. Levine, 129 S.Ct. 1187 (2009).

10.

Food and Drug Administration, Letter to GlaxoSmithKline from Thomas Laughren, January 30, 2009. Available from: http://www.accessdata.fda.gov/drugsatfda_docs/appletter/2009/020031s061,020936s038,020710s025ltr.pdf. Accessed 11 May 2015.

11.

Wax D, Doshi A, Hossain S, et al. Changing patterns of postoperative nausea and vomiting prophylaxis drug use in an academic anesthesia practice. J Clin Anesth. 2007;19:356–9.

12.

Starner CI, Schafer JA, Heaton AH, et al. Rosiglitazone and pioglitazone utilization from January 2007 through May 2008 associated with five risk-warning events. J Manag Care Pharm. 2008;14(6):523–31.

13.

Habib AS, Gan TJ. The use of droperidol before and after the Food and Drug Administration black box warning: a survey of the members of the Society of Ambulatory Anesthesia. J Clin Anesth. 2008;20:35–9.

14.

Smalley W, Shatin D, Wysowski DK et al. Contraindicated use of Cisapride. JAMA. 2000;284(23):3036–9.

15.

Karpel JP, Peters JI, Szema AM, et al. Differences in physicians'-self-reported knowledge of, attitudes towards, and responses to the black box warning on long-acting beta-agonists. Ann Allergy Asthma Immunol. 2009;103:304–10.

16.

Valuck RJ, Libby AM, Orton HD, Morrato EH et al. Spillover effects on treatment of adult depression in primary care after FDA advisory on risk of pediatric suicidality with SSRIs. Am J Psychiatry. 2007;164(8):1198–205.

17.

Dorsey ER, Rabbani A, Gallagher SA et al. Impact of FDA black box advisory on antipsychotic medication use. Arch Intern Med. 2010;170(1):96–103.

18.

Food and Drug Administration Amendments Act of 2007, Pub. Law 110-85, § 505–1.

19.

Chen BK, Yang T. Post-marketing surveillance of prescription drug safety: past, present and future. J Legal Med. 2013;34(2):193–213.

20.

Juurlink DN, Park-Wyllie LY, Kapral MK. The effect of publication on Internet-based solicitation of personal-injury litigants. Can Med Assoc J. 2007;177(11):1369–70.

21.

Tenggardjaja CF, Moore CK, Vasavada SP, Li J, Goldman HB. Evaluation of patients'-perceptions of mesh usage in female pelvic medicine and reconstructive surgery. Urology. 2015;85:326–32.

22.

Koski ME, Chamberlain J, Rosoff J, et al. Patient perception of transvaginal mesh and the media. Urology. 2014;84(3):572–82.

23.

The Pew Research Center for the People and the Press. Trends in news consumption: 1991––2012. In changing news landscape, even television is vulnerable. Available from: http://www.people-press.org/files/legacy-pdf/2012%20News%20Consumption%20Report.pdf. Accessed 4 May 2015.
Acknowledgments
Job Chen contributed to the data analysis for this project.
Ethics declarations
Funding
This project was funded in part with a Faculty Research Award by the University of Oregon's Office of Research, Innovation and Graduate Education. This research was also funded in part by LizT Consulting LLC.
Conflict of interest
Elizabeth Tippett is the sole proprietor of LizT Consulting LLC. Elizabeth Tippett and Brian Chen have no other conflicts of interest that are directly relevant to the content of this study.
Electronic supplementary material
Below is the link to the electronic supplementary material.
About this article
Cite this article
Tippett, E.C., Chen, B.K. Association of Attorney Advertising and FDA Action with Prescription Claims: A Time Series Segmented Regression Analysis. Drug Saf 38, 1169–1178 (2015). https://doi.org/10.1007/s40264-015-0340-6
Keywords
Quetiapine

Pregabalin

Exenatide

Varenicline

Prescription Rate