Abstract
Background
Self-medication, including both the use of over-the-counter (OTC) drugs and the use of formerly prescribed drugs taken without a current physician's recommendation, is a public health concern; however, little data exist regarding the actual risk.
Objective
We aimed to analyse self-medication-related adverse drug reactions (ADRs) leading to hospitalisation.
Methods
In a multi-centre, observational study covering a hospital catchment area of approximately 500,000 inhabitants, we analysed self-medication-related ADRs leading to hospital admissions in internal medicine departments. Data of patients with ADRs were comprehensively documented, and ADR causality was assessed using Bégaud's algorithm. The included ADRs occurred between January 2000 and December 2008 and were assessed to be at least 'possibly' drug related.
Results
Of 6,887 patients with ADRs, self-medication was involved in 266 (3.9 %) patients. In 143 (53.8 %) of these patients, ADRs were due to OTC drugs. Formerly prescribed drugs and potential OTC drugs accounted for the remaining ADRs. Most self-medication-related ADRs occurred in women aged 70–79 years and in men aged 60–69 years. Self-medication-related ADRs were predominantly gastrointestinal complaints caused by non-steroidal anti-inflammatory drugs (most frequently OTC acetylsalicylic acid [ASA, aspirin]). In 102 (38.3 %) of the patients with self-medication-related ADRs, a relevant drug–drug interaction (DDI), occurring between a self-medication and a prescribed medication, was present (most frequently ASA taken as an OTC drug and prescribed diclofenac).
Conclusion
In the general population, self-medication plays a limited role in ADRs leading to hospitalisation. However, prevention strategies focused on elderly patients and patients receiving interacting prescribed drugs would improve patient safety.
Access options
Buy single article
Instant access to the full article PDF.
USD 49.95
Price excludes VAT (USA)
Tax calculation will be finalised during checkout.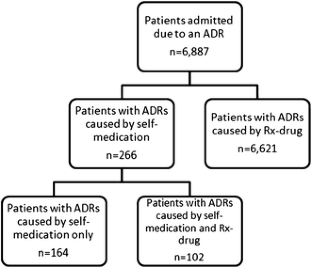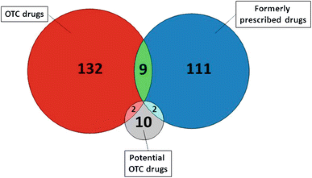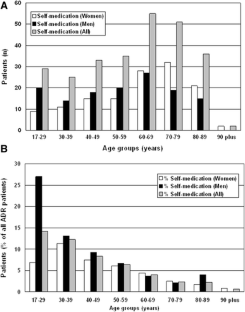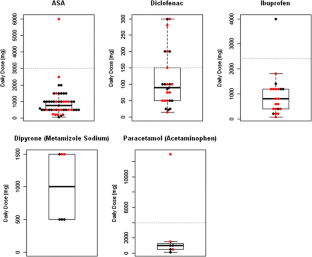 References
Bundesverband der Pharmazeutischen Industrie e.V. (BPI). Pharmadaten 2012. 2012 [cited 14/JAN/2014]. http://www.bpi.de/fileadmin/media/bpi/Downloads/Internet/Publikationen/Pharma-Daten/Pharmadaten_2012_DE.pdf.

Hughes CM, McElnay JC, Fleming GF. Benefits and risks of self medication. Drug Saf. 2001;24(14):1027–37.

Soller RW. Evolution of self-care with over-the-counter medications. Clin Ther. 1998;20 Suppl C:C134–40.

Olivier P, Bertrand L, Tubery M, Lauque D, Montastruc JL, Lapeyre-Mestre M. Hospitalizations because of adverse drug reactions in elderly patients admitted through the emergency department: a prospective survey. Drugs Aging. 2009;26(6):475–82.

Hersh EV, Pinto A, Moore PA. Adverse drug interactions involving common prescription and over-the-counter analgesic agents. Clin Ther. 2007;29(Suppl):2477–97.

Wilcox CM, Cryer B, Triadafilopoulos G. Patterns of use and public perception of over-the-counter pain relievers: focus on nonsteroidal antiinflammatory drugs. J Rheumatol. 2005;32(11):2218–24.

Hasford J, Moore N, Hoye K. Safety and usage pattern of low-dose diclofenac when used as an over-the-counter medication: results of an observational cohort study in a community-based pharmacy setting. Int J Clin Pharmacol Ther. 2004;42(8):415–22.

Bond C, Hannaford P. Issues related to monitoring the safety of over-the-counter (OTC) medicines. Drug Saf. 2003;26(15):1065–74.

Du Y, Knopf H. Self-medication among children and adolescents in Germany: results of the National Health Survey for Children and Adolescents (KiGGS). Br J Clin Pharmacol. 2009;68(4):599–608.

Grigoryan L, Monnet DL, Haaijer-Ruskamp FM, Bonten MJ, Lundborg S, Verheij TJ. Self-medication with antibiotics in Europe: a case for action. Curr Drug Saf. 2010;5(4):329–32.

Rottenkolber D, Schmiedl S, Rottenkolber M, Farker K, Salje K, Mueller S, et al. Adverse drug reactions in Germany: direct costs of internal medicine hospitalizations. Pharmacoepidemiol Drug Saf. 2011;20(6):626–34.

Schneeweiss S, Gottler M, Hasford J, Swoboda W, Hippius M, Hoffmann AK, et al. First results from an intensified monitoring system to estimate drug related hospital admissions. Br J Clin Pharmacol. 2001;52(2):196–200.

WHO. International drug monitoring. In: The role of hospital. Geneva: World Health Organisation; 1969.

Rzany B, Correia O, Kelly JP, Naldi L, Auquier A, Stern R. Risk of Stevens–Johnson syndrome and toxic epidermal necrolysis during first weeks of antiepileptic therapy: a case–control study. Study Group of the International Case Control Study on Severe Cutaneous Adverse Reactions. Lancet. 1999;353(9171):2190–4.

Schneeweiss S, Hasford J, Gottler M, Hoffmann A, Riethling AK, Avorn J. Admissions caused by adverse drug events to internal medicine and emergency departments in hospitals: a longitudinal population-based study. Eur J Clin Pharmacol. 2002;58(4):285–91.

WHO. Anatomical therapeutic chemical (ATC) classification index. Geneva: WHO Collaborating Centre for Drug Statistics Methodology; 1992.

Begaud B, Evreux JC, Jouglard J, Lagier G. [Imputation of the unexpected or toxic effects of drugs. Actualization of the method used in France]. Therapie. 1985;40(2):111–8.

Brown EG, Wood L, Wood S. The medical dictionary for regulatory activities (MedDRA). Drug Saf. 1999;20(2):109–17.

Edwards IR, Aronson JK. Adverse drug reactions: definitions, diagnosis, and management. Lancet. 2000;356(9237):1255–9.

Hartwig SC, Siegel J, Schneider PJ. Preventability and severity assessment in reporting adverse drug reactions. Am J Hosp Pharm. 1992;49(9):2229–32.

International Conference on Harmonisation of Technical Requirements for Registration of Pharmaceuticals for Human Use (ICH). Maintenance of the ICH Guideline on Clinical Safety Data Management: Data Elements for Transmission of Individual Case Safety Reports E2B(R2). 2001 [cited 14/JAN/2014]. http://www.ich.org/fileadmin/Public_Web_Site/ICH_Products/Guidelines/Efficacy/E2B/Step4/E2B_R2__Guideline.pdf.

World Health Organization. Patient Safety Programme. 2004 [cited 14/JAN/2014]. http://www.who.int/patientsafety/about/en/.

The Joint Commission. 2013 National Patient Safety Goals. 2013 [cited 14/JAN/2014]. http://www.jointcommission.org/standards_information/npsgs.aspx.

Arzneimittelkommision der deutschen Ärzteschaft. Aktionsplan des Bundesministeriums für Gesundheit zur Verbesserung der Arzneimitteltherapiesicherheit (AMTS) in Deutschland. 2010 [cited 14/JAN/2014]. http://www.ap-amts.de/.

Pirmohamed M, James S, Meakin S, Green C, Scott AK, Walley TJ, et al. Adverse drug reactions as cause of admission to hospital: prospective analysis of 18 820 patients. BMJ. 2004;329(7456):15–9.

Kongkaew C, Noyce PR, Ashcroft DM. Hospital admissions associated with adverse drug reactions: a systematic review of prospective observational studies. Ann Pharmacother. 2008;42(7):1017–25.

Beitz R, Doren M, Knopf H, Melchert HU. Self-medication with over-the-counter (OTC) preparations in Germany. Bundesgesundheitsblatt Gesundheitsforschung Gesundheitsschutz. 2004;47(11):1043–50.

Paulose-Ram R, Hirsch R, Dillon C, Losonczy K, Cooper M, Ostchega Y. Prescription and non-prescription analgesic use among the US adult population: results from the third National Health and Nutrition Examination Survey (NHANES III). Pharmacoepidemiol Drug Saf. 2003;12(4):315–26.

Lewis SC, Langman MJ, Laporte JR, Matthews JN, Rawlins MD, Wiholm BE. Dose–response relationships between individual nonaspirin nonsteroidal anti-inflammatory drugs (NANSAIDs) and serious upper gastrointestinal bleeding: a meta-analysis based on individual patient data. Br J Clin Pharmacol. 2002;54(3):320–6.

Daban F, Pasarin MI, Rodriguez-Sanz M, Garcia-Altes A, Villalbi JR, Zara C, et al. Social determinants of prescribed and non-prescribed medicine use. Int J Equity Health. 2010;9:12.

Onder G, Pedone C, Landi F, Cesari M, Della Vedova C, Bernabei R, et al. Adverse drug reactions as cause of hospital admissions: results from the Italian Group of Pharmacoepidemiology in the Elderly (GIFA). J Am Geriatr Soc. 2002;50(12):1962–8.

Eickhoff C, Hammerlein A, Griese N, Schulz M. Nature and frequency of drug-related problems in self-medication (over-the-counter drugs) in daily community pharmacy practice in Germany. Pharmacoepidemiol Drug Saf. 2012;21(3):254–60.

Lewis JD, Kimmel SE, Localio AR, Metz DC, Farrar JT, Nessel L, et al. Risk of serious upper gastrointestinal toxicity with over-the-counter nonaspirin nonsteroidal anti-inflammatory drugs. Gastroenterology. 2005;129(6):1865–74.

Huang ES, Strate LL, Ho WW, Lee SS, Chan AT. Long-term use of aspirin and the risk of gastrointestinal bleeding. Am J Med. 2011;124(5):426–33.

Singh G. Gastrointestinal complications of prescription and over-the-counter nonsteroidal anti-inflammatory drugs: a view from the ARAMIS database. Arthritis, Rheumatism, and Aging Medical Information System. Am J Ther. 2000;7(2):115–21.

Langley PC. The prevalence, correlates and treatment of pain in the European Union. Curr Med Res Opin. 2011;27(2):463–80.

Lanas A, Serrano P, Bajador E, Fuentes J, Sainz R. Risk of upper gastrointestinal bleeding associated with non-aspirin cardiovascular drugs, analgesics and nonsteroidal anti-inflammatory drugs. Eur J Gastroenterol Hepatol. 2003;15(2):173–8.

Klemenc-Ketis Z, Kersnik J. Sources and predictors of home-kept prescription drugs. Int J Clin Pharmacol Ther. 2010;48(11):705–7.

Dangoumau J, Evreux JC, Jouglard J. Method for determination of undesirable effects of drugs. Therapie. 1978;33(3):373–81.

Macedo AF, Marques FB, Ribeiro CF. Can decisional algorithms replace global introspection in the individual causality assessment of spontaneously reported ADRs? Drug Saf. 2006;29(8):697–702.

Gallagher RM, Kirkham JJ, Mason JR, Bird KA, Williamson PR, Nunn AJ, et al. Development and inter-rater reliability of the Liverpool adverse drug reaction causality assessment tool. PloS One. 2011;6(12):e28096.

Theophile H, Andre M, Miremont-Salame G, Arimone Y, Begaud B. Comparison of three methods (an updated logistic probabilistic method, the Naranjo and Liverpool algorithms) for the evaluation of routine pharmacovigilance case reports using consensual expert judgement as reference. Drug Saf. 2013;36(10):1033–44.
Acknowledgments
The authors thank the following colleagues from the network of regional pharmacovigilance centres for their contribution over the years in data collection (regional centres Rostock, Greifswald, Jena and Weimar) and in quality assurance (Wuppertal): S. Müller, A. Zachow (Rostock), W. Siegmund, K. Wergin (Greifswald), D. Gruca, A. Scheuerlein (Jena), I.R. Günther, S. Surber, K. Fricke, B. Henzgen, R. Fünfstück (Weimar), S. Haffner and J. Szymanski (Wuppertal). We would also like to express our gratitude to Elizabeth Costello for language checking.
Conflicts of Interest
Bernd Drewelow has received lecture fees from BayerVital, Astra Zeneca and Pfizer; Katrin Farker has received third-party funding for research projects from Mitsubishi Pharma Deutschland GmbH and Novartis Pharma GmbH; Sven Schmiedl, Marietta Rottenkolber, Joerg Hasford, Dominik Rottenkolber, Marion Hippius, Karen Saljé and Petra Thürmann have no conflicts of interest to declare.
Sources of funding
The project was supported by the Federal Institute for Drugs and Medical Devices (Bundesinstitut für Arzneimittel und Medizinprodukte [BfArM], Bonn, Germany), V-11337/68605/2008-2010. The funding organization had no impact on study design, data collection and analysis, decision to publish, or preparation of the manuscript.
Additional information
S. Schmiedl and M. Rottenkolber contributed equally.
For the German Network of Regional Pharmacovigilance Centres.
Electronic supplementary material
Below is the link to the electronic supplementary material.
About this article
Cite this article
Schmiedl, S., Rottenkolber, M., Hasford, J. et al. Self-Medication with Over-the-Counter and Prescribed Drugs Causing Adverse-Drug-Reaction-Related Hospital Admissions: Results of a Prospective, Long-Term Multi-Centre Study. Drug Saf 37, 225–235 (2014). https://doi.org/10.1007/s40264-014-0141-3
Published:

Issue Date:

DOI: https://doi.org/10.1007/s40264-014-0141-3
Keywords
Ibuprofen

Phenprocoumon

Internal Medicine Department

Electronic Supplementary Table

Anatomical Therapeutic Chemical Group