Abstract
Background
Several methods have been proposed to assess causality in drug-induced liver injury but none have been tested in the specific context of acute liver failure leading to transplantation (ALFT).
Objective
We took advantage of the Study of Acute Liver Transplant (SALT), a European case-population study of ALFT, to test different causality scales.
Methods
Causality was assessed by experts in SALT, a 7-country case-population study from 2005 to 2007 of adult otherwise unexplained ALFT, for all drugs found within 30 days prior to the date of initial symptoms of liver disease (index date), using information content, causality scales, and data circuit determined from a pilot study, Salome.
Results
The consensus points from Salome were to provide full data on drugs including international non-proprietary name (INN) and doses except for non-steroidal anti-inflammatory drugs (NSAIDs) and to use the World Health Organization (WHO) causality scale. In SALT, among the 9,479 identified patients, 600 (6.3 %) were cases of ALFT, of which 187 had been exposed to drugs within 30 days, without overdose. In 130 (69.5 %) of these the causality score was possible, probable, or highly probable.
Conclusion
In ALFT cases, once other clinical causes have been excluded and drug exposure established within 30 days, the main discriminant characteristic for causality will be previous knowledge of possible hepatotoxicity.
Access options
Buy single article
Instant access to the full article PDF.
US$ 49.95
Tax calculation will be finalised during checkout.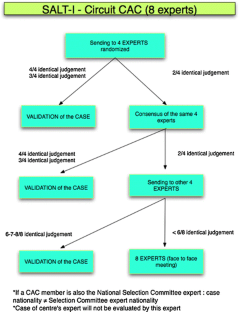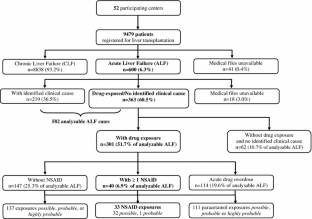 References
1.

Meyboom RH, Hekster YA, Egberts AC, Gribnau FW, Edwards IR. Causal or casual? The role of causality assessment in pharmacovigilance. Drug Safety. 1997;17(6):374–89 (Epub 1998/01/16).

2.

Danan G, Benichou C. Causality assessment of adverse reactions to drugs—I. A novel method based on the conclusions of international consensus meetings: application to drug-induced liver injuries. J Clin Epidemiol. 1993;46(11):1323–30 (Epub 1993/11/01).

3.

Danan G, Benichou C, Begaud B, Biour M, Couzigou P, Evreux JC, et al. Criteria of imputation of acute hepatitis to a drug. Results of consensus meetings (Criteres d'imputation d'une hepatite aigue a un medicament. Resultats de reunions de consensus). Gastroenterologie clinique et biologique. 1987;11(8–9):581–5. (Epub 1987/08/01).

4.

Naranjo CA, Busto U, Sellers EM, Sandor P, Ruiz I, Roberts EA, et al. A method for estimating the probability of adverse drug reactions. Clin Pharmacol Ther. 1981;30(2):239–45 (Epub 1981/08/01).

5.

Edwards IR, Biriell C. Harmonisation in pharmacovigilance. Drug Safety. 1994;10(2):93–102 (Epub 1994/02/01).

6.

Venulet J. Aspects of standardization as applied to the assessment of drug-event associations. Drug Inf J. 1984;18(3–4):199–210 (Epub 1983/12/12).

7.

Benichou C, Danan G, Flahault A. Causality assessment of adverse reactions to drugs—II. An original model for validation of drug causality assessment methods: case reports with positive rechallenge. J Clin Epidemiol. 1993;46(11):1331–6 (Epub 1993/11/01).

8.

Gulmez SE, Lignot-Maleyran S, de Vries CS, Sturkenboom M, Micon S, Hamoud F, et al. Administrative complexities for a European observational study despite directives harmonising requirements. Pharmacoepidemiol Drug Saf. 2012;21(8):851–6 (Epub 2012/02/18).

9.

Gulmez SE, Larrey D, Pageaux GP, Lignot-Maleyran S, de Vries C, Sturkenboom M, et al. Methodology for a multinational case-population study on liver toxicity risks with NSAIDs: the Study of Acute Liver Transplant (SALT). Eur J Clin Pharmacol. 2013;69(3):605–16 (Epub 2012/08/11).

10.

Gulmez SE, Larrey D, Pageaux GP, Lignot S, Lassalle R, Jove J, et al. Transplantation for acute liver failure in patients exposed to NSAIDs or paracetamol (acetaminophen): the multinational case-population SALT study. Drug Safety. 2013;36(2):135–44 (Epub 2013/01/18).

11.

Moore N, Gulmez SE, Larrey D, Pageaux GP, Lignot S, Lassalle R, et al. Choice of the denominator in case population studies: event rates for registration for liver transplantation after exposure to NSAIDs in the SALT study in France. Pharmacoepidemiol Drug Saf. 2013;22(2):160–7 (Epub 2012/11/21).

12.

WHO. Guidelines for ATC classification and DDD assignment, 4th edn. Oslo: WHO Collaborating Centre for Drug Statistics Methodology; 2001.

13.

Arimone Y, Begaud B, Miremont-Salame G, Fourrier-Reglat A, Molimard M, Moore N, et al. A new method for assessing drug causation provided agreement with experts' judgment. J Clin Epidemiol. 2006;59(3):308–14 (Epub 2006/02/21).

14.

Arimone Y, Begaud B, Miremont-Salame G, Fourrier-Reglat A, Moore N, Molimard M, et al. Agreement of expert judgment in causality assessment of adverse drug reactions. Eur J Clin Pharmacol. 2005;61(3):169–73 (Epub 2005/04/14).

15.

Arimone Y, Miremont-Salame G, Haramburu F, Molimard M, Moore N, Fourrier-Reglat A, et al. Inter-expert agreement of seven criteria in causality assessment of adverse drug reactions. Br J Clin Pharmacol. 2007;64(4):482–8 (Epub 2007/08/23).

16.

Theophile H, Laporte JR, Moore N, Martin KL, Begaud B. The case-population study design: an analysis of its application in pharmacovigilance. Drug Safety. 2011;34(10):861–8 (Epub 2011/09/02).

17.

Fontana RJ, Watkins PB, Bonkovsky HL, Chalasani N, Davern T, Serrano J, et al. Drug-Induced Liver Injury Network (DILIN) prospective study: rationale, design and conduct. Drug Safety. 2009;32(1):55–68 (Epub 2009/01/10).

18.

Lewis JH, Larrey D, Olsson R, Lee WM, Frison L, Keisu M. Utility of the Roussel Uclaf Causality Assessment Method (RUCAM) to analyze the hepatic findings in a clinical trial program: evaluation of the direct thrombin inhibitor ximelagatran. Int J Clin Pharmacol Ther. 2008;46(7):327–39 (Epub 2008/09/17).
Acknowledgments
The authors wish to thank all the physicians and staff at the transplant centers and all the patients whose acceptance of this study made it possible, and the various persons in administrative positions, data protection, ethics, and the British research & development committees.
Contributorship statement
Nicholas Moore and Dominique Larrey had the original idea for the study several years ago and proposed it to the sponsor and to the Committee for Medicinal Products for Human Use (CHMP) of the European Medicines Agency (EMA). Nicholas Moore was the overall study supervisor, intervening when necessary for the smooth operation of the study. Dominique Larrey was chairman of the scientific committee and of the case adjudication committee (CAC) and was the everyday hepatology counsel for the study. George-Philippe Pageaux was the vice-chairman of the CAC and contributed enormously to case understanding and adjudication.
Sinem Ezgi Gulmez and Séverine Lignot were the scientific and operational study coordinators, devising the initial document generation under the control of the scientific committee, organizing negotiations with transplant centers, study data retrieval, writing the study reports and draft article, and verifying all contents. The study coordination team also included Sophie Micon and Fatima Hamoud, who coordinated the scientific and CAC activities. Régis Lassalle and Jérémy Jove provided data management and statistical analyses. Patrick Blin was the study epidemiological overseer, contributing to study design, operations, analysis, and understanding. Jacques Bernuau, Franco Bissoli, Yves Horsmans, Jean-Louis Montastruc, Bruno Stricker, and Douglas Thorburn were members of the CAC and performed causality assessments.
All authors contributed comments on the final version of this paper.
Exclusive licence statement
Corresponding authors have completed and signed the copyright assessment.
Corresponding authors had full access to all of the data in the study and take responsibility for the integrity of the data and the accuracy of the data analysis, which was conducted independently from the financer.
Competing interest statement
All authors have completed the unified competing interest form, and declared their competing interest if any. Dr Bruno Stricker has received travel reimbursements. Drs Yves Horsmans and Franco Bissoli have declared being consultants for Helsinn Pharmaceutical Company.
No specific conflict of interest is declared with regard to this study, by any of the authors, inasmuch as for a number of the authors who are employees of the University of Bordeaux, the University of Bordeaux received compensation as described below. Authors participating in the committees received compensation from the University of Bordeaux for the time spent on the committees.
A contributorship statement is included in the manuscript.
Financial support
The study was conducted at the request of the CHMP of the EMA, independently from the financer, Helsinn Healthcare SA (HHC), manufacturers of nimesulide. The financer had no role in the design of the study, which was submitted to and approved by the CHMP, or in the collection, management, analysis, or interpretation of the data. Nor did they have any role in the preparation or review of this manuscript. They were given the opportunity to read and comment on this paper before submission, but the content of the paper was entirely under the control and responsibility of the authors. HHC entered a contract with the University of Bordeaux for the conduct of the study. All contracts with experts or transplant centers were with the University of Bordeaux. HHC had no direct contact with any of the participants in the study.
The report of this study has been sent to the regulatory authorities and was presented to the CHMP on 17 May 2011.
Electronic supplementary material
Below is the link to the electronic supplementary material.
About this article
Cite this article
Gulmez, S.E., Moore, N., Pageaux, GP. et al. Causality of Drugs Involved in Acute Liver Failure Leading to Transplantation: Results from the Study of Acute Liver Transplant (SALT). Drug Saf 36, 757–764 (2013). https://doi.org/10.1007/s40264-013-0071-5
Keywords
Visual Analogue Scale

Etodolac

Causality Assessment

Causality Score

Causality Classification