Abstract
Background
Lactic acidosis is an adverse event associated with metformin usage. Patients with metformin-associated lactic acidosis (MALA), however, often have other conditions contributing to the event. The relative contribution of metformin is often unclear. MALA is usually diagnosed without measuring the plasma concentrations of metformin.
Objectives
The objectives of this study were, first, to examine the plasma concentrations of metformin, lactate and creatinine and the arterial pH of patients with suspected MALA and, second, to review critically the mechanisms of MALA.
Methods
Patients who were suspected of having MALA were identified during the period October 2008–September 2011. Repeated blood samples were collected to determine the plasma concentrations of lactate, metformin and creatinine. The pH of arterial blood was also measured on several occasions in each patient.
Results
Patients (n = 15; 9 female, 6 male) were 70 ± 12 years of age. There was one acute metformin overdose (estimated dose 5 g). Metformin was undetectable in one patient and one patient had therapeutic concentrations of metformin on admission (<5 mg/L). There were ten patients with chronic kidney disease, whereby the estimated glomerular filtration rate (eGFR) was less than 60 mL/min/1.73 m2 before the acidotic event. Metformin doses ranged from 1 to 3 g daily (excluding the deliberate overdose). On admission, the mean plasma concentration of metformin on admission was 29.8 ± 19.1 mg/L (mean ± SD), the mean lactate concentration was 12.9 ± 6.1 mmol/L and the mean pH was 7 ± 0.2. The mean creatinine concentration on admission was 481 ± 225 μmol/L. The main pre-admission symptoms were vomiting and diarrhoea (n = 12). There were linear relationships between venous lactate, venous creatinine and arterial pH, with the venous plasma concentrations of metformin in most patients. Three patients died but metformin was unlikely to have been a significant factor.
Discussion and review
Most patients with MALA presented to the hospital with high metformin concentrations. The following factors appear to have been involved in the development of MALA in these patients: vomiting and diarrhoea, acute kidney injury, high doses or excessive accumulation of metformin, and acute disease states leading to tissue hypoxia. The extent of metformin accumulation in patients with MALA can be determined by investigating the concentrations of metformin. We suggest that the development of MALA is due to a positive feedback system involving one or more of these factors. While nausea is a common adverse effect of metformin, vomiting and diarrhoea out of the ordinary is a clear first sign of MALA. In this condition, dosage with metformin should be stopped and patients should receive urgent medical attention.
Access options
Buy single article
Instant access to the full article PDF.
USD 39.95
Price excludes VAT (USA)
Tax calculation will be finalised during checkout.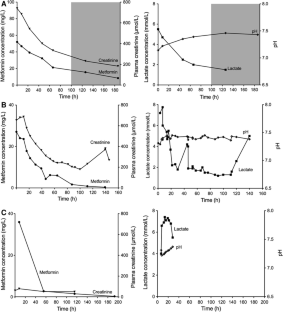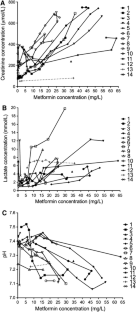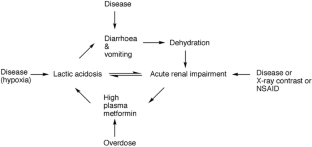 References
Nathan DM, Buse JB, Davidson MB, et al. Medical management of hyperglycemia in type 2 diabetes: a consensus algorithm for the initiation and adjustment of therapy: a consensus statement of the American Diabetes Association and the European Association for the Study of Diabetes. Diabetes Care. 2009;32(1):193–203.

Runge S, Mayerle J, Warnke C, et al. Metformin-associated lactic acidosis in patients with renal impairment solely due to drug accumulation? Diabetes Obes Metab. 2008;10(1):91–3.

Luft D, Deichsel G, Schmulling RM, et al. Definition of clinically relevant lactic acidosis in patients with internal diseases. Am J Clin Pathol. 1983;80(4):484–9.

Holstein A, Stumvoll M. Contraindications can damage your health–is metformin a case in point? Diabetologia. 2005;48(12):2454–9.

Misbin RI. The phantom of lactic acidosis due to metformin in patients with diabetes. Diabetes Care. 2004;27(7):1791–3.

Stades AM, Heikens JT, Erkelens DW, et al. Metformin and lactic acidosis: cause or coincidence? A review of case reports. J Intern Med. 2004;255(2):179–87.

Lalau JD, Race JM. Lactic acidosis in metformin-treated patients. Prognostic value of arterial lactate levels and plasma metformin concentrations. Drug Saf. 1999;20(4):377–84.

van Berlo-van de Laar IR, Vermeij CG, Doorenbos CJ. Metformin associated lactic acidosis: incidence and clinical correlation with metformin serum concentration measurements. J Clin Pharm Ther. 2011;36(3):376–82.

Lalau JD, Mourlhon C, Bergeret A, et al. Consequences of metformin intoxication. Diabetes Care. 1998;21(11):2036–7.

Lalau JD, Lacroix C, Compagnon P, et al. Role of metformin accumulation in metformin-associated lactic acidosis. Diabetes Care. 1995;18(6):779–84.

Seidowsky A, Nseir S, Houdret N, et al. Metformin-associated lactic acidosis: a prognostic and therapeutic study. Crit Care Med. 2009;37(7):2191–6.

Bruijstens LA, van Luin M, Buscher-Jungerhans PM, et al. Reality of severe metformin-induced lactic acidosis in the absence of chronic renal impairment. Neth J Med. 2008;66(5):185–90.

Lalau JD, Lemaire-Hurtel AS, Lacroix C. Establishment of a database of metformin plasma concentrations and erythrocyte levels in normal and emergency situations. Clin Drug Investig. 2011;31(6):435–8.

Zarghi A, Foroutan SM, Shafaati A, et al. Rapid determination of metformin in human plasma using ion-pair HPLC. J Pharm Biomed Anal. 2003;31(1):197–200.

Chang LC, Hung SC, Yang CS. The case. A suicidal woman with delayed high anion gap metabolic acidosis. Kidney Int. 2009;75(7):757–8.

Gjedde S, Christiansen A, Pedersen SB, et al. Survival following a metformin overdose of 63 g: a case report. Pharmacol Toxicol. 2003;93(2):98–9.

Wills BK, Bryant SM, Buckley P, et al. Can acute overdose of metformin lead to lactic acidosis? Am J Emerg Med. 2010;28(8):857–61.

Nisse P, Mathieu-Nolf M, Deveaux M, et al. A fatal case of metformin poisoning. J Toxicol Clin Toxicol. 2003;41(7):1035–6.

Dell'Aglio DM, Perino LJ, Kazzi Z, et al. Acute metformin overdose: examining serum pH, lactate level, and metformin concentrations in survivors versus nonsurvivors: a systematic review of the literature. Ann Emerg Med. 2009;54(6):818–23.

Wang DS, Kusuhara H, Kato Y, et al. Involvement of organic cation transporter 1 in the lactic acidosis caused by metformin. Mol Pharmacol. 2003;63(4):844–8.

Protti A, Fortunato F, Monti M, et al. Metformin overdose, but not lactic acidosis per se, inhibits oxygen consumption in pigs. Crit Care. 2012;16(3):R75.

Shenoy C. Metformin-associated lactic acidosis precipitated by acute renal failure. Am J Med Sci. 2006;331(1):55–7.

van Sloten TT, Pijpers E, Stehouwer CD, et al. Metformin-associated lactic acidosis in a patient with normal kidney function. Diabetes Res Clin Pract. 2012;96:e57–8.

Brassoe R, Elkmann T, Hempel M, et al. Fulminant lactic acidosis in two patients with Type 2 diabetes treated with metformin. Diabet Med. 2005;22(10):1451–3.

Almirall J, Briculle M, Gonzalez-Clemente JM. Metformin-associated lactic acidosis in type 2 diabetes mellitus: incidence and presentation in common clinical practice. Nephrol Dial Transplant. 2008;23(7):2436–8.

Lacher M, Hermanns-Clausen M, Haeffner K, et al. Severe metformin intoxication with lactic acidosis in an adolescent. Eur J Pediatr. 2005;164(6):362–5.

Brady WJ, Carter CT. Metformin overdose. Am J Emerg Med. 1997;15(1):107–8.

Graham GG, Punt J, Arora M, et al. Clinical pharmacokinetics of metformin. Clin Pharmacokinet. 2011;50(2):81–98.

Fitzgerald E, Mathieu S, Ball A. Metformin associated lactic acidosis. BMJ. 2009;339:b3660.

Clausen SW. Anhydremic acidosis due to lactic acid. Am J Dis Child. 1925;29(6):761–6.

Assan R, Heuclin C, Ganeval D, et al. Metformin-induced lactic acidosis in the presence of acute renal failure. Diabetologia. 1977;13(3):211–7.

Guo PY, Storsley LJ, Finkle SN. Severe lactic acidosis treated with prolonged hemodialysis: recovery after massive overdoses of metformin. Semin Dial. 2006;19(1):80–3.

Roberts F, Ryan GJ. The safety of metformin in heart failure. Ann Pharmacother. 2007;41(4):642–6.

Tahrani AA, Varughese GI, Scarpello JH, et al. Metformin, heart failure, and lactic acidosis: is metformin absolutely contraindicated? BMJ. 2007;335(7618):508–12.

Johnson JA, Simpson SH, Toth EL, et al. Reduced cardiovascular morbidity and mortality associated with metformin use in subjects with Type 2 diabetes. Diabet Med. 2005;22(4):497–502.

Evans JM, Ogston SA, Emslie-Smith A, et al. Risk of mortality and adverse cardiovascular outcomes in type 2 diabetes: a comparison of patients treated with sulfonylureas and metformin. Diabetologia. 2006;49(5):930–6.

Kahn SE, Haffner SM, Heise MA, et al. Glycemic durability of rosiglitazone, metformin, or glyburide monotherapy. N Engl J Med. 2006;355(23):2427–43.

Eurich DT, Majumdar SR, McAlister FA, et al. Changes in labelling for metformin use in patients with type 2 diabetes and heart failure: documented safety outweighs theoretical risks. Open Med. 2011;5(1):e33–4.

National Collaborating Centre for Chronic Conditions. Type 2 diabetes: national clinical guideline for management in primary and secondary care (update). London: Royal College of Physicians; 2008.

Tucker GT, Casey C, Phillips PJ, et al. Metformin kinetics in healthy subjects and in patients with diabetes mellitus. Br J Clin Pharmacol. 1981;12(2):235–46.

MIMS Online. Diabex. http://www.mimsonline.com.au/ (Accessed 29 Aug 2012).

Rossi S. Australian Medicines Handbook 2011. Adelaide: Australian Medicines Handbook Pty Ltd; 2011.

US Food and Drug Administration (FDA). Metformin hydrochloride tablets. http://www.fda.gov/ohrms/dockets/dailys/02/May02/053102/800471e6.pdf (Accessed 29 August 2012).

Frid A, Sterner GN, Londahl M, et al. Novel assay of metformin levels in patients with type 2 diabetes and varying levels of renal function: clinical recommendations. Diabetes Care. 2010;33(6):1291–3.

Duong JK, Roberts DM, Furlong TJ, et al. Metformin therapy in patients with chronic kidney disease. Diabetes Obes Metab. 2012;14(10):963–5.

Nye HJ, Herrington WG. Metformin: the safest hypoglycaemic agent in chronic kidney disease? Nephron Clin Pract. 2011;118(4):c380–3.

Rocha A, Almeida M, Santos J, et al. Metformin in patients with chronic kidney disease: strengths and weaknesses. J Nephrol. 2013;26:55–60.

McCartney MM, Gilbert FJ, Murchison LE, et al. Metformin and contrast media—a dangerous combination? Clin Radiol. 1999;54(1):29–33.

Goergen SK, Rumbold G, Compton G, et al. Systematic review of current guidelines, and their evidence base, on risk of lactic acidosis after administration of contrast medium for patients receiving metformin. Radiology. 2010;254(1):261–9.

Stacul F, van der Molen AJ, Reimer P, et al. Contrast induced nephropathy: updated ESUR Contrast Media Safety Committee guidelines. Eur Radiol. 2011;21(12):2527–41.

Urakami Y, Okuda M, Masuda S, et al. Functional characteristics and membrane localization of rat multispecific organic cation transporters, OCT1 and OCT2, mediating tubular secretion of cationic drugs. J Pharmacol Exp Ther. 1998;287(2):800–5.

Xia L, Engel K, Zhou M, et al. Membrane localization and pH-dependent transport of a newly cloned organic cation transporter (PMAT) in kidney cells. Am J Physiol Renal Physiol. 2007;292(2):F682–90.

Terada T, Masuda S, Asaka J, et al. Molecular cloning, functional characterization and tissue distribution of rat H+/organic cation antiporter MATE1. Pharm Res. 2006;23(8):1696–701.

Terada T, Inui K. Physiological and pharmacokinetic roles of H+/organic cation antiporters (MATE/SLC47A). Biochem Pharmacol. 2008;75(9):1689–96.

Urakami Y, Kimura N, Okuda M, et al. Creatinine transport by basolateral organic cation transporter hOCT2 in the human kidney. Pharm Res. 2004;21(6):976–81.

Owen MR, Doran E, Halestrap AP. Evidence that metformin exerts its anti-diabetic effects through inhibition of complex 1 of the mitochondrial respiratory chain. Biochem J. 2000;348(Pt 3):607–14.

Arenas-Pinto A, Grant AD, Edwards S, et al. Lactic acidosis in HIV infected patients: a systematic review of published cases. Sex Transm Infect. 2003;79(4):340–3.

Lee LM, Henderson DK. Tolerability of postexposure antiretroviral prophylaxis for occupational exposures to HIV. Drug Saf. 2001;24(8):587–97.

Megarbane B, Brivet F, Guerin JM, et al. Lactic acidosis and multi-organ failure secondary to anti-retroviral therapy in HIV-infected patients. Presse Med. 1999;28(40):2257–64.

ter Hofstede HJ, de Marie S, Foudraine NA, et al. Clinical features and risk factors of lactic acidosis following long-term antiretroviral therapy: 4 fatal cases. Int J STD AIDS. 2000;11(9):611–6.

Bodmer M, Meier C, Krahenbuhl S, et al. Metformin, sulfonylureas, or other antidiabetes drugs and the risk of lactic acidosis or hypoglycemia: a nested case-control analysis. Diabetes Care. 2008;31(11):2086–91.

Salpeter SR, Greyber E, Pasternak GA, et al. Risk of fatal and nonfatal lactic acidosis with metformin use in type 2 diabetes mellitus. Cochrane Database Syst Rev. 2010;(1):CD002967.

Wiholm BE, Myrhed M. Metformin-associated lactic acidosis in Sweden 1977–1991. Eur J Clin Pharmacol. 1993;44(6):589–91.

Emslie-Smith AM, Boyle DI, Evans JM, et al. Contraindications to metformin therapy in patients with Type 2 diabetes—a population-based study of adherence to prescribing guidelines. Diabet Med. 2001;18(6):483–8.

Nyirenda MJ, Sandeep T, Grant I, et al. Severe acidosis in patients taking metformin—rapid reversal and survival despite high APACHE score. Diabet Med. 2006;23(4):432–5.

Kamber N, Davis WA, Bruce DG, et al. Metformin and lactic acidosis in an Australian community setting: the Fremantle Diabetes Study. Med J Aust. 2008;188(8):446–9.

El-Hennawy AS, Jacob S, Mahmood AK. Metformin-associated lactic acidosis precipitated by diarrhea. Am J Ther. 2007;14(4):403–5.

van Velzen A, van Riel A, de Vries I, et al. The dangers of metformin: fatal lactic acidosis with therapeutic use due to renal failure. Toxicol Lett. 2008;180:S142–3.
Acknowledgments
The authors would like to thank Dr. Hari Nandakoban, Dr. Meg J. Jardine and Dr. Mary-Ann Kulh for contributing cases to this case series. Funding for this study was provided by the NH&MRC Program Grant 568612 and the Australian Research Council Grant LP 0990670.
Conflicts of interest
All authors have no conflicts of interest to declare that are directly relevant to the content of this study.
Electronic supplementary material
Below is the link to the electronic supplementary material.
About this article
Cite this article
Duong, J.K., Furlong, T.J., Roberts, D.M. et al. The Role of Metformin in Metformin-Associated Lactic Acidosis (MALA): Case Series and Formulation of a Model of Pathogenesis. Drug Saf 36, 733–746 (2013). https://doi.org/10.1007/s40264-013-0038-6
Published:

Issue Date:

DOI: https://doi.org/10.1007/s40264-013-0038-6
Keywords