Abstract
Background
Cognitive deficits are detectable in major depressive disorder (MDD). The cognitive impact of antidepressants remains unclear, as does the cognitive effects of aripiprazole in MDD, a commonly used adjunct with putative pro-cognitive properties.
Objectives
In this multi-centre, open-label study, cognitive changes associated with escitalopram monotherapy and adjunctive aripiprazole were examined.
Methods
Acutely depressed participants with MDD (n = 209) received 8 weeks of escitalopram. Non-responders received an additional 8 weeks of adjunctive aripiprazole (ESC-ARI, n = 88), while responders (ESC-CONT, n = 82) continued escitalopram monotherapy (n = 39 lost to attrition). ESC-ARI, ESC-CONT and matched healthy participants (n = 112) completed the Central Nervous System Vital Signs cognitive battery at baseline, 8 and 16 weeks. Linear mixed models compared participants with MDD cognitive trajectories with healthy participants.
Results
Participants with MDD displayed poorer baseline global cognition (assessed via the Neurocognitive Index), composite memory and psychomotor speed vs healthy participants. There were no statistically significant changes in participants with MDD receiving escitalopram monotherapy from baseline to week 8 in the neurocognitive index, reaction time, complex attention, cognitive flexibility, memory or psychomotor speed. Overall symptom severity changes were not associated with cognitive changes. The ESC-CONT group displayed no significant cognitive changes from weeks 8 to 16; reaction time worsened in the ESC-ARI group (p = 0.008) from weeks 8 to 16, independent of symptom change.
Conclusions
Escitalopram monotherapy in acute MDD did not result in significant cognitive improvements. We provide novel evidence that escitalopram continuation in responders does not adversely affect cognition, but adjunctive aripiprazole in escitalopram non-responders worsens reaction time. Treatments targeting cognitive dysfunction are needed in MDD.
ClinicalTrials.gov identifier
NCT01655706; 2 August, 2012.
Access options
Buy single article
Instant access to the full article PDF.
US$ 49.95
Tax calculation will be finalised during checkout.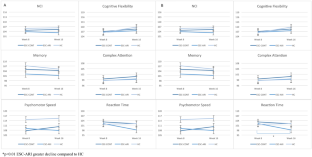 References
1.

Rock PL, Roiser JP, Riedel WJ, Blackwell AD. Cognitive impairment in depression: a systematic review and meta-analysis. Psychol Med. 2014;44(10):2029–40.

2.

Bora E, Harrison BJ, Yucel M, Pantelis C. Cognitive impairment in euthymic major depressive disorder: a meta-analysis. Psychol Med. 2013;43(10):2017–26.

3.

Evans VC, Iverson GL, Yatham LN, Lam RW. The relationship between neurocognitive and psychosocial functioning in major depressive disorder: a systematic review. J Clin Psychiatry. 2014;75(12):1359–70.

4.

Bortolato B, Miskowiak KW, Kohler CA, Maes M, Fernandes BS, Berk M, et al. Cognitive remission: a novel objective for the treatment of major depression? BMC Med. 2016;14:9.

5.

Semkovska M, Quinlivan L, O'Grady T, Johnson R, Collins A, O'Connor J, et al. Cognitive function following a major depressive episode: a systematic review and meta-analysis. Lancet Psychiatry. 2019;6(10):851–61.

6.

Rosenblat JD, Kakar R, McIntyre RS. The cognitive effects of antidepressants in major depressive disorder: a systematic review and meta-analysis of randomized clinical trials. Int J Neuropsychopharmacol. 2015;19(2):pyv082.

7.

Prado CE, Watt S, Crowe SF. A meta-analysis of the effects of antidepressants on cognitive functioning in depressed and non-depressed samples. Neuropsychol Rev. 2018;28(1):32–72.

8.

Baune BT, Renger L. Pharmacological and non-pharmacological interventions to improve cognitive dysfunction and functional ability in clinical depression: a systematic review. Psychiatry Res. 2014;219(1):25–50.

9.

Keefe RS, McClintock SM, Roth RM, Doraiswamy PM, Tiger S, Madhoo M. Cognitive effects of pharmacotherapy for major depressive disorder: a systematic review. J Clin Psychiatry. 2014;75(8):864–76.

10.

Shilyansky C, Williams LM, Gyurak A, Harris A, Usherwood T, Etkin A. Effect of antidepressant treatment on cognitive impairments associated with depression: a randomised longitudinal study. Lancet Psychiatry. 2016;3(5):425–35.

11.

Andrade C, Rao NS. How antidepressant drugs act: a primer on neuroplasticity as the eventual mediator of antidepressant efficacy. Indian J Psychiatry. 2010;52(4):378–86.

12.

Liu B, Liu J, Wang M, Zhang Y, Li L. From serotonin to neuroplasticity: evolvement of theories for major depressive disorder. Front Cell Neurosci. 2017;11:305.

13.

Nagane A, Baba H, Nakano Y, Maeshima H, Hukatsu M, Ozawa K, et al. Comparative study of cognitive impairment between medicated and medication-free patients with remitted major depression: class-specific influence by tricyclic antidepressants and newer antidepressants. Psychiatry Res. 2014;218(1–2):101–5.

14.

Kennedy SH, Lam RW, McIntyre RS, Tourjman SV, Bhat V, Blier P, et al. Canadian Network for Mood and Anxiety Treatments (CANMAT) 2016 clinical guidelines for the management of adults with major depressive disorder: Section 3. Pharmacological treatments. Can J Psychiatry. 2016;61(9):540–60.

15.

Burda K, Czubak A, Kus K, Nowakowska E, Ratajczak P, Zin J. Influence of aripiprazole on the antidepressant, anxiolytic and cognitive functions of rats. Pharmacol Rep. 2011;63(4):898–907.

16.

Topolov MK, Getova DP. Cognitive impairment in schizophrenia, neurotransmitters and the new atypical antipsychotic aripiprazole. Folia Med (Plovdiv). 2016;58(1):12–8.

17.

Russo E, Citraro R, Davoli A, Gallelli L, Di Paola ED, De Sarro G. Ameliorating effects of aripiprazole on cognitive functions and depressive-like behavior in a genetic rat model of absence epilepsy and mild-depression comorbidity. Neuropharmacology. 2013;64:371–9.

18.

Bervoets C, Morrens M, Vansteelandt K, Kok F, de Patoul A, Halkin V, et al. Effect of aripiprazole on verbal memory and fluency in schizophrenic patients: results from the ESCAPE study. CNS Drugs. 2012;26(11):975–82.

19.

Maat A, Cahn W, Gijsman HJ, Hovens JE, Kahn RS, Aleman A. Open, randomized trial of the effects of aripiprazole versus risperidone on social cognition in schizophrenia. Eur Neuropsychopharmacol. 2014;24(4):575–84.

20.

Yasui-Furukori N, Kaneda A, Sugawara N, Tomita T, Kaneko S. Effect of adjunctive treatment with aripiprazole to atypical antipsychotics on cognitive function in schizophrenia patients. J Psychopharmacol. 2012;26(6):806–12.

21.

Greer TLSP, Grannemann BD, Trivedi MH. Cognitive and psychosocial improvements following aripiprazole augmentation of SSRI antidepressant therapy in treatment-refractory depression: a pilot study. Open J Depression. 2013;2(4):45–53.

22.

Lam RW, Milev R, Rotzinger S, Andreazza AC, Blier P, Brenner C, et al. Discovering biomarkers for antidepressant response: protocol from the Canadian Biomarker Integration Network in Depression (CAN-BIND) and clinical characteristics of the first patient cohort. BMC Psychiatry. 2016;16:105.

23.

Woodward ND, Purdon SE, Meltzer HY, Zald DH. A meta-analysis of cognitive change with haloperidol in clinical trials of atypical antipsychotics: dose effects and comparison to practice effects. Schizophr Res. 2007;89(1–3):211–24.

24.

Kennedy SH, Lam RW, Rotzinger S, Milev RV, Blier P, Downar J, et al. Symptomatic and functional outcomes and early prediction of response to escitalopram monotherapy and sequential adjunctive aripiprazole therapy in patients with major depressive disorder: a CAN-BIND-1 report. J Clin Psychiatry. 2019;80(2):18m12202.

25.

Chakrabarty T, Harkness KL, McInerney SJ, Quilty LC, Milev RV, Kennedy SH, et al. Childhood maltreatment and cognitive functioning in patients with major depressive disorder: a CAN-BIND-1 report. Psychol Med. 2020;50(15):2536–47.

26.

Sheehan DV, Lecrubier Y, Sheehan KH, Amorim P, Janavs J, Weiller E, et al. The Mini-International Neuropsychiatric Interview (M.I.N.I.): the development and validation of a structured diagnostic psychiatric interview for DSM-IV and ICD-10. J Clin Psychiatry. 1998;59(Suppl. 20):22–33 (quiz 4–57).

27.

Montgomery SA, Asberg M. A new depression scale designed to be sensitive to change. Br J Psychiatry. 1979;134:382–9.

28.

Gualtieri CT, Johnson LG. Reliability and validity of a computerized neurocognitive test battery, CNS vital signs. Arch Clin Neuropsychol. 2006;21(7):623–43.

29.

Gualtieri CT, Johnson LG. Efficient allocation of attentional resources in patients with ADHD: maturational changes from age 10 to 29. J Atten Disord. 2006;9(3):534–42.

30.

Gualtieri CT, Johnson LG. Antidepressant side effects in children and adolescents. J Child Adolesc Psychopharmacol. 2006;16(1–2):147–57.

31.

Gualtieri CT, Johnson LG, Benedict KB. Neurocognition in depression: patients on and off medication versus healthy comparison subjects. J Neuropsychiatry Clin Neurosci. 2006;18(2):217–25.

32.

Gualtieri CT, Morgan DW. The frequency of cognitive impairment in patients with anxiety, depression, and bipolar disorder: an unaccounted source of variance in clinical trials. J Clin Psychiatry. 2008;69(7):1122–30.

33.

Lam RW, Iverson GL, Evans VC, Yatham LN, Stewart K, Tam EM, et al. The effects of desvenlafaxine on neurocognitive and work functioning in employed outpatients with major depressive disorder. J Affect Disord. 2016;203:55–61.

34.

Field A. Discovering statistics using SPSS. 3rd ed. Thousand Oaks: SAGE Publications Ltd; 2009.

35.

Cohen J. Statistical power analysis for the behavioral sciences. Abingdon: Routledge; 1988.

36.

Morris SB, DeShon RP. Combining effect size estimates in meta-analysis with repeated measures and independent-groups designs. Psychol Methods. 2002;7(1):105–25.

37.

Singer JDWJ. Applied longitudinal data analysis: modeling change and event occurrence. Oxford: Oxford University Press; 2003.

38.

Herrera-Guzman I, Gudayol-Ferre E, Herrera-Guzman D, Guardia-Olmos J, Hinojosa-Calvo E, Herrera-Abarca JE. Effects of selective serotonin reuptake and dual serotonergic-noradrenergic reuptake treatments on memory and mental processing speed in patients with major depressive disorder. J Psychiatr Res. 2009;43(9):855–63.

39.

Burdick KE, Russo M, Frangou S, Mahon K, Braga RJ, Shanahan M, et al. Empirical evidence for discrete neurocognitive subgroups in bipolar disorder: clinical implications. Psychol Med. 2014;44(14):3083–96.

40.

Chakrabarty TTI, Su WW, Sawatzky R, Keramatian K, Yatham LN. Cognitive subgroups in first episode bipolar I disorder: relation to clinical and brain volumetric variables. Acta Psychiatr Scand. 2020;143:151–61.

41.

Martin DM, Wollny-Huttarsch D, Nikolin S, McClintock SM, Alonzo A, Lisanby SH, et al. Neurocognitive subgroups in major depressive disorder. Neuropsychology. 2020;34(6):726–34.

42.

Bennabi D, Haffen E, Van Waes V. Vortioxetine for cognitive enhancement in major depression: from animal models to clinical research. Front Psychiatry. 2019;10:771.

43.

Harmer CJ. Emotional processing and antidepressant action. Curr Top Behav Neurosci. 2013;14:209–22.

44.

Ma Y. Neuropsychological mechanism underlying antidepressant effect: a systematic meta-analysis. Mol Psychiatry. 2015;20(3):311–9.

45.

Enneking V, Leehr EJ, Dannlowski U, Redlich R. Brain structural effects of treatments for depression and biomarkers of response: a systematic review of neuroimaging studies. Psychol Med. 2020;50(2):187–209.

46.

Stahl SM. Stahl's essential psychopharmacology: neuroscientific basis and practical applications. 4th ed. New York: Cambridge University Press; 2013.

47.

Amalric M, Koob GF. Depletion of dopamine in the caudate nucleus but not in nucleus accumbens impairs reaction-time performance in rats. J Neurosci. 1987;7(7):2129–34.

48.

Howes OD, Williams M, Ibrahim K, Leung G, Egerton A, McGuire PK, et al. Midbrain dopamine function in schizophrenia and depression: a post-mortem and positron emission tomographic imaging study. Brain. 2013;136(Pt 11):3242–51.
Ethics declarations
Funding
CAN-BIND is an Integrated Discovery Program carried out in partnership with, and financial support from, the Ontario Brain Institute [grant title "Canadian Biomarker Integration Network for Depression (CAN-BIND)"], an independent non-profit corporation, funded partially by the Ontario government. The opinions, results, and conclusions are those of the authors and no endorsement by the Ontario Brain Institute is intended or should be inferred. Additional funding was provided by CIHR, Lundbeck, Bristol-Myers Squibb, Pfizer and Servier. Funding and/or in kind support is also provided by the investigators' universities and academic institutions. All study medications are independently purchased at wholesale market values.
Conflict of interest
Trisha Chakrabarty has received grant funding from the Michael Smith Foundation for Health Research and the National Research Council Canada. Shane J. McInerney has received advisory panel income from Janssen and research grant funding through the Healthy Minds Canada/Pfizer Canada Workplace Depression Awards. Ivan J. Torres has received consulting fees or sat on advisory boards for Lundbeck Canada, Sumitomo Dainippon and Community Living British Columbia. Benicio N. Frey has received research grants from Pfizer. Roumen V. Milev has received honoraria for ad hoc speaking or advising/consulting or received research funds from Lundbeck, Kye, Shire, Sunovion, Janssen, Lallemand, Allergan, Otsuka, Canadian Institutes of Health Research, Canadian Biomarker Integration Network for Depression, Ontario Brain Institute and Ontario Mental Health Foundation. Daniel J. Müller has received research funds from the Centre for Addiction and Mental Health Foundation, Canadian Institutes of Health Research and the National Institute of Health. Susan Rotzinger holds a patent "Teneurin C-Terminal Associated Peptides (TCAP) and methods and uses thereof. Inventors: David Lovejoy, R.B. Chewpoy, Dalia Barsyte, Susan Rotzinger." Sidney H. Kennedy has received research funding or honoraria from the following sources: Abbott, Alkermes, Allergan, Boehringer lngelheim, Brain Canada, Canadian Institutes for Health Research, Janssen, Lundbeck, Lundbeck Institute, Ontario Brain Institute, Ontario Research Fund, Otsuka, Pfizer, Sanofi, Servier, Sunovion and Xian-Janssen. Sidney H. Kennedy holds stock in Field Trip Health. Raymond W. Lam has received honoraria for ad hoc speaking or advising/consulting, or received research funds from Akili, Allergan, Asia-Pacific Economic Cooperation, BC Leading Edge Foundation, Brain Canada, Canadian Institutes of Health Research, Canadian Network for Mood and Anxiety Treatments, Canadian Psychiatric Association, CME Institute, Hansoh, Janssen, Lundbeck, Lundbeck Institute, Medscape, Mind Mental Health Technologies, Otsuka, Pfizer, St. Jude Medical, University Health Network Foundation and Vancouver General Hospital Foundation.
Ethics approval
The authors assert that all procedures contributing to this work comply with the ethical standards of the relevant national and institutional committees on human experimentation and with the Helsinki Declaration of 1964, as revised in 2008. All procedures were approved by individual institutional research ethics boards.
Consent to participate
All participants provided written informed consent and received compensation for participation.
Consent for publication
All participants signed informed consent regarding publishing their data.
Data availability
The datasets generated during and/or analysed during the current study are not publicly available, but may be available on reasonable request upon permission by the CAN-BIND Investigator's Team and Ontario Brain Institute. Syntax used for data analysis in SPSS are available upon reasonable request.
Author contributions
All authors contributed to the study conception and design. Material preparation, data collection and analysis were performed by TC, SJM, IJT, BNF, RVM, DJM, SR, SHK and RWL. The first draft of the manuscript was written by TC and all authors commented on previous versions of the manuscript. All authors read and approved the final manuscript.
Supplementary Information
Below is the link to the electronic supplementary material.
About this article
Cite this article
Chakrabarty, T., McInerney, S.J., Torres, I.J. et al. Cognitive Outcomes with Sequential Escitalopram Monotherapy and Adjunctive Aripiprazole Treatment in Major Depressive Disorder: A Canadian Biomarker Integration Network in Depression (CAN-BIND-1) Report. CNS Drugs 35, 291–304 (2021). https://doi.org/10.1007/s40263-021-00793-1
Accepted:

Published:

Issue Date: