Abstract
Background
Purified cannabidiol is a new antiepileptic drug that has recently been approved for use in patients with Lennox–Gastaut and Dravet syndromes, but most published studies have not extended beyond 12–16 weeks.
Objective
The objective of this study was to evaluate the long-term safety, tolerability, and efficacy of cannabidiol in children with epilepsy.
Methods
Patients aged 1–17 years with refractory epilepsy were enrolled in an open-label prospective study through individual patient and expanded access programs between April 2013 and December 2014. Seizure types were video-electroencephalogram confirmed prior to enrollment. After a 28-day evaluation period, during which baseline seizure frequency was assessed, cannabidiol was given as add-on therapy at 5 mg/kg/day and titrated weekly by 5-mg/kg increments to a dose of 25 mg/kg/day. Blood tests were performed at baseline, after 1, 2, and 3 months, and every 3 months thereafter. Trough concentrations of concomitant antiepileptic drugs were measured at baseline, after 1, 2, and 3 months of therapy, and as clinically indicated afterwards. Concomitant antiepileptic drugs, ketogenic diet ratio, and vagal nerve stimulator settings remained unchanged during the baseline period and the first 3 months of treatment, unless there was a significant increase in plasma concentrations. Seizure frequency was reported daily in seizure diaries by parents or caregivers. Clinical assessments occurred after 15 days of treatment, at 1 month, at 3 months, and every 3 months thereafter. Diaries of seizure frequency and adverse events were reviewed at each visit. The primary efficacy outcome was a reduction in seizure frequency and responders were defined as those patients achieving a > 50% reduction in motor seizures.
Results
Twenty-six children were enrolled. Most had genetic epilepsies with daily or weekly seizures and multiple seizure types. All were refractory to prior antiepileptic drugs (range 4–11, mean 7), and were taking two antiepileptic drugs on average. Duration of therapy ranged from 4 to 53 months (mean 21 months). Adverse events were reported in 21 patients (80.8%), including reduced appetite in ten (38.4%), diarrhea in nine (34.6%), and weight loss in eight (30.7%). Four (15.4%) had changes in antiepileptic drug concentrations and three had elevated aspartate aminotransferase and alanine aminotransferase levels when cannabidiol was administered together with valproate. Serious adverse events, reported in six patients (23.1%), included status epilepticus in three, catatonia in two, and hypoalbuminemia in one. Fifteen patients (57.7%) discontinued cannabidiol for lack of efficacy, one because of status epilepticus, and one for severe weight loss. The retention rate declined rapidly in the first 6 months and more gradually thereafter. At 24 months, the number of patients continuing cannabidiol as adjunctive therapy was nine of the original 26 (34.6%). Of these patients, seven (26.9%) had a sustained > 50% reduction in motor seizures, including three (11.5%) who remain seizure free.
Conclusion
Over a 4-year period, cannabidiol was effective in 26.9% of children with otherwise refractory epilepsy. It was well tolerated in about 20% of patients, but 80.8% had adverse events, including 23.1% with serious adverse events. Decreased appetite and diarrhea were frequent along with weight loss that became evident only later in the treatment.
Access options
Buy single article
Instant access to the full article PDF.
USD 39.95
Price excludes VAT (USA)
Tax calculation will be finalised during checkout.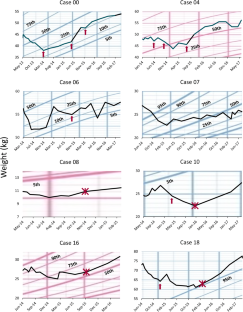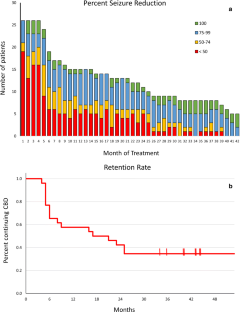 References
Devinsky O, Cilio MR, Cross H, Fernandez-Ruiz J, French J, Hill C, et al. Cannabidiol: pharmacology and potential therapeutic role in epilepsy and other neuropsychiatric disorders. Epilepsia. 2014;55(6):791–802. https://doi.org/10.1111/epi.12631.

Devinsky O, Marsh E, Friedman D, Thiele E, Laux L, Sullivan J, et al. Cannabidiol in patients with treatment-resistant epilepsy: an open-label interventional trial. Lancet Neurol. 2016;15(3):270–8. https://doi.org/10.1016/S1474-4422(15)00379-8.

Devinsky O, Cross JH, Laux L, Marsh E, Miller I, Nabbout R, et al. Trial of cannabidiol for drug-resistant seizures in the Dravet syndrome. N Engl J Med. 2017;376(21):2011–20. https://doi.org/10.1056/NEJMoa1611618.

Thiele EA, Marsh ED, French JA, Mazurkiewicz-Beldzinska M, Benbadis SR, Joshi C, et al. Cannabidiol in patients with seizures associated with Lennox-Gastaut syndrome (GWPCARE4): a randomised, double-blind, placebo-controlled phase 3 trial. Lancet. 2018;391(10125):1085–96. https://doi.org/10.1016/S0140-6736(18)30136-3.

Szaflarski JP, Bebin EM, Comi AM, Patel AD, Joshi C, Checketts D, et al. Long-term safety and treatment effects of cannabidiol in children and adults with treatment-resistant epilepsies: expanded access program results. Epilepsia. 2018;59(8):1540–8. https://doi.org/10.1111/epi.14477.

Loscher W, Schmidt D. Experimental and clinical evidence for loss of effect (tolerance) during prolonged treatment with antiepileptic drugs. Epilepsia. 2006;47(8):1253–84. https://doi.org/10.1111/j.1528-1167.2006.00607.x.

Goldenholz DM, Moss R, Scott J, Auh S, Theodore WH. Confusing placebo effect with natural history in epilepsy: a big data approach. Ann Neurol. 2015;78(3):329–36. https://doi.org/10.1002/ana.24470.

Hess EJ, Moody KA, Geffrey AL, Pollack SF, Skirvin LA, Bruno PL, et al. Cannabidiol as a new treatment for drug-resistant epilepsy in tuberous sclerosis complex. Epilepsia. 2016;57(10):1617–24. https://doi.org/10.1111/epi.13499.

Ben-Menachem E, Sander JW, Privitera M, Gilliam F. Measuring outcomes of treatment with antiepileptic drugs in clinical trials. Epilepsy Behav. 2010;18(1–2):24–30. https://doi.org/10.1016/j.yebeh.2010.04.001.

Treat L, Chapman KE, Colborn KL, Knupp KG. Duration of use of oral cannabis extract in a cohort of pediatric epilepsy patients. Epilepsia. 2017;58(1):123–7. https://doi.org/10.1111/epi.13617.

Lhatoo SD, Wong IC, Polizzi G, Sander JW. Long-term retention rates of lamotrigine, gabapentin, and topiramate in chronic epilepsy. Epilepsia. 2000;41(12):1592–6.

Krishnamoorthy ES, Trimble MR. Forced normalization: clinical and therapeutic relevance. Epilepsia. 1999;40(Suppl. 10):S57–64.

Kawakami Y, Itoh Y. Forced normalization: antagonism between epilepsy and psychosis. Pediatr Neurol. 2017;70:16–9. https://doi.org/10.1016/j.pediatrneurol.2017.02.007.

Gobbi G, Giovannini S, Boni A, Visconti P, Beghi M, Cornaggia CM. Catatonic psychosis related to forced normalization in a girl with Dravet's syndrome. Epileptic Disord. 2008;10(4):325–9. https://doi.org/10.1684/epd.2008.0229.

Geffrey AL, Pollack SF, Bruno PL, Thiele EA. Drug-drug interaction between clobazam and cannabidiol in children with refractory epilepsy. Epilepsia. 2015;56(8):1246–51. https://doi.org/10.1111/epi.13060.

Gaston TE, Bebin EM, Cutter GR, Liu Y, Szaflarski JP, Program UC. Interactions between cannabidiol and commonly used antiepileptic drugs. Epilepsia. 2017;58(9):1586–92. https://doi.org/10.1111/epi.13852.

Press CA, Knupp KG, Chapman KE. Parental reporting of response to oral cannabis extracts for treatment of refractory epilepsy. Epilepsy Behav. 2015;45:49–52. https://doi.org/10.1016/j.yebeh.2015.02.043.
Acknowledgements
We thank the patients and their families for their participation in this study, GW Pharmaceuticals for providing cannabidiol at no cost and for initial administrative support, and Dr. Joseph Sullivan for providing excellent patient care. GW Pharmaceuticals had no role in the study design, data analysis or interpretation, or drafting of this report.
Ethics declarations
Funding
No funding was provided for the preparation of this article.
Conflict of interest
Maria Roberta Cilio received support from the Epilepsy Therapy Project from the Epilepsy Foundation and has received research funding, paid to her institution, from Insys Therapeutics for a company-sponsored trial. She has also received fees and travel support for serving on a scientific advisory board from Bio-Marin Pharmaceuticals. Michael S. Oldham is currently affiliated with Medpace, Cincinnati, OH, USA. Tristan T. Sands, Shahryar Rahdari, Michael S. Oldham, Eduardo Caminha Nunes, and Nicole Tilton have no conflicts of interest that are directly relevant to the contents of this article.
Ethics Approval
The study was approved by the Human Research Ethics Committee of the UCSF Benioff Children's Hospital.
Consent to Participate
Parents provided written informed consent, and patients provided assent according to their physical and mental capability.
Electronic supplementary material
Below is the link to the electronic supplementary material.
About this article
Cite this article
Sands, T.T., Rahdari, S., Oldham, M.S. et al. Long-Term Safety, Tolerability, and Efficacy of Cannabidiol in Children with Refractory Epilepsy: Results from an Expanded Access Program in the US. CNS Drugs 33, 47–60 (2019). https://doi.org/10.1007/s40263-018-0589-2
Published:

Issue Date:

DOI: https://doi.org/10.1007/s40263-018-0589-2