Abstract
Background
Although antipsychotics are used to treat Tourette syndrome, there have been reports of paradoxical induction of tics by first- and second-generation antipsychotics.
Objective
The objective of this systematic review was to better characterize tics as the potential adverse effect of antipsychotics.
Methods
A literature search was performed, with no language restriction, using the MEDLINE, EMBASE, and PsycINFO databases for all publications up to January 2018. To be included, studies utilizing any study design had to meet the following criteria: (1) a temporal association of tics with antipsychotic use where tics emerged during treatment or after discontinuation and (2) no diagnosis of Tourette syndrome before tic emergence. More stringent criteria were used for individuals under 18 years of age that included (1) no personal or family history of primary tic disorder and either (2) tics occurring during antipsychotic treatment improved significantly upon discontinuation or dose reduction or (3) tics emerged after discontinuation of at least 3 months of antipsychotic treatment. Data were extracted according to: age, sex, diagnosis, personal history of motor symptoms or family history of tics, antipsychotic type and dose, treatment duration, types of symptoms emerged, treatment strategies, and follow-up. A Fisher's exact test was used to compare the occurrence of symptoms between first- and second-generation antipsychotic users.
Results
The search identified 1290 articles, of which 92 full-text articles were assessed leading to the inclusion of 50 articles. Most of the included articles were case reports or series, involving a total of 60 cases. Thirty cases were associated with treatment with first-generation antipsychotics, 27 with second-generation antipsychotics, and three with a combination of first- and second-generation antipsychotics. Antipsychotics were being used to treat schizophrenia in 60% of the cases and other indications included developmental, behavioral, and mood or anxiety disorders. Tics occurred during treatment (n = 44) or following treatment discontinuation (n = 16). The occurrence of vocal tics with or without motor tics was significantly higher in the first- vs. second-generation antipsychotic users (p < 0.0001). Significantly higher occurrences were also noted in the first- vs. second-generation antipsychotic users for specific types of vocal tics (i.e., barking and coprolalia) and other concurrent motor symptoms (i.e., tardive dyskinesia). In the cases identified, antipsychotic-associated tics were treated by (1) discontinuing the offending antipsychotic, reducing its dose, or switching to different antipsychotics for tics occurring during treatment, (2) reinitiating antipsychotic treatment for tics occurring following discontinuation, or (3) using non-antipsychotic agents. It should be noted that symptoms were not always fully reversible and recurred at times.
Conclusion
Tics can be a disturbing adverse effect of antipsychotics. Clinicians need to be particularly vigilant when initiating and modifying antipsychotic regimens.
Access options
Buy single article
Instant access to the full article PDF.
USD 49.95
Price includes VAT (USA)
Tax calculation will be finalised during checkout.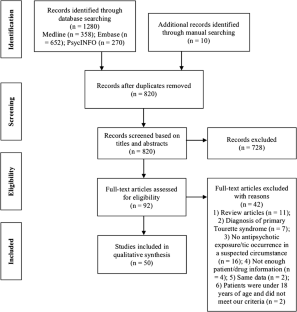 References
1.

Dayalu P, Chou KL. Antipsychotic-induced extrapyramidal symptoms and their management. Expert Opin Pharmacother. 2008;9:1451–62.

2.

Waln O, Jankovic J. An update on tardive dyskinesia: from phenomenology to treatment. Tremor Other Hyperkinet Mov (N Y). 2013. https://doi.org/10.7916/d88p5z71.

3.

Cohen SC, Leckman JF, Bloch MH. Clinical assessment of Tourette syndrome and tic disorders. Neurosci Biobehav Rev. 2013;37:997–1007.

4.

Wong DF, Brasić JR, Singer HS, Schretlen DJ, Kuwabara H, Zhou Y, Nandi A, Maris MA, Alexander M, Ye W, Rousset O, Kumar A, Szabo Z, Gjedde A, Grace AA. Mechanisms of dopaminergic and serotonergic neurotransmission in Tourette syndrome: clues from an in vivo neurochemistry study with PET. Neuropsychopharmacology. 2008;33:1239–51.

5.

Denys D, de Vries F, Cath D, Figee M, Vulink N, Veltman DJ, van der Doef TF, Boellaard R, Westenberg H, van Balkom A, Lammertsma AA, van Berckel BN. Dopaminergic activity in Tourette syndrome and obsessive-compulsive disorder. Eur Neuropsychopharmacol. 2013;23:1423–31.

6.

Weisman H, Qureshi IA, Leckman JF, Scahill L, Bloch MH. Systematic review: pharmacological treatment of tic disorders: efficacy of antipsychotic and alpha-2 adrenergic agonist agents. Neurosci Biobehav Rev. 2013;37:1162–71.

7.

Klawans HL, Falk DK, Nausieda PA, Weiner WJ. Gilles de la Tourette syndrome after long-term chlorpromazine therapy. Neurology. 1978;28:1064–6.

8.

Stahl SM. Tardive Tourette syndrome in an autistic patient after long-term neuroleptic administration. Am J Psychiatry. 1980;137:1267–9.

9.

Fountoulakis KN, Samara M, Siapera M, Iacovides A. Tardive Tourette-like syndrome: a systematic review. Int Clin Psychopharmacol. 2011;26:237–42.

10.

Liberati A, Altman DG, Tetzlaff J, Mulrow C, Gøtzsche PC, Ioannidis JP, Clarke M, Devereaux PJ, Kleijnen J, Moher D. The PRISMA statement for reporting systematic reviews and meta-analyses of studies that evaluate healthcare interventions: explanation and elaboration. BMJ. 2009;339:b2700.

11.

Schooler NR, Kane JM. Research diagnoses for tardive dyskinesia. Arch Gen Psychiatry. 1982;39:486–7.

12.

Doepp S, Buddeberg C. Extrapyramidal symptoms following clozapine therapy: case report. Nervenarzt. 1975;46:589–90.

13.

Pary RJ. The "psychotic" curse. Am J Psychiatry. 1979;136:715–6.

14.

DeVeaugh-Geiss J. Tardive Tourette syndrome. Neurology. 1980;30:562–3.

15.

Seeman MV, Patel J, Pyke J. Tardive dyskinesia with Tourette-like syndrome. J Clin Psychiatry. 1981;42:357–8.

16.

Singer WD. Transient Gilles de la Tourette syndrome after chronic neuroleptic withdrawal. Dev Med Child Neurol. 1981;23:518–21.

17.

Fog R, Pakkenberg H, Regeur L, Pakkenberg B. "Tardive" Tourette syndrome in relation to long-term neuroleptic treatment of multiple tics. Adv Neurol. 1982;35:419–21.

18.

Klawans HL, Nausieda PA, Goetz CC, Tanner CM, Weiner WJ. Tourette-like symptoms following chronic neuroleptic therapy. Adv Neurol. 1982;35:415–8.

19.

Mueller J, Aminoff MJ. Tourette-like syndrome after long-term neuroleptic drug treatment. Br J Psychiatry. 1982;141:191–3.

20.

Jeste DV, Cutler NR, Kaufmann CA, Karoum F. Low-dose apomorphine and bromocriptine in neuroleptic-induced movement disorders. Biol Psychiatry. 1983;18:1085–91.

21.

Munetz MR, Slawsky RC, Neil JF. Tardive Tourette's syndrome treated with clonidine and mesoridazine. Psychosomatics. 1985;26(254):257.

22.

Gualtieri CT, Patterson DR. Neuroleptic-induced tics in two hyperactive children. Am J Psychiatry. 1986;143:1176–7.

23.

Lal S, AlAnsari E. Tourette-like syndrome following low dose short-term neuroleptic treatment. Can J Neurol Sci. 1986;13:125–8.

24.

Perry R, Nobler MS, Campbell M. Tourette-like symptoms associated with neuroleptic therapy in an autistic child. J Am Acad Child Adolesc Psychiatry. 1989;28:93–6.

25.

Karagianis JL, Nagpurkar R. A case of Tourette syndrome developing during haloperidol treatment. Can J Psychiatry. 1990;35:228–32.

26.

Littlejohns CS, Clarke DJ, Corbett JA. Tourette-like disorder in Asperger's syndrome. Br J Psychiatry. 1990;156:430–3.

27.

Diaz JM, Smith KG, Maccario M. Exacerbation of motor tic and induction of new tic by haloperidol use. West J Med. 1992;156:198–9.

28.

Kuniyoshi M, Inanaga K, Arikawa K, Maeda Y, Nakamura J, Uchimura N. A case of tardive Tourette-like syndrome. Jpn J Psychiatry Neurol. 1992;46:67–70.

29.

Bharucha KJ, Sethi KD. Tardive tourettism after exposure to neuroleptic therapy. Mov Disord. 1995;10:791–3.

30.

Jaffe E, Trémeau F, Sharif Z, Reider R. Clozapine in tardive Tourette syndrome. Biol Psychiatry. 1995;38:196–7.

31.

Lindenmayer JP, Da Silva D, Buendia A, Zylberman I, Vital-Herne M. Tic-like syndrome after treatment with clozapine. Am J Psychiatry. 1995;152:649.

32.

Myers B, Pueschel SM. Tardive or atypical Tourette's disorder in a population with Down syndrome? Res Dev Disabil. 1995;16:1–9.

33.

Brasić JR, Barnett JY, Aisemberg P, Ahn SC, Nadrich RH, Kaplan D, Ahmad R, Mendonça Mde F. Dyskinesias subside off all medication in a boy with autistic disorder and severe mental retardation. Psychol Rep. 1997;81:755–67.

34.

Landry P, Cournoyer J. Acute dystonia with olanzapine. J Clin Psychiatry. 1998;59:384.

35.

Poyurovsky M, Bergman Y, Shoshani D, Schneidman M, Weizman A. Emergence of obsessive-compulsive symptoms and tics during clozapine withdrawal. Clin Neuropharmacol. 1998;21:97–100.

36.

Huang SC, Lai TJ, Tsai SJ. A case report of quetiapine-related tic-like symptoms. J Clin Psychiatry. 2002;63:1184–5.

37.

Reid SD. Neuroleptic-induced tardive Tourette treated with clonazepam: a case report and literature review. Clin Neuropharmacol. 2004;27:101–4.

38.

Begum M. Clozapine-induced stuttering, facial tics and myoclonic seizures: a case report. Aust N Z J Psychiatry. 2005;39:202.

39.

Alonso-Navarro H, Jiménez-Jiménez FJ. Amisulpride-induced tardive motor and phonic tics. Clin Neuropharmacol. 2006;29:163–4.

40.

Feroz-Nainar C, Roy M. Risperidone and late onset tics. Autism. 2006;10:302–7.

41.

Lin CL, Shiah IS, Yeh CB, Wan FJ, Wang TS. Amisulpride related tic-like symptoms in an adolescent schizophrenic. Prog Neuropsychopharmacol Biol Psychiatry. 2006;30:144–6.

42.

Yamauchi K, Ohmori T. Two cases of tardive Tourette syndrome. Seishin Shinkeigaku Zasshi. 2006;108:459–65.

43.

Cheng WJ, Liu HC, Huang MC. Olanzapine monotherapy for late-onset vocal tics in a schizophrenic patient. Psychiatry Clin Neurosci. 2007;61:700–1.

44.

Hallahan B, Murray I, Doyle PG. Clozapine induced stuttering. Ir J Psych Med. 2007;24:121.

45.

Kozian R, Friederich M. Gilles-de-la-Tourette syndrome as a tardive dyskinesia. Psychiatr Prax. 2007;34:253–4.

46.

Lyall M, Pryor A, Murray K. Clozapine and speech dysfluency: two case reports. Psychiatr Bull. 2007;31:16–8.

47.

Bastiampillai T, Dhillon R, Mohindra R. Exacerbation of tics secondary to clozapine therapy. Aust N Z J Psychiatry. 2008;42:1068–70.

48.

Su JA, Tsang HY, Chou SY, Chung PC. Aripiprazole treatment for risperidone-associated tic movement: a case report. Prog Neuropsychopharmacol Biol Psychiatry. 2008;32:899–900.

49.

Willmund G, Lee AH, Wertenauer F, Laier SA, Lang UE. Vocal tics associated with ziprasidone. J Clin Psychopharmacol. 2009;29:611–2.

50.

Fountoulakis KN, Panagiotidis P. Tardive Tourette-like syndrome in a patient treated with paliperidone. J Neuropsychiatry Clin Neurosci. 2011;23:E35–6.

51.

Paparrigopoulos T, Persefonis G, Tzavellas E, Karaiskos D, Liappas I. Tourette syndrome (TS) mimicking tardive dystonia. Eur Psychiatry. 2011;26:980.

52.

Azevedo JC, Lopes R, Curral R, Esteves MF, Coelho R, Roma-Torres A. Clozapine-induced palilalia? Acta Neuropsychiatr. 2012;24:122–4.

53.

Yogaratnam J, Xu C, Thinn DS, Yoong LK, Khoo CL, Sim K. De novo tardive Tourette-like syndrome after prolonged combination depot and oral neuroleptic therapy. Acta Neuropsychiatr. 2013;25:122–4.

54.

Chen S, Gong H, Chen X. Quetiapine-related tic in a pediatric bipolar patient. J Child Adolesc Psychopharmacol. 2014;24:165.

55.

Hsieh MH, Chiu NY. Paliperidone-associated motor tics. Gen Hosp Psychiatry. 2014;36(360):e7–8.

56.

Guo X, Lu D, Jiang Y. Aripiprazole-associated tic in a schizophrenia patient. Neuropsychiatr Dis Treat. 2015;11:873–4.

57.

Mazlum B, Zaimoğlu S, Öztop DB. Exacerbation of tics after combining aripiprazole with pimozide: a case with Tourette syndrome. J Clin Psychopharmacol. 2015;35:350–1.

58.

Akaltun İ, Kara T. Tic disorder developing following risperidone in a child with oppositional defiant disorder. Psychiatry Clin Psychopharmacol. 2018;28:113–5.

59.

Mills EW, Shaffer LS, Goes FS, Sawa A, Nucifora FC Jr. Case of secondary tics associated with olanzapine in an adult. Front Psychiatry. 2017;8:150.

60.

US Department of Health and Human Services, National Institutes of Health, National Institute of Neurological Disorders and Stroke. 2012. NINDS Tourette syndrome fact sheet (NIH Publication No. 12-2163). https://www.ninds.nih.gov/Disorders/Patient-Caregiver-Education/Fact-Sheets/Tourette-Syndrome-Fact-Sheet. Accessed 2 Aug 2018.

61.

Yin J, Barr AM, Ramos-Miguel A, Procyshyn RM. Antipsychotic induced dopamine supersensitivity psychosis: a comprehensive review. Curr Neuropharmacol. 2017;15:174–83.

62.

Horacek J, Bubenikova-Valesova V, Kopecek M, Palenicek T, Dockery C, Mohr P, Höschl C. Mechanism of action of atypical antipsychotic drugs and the neurobiology of schizophrenia. CNS Drugs. 2006;20:389–409.

63.

Seeman P. Targeting the dopamine D2 receptor in schizophrenia. Expert Opin Ther Targets. 2006;10:515–31.

64.

Caine ED, Polinsky RJ, Kartzinel R, Ebert MH. The trial use of clozapine for abnormal involuntary movement disorders. Am J Psychiatry. 1979;136:317–20.

65.

Schoemaker H, Claustre Y, Fage D, Rouquier L, Chergui K, Curet O, Oblin A, Gonon F, Carter C, Benavides J, Scatton B. Neurochemical characteristics of amisulpride, an atypical dopamine D2/D3 receptor antagonist with both presynaptic and limbic selectivity. J Pharmacol Exp Ther. 1997;280:83–97.

66.

Minzenberg MJ, Yoon JH. An index of relative central α-adrenergic receptor antagonism by antipsychotic medications. Exp Clin Psychopharmacol. 2011;19:31–9.

67.

Tanner CM, Goetz CG, Klawans HL. Cholinergic mechanisms in Tourette syndrome. Neurology. 1982;32:1315–7.

68.

Xu M, Kobets A, Du JC, Lennington J, Li L, Banasr M, Duman RS, Vaccarino FM, DiLeone RJ, Pittenger C. Targeted ablation of cholinergic interneurons in the dorsolateral striatum produces behavioral manifestations of Tourette syndrome. Proc Natl Acad Sci USA. 2015;112:893–8.

69.

Minzenberg MJ, Poole JH, Benton C, Vinogradov S. Association of anticholinergic load with impairment of complex attention and memory in schizophrenia. Am J Psychiatry. 2004;161:116–24.

70.

Schirmbeck F, Zink M. Clozapine-induced obsessive-compulsive symptoms in schizophrenia: a critical review. Curr Neuropharmacol. 2012;10:88–95.

71.

Mulligan HF, Anderson TJ, Jones RD, Williams MJ, Donaldson IM. Tics and developmental stuttering. Parkinsonism Relat Disord. 2003;9:281–9.

72.

Watkins KE, Smith SM, Davis S, Howell P. Structural and functional abnormalities of the motor system in developmental stuttering. Brain. 2008;131:50–9.

73.

Nath K, Bhattacharya A, Hazarika S, Roy D, Praharaj SK. Paradoxical worsening of tics with haloperidol. Ther Adv Psychopharmacol. 2015;5:314–5.

74.

Lan CC, Liu CC, Chen YS. Quetiapine and clozapine combination treatment for Tourette's syndrome in an adolescent boy: potential role of dopamine supersensitivity in loss of treatment response. J Child Adolesc Psychopharmacol. 2015;25:188–90.

75.

Robakis D. How much do we know about adult-onset primary tics? Prevalence, epidemiology, and clinical features. Tremor Other Hyperkinet Mov (N Y). 2017;7:441.
Ethics declarations
Funding
No sources of funding were used to assist with the preparation of this article.
Conflict of interest
Alasdair M. Barr has received grants from Bristol-Myers Squibb and the Canadian Institutes of Health Research. Bruce C. Carleton is part of the Pharmaceutical Outcomes Programme and has received financial support for its pharmacoepidemiological research from the British Columbia Provincial Health Services Authority; he also serves on a data safety board for AEVI Genomic Medicine. Randall F. White has received consulting fees or sat on paid advisory boards for: Janssen, Lundbeck, and Otsuka; and has received a grant from ThermoFisher/Affymetrix. William G. Honer has received consulting fees or sat on paid advisory boards for: the Canadian Agency for Drugs and Technology in Health, the Centre for Drug Research and Development, AlphaSights, In Silico (unpaid), and Otsuka/Lundbeck. Ric M. Procyshyn has received consulting fees or sat on paid advisory boards for: Janssen, Lundbeck, and Otsuka; is on the speaker's bureau for Janssen, Lundbeck, and Otsuka; and has received grants from the Canadian Institutes of Health Research. David D. Kim, Yunsun Chung, Jessica W.Y. Yuen, and Mahyar Etminan have no conflicts of interest directly relevant to the contents of this article.
About this article
Cite this article
Kim, D.D., Barr, A.M., Chung, Y. et al. Antipsychotic-Associated Symptoms of Tourette Syndrome: A Systematic Review. CNS Drugs 32, 917–938 (2018). https://doi.org/10.1007/s40263-018-0559-8