Abstract
Introduction
The gabapentinoids pregabalin and gabapentin are being increasingly prescribed for a range of clinical conditions. Recently, although gabapentinoids at therapeutic dosages may present with low addictive liability levels, cases of misuse and rising numbers of related fatalities have been reported.
Objectives
The aim of the study was to identify and assess cases of gabapentinoid misuse or dependence as reported to the European Medicines Agency's EudraVigilance database, to identify the magnitude of this problem and the characteristics of these reactions.
Methods
All spontaneous reports of both gabapentin- (2004–2015) and pregabalin- (2006–2015) related misuse/abuse/dependence were retrieved. A descriptive analysis by source, sex, age, and type of report was performed.
Results
From the EudraVigilance database 7639 (6.6 % of a total of 115,616) and 4301 (4.8 % of 90,166) adverse drug reaction reports of misuse/abuse/dependence were, respectively, associated with pregabalin and gabapentin, with an overall reporting frequency increasing over time. For both molecules, subjects typically involved were female adults. A total of 27 and 86 fatalities, respectively, associated with pregabalin and gabapentin, and mostly in combination with opioids, were identified. Analysis of proportional reporting ratios for drug abuse/dependence/intentional product misuse values seem to indicate that these adverse drug reactions were more frequently reported for pregabalin (1.25, 1.39, and 1.58, respectively) compared with gabapentin.
Conclusions
Despite data collection/methodological approach limitations, the present data seem to suggest that gabapentinoid misuse may be a cause for concern, especially in patients with a history of substance misuse. Hence, healthcare professionals should be vigilant when prescribing these molecules.
Access options
Buy single article
Instant access to the full article PDF.
US$ 49.95
Tax calculation will be finalised during checkout.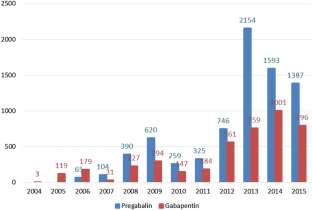 References
1.

Spence D. Bad medicine: gabapentin and pregabalin. BMJ. 2013;347:f6747.

2.

Martinotti G, Lupi M, Sarchione F, et al. The potential of pregabalin in neurology, psychiatry and addiction: a qualitative overview. Curr Pharm Des. 2013;19:6367–74.

3.

Anonymous. Gabapentin and pregabalin: abuse and addiction. Prescrire Int. 2012;21:152–4.

4.

Schifano F. Misuse and abuse of pregabalin and gabapentin: cause for concern? CNS Drugs. 2014;28:491–6.

5.

Corkery J, Claridge H, Loi B, et al. Drug-related deaths in the UK: annual report 2013. Drug-related deaths reported by Coroners in England, Wales, Northern Ireland, Guernsey, Jersey and the Isle of Man; Police forces in Scotland; the Northern Ireland Statistics and Research Agency: annual report 2013 on deaths between January–December 2013. London: International Centre for Drug Policy, St George's University of London. http://www.sgul.ac.uk/images/docs/idcp%20pdfs/National%20programme%20on%20substance%20abuse%20deaths/National_Programme_on_Substance_Abuse_Deaths-Annual_Report_2013_on_Drug-related_Deaths_in_the_UK_January-December_2012_PDF.pdf. Accessed 1 Oct 2015.

6.

EMCDDA-Europol 2009. Annual report on the implementation of council decision 2005/387/JHA. http://www.emcdda.europa.eu/html.cfm/index132910EN.html. Accessed 1 Oct 2015.

7.

Papazisis G, Tzachanis D. Pregabalin's abuse potential: a mini review focusing on the pharmacological profile. Int J Clin Pharmacol Ther. 2014;52:709–16.

8.

Schifano F, Orsolini L, et al. Novel psychoactive substances of interest for psychiatry. World Psychiatry. 2015;14:15–26.

9.

Piskorska B, Miziak B, Czuczwar SJ, et al. Safety issues around misuse of antiepileptics. Expert Opin Drug Saf. 2013;12:647–57.

10.

Smith B, Higgins C, Baldacchino A, et al. Substance misuse of gabapentin. Br J Gen Pract. 2012;62:406–7.

11.

Sweet AD. Pregabalin abuse and the risks associated for patients with a previous history of substance misuse. J Addict Res Ther. 2013;4:e116.

12.

Millar, et al. Lyrica nights—recreational pregabalin abuse in an urban emergency department. Emerg Med J. 2013;30:874.

13.

Kapil V, Green JL, LeLait MC, et al. Misuse of the γ-aminobutyric acid analogues baclofen, gabapentin and pregabalin in the UK. Br J Clin Pharmacol. 2014;78:190–1.

14.

Schifano F, D'Offizi S, Piccione M, et al. Is there a recreational misuse potential for pregabalin? Analysis of anecdotal online reports in comparison with related gabapentin and clonazepam data. Psychother Psychosom. 2011;80(2):118–22.

15.

Toth C. Drug safety evaluation of pregabalin. Expert Opin Drug Saf. 2012;11:487–502.

16.

European Medicines Agency. European public assessment report (EPAR) for Lyrica-Pregabalin; 2010. http://www.ema.europa.eu/docs/en_GB/document_library/EPAR_-_Summary_for_the_public/human/000546/WC500046603.pdf. Accessed 16 Sep 2015.

17.

Food and Drug Administration. Lyrica (pregabalin) prescribing information; 2009. http://www.accessdata.fda.gov/drugsatfda_docs/label/2009/021446s013s014lbl.pdf. Accessed 1 Dec 2015.

18.

Oulis P, Konstantakopoulos G. Efficacy and safety of pregabalin in the treatment of alcohol and benzodiazepine dependence. Expert Opin Investig Drugs. 2012;21:1019–29.

19.

Drug Enforcement Administration. Drug scheduling, 2015. http://www.dea.gov/druginfo/ds.shtml. Accessed 16 Sep 2015.

20.

MHRA. Drug analysis prints, 2015. http://www.mhra.gov.uk/drug-analysis-prints. Accessed 1 Dec 2015.

21.

Caster O, Edwards I, Noren G, Lindquist M. Earlier discovery of pregabalin's dependence potential might have been possible. Eur J Clin Pharmacol. 2011;67:319–20.

22.

Schwan S, Sundstrom A, Stjernberg E, et al. A signal for an abuse liability for pregabalin-results from the Swedish spontaneous drug reaction reporting system. EurJ Clin Psychopharmacol. 2010;66:947–53.

23.

Boden R, Wettermark B, Brandt L, Kieler H. Factors associated with pregabalin dispensing at higher than the approved maximum dose. Eur J Clin Pharmacol. 2014;70:197–204.

24.

Papazisis G, Garyfallos G, Sardeli C, Kouvelas D. Pregabalin abuse after past substance-seeking behaviour. Int J Clin Pharmacol Ther. 2013;51:441–2.

25.

Yargic I, Alyanak Ozdemiroglu F. Pregabalin abuse: case report. Klinik Psikofarmakol Bülteni. 2011;21:64–6.

26.

Kriikku, et al. Pregabalin serum levels in apprehended drivers. Forensic Sci Int. 2014;243:112–6.

27.

Chalabianloo F, Schiott J. Pregabalin and abuse potential [review] [in Norwegian]. Tidsskr Nor Laegeforen. 2009;129:186–7.

28.

Aldemir E, Altıntoprak AE, Coşkunol H. Pregabalin dependence: a case report. Turk Psikiyatri Derg. 2015;26:217–20.

29.

Carrus D, Schifano F. Pregabalin misuse-related ıssues; ıntake of large dosages, drug-smoking allegations, and possible association with myositis: two case reports. J Clin Psychopharmacol. 2012;32:839–40.

30.

Gahr M, Franke B, Freudenmann RW, et al. Concerns about pregabalin: further experience with its potential of causing addictive behaviours. J Addict Med. 2013;7:147–9.

31.

Grosshans M, Mutschler J, Hermann D, et al. Pregabalin abuse, dependence, and withdrawal: a case report. Am J Psychiatry. 2010;167:869.

32.

Halaby A, Kassm SA, Naja WJ. Pregabalin dependence: a case report. Curr Drug Saf. 2015;10:184–6.

33.

Skopp G, Zimmer G. Pregabalin: a drug with abuse potential? [Article in German]. Arch Kriminol. 2012;229:44–54.

34.

Kalso E, Aldington DJ, Moore RA. Drugs for neuropathic pain. BMJ. 2013;347:f7339.

35.

Howland RH. Gabapentin for substance use disorders: is it safe and appropriate? J Psychosoc Nurs Ment Health Serv. 2014;6:1–4.

36.

Mobasher M, Ziaaddini H, Sabzvari F, Sadeghipour S. The effect of gabapentin on withdrawal syndrome, psychiatric disorders and electroencephalogram of opium addicts during the detoxification period. Iran J Pharm Res. 2010;4:215–23.

37.

Sanders NC, Manino MJ, Gentry WB, et al. Randomized, placebo-controlled pilot trial of gabapentin during an outpatient, buprenorphine-assisted detoxification procedure. Exp Clin Psychopharmacol. 2013;21:294–302.

38.

Ziaaddini H, Ziaaddini A, Asghari N, et al. Trial of tramadol plus gabapentin for opioid detoxification. Iran Red Crescent Med J. 2015;17:e18202.

39.

Howland RH. Gabapentin: can it be misused? J Psychosoc Nurs Ment Health Serv. 2014;52:12–5.

40.

Markowitz JS, Finkenbine R, Myrick H, et al. Gabapentin abuse in a cocaine user: implications for treatment? J Clin Psychopharmacol. 1997;17:423–4.

41.

Reccoppa L, Malcom R, Ware M. Gabapentin abuse in inmates with prior history of cocaine dependence. Am J Addict. 2004;13:321–3.

42.

MHRA 2015. Drug analysis print; gabapentin. http://www.mhra.gov.uk/home/groups/public/documents/sentineldocuments/dap_8473480656172106.pdf. Accessed 14 May 2016.

43.

Mah L, Hart M. Gabapentin withdrawal: case report in an older adult and review of the literature. J Am Geriatr Soc. 2013;61:1635–7.

44.

Frampton JE. Pregabalin: a review of its use in adults with generalized anxiety disorder. CNS Drugs. 2014;28:835–54.

45.

Badgaiyan RD. A novel perspective on dopaminergic processing of human addiction. J Alcohol Drug Depend. 2013;1.

46.

Nagakura Y, Oe T, Aoki T, Matsuoka N. Biogenic amine depletion causes chronic muscular pain and tactile allodynia accompanied by depression: a putative animal model of fibromyalgia. Pain. 2009;146:26–33.

47.

Brawek B, Loffler M, Dooley DJ, et al. Differential modulation of K(+)-evoked (3)H-neurotransmitter release from human neocortex by gabapentin and pregabalin. Naunyn Schmiedebergs Arch Pharmacol. 2008;376:301–7.

48.

Bockbrader HN, Wesche D, Miller R, et al. A comparison of the pharmacokinetics and pharmacodynamics of pregabalin and gabapentin. Clin Pharmacokinet. 2010;49:661–9.

49.

EudraVigilance. European Medicines Agency, 2015. https://eudravigilance.ema.europa.eu/human/index.asp. Accessed 1 Oct 2015.

50.

Gov.uk. Countries in the EU and EEA. https://www.gov.uk/eu-eea. Accessed 5 Mar 2016.

51.

Heads of Medicines Agency (HMA) and European Medicines Agency (EMA). Guideline on good pharmacovigilance practices (GVP). Module VI: management and reporting of adverse reactions to medicinal products 2014. http://www.ema.europa.eu/docs/en_GB/document_library/Scientific_guideline/2014/09/WC500172402.pdf. Accessed 1 Dec 2015.

52.

Medical Dictionary for Adverse Drug Reactions. MedDRA Version 18.0 English March 2015. http://www.meddra.org/how-to-use/support-documentation/english. Accessed 5 Nov 2015.

53.

MedDRA Term Selection: points to consider. Release 4.9 Based on MedDRA Version 18.0 March 2015. http://www.meddra.org/how-to-use/support-documentation/english. Accessed 23 Mar 2016.

54.

WHO Expert Committee on Addiction-Producing Drugs. Thirteenth report of the WHO Expert Committee: WHO Technical Report Series, No. 273. Geneva: World Health Organization, 1964.

55.

European Medicines Agency. Guideline on the use of statistical signal detection methods in the EudraVigilance data analysis system, 2008. http://www.ema.europa.eu/docs/en_GB/document_library/Regulatory_and_procedural_guideline/2009/11/WC500011434.pdf. Accessed 9 Mar 2016.

56.

WHO. The WHO Programme for International Drug Monitoring. http://www.who.int/medicines/areas/quality_safety/safety_efficacy/National_PV_Centres_Map/en/. Accessed 27 Nov 2015.

57.

Felicetti P, Trotta F, Bonetto C, et al; Brighton Collaboration Vasculitis Working Group. Spontaneous reports of vasculitis as an adverse event following immunization: a descriptive analysis across three international databases. Vaccine. 2015. doi:10.1016/j.vaccine.2015.09.027.

58.

Gahr M, Freudenmann RW, Hiemke C, et al. Pregabalin abuse and dependence in Germany: results from a database query. Eur J Clin Pharmacol. 2013;63:1335–42.

59.

Lowry F. Gabapentin new drug of abuse? Medscape Medical News; December 11, 2015. http://www.medscape.com/viewarticle/855819. Accessed 16 Dec 2015.

60.

Nichter B, Chassin L. Separate dimensions of anxiety differentially predict alcohol use among male juvenile offenders. Addict Behav. 2015;50:144–8.

61.

Foster DW, Buckner JD, Schmidt NB, Zvolensky MJ. Multisubstance use among treatment-seeking smokers: synergistic effects of coping motives for cannabis and alcohol use and social anxiety/depressive symptoms. Subst Use Misuse. 2016;51:165–78.

62.

Nielsen M, Hansen EH, Gøtzsche PC. Dependence and withdrawal reactions to benzodiazepines and selective serotonin reuptake inhibitors. How did the health authorities react? Int J Risk Saf Med. 2013;25:155–68.

63.

Fernández-Suárez E, Villa-Estébanez R, Garcia-Martinez A, et al. Prevalence, type of epilepsy and use of antiepileptic drugs in primary care. Rev Neurol. 2015;60:535–42.

64.

Schiltenwolf M, Pogatzki-Zahn EM. Pain medicine from intercultural and gender-related perspectives. Schmerz. 2015;29:569–75.

65.

O'Donnell S, Vanderloo S, McRae L, et al. Comparison of the estimated prevalence of mood and/or anxiety disorders in Canada between self-report and administrative data. Epidemiol Psychiatr Sci. 2015;17:1–10.

66.

Lourenço S, Costa L, Rodrigues AM, et al. Gender and psychosocial context as determinants of fibromyalgia symptoms (fibromyalgia research criteria) in young adults from the general population. Rheumatol (Oxford). 2015;54:1806–15.

67.

Szentkiralyi A, Fendrich K, Hoffmann W, et al. Socio-economic risk factors for incident restless legs syndrome in the general population. J Sleep Res. 2012;21:561–8.

68.

Finocchi C, Strada L. Sex-related differences in migraine. Neurol Sci. 2014;35(Suppl 1):207–13.

69.

Ojanperä I, Kriikku P, Vuori E. Fatal toxicity index of medicinal drugs based on a comprehensive toxicology database. Int J Legal Med. 2016. [Epub ahead of print].

70.

Zand L, McKian KP, Qian Q. Gabapentin toxicity in patients with chronic kidney disease: a preventable cause of morbidity. Am J Med. 2010;123:367–73.

71.

Wills B, Reynolds P, Chu E, et al. Clinical outcomes in newer anticonvulsant overdose: a poison center observational study. J Med Toxicol. 2014;10:254–60.

72.

Hakkinen M, Vuori E, Kalso E, et al. Profiles of pregabalin and gabapentin abuse by postmortem toxicology. Forensic Sci Int. 2014;241:1–6.

73.

Jones CM, Mack KA, Paulozzi LJ. Pharmaceutical overdose deaths, United States, 2010. JAMA. 2013;309:657–9.

74.

Pitkala KH, Juola AL, Hosia H, et al. Eight-year trends in the use of opioids, other analgesics, and psychotropic medications among institutionalized older people in Finland. J Am Med Dir Assoc. 2015;16:973–8.

75.

Baird CR, Fox P, Colvin LA. Gabapentinoid abuse in order to potentiate the effect of methadone: a survey among substance misusers. Eur Addict Res. 2014;20:115–8.

76.

Loftus H, Wright A. Potential misuse of pregabalin and gabapentin. BMJ. 2014;348:g1290.

77.

Wilens T, Zulauf C, Ryland D, et al. Prescription medication misuse among opioid dependent patients seeking inpatient detoxification. Am J Addict. 2015;24:173–7.

78.

Reeves EE, Ladner ME. Potentiation of the effect of buprenorphine/naloxone with gabapentin or quetiapine. Am J Psychiatry. 2014;171:691.

79.

Grosshans M, Lemenager T, Vollmert C, et al. Pregabalin abuse among opiate addicted patients. Eur J Clin Pharmacol. 2013;69:2021–5.

80.

Bicknell M. The pain of pregabalin prescribing in prisons. Br J Gen Pract. 2013;63:405.
Acknowledgments
We acknowledge the support offered by the EMA in providing access to the EV database. The views expressed here are those of the authors and do not necessarily reflect the EMA officers' views.
Ethics declarations
Funding
In contributing to this paper, FS was supported in part by grants of the European Commission (Drug Prevention and Information Programme 2014–16, contract no. JUST/2013/DPIP/AG/4823, EU-MADNESS project). Further financial support was provided to FS by the EU Commission-targeted call on cross border law enforcement cooperation in the field of drug trafficking, DG Justice/DG Migrations and Home Affairs (JUST/2013/ISEC/DRUGS/AG/6429) Project EPS/NPS (Enhancing Police Skills concerning Novel Psychoactive Substances).
Conflict of interest
Prof. Schifano and Dr. Chiappini report no conflicts of interest with respect to the content of this manuscript; however, Prof. Schifano is a member of the EMA Psychiatry Advisory Board.
About this article
Cite this article
Chiappini, S., Schifano, F. A Decade of Gabapentinoid Misuse: An Analysis of the European Medicines Agency's 'Suspected Adverse Drug Reactions' Database. CNS Drugs 30, 647–654 (2016). https://doi.org/10.1007/s40263-016-0359-y
Keywords
Gabapentin

Generalize Anxiety Disorder

Pregabalin

European Medicine Agency

Substance Misuse