Abstract
Background
Orally administered medications in extended-release (ER) dosage forms continue to play a pivotal role in the treatment of various central nervous system disorders. For certain ER dosage forms, pharmaceutical scientists have been familiar with the passage of intact tablet-like objects in patients' feces after administration of ER tablets or capsules based on water-insoluble or slowly dissolving excipients. Nevertheless, because of lack of awareness of the "ghost pill" phenomenon, anxiety has ensued among some patients and clinicians, who have less understanding of how drugs are released from these tablets once ingested. It has been brought to the attention of the US Food and Drug Administration (FDA) that epilepsy patients administered with Teva's levetiracetam ER tablets have noticed intact tablets in their stools and been concerned that they were not getting the needed dose of the drug. In response to neurologists' clinical reporting, the FDA has conducted investigations to confirm a minimal risk of incomplete drug release of Teva's drug product.
Objective
The objective of this study was to evaluate the risks of incomplete drug release associated with the passing of intact levetiracetam ER tablets, by conducting in vitro dissolution testing.
Methods
Dissolution testing of Teva's drug product was performed in accordance with the US Pharmacopeia monograph for levetiracetam ER tablets in phosphate buffer and bio-relevant buffers at different pH values. In addition, dissolution testing was conducted with split and crushed tablets. At the end of the dissolution testing, all samples were visually inspected for any undissolved pieces.
Results
Approximately 90 % of levetiracetam had been released in all dissolution media after 8 h of dissolution. The levetiracetam ER tablets after dissolution testing remained fully intact in all dissolution media. The rates of drug release were significantly faster from split and crushed tablets than that from whole tablets.
Conclusion
On the basis of these findings, Teva's levetiracetam ER tablets may appear intact in the stools but have released the drug successfully. The FDA has requested Teva to revise its product labeling to include remarks regarding the potential passing of intact tablets. Since patients who notice ghost pills in their stools may impetuously crush or split the tablets of subsequent doses on their own, healthcare providers should instruct patients to swallow whole tablets throughout the treatment, in accordance with the drug label.
Access options
Buy single article
Instant access to the full article PDF.
US$ 49.95
Tax calculation will be finalised during checkout.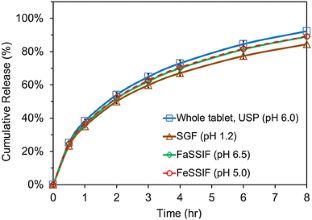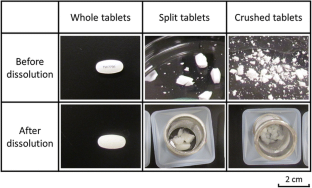 References
1.

Bialer M. Extended-release formulations for the treatment of epilepsy. CNS Drugs. 2007;21(9):765–74.

2.

Perucca E. Extended-release formulations of antiepileptic drugs: rationale and comparative value. Epilepsy Curr. 2009;9(6):153–7.

3.

Anderson GD, Saneto RP. Modified-release formulations of second-generation antiepileptic drugs: pharmacokinetic and clinical aspects. CNS Drugs. 2015;29(8):669–81.

4.

Leppik IE, Hovinga CA. Extended-release antiepileptic drugs: a comparison of pharmacokinetic parameters relative to original immediate-release formulations. Epilepsia. 2013;54(1):28–35.

5.

Anderson DT, Fritz KL, Muto JJ. OxyContin®: the concept of a "ghost pill" and the postmortem tissue distribution of oxycodone in 36 cases. J Anal Toxicol. 2002;26(7):448–59.

6.

Tungaraza TE, Talapan-Manikoth P, Eboka YM, Mahmood N, Bains SK, Sihota K. Ghost pill: knowledge and awareness of this phenomenon among health care professionals. Int J Basic Clin Pharmacol. 2014;3(4):602–7.

7.

Tungaraza TE, Talapan-Manikoth P, Jenkins R. Curse of the ghost pills: the role of oral controlled-release formulations in the passage of empty intact shells in faeces. Two case reports and a literature review relevant to psychiatry. Ther Adv Drug Saf. 2013;4(2):63–71.

8.

Chen M-L, Shah VP, Ganes D, Midha KK, Caro J, Nambiar P, et al. Challenges and opportunities in establishing scientific and regulatory standards for assuring therapeutic equivalence of modified-release products: workshop summary report. Eur J Pharm Sci. 2010;40(2):148–53.

9.

Raw AS, Lionberger R, Lawrence XY. Pharmaceutical equivalence by design for generic drugs: modified-release products. Pharm Res. 2011;28(7):1445–53.

10.

Wen H, Park K. Introduction and an overview of oral controlled release formulation design. In: Wen H, Park K, editors. Oral controlled release formulation design and drug delivery: theory to practice. New York: Wiley; 2010. p. 1–19.

11.

Purdue Pharma LP. Oxycontin®—oxycodone hydrochloride tablet, film coated, extended release [package insert]. Stamford: Purdue Pharma; 2010.

12.

Wyeth Pharmaceuticals Inc. (Pfizer Inc.). Pristiq (desvenlafaxine) extendend-release tablets, oral [package insert]. Philadelphia: Wyeth Pharmaceuticals; 2011.

13.

Wyeth Pharmaceuticals Inc. (Pfizer Inc.). Effexor XR (venlafaxine hydrochloride) extended-release capsules [package insert]. Philadelphia: Wyeth Pharmaceuticals; 2009.

14.

Janssen Pharmaceuticals Inc. Invega (paliperidone) extended-release tablets [package insert]. Titusville: Janssen Pharmaceuticals; 2008.

15.

Janssen Pharmaceuticals Inc. Concerta (methylphenidate HCl) extended-release tablets [package insert]. Titusville: Janssen Pharmaceuticals; 2008.

16.

Pfizer Laboratories, Pfizer Inc. Procardia XL—nifedipine tablet, film coated, extended release [package insert]. New York: Pfizer Laboratories; 2015.

17.

UCB Inc. Ditropan XL (oxybutynin chloride) extended release tablets [package insert]. UCB, Raritan, NJ; 2008.

18.

Novartis Pharmaceuticals Corp. Tegretol-XR (carbamazepine extended-release tablets) [package insert]. East Hanover: Novartis Pharmaceuticals; 2009.

19.

Oshlack B, Chasin M, Minogue JJ, Kaiko RF. Controlled release oxycodone compositions. US patent US5656295A. 1997.

20.

Santus G, Baker RW. Osmotic drug delivery: a review of the patent literature. J Control Releas. 1995;35(1):1–21.

21.

Krauss G. Modified release AED generic standards [presentation]. Questioning the bioequivalence standards for antiepileptic drugs: implications for regulation of narrow therapeutic index drugs. Silver Spring; 2014.

22.

Shaw SJ, Hartman AL. The controversy over generic antiepileptic drugs. J Pediatr Pharmacol Ther. 2010;15(2):81–93.

23.

UCB Inc. Keppra XR® (levetiracetam) [package insert]. Smyrna: UCB; 2015.

24.

Arieli D, Grinberg O, Solomonovich R. Modified release composition of levetiracetam and process for the preparation thereof. US Patent US20100055177 A1. 2009.

25.

Gao Z, Moore TW, Doub WH, Westenberger B, Buhse LF. Effects of deaeration methods on dissolution testing in aqueous media: a study using a total dissolved gas pressure meter. J Pharm Sci. 2006;95(7):1606–13.

26.

US Pharmacopeia [USP] and National Formulary (USP 38/NF 33). Levetiracetam monograph. Rockville: USP; 2009: 3524.

27.

American Society for Testing and Materials [ASTM]. ASTM E2503-07, standard practice for qualification of basket and paddle dissolution apparatus. West Conshohocken: ASTM International; 2007.

28.

Teva Pharmaceuticals Inc. Levetiracetam tablet, film coated, extended release [package insert]. Sellersville: Teva Pharmaceuticals; 2015.

29.

US Food and Drug Administration [FDA] Center for Drug Evaluation and Research [CDER]. Guidance for industry. Extended release oral dosage forms: development, evaluation, and application of in vitro–in vivo correlations. Rockville: FDA; 1997.

30.

Schier JG, Howland MA, Hoffman RS, Nelson LS. Fatality from administration of labetalol and crushed extended-release nifedipine. Ann Pharmacother. 2003;37(10):1420–3.
Acknowledgments
The authors would like to thank Drs. Lucinda Buhse, John Kauffman, John Peters, and Robert Lionberger for important insights and collaborations on this topic. Opinions expressed in this paper are those of the authors and do not necessarily reflect the views or policies of the US Food and Drug Administration.
Ethics declarations
Funding
No funding was specifically received for the conduct or publication of this study. Anna Externbrink was supported in part by an appointment to the Research Participation Program at the Center for Drug Evaluation and Research, administered by the Oak Ridge Institute for Science and Education through an interagency agreement between the US Department of Energy and the US Food and Drug Administration.
Conflicts of interest
The authors—Dajun Sun, Hong Wen, Anna Externbrink, Zongming Gao, David Keire, Gregory Krauss, and Wenlei Jiang—declare that they have no conflicts of interest.
About this article
Cite this article
Sun, D., Wen, H., Externbrink, A. et al. Ghost-Pill-Buster: A Case Study of Intact Levetiracetam Extended-Release Tablets after Dissolution Testing. CNS Drugs 30, 455–460 (2016). https://doi.org/10.1007/s40263-016-0332-9
Keywords
Drug Release

Levetiracetam

Dissolution Medium

Dissolution Testing

Biopharmaceutics Classification System