Abstract
Background
There is growing epidemiological evidence that opioids may increase the risk of unintentional injuries and it is plausible that the time of initiation is most critical in that respect. Studies on fall-related injuries remain few, limited and mostly focused on specific groups of elderly patients.
Objective
The objective of this study was to assess the short-term effects of newly prescribed opioids on the risk of fall-related injuries in the general adult population.
Methods
A case-crossover design was applied on national register data linking, at the individual level, fall-injury information involving adults aged 18 years and above identified in the Swedish National Inpatient Register (during the period 1 May 2006 to 31 December 2009) and dispensed drugs from the Swedish Prescribed Drug Register (n = 167,257 cases with a first fall-related injury). All types of opioid substances were considered, classified according to the Anatomical Therapeutic Chemical (ATC) classification system. We investigated newly dispensed opioids 28 days preceding the injury, compared with an earlier, and equally long, control period following a 3-month washout period. Conditional logistic regression was used to estimate odds ratio (OR) and 95 % confidence interval (CI). The analyses were also conducted stratified by age group, by type of fall and for each period of 1 week during the 28-day period.
Results
From among the fall-injured patients, 7,450 patients (4.5 %) had a new opioid dispensation within 28 days prior to the injury, of which the most frequent types were tramadol (2.0 %) and codeine (1.1 %). Consistently increased risks of fall-related injuries associated with a new prescription of any opioid were found and they were most pronounced among young adults, 18–29 years of age (OR, 7.17; 95 % CI 5.04–10.2). The closer the dispensation date to the injury, the higher the odds: an OR of 5.14 (95 % CI 4.76–5.55) during the first week of opioid treatment and 1.23 (95 % CI 1.10–1.38) for the fourth week. Of the documented falls, the risk was most pronounced for falls from 'another, high level' (OR, 5.33; 95 % CI 3.99–7.10).
Conclusions
Newly prescribed opioids may trigger injurious falls. The effect lowers over time and is less pronounced with increasing age. The risk is also higher for fall from height.
Access options
Buy single article
Instant access to the full article PDF.
US$ 49.95
Tax calculation will be finalised during checkout.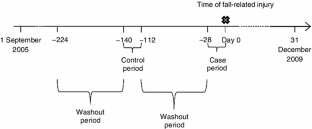 References
1.

The National Board of Health and Welfare. Systematiskt arbete för äldres säkerhet, om fall, trafikolyckor och bränder. The National Board of Health and Welfare: Stockholm; 2007.

2.

The National Board of Health and Welfare. Indikatorer för god läkemedelsterapi hos äldre. The National Board of Health and Welfare: Stockholm; 2010.

3.

The National Board of Health and Welfare. Statistical database of health and medical care (online). http://www.socialstyrelsen.se/statistik/statistikdatabas. Accessed 17 Apr 2012.

4.

Okie S. A flood of opioids, a rising tide of deaths. New Engl J Med. 2010;363(21):1981–5.

5.

Walwyn WM, Miotto KA, Evans CJ. Opioid pharmaceuticals and addiction: the issues, and research directions seeking solutions. Drug Alcohol Depend. 2010;108(3):156–65.

6.

Friedrich MJ. Research yields new insights into mechanisms and treatment of pain. JAMA. 2012;307(3):239–41.

7.

Lovell SJ, Taira T, Rodriguez E, et al. Comparison of valdecoxib and an oxycodone-acetaminophen combination for acute musculoskeletal pain in the emergency department: a randomized controlled trial. Acad Emerg Med. 2004;11(12):1278–82.

8.

Hartikainen S, Lonnroos E, Louhivuori K. Medication as a risk factor for falls: critical systematic review. J Gerontol A Biol Sci Med Sci. 2007;62(10):1172–81.

9.

von Meyer L. Opioids and driving ability (in German). MMW Fortschr Med. 2006;148(18):33–4.

10.

Buckeridge D, Huang A, Hanley J, et al. Risk of injury associated with opioid use in older adults. J Am Geriatr Soc. 2010;58(9):1664–70.

11.

Coben JH, Davis SM, Furbee PM, et al. Hospitalizations for poisoning by prescription opioids, sedatives, and tranquilizers. Am J Prev Med. 2010;38(5):517–24.

12.

Green TC, Grau LE, Carver HW, et al. Epidemiologic trends and geographic patterns of fatal opioid intoxications in Connecticut, USA: 1997–2007. Drug Alcohol Depend. 2011;115(3):221–8.

13.

Reith D, Fountain J, Tilyard M. Opioid poisoning deaths in New Zealand (2001–2002). N Z Med J. 2005;118(1209):U1293.

14.

Leung SY. Benzodiazepines, opioids and driving: an overview of the experimental research. Drug Alcohol Rev. 2011;30(3):281–6.

15.

Kelly KD, Pickett W, Yiannakoulias N, et al. Medication use and falls in community-dwelling older persons. Age Ageing. 2003;32(5):503–9.

16.

Baranzini F, Diurni M, Ceccon F, et al. Fall-related injuries in a nursing home setting: is polypharmacy a risk factor? BMC Health Serv Res. 2009;9:228.

17.

Kallin K, Gustafson Y, Sandman PO, et al. Drugs and falls in older people in geriatric care settings. Aging Clin Exp Res. 2004;16(4):270–6.

18.

Ensrud KE, Blackwell T, Mangione CM, et al. Central nervous system active medications and risk for fractures in older women. Arch Intern Med. 2003;163(8):949–57.

19.

Ebly EM, Hogan DB, Fung TS. Potential adverse outcomes of psychotropic and narcotic drug use in Canadian seniors. J Clin Epidemiol. 1997;50(7):857–63.

20.

Guo Z, Wills P, Viitanen M, et al. Cognitive impairment, drug use, and the risk of hip fracture in persons over 75 years old: a community-based prospective study. Am J Epidemiol. 1998;148(9):887–92.

21.

Walker PC, Alrawi A, Mitchell JF, et al. Medication use as a risk factor for falls among hospitalized elderly patients. AJHP. 2005;62(23):2495–9.

22.

Weiner DK, Hanlon JT, Studenski SA. Effects of central nervous system polypharmacy on falls liability in community-dwelling elderly. Gerontology. 1998;44(4):217–21.

23.

Moden B, Merlo J, Ohlsson H, et al. Psychotropic drugs and falling accidents among the elderly: a nested case control study in the whole population of Scania, Sweden. J Epidemiol Comm Health. 2010;64(5):440–6.

24.

Moden B, Ohlsson H, Merlo J, et al. Psychotropic drugs and accidents in Scania, Sweden. Eur J Public Health. 2012;22(5):726–32.

25.

Vestergaard P, Rejnmark L, Mosekilde L. Fracture risk associated with the use of morphine and opiates. J Intern Med. 2006;260(1):76–87.

26.

Shorr RI, Griffin MR, Daugherty JR, et al. Opioid analgesics and the risk of hip fracture in the elderly: codeine and propoxyphene. J Gerontol. 1992;47(4):M111–5.

27.

Neutel CI, Hirdes JP, Maxwell CJ, et al. New evidence on benzodiazepine use and falls: the time factor. Age Ageing. 1996;25(4):273–8.

28.

McQuay H. Opioids in pain management. Lancet. 1999;353(9171):2229–32.

29.

Maclure M. The case-crossover design: a method for studying transient effects on the risk of acute events. Am J Epidemiol. 1991;133(2):144–53.

30.

Maclure M, Mittleman MA. Should we use a case-crossover design? Ann Rev Public Health. 2000;21:193–221.

31.

Walker AM. Confounding by indication. Epidemiology. 1996;7(4):335–6.

32.

Schneeweiss S, Sturmer T, Maclure M. Case-crossover and case-time-control designs as alternatives in pharmacoepidemiologic research. Pharmacoepidemiol Drug Saf. 1997;6(Suppl. 3):S51–9.

33.

Delaney JA, Suissa S. The case-crossover study design in pharmacoepidemiology. Stat Methods Med Res. 2009;18(1):53–65.

34.

The National Board of Health and Welfare. The national patient register (NPR) (online). http://www.socialstyrelsen.se/register/halsodataregister/patientregistret. Accessed 21 May 2012.

35.

Wettermark B, Hammar N, Fored CM, et al. The new Swedish prescribed drug register: opportunities for pharmacoepidemiological research and experience from the first six months. Pharmacoepidemiol Drug Saf. 2007;16(7):726–35.

36.

WHO Collaborating Centre for Drug Statistics Methodology. The Anatomical Therapeutic Chemical (ATC) classification system, structure and principles (online). http://www.whocc.no/atc/structure_and_principles/. Accessed 17 Apr 2012.

37.

Handoko KB, Zwart-van Rijkom JE, Hermens WA, et al. Changes in medication associated with epilepsy-related hospitalisation: a case-crossover study. Pharmacoepidemiol Drug Saf. 2007;16(2):189–96.

38.

Gray SL, Lai KV, Larson EB. Drug-induced cognition disorders in the elderly: incidence, prevention and management. Drug Saf. 1999;21(2):101–22.

39.

Loeber S, Nakovics H, Kniest A, et al. Factors affecting cognitive function of opiate-dependent patients. Drug Alcohol Depend. 2012;120(1–3):81–7.

40.

Zacny JP, Gutierrez S. Characterizing the subjective, psychomotor, and physiological effects of oral oxycodone in non-drug-abusing volunteers. Psychopharmacology (Berl). 2003;170(3):242–54.

41.

Bergstrom MF, Byberg L, Melhus H, et al. Extent and consequences of misclassified injury diagnoses in a national hospital discharge registry. Inj Prev. 2011;17(2):108–13.

42.

Ludvigsson JF, Andersson E, Ekbom A, et al. External review and validation of the Swedish national inpatient register. BMC Public Health. 2011;11:450.

43.

Shah ND, Dunlay SM, Ting HH, et al. Long-term medication adherence after myocardial infarction: experience of a community. Am J Med. 2009;122(10):961 e7–13.

44.

Morris LS, Schulz RM. Patient compliance: an overview. J Clin Pharm Ther. 1992;17(5):283–95.
Acknowledgements
The authors report no conflicts of interest in this work. This project has approval from the Regional Ethical Review Board in Stockholm. The study forms part of the research projects granted by the Swedish Civil Contingencies Agency and by the Swedish Research Council. None of the funding organizations have had any influence on the design and conduct of the study; the collection, management, analysis or interpretation of the data; or the preparation, review or approval of the manuscript.
About this article
Cite this article
Söderberg, K.C., Laflamme, L. & Möller, J. Newly Initiated Opioid Treatment and the Risk of Fall-Related Injuries. CNS Drugs 27, 155–161 (2013). https://doi.org/10.1007/s40263-013-0038-1
Keywords
Femur Neck

Tramadol

Hydromorphone

Case Period

Unintentional Injury