Abstract
Introduction
The population pharmacokinetics of guanfacine extended release were characterized in pediatric patients aged 6–17 years using NONMEM and evaluated by predictive check and bootstrap.
Methods
Data were described using a one-compartment model. A covariate modeling approach that emphasized parameter estimation rather than stepwise hypothesis testing was implemented. A nonparametric bootstrap procedure and a predictive check method were used to evaluate the final model and parameter estimates.
Results
Typical population pharmacokinetic parameters (95 % confidence interval), given the reference covariates (Caucasian, male, age 12 years, weight 50 kg), were 33.1 (30.2–36.4) L/h for apparent clearance (CL/F), 804 (703–900) L for apparent volume of distribution, 0.552 (0.437–0.670) h−1 for the absorption rate constant, and 0.651 (0.608–0.697) h for absorption lag time.
Discussion
The pharmacokinetics of guanfacine are similar in pediatric patients compared with adults when appropriately scaled by patient weight. The main predictor of guanfacine exposure, as determined by a change in CL/F, was weight. Effects of the other covariates (age, sex, and race) on CL/F were estimated with reasonable precision; however, the additional effects of age, sex, and race can be considered to have little to no clinical relevance.
Access options
Buy single article
Instant access to the full article PDF.
USD 49.95
Price includes VAT (USA)
Tax calculation will be finalised during checkout.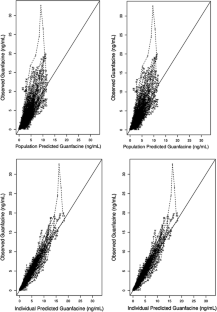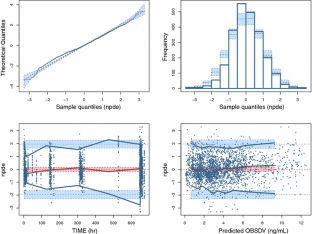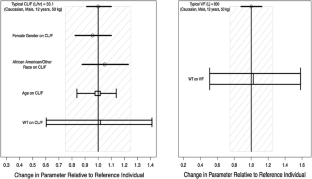 References
1.

National Institute of Mental Health. Attention deficit hyperactivity disorder (ADHD). US Department of Health and Human Services; 2008.

2.

Biederman J, Faraone SV. Attention-deficit hyperactivity disorder. Lancet. 2005;366(9481):237–48.

3.

Kratochvil C. New ADHD treatment options on the horizon. Adv Stud Med. 2002;2(25):915–8.

4.

Scahill L, Chappell PB, Kim YS, et al. A placebo-controlled study of guanfacine in the treatment of children with tic disorders and attention deficit hyperactivity disorder. Am J Psychiatry. 2001;158(7):1067–74.

5.

Cantwell DP. Attention deficit disorder: a review of the past 10 years. J Am Acad Child Adolesc Psychiatry. 1996;35(8):978–87.

6.

INTUNIV® (guanfacine) extended-release tablets [package insert]. Wayne, PA: Shire Pharmaceuticals LLC.

7.

Boellner SW, Pennick M, Fiske K, Lyne A, Shojaei A. Pharmacokinetics of a guanfacine extended-release formulation in children and adolescents with attention-deficit-hyperactivity disorder. Pharmacotherapy. 2007;27(9):1253–62.

8.

Kiechel JR. Pharmacokinetics and metabolism of guanfacine in man: a review. Br J Clin Pharmacol. 1980;10(Suppl 1):25S–32S.

9.

Carchman SH, Crowe JT Jr, Wright GJ. The bioavailability and pharmacokinetics of guanfacine after oral and intravenous administration to healthy volunteers. J Clin Pharmacol. 1987;27(10):762–7.

10.

Kollins SH, Lopez FA, Vince BD, et al. Psychomotor functioning and alertness with guanfacine extended release in subjects with attention-deficit/hyperactivity disorder. J Child Adolesc Psychopharmacol. 2011;21(2):111–20.

11.

Beal SL, Sheiner LB, Boeckmann AJ. NONMEM Users Guide: Part I–VII, (1989–2006). Ellicott City, MD: Icon Development Solutions; 2006.

12.

Anderson BJ, Woollard GA, Holford NH. A model for size and age changes in the pharmacokinetics of paracetamol in neonates, infants and children. Br J Clin Pharmacol. 2000;50(2):125–34.

13.

Anderson BJ, Holford NH, Woollard GA, Chan PL. Paracetamol plasma and cerebrospinal fluid pharmacokinetics in children. Br J Clin Pharmacol. 1998;46(3):237–43.

14.

Anderson BJ, McKee AD, Holford NH. Size, myths and the clinical pharmacokinetics of analgesia in paediatric patients. Clin Pharmacokinet. 1997;33(5):313–27.

15.

Holford NH. A size standard for pharmacokinetics. Clin Pharmacokinet. 1996;30(5):329–32.

16.

Efron B. Missing data, imputation, and the bootstrap. J Am Stat Assoc. 1994;89(426):463–79.

17.

Parke J, Holford NH, Charles BG. A procedure for generating bootstrap samples for the validation of nonlinear mixed-effects population models. Comput Methods Programs Biomed. 1999;59(1):19–29.

18.

Ette EI, Onyiah LC. Estimating inestimable standard errors in population pharmacokinetic studies: the bootstrap with Winsorization. Eur J Drug Metab Pharmacokinet. 2002;27(3):213–24.

19.

Yano Y, Beal SL, Sheiner LB. Evaluating pharmacokinetic/pharmacodynamic models using the posterior predictive check. J Pharmacokinet Pharmacodyn. 2001;28(2):171–92.

20.

Swearingen D, Pennick M, Shojaei A, Lyne A, Fiske K. A phase I, randomized, open-label, crossover study of the single-dose pharmacokinetic properties of guanfacine extended-release 1-, 2-, and 4-mg tablets in healthy adults. Clin Ther. 2007;29(4):617–25.

21.

Mahmood I. Prediction of drug clearance in children from adults: a comparison of several allometric methods. Br J Clin Pharmacol. 2006;61(5):545–57.
Acknowledgments
Funding for this research was provided to Metrum by Shire Development LLC. Melissa Brunckhorst, Ph.D., from MedErgy, provided editorial assistance in formatting, proofreading, and copy editing. This support was funded by Shire. Although the sponsor was involved in the design, collection, analysis, interpretation, and fact checking of information, the content of this manuscript, the ultimate interpretation, and the decision to submit it for publication in Clinical Pharmacokinetics were made by all the authors independently.
Financial disclosure
WK and MRG are employees of Metrum Research Group LLC, which received funding from Shire Development LLC for this study. JE and MC are employees of Shire Development LLC and hold stock/stock options in Shire.
Ethical standard
The studies included in the analyses were approved by an ethics committee or institutional review board and were conducted in accordance with the current revision of the Declaration of Helsinki.
Electronic supplementary material
Below is the link to the electronic supplementary material.
Supplemental Fig. 1. Predictive check for median guanfacine concentrations with distributions of simulated median concentrations within each individual (Cmed) compared to the actual observed distribution of Cmed values from the population pharmacokinetic database. Quantile-quantile plots for each of the 1000 simulation replicates are depicted by a grey dashed line and are overlaid on this plot. The black solid line represents a reference line of identity.(TIFF 1054 kb)
About this article
Cite this article
Knebel, W., Corcoran, M., Ermer, J. et al. Population Pharmacokinetic Modeling of Guanfacine in Pediatric Patients. Clin Pharmacokinet 54, 875–883 (2015). https://doi.org/10.1007/s40262-015-0245-7
Keywords
Guanfacine

Allometric Model

Reference Weight

Nonparametric Bootstrap Procedure

Reference Covariates