Abstract
Background and Objectives
Triptans and ergotamine are commonly used to treat migraine, a risk factor for ischemic stroke. This study aimed to investigate the association between migraine and ischemic cardio-cerebrovascular disease (CCVD). Further analyses were performed to examine whether symptom-relieving treatment of migraine with triptans and ergotamine reduces ischemic CCVD in migraineurs.
Methods
Participants from the Korean NHIS-HEALS cohort database were divided into patients reporting headache without migraine (HA), migraineurs who received at least one prescription for triptans or ergotamine (TE), and migraineurs who were prescribed neither triptans nor ergotamine (NTNE). Ischemic CCVDs comprised ischemic cerebrovascular diseases and cardiovascular diseases. Using cox proportional hazards regression models, primary and secondary analysis for risk of ischemic CCVDs was compared.
Results
Among 62,272 patients diagnosed with migraine or HA, men with migraine or HA numbered 14,747 and 8935, respectively, while the numbers of women were 27,836 and 10,754, respectively. The median follow-up was 6.65 years. The overall incidence rate of CCVDs was 4728/38,590 (12.25%) in females and 3158/23,682 (13.33%) in males. Compared with the HA group, the hazard ratios (HRs) (95% CIs) of the TE and NTNE groups for ischemic CCVDs were 1.18 (1.01–1.39) and 1.39 (1.28–1.50), respectively, in males, and 1.22 (1.09–1.37) and 1.53 (1.42–1.65), respectively, in females, after full adjustment for confounding variables. Compared with the NTNE group, the HRs (95% CIs) of the TE group for ischemic CCVDs were 0.86 (0.73–0.999) in males and 0.80 (0.72–0.88) in females.
Conclusions
Migraine increased the risk of ischemic CCVDs in both sexes, and migraineurs treated with triptans and ergotamine were at lower risk of ischemic CCVDs than migraineurs who did not take those medications, especially in women.
Access options
Buy single article
Instant access to the full article PDF.
USD 39.95
Price excludes VAT (USA)
Tax calculation will be finalised during checkout.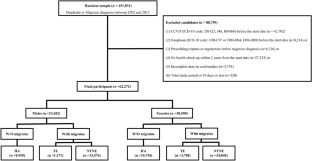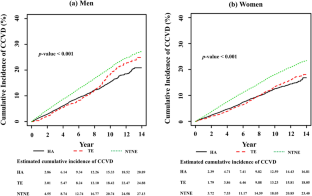 References
Headache Classification Subcommittee of the International Headache Society. The international classification of headache disorders: 2nd edition. Cephalalgia. 2004;24(Suppl 1):9–160. https://doi.org/10.1111/j.1468-2982.2003.00824.x.

Linet MS, Stewart WF, Celentano DD, Ziegler D, Sprecher M. An epidemiologic study of headache among adolescents and young adults. JAMA. 1989;261(15):2211–6.

Stewart W, Wood C, Reed M, Roy J, Lipton R. Cumulative lifetime migraine incidence in women and men. Cephalalgia. 2008;28(11):1170–8. https://doi.org/10.1111/j.1468-2982.2008.01666.x.

Lassen LH, Haderslev PA, Jacobsen VB, Iversen HK, Sperling B, Olesen J. CGRP may play a causative role in migraine. Cephalalgia. 2002;22(1):54–61. https://doi.org/10.1046/j.1468-2982.2002.00310.x.

Lambert GA, Zagami AS. The mode of action of migraine triggers: a hypothesis. Headache. 2009;49(2):253–75. https://doi.org/10.1111/j.1526-4610.2008.01230.x.

Loder E. Triptan therapy in migraine. N Engl J Med. 2010;363(1):63–70. https://doi.org/10.1056/NEJMct0910887.

Graham JR, Wolff HG. Mechanism of migraine headache and action of ergotamine tartrate. Arch NeurPsych. 1938;39(4):737–63.

Gilmore B, Michael M. Treatment of acute migraine headache. Am Fam Physician. 2011;83(3):271–80.

Edvinsson L. The Trigeminovascular pathway: role of CGRP and CGRP receptors in migraine. Headache. 2017;57(Suppl 2):47–55. https://doi.org/10.1111/head.13081.

Ho TW, Edvinsson L, Goadsby PJ. CGRP and its receptors provide new insights into migraine pathophysiology. Nat Rev Neurol. 2010;6(10):573–82. https://doi.org/10.1038/nrneurol.2010.127.

Jacobs B, Dussor G. Neurovascular contributions to migraine: moving beyond vasodilation. Neuroscience. 2016;338:130–44. https://doi.org/10.1016/j.neuroscience.2016.06.012.

González-Hernández A, Lozano-Cuenca J, Marichal-Cancino BA, MaassenVanDenBrink A, Villalón CM. Dihydroergotamine inhibits the vasodepressor sensory CGRPergic outflow by prejunctional activation of α2-adrenoceptors and 5-HT1 receptors. J Headache Pain. 2018;19(1):40. https://doi.org/10.1186/s10194-018-0869-8.

Etminan M, Takkouche B, Isorna FC, Samii A. Risk of ischaemic stroke in people with migraine: systematic review and meta-analysis of observational studies. BMJ. 2005;330(7482):63. https://doi.org/10.1136/bmj.38302.504063.8F.

Spector JT, Kahn SR, Jones MR, Jayakumar M, Dalal D, Nazarian S. Migraine headache and ischemic stroke risk: an updated meta-analysis. Am J Med. 2010;123(7):612–24. https://doi.org/10.1016/j.amjmed.2009.12.021.

McKinley EC, Lay CL, Rosenson RS, Chen L, Chia V, Colantonio LD, et al. Risk for ischemic stroke and coronary heart disease associated with migraine and migraine medication among older adults. J Headache Pain. 2021;22(1):1–13. https://doi.org/10.1186/s10194-021-01338.

Tfelt-Hansen P, Saxena P, Dahlöf C, Pascual J, Lainez M, Henry P, et al. Ergotamine in the acute treatment of migraine: a review and European consensus. Brain. 2000;123(1):9–18.

Silberstein SD, Marcus DA. Sumatriptan: treatment across the full spectrum of migraine. Expert Opin Pharmacother. 2013;14(12):1659–67. https://doi.org/10.1517/14656566.2013.810209.

Kleindorfer DO, Towfighi A, Chaturvedi S, Cockroft KM, Gutierrez J, Lombardi-Hill D, et al. Guideline for the prevention of stroke in patients with stroke and transient ischemic attack: a guideline from the American Heart Association/American Stroke Association. Stroke. 2021;2021: STR.0000000000000375. https://doi.org/10.1161/STR.0000000000000375.

Hall GC, Brown MM, Mo J, MacRae KD. Triptans in migraine: the risks of stroke, cardiovascular disease, and death in practice. Neurology. 2004;62(4):563–8. https://doi.org/10.1212/01.WNL.0000110312.36809.7F.

Ashok P, Kharche JS, Raju R, Godbole G. Metabolic equivalent task assessment for physical activity in medical students. Natl J Physiol Pharm Pharmacol. 2017;7(3):236.

Vargas BB, Dodick DW, Wingerchuk DM, Demaerschalk BM. Migraine with and without aura and risk for cardiovascular disease. Curr Atheroscler Rep. 2008;10(5):427–33. https://doi.org/10.1007/s11883-008-0065-4.

Bigal M, Kurth T, Santanello N, Buse D, Golden W, Robbins M, et al. Migraine and cardiovascular disease: a population-based study. Neurology. 2010;74(8):628–35. https://doi.org/10.1212/WNL.0b013e3181d0cc8b.

Schürks M, Rist PM, Bigal ME, Buring JE, Lipton RB, Kurth T. Migraine and cardiovascular disease: systematic review and meta-analysis. BMJ. 2009. https://doi.org/10.1136/bmj.b3914.

Nicolas S, Nicolas D. Triptans. StatPearls. Treasure Island: StatPearls Publishing; 2022.

Wammes-Van Der Heijden E, Rahimtoola H, Leufkens H, Tijssen C, Egberts A. Risk of ischemic complications related to the intensity of triptan and ergotamine use. Neurology. 2006;67(7):1128–34. https://doi.org/10.1212/01.wnl.0000240128.76399.fa.

Roberto G, Raschi E, Piccinni C, Conti V, Vignatelli L, D'Alessandro R, et al. Adverse cardiovascular events associated with triptans and ergotamines for treatment of migraine: systematic review of observational studies. Cephalalgia. 2015;35(2):118–31. https://doi.org/10.1177/0333102414550416.

Dodick D, Lipton RB, Martin V, Papademetriou V, Rosamond W, MaassenVanDenBrink A, et al. Consensus statement: cardiovascular safety profile of triptans (5-HT1B/1D agonists) in the acute treatment of migraine. Headache J Head Face Pain. 2004;44(5):414–25. https://doi.org/10.1111/j.1526-4610.2004.04078.x.

Edvinsson L, Uddman E, Wackenfors A, Davenport A, Longmore J, Malmsjö M. Triptan-induced contractile (5-HT1B receptor) responses in human cerebral and coronary arteries: relationship to clinical effect. Clin Sci (Lond). 2005;109(3):335–42. https://doi.org/10.1042/CS20050016.

MaassenVanDenBrink A, Saxena PR. Coronary vasoconstrictor potential of triptans: a review of in vitro pharmacologic data. Headache. 2004;44:S13–9. https://doi.org/10.1111/j.1526-4610.2004.04104.x.

Libby P, Buring JE, Badimon L, Hansson GK, Deanfield J, Bittencourt MS, et al. Atherosclerosis. Nat Rev Dis Primers. 2019;5(1):56. https://doi.org/10.1038/s41572-019-0106-z.

Jiangping S, Zhe Z, Wei W, Yunhu S, Jie H, Hongyue W, et al. Assessment of coronary artery stenosis by coronary angiography: a head-to-head comparison with pathological coronary artery anatomy. Circ Cardiovasc Interv. 2013;6(3):262–8. https://doi.org/10.1161/CIRCINTERVENTIONS.112.000205.

Elgendy IY, Nadeau SE, Bairey Merz CN, Pepine CJ. Migraine headache: an under-appreciated risk factor for cardiovascular disease in women. J Am Heart Assoc. 2019;8(22): e014546. https://doi.org/10.1161/JAHA.119.014546.

Mannix LK, Files JA. The use of triptans in the management of menstrual migraine. CNS Drugs. 2005;19(11):951–72. https://doi.org/10.2165/00023210-200519110-00005.

Bigal ME, Golden W, Buse D, Chen YT, Lipton RB. Triptan use as a function of cardiovascular risk. A population-based study. Headache. 2010;50(2):256–63. https://doi.org/10.1111/j.1526-4610.2009.01595.x.

Alwhaibi M, Pan X, Sambamoorthi U. Triptan use for migraine headache among adults with cardiovascular risk. Value Health. 2014;17(3):A57–8. https://doi.org/10.1016/j.jval.2014.03.340.
Acknowledgements
We thank Dong Ik Shin, Department of Neurology, Chungbuk National University Hospital for reviewing the contents of this article and providing advice.
Ethics declarations
Funding
Hee-Taik Kang received a research Grant from the National Research Foundation of Korea (NRF) grant funded by the Korean government (grant number: 2021R1G1A1006485).
Conflict of interest
Y. Kim, S-J. Shin, J-w. Lee, Y-S. Kim, H-S. You, J. Kim, and H-T. Kang declared no conflicts of interest: no affiliations with or involvement in any organization relevant to the submitted work, no financial relationships with any organizations that might have an interest in the submitted work, and no other relationships or activities that could appear to have influenced the submitted work.
Ethics approval and consent to participate
The study was approved by the medical ethics committee of Chungbuk National University Hospital (CBNUH 2021-12-014) and conducted according to the Declaration of Helsinki. Need for written consent was waived because all data were fully anonymized and provided by the Korean National Health insurance service.
Consent for publication
Not applicable.
Data availability statement
Data used in this research are available if researchers who want to deal with the Korean National Health Insurance Service (NHIS) database get permission from Korean NHIS. The data sets are available through approval and oversight by the Korean National Health Insurance Service [REQ202201018-001(NHIS--)].
Code availability
Not applicable.
Author contributions
All authors made substantial contributions to the acquisition, analysis, or interpretation of data for the work. YK designed the study, managed data, interpreted statistical data analysis, and drafted the manuscript. S-JS managed data, performed the statistical analysis, and wrote the statistical draft. J-wL, Y-SK, and H-SY made substantial contributions to the acquisition, analysis, or interpretation of data for the work. JK and H-TK contributed to concept development, designed the study protocol, and interpreted data. They are the guarantors of this work and, as such, had full access to all data in the study and take responsibility for the integrity of the data and the accuracy of the data analysis.
Supplementary Information
Below is the link to the electronic supplementary material.
Rights and permissions
Springer Nature or its licensor (e.g. a society or other partner) holds exclusive rights to this article under a publishing agreement with the author(s) or other rightsholder(s); author self-archiving of the accepted manuscript version of this article is solely governed by the terms of such publishing agreement and applicable law.
About this article
Cite this article
Kim, Y., Shin, SJ., Lee, Jw. et al. Association Between Migraine and Ischemic Cardio-Cerebrovascular Disease (CCVD) and Effects of Triptans and Ergotamine on the Risk of Ischemic CCVD in Patients with Migraine in the Korean NHIS-HEALS Cohort. Clin Drug Investig 43, 541–550 (2023). https://doi.org/10.1007/s40261-023-01290-7
Accepted:

Published:

Issue Date:

DOI: https://doi.org/10.1007/s40261-023-01290-7