Abstract
Background and Objective
Immune checkpoint inhibitors (ICIs) such as programmed cell death protein 1 (PD-1) and cytotoxic T-lymphocyte antigen 4 (CTLA-4) inhibitors have greatly improved cancer treatment. However, they are associated with immune-related adverse events, including autoimmune diseases (ADs) owing to their immune enhancement effect. As there are few comprehensive studies of ADs by ICIs, it is necessary to analyze the period information of drug-induced ADs. We also assumed that the temporal information may be useful to estimate the similarity of the pathogenic mechanism between spontaneous and ICI-induced ADs.
Methods
A period analysis including the Weibull analysis was performed on ICI-induced ADs using the Japanese Adverse Drug Event Report (JADER) database. For evaluating the similarity of spontaneous and ICI-induced ADs, a hierarchical cluster analysis was conducted to compare the different onset-time ranges.
Results
Type 1 diabetes mellitus, autoimmune colitis, and pemphigoid occurred earlier with CTLA-4 inhibitors (median: 46, 29.5 and 28 days, respectively) than with PD-1 inhibitors (> 130 days). Myasthenia gravis had a median time to onset of approximately 1 month, and the risk of onset would increase over time in ipilimumab combination therapy. This result reveals ADs that require attention. Using cluster analysis, we estimated six clusters with different patterns of onset times. Based on these results and a detailed previous research survey, the possible pathogenesis of drug-induced ADs was also discussed.
Conclusions
This paper describes risk profiles with temporal information of ICI-induced ADs and proposes certain indicators for deciphering the mechanism of AD onset.
Access options
Buy single article
Instant access to the full article PDF.
US$ 49.95
Tax calculation will be finalised during checkout.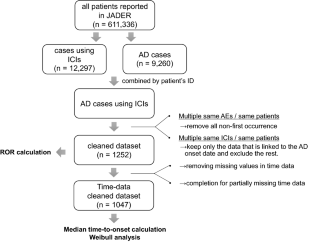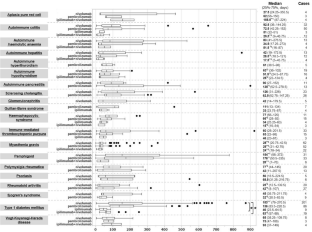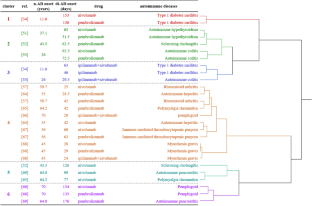 Acknowledgements
We are grateful to Dr. Yoshinobu Hirayama for providing a helpful discussion.
Ethics declarations
Funding
No funding was received for the conduct of this study or the preparation of this article.
Conflict of interest
Keiko Ogawa, Yoshihiro Kozuka, Hitomi Uno, Kosuke Utsumi, Osamu Noyori, and Rumiko Hosoki have no conflicts of interest that are directly relevant to the content of this article.
Ethics approval
Not applicable.
Consent to participate
Not applicable.
Consent for publication
Not applicable.
Availability of data and material
The data that support the findings of this study are available from the corresponding author, Hosoki Rumiko, upon reasonable request.
Code Availability
Not applicable.
Author contributions
Study design: Hosoki R., Ogawa K. Data processing and analysis: Ogawa K., Kozuka Y., Uno H., Utsumi K., Interpretation of the results: all authors. especially Ogawa K., Noyori O., Kozuka Y., Hosoki R. Writing manuscript: Ogawa K. Manuscript review and revisions: All authors. Final approval of manuscript: All authors.
Supplementary Information
Below is the link to the electronic supplementary material.
About this article
Cite this article
Ogawa, K., Kozuka, Y., Uno, H. et al. Spontaneous and Immune Checkpoint Inhibitor-Induced Autoimmune Diseases: Analysis of Temporal Information by Using the Japanese Adverse Drug Event Report Database. Clin Drug Investig 41, 615–627 (2021). https://doi.org/10.1007/s40261-021-01042-5
Accepted:

Published:

Issue Date: