Abstract
Background and Objective
In the REFLECT trial, lenvatinib showed superior clinical benefits to sorafenib in terms of progression-free survival and was non-inferior for overall survival in the treatment of advanced hepatocellular carcinoma (HCC). We assessed the cost-effectiveness of lenvatinib compared with sorafenib for patients with advanced HCC in Australia.
Method
A partitioned-survival model was built to perform a cost-effectiveness analysis comparing lenvatinib and sorafenib from an Australian health-system perspective. Survival curves were obtained from the REFLECT trial and fitted with parametric survival functions for extrapolation purposes beyond the trial follow-up. Cost and quality-adjusted life-years (QALYs) were accrued over the 10-year time horizon of the model. Deterministic and probability sensitivity analysis (PSA) were carried out to verify the validity of the model.
Results
Lenvatinib incurred higher costs (A$96,325) and superior health outcomes (QALYs: 1.205), while sorafenib had lower costs (A$92,394) and inferior health outcomes (QALYs: 1.086). Thus, lenvatinib yielded an incremental cost-utility ratio of A$33,028/QALY gained. Further, the results of the PSA found that the probability of lenvatinib being cost-effective at a willingness-to-pay threshold of A$50,000/QALY was 64%.
Conclusion
Our study found that, at current prices, lenvatinib is a cost-effective treatment option compared with sorafenib for the first-line treatment of patients with advanced HCC.
Access options
Buy single article
Instant access to the full article PDF.
US$ 49.95
Tax calculation will be finalised during checkout.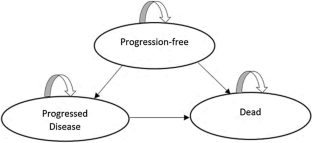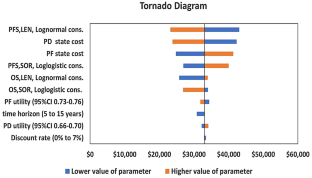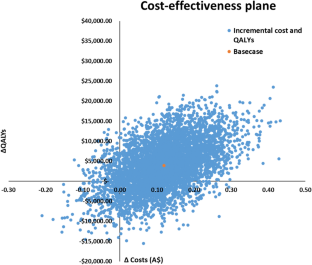 References
1.

Bray F, Ferlay J, Soerjomataram I, Siegel RL, Torre LA, Jemal A. Global cancer statistics 2018: GLOBOCAN estimates of incidence and mortality worldwide for 36 cancers in 185 countries. CA Cancer J Clin. 2018;68(6):394–424. https://doi.org/10.3322/caac.21492.

2.

Wallace MC, Preen DB, Short MW, Adams LA, Jeffrey GP. Hepatocellular carcinoma in Australia 1982–2014: increasing incidence and improving survival. Liver Int. 2019;39(3):522–30. https://doi.org/10.1111/liv.13966.

3.

Gomaa AI, Khan SA, Toledano MB, Waked I, Taylor-Robinson SD. Hepatocellular carcinoma: epidemiology, risk factors and pathogenesis. World J Gastroenterol. 2008;14(27):4300–8. https://doi.org/10.3748/wjg.14.4300.

4.

Vogel A, Cervantes A, Chau I, Daniele B, Llovet JM, Meyer T, et al. Hepatocellular carcinoma: ESMO Clinical Practice Guidelines for diagnosis, treatment and follow-up. Ann Oncology. 2018;29(Suppl 4):iv238–55. https://doi.org/10.1093/annonc/mdy308.

5.

Australian product information, Lenvima® (Lenvatinib) hard capsule, https://www.ebs.tga.gov.au/ebs/picmi/picmirepository.nsf/pdf?OpenAgent&id=CP-2016-PI-01212-1&d=202005271016933. Accessed 25 May 2020.

6.

Kudo M, Finn RS, Qin S, Han KH, Ikeda K, Piscaglia F, et al. Lenvatinib versus sorafenib in first-line treatment of patients with unresectable hepatocellular carcinoma: a randomised phase 3 non-inferiority trial. Lancet. 2018;391(10126):1163–73. https://doi.org/10.1016/S0140-6736(18)30207-1.

7.

Lenvatinib for untreated advanced hepatocellular carcinoma Technology appraisal guidance [TA551], National Institute for Health and Care Excellence UK. https://www.nice.org.uk/guidance/ta551. Accessed 12 Feb 2020.

8.

Pan-Canadian Oncology Drug Review. Final Economic Guidance Report Lenvatinib (Lenvima) for Hepatocellular Carcinoma. https://www.cadth.ca/sites/default/files/pcodr/Reviews2019/10175LenvatinibHCC_inEGR_NOREDACT-ABBREV_EarlyCon_Post_24Jul2019_final.pdf. Accessed 27 Jul 2020.

9.

Lenvatinib Public Summary Document (PSD), November 2018. https://www.pbs.gov.au/info/industry/listing/elements/pbac-meetings/psd/2018-11/Lenvatinib-psd-november-2018. Accessed 20 May 2020.

10.

10-year survival for Liver cancer. Australian Institute of Health and Welfare 2019. Cancer in Australia 2019. Cancer series no.101.Cat. no. CAN 123. Canberra: AIHW. https://ncci.canceraustralia.gov.au/outcomes/relative-survival-rate/10-year-relative-survival. Accessed 27 Jul 2020.

11.

Public summary document for Sorafenib tosylate, tablet, 200 mg (base), Nexavar®, July 2008. https://www.pbs.gov.au/info/industry/listing/elements/pbac-meetings/psd/2008-07/pbac-psd-sorafenib-july08. Accessed 15 Oct 2020.

12.

Elbasha EH, Chhatwal J. Myths and misconceptions of within-cycle correction: a guide for modelers and decision makers. Pharmacoeconomics. 2016;34(1):13–22. https://doi.org/10.1007/s40273-015-0337-0.

13.

Guidelines for preparing submissions to the Pharmaceutical Benefits Advisory Committee (PBAC) Version 5.0. https://pbac.pbs.gov.au/. Accessed 3 Feb 2020.

14.

Bullement A, Cranmer HL, Shields GE. A review of recent decision-analytic models used to evaluate the economic value of cancer treatments. Appl Health Econ Health Policy. 2019;17(6):771–80. https://doi.org/10.1007/s40258-019-00513-3.

15.

Regorafenib Public Summary Document. https://www.pbs.gov.au/info/industry/listing/elements/pbac-meetings/psd/2018-11/Regorafenib-psd-november-2018. Accessed 7 Mar 2020.

16.

Wei Y, Royston P. Reconstructing time-to-event data from published Kaplan-Meier curves. Stata J. 2017;17(4):786–802.

17.

Latimer NR. Survival analysis for economic evaluations alongside clinical trials—extrapolation with patient-level data: inconsistencies, limitations, and a practical guide. Med Decis Making. 2013;33(6):743–54.

18.

Lloyd A, Nafees B, Narewska J, Dewilde S, Watkins J. Health state utilities for metastatic breast cancer. Br J Cancer. 2006;95(6):683–90. https://doi.org/10.1038/sj.bjc.6603326.

19.

Pignata M, Chouaid C, Le Lay K, Luciani L, McConnachie C, Gordon J, et al. Evaluating the cost-effectiveness of afatinib after platinum-based therapy for the treatment of squamous non-small-cell lung cancer in France. Clinicoecon Outcomes Res. 2017;9:655–68. https://doi.org/10.2147/CEOR.S136657.

20.

HealthCare Bayer. Single technology appraisal (STA) of sorafenib (Nexavar) for the treatment of hepatocellular carcinoma (HCC) [TA189]. London: National Institute for Health and Care Excellence; 2009.

21.

Hatswell AJ, Bullement A, Briggs A, Paulden M, Stevenson MDJP. Probabilistic sensitivity analysis in cost-effectiveness models: determining model convergence in cohort models. Pharmacoeconomics. 2018;36(12):1421–6.

22.

Kim JJ, McFarlane T, Tully S, Wong WW. Lenvatinib versus sorafenib as first-line treatment of unresectable hepatocellular carcinoma: a cost–utility analysis. Oncologist. 2020;25(3):e512.

23.

Kobayashi M, Kudo M, Izumi N, Kaneko S, Azuma M, Copher R, et al. Cost-effectiveness analysis of lenvatinib treatment for patients with unresectable hepatocellular carcinoma (uHCC) compared with sorafenib in Japan. J Gastroenterol. 2019;54(6):558–70. https://doi.org/10.1007/s00535-019-01554-0.

24.

Hong TP et al. An Australian population-based study of the incidence and outcomes of hepatocellular carcinoma: the hepatomas of melbourne epidemiological research (homer) study. PhD Thesis. https://minerva-access.unimelb.edu.au/bitstream/handle/11343/225659/84082%20PhD%20-%20FInal%20Revised.pdf?sequence=3&isAllowed=y. Accessed 12 Feb 2020.

25.

Venkatesan S, Lamfers M, Leenstra S, Vulto AG. Overview of the patent expiry of (non-)tyrosine kinase inhibitors approved for clinical use in the EU and the US. Gabi J. 2017;6(2):89–96. https://doi.org/10.5639/gabij.2017.0602.016.

26.

First New Brand Price Reductions. The pharmaceutical benefits scheme. Government of Australia. https://www.pbs.gov.au/info/industry/pricing/pbs-items/first-new-brand-price-reductions. Accessed 30 June 2020.

27.

Clemens S, Begum N, Harper C, Whitty JA, Scuffham PA. A comparison of EQ-5D-3L population norms in Queensland, Australia, estimated using utility value sets from Australia, the UK and USA. Qual Life Res. 2014;23(8):2375–81. https://doi.org/10.1007/s11136-014-0676-x.

28.

Atezolizumab US FDA Approval. https://www.fda.gov/drugs/drug-approvals-and-databases/fda-approves-atezolizumab-plus-bevacizumab-unresectable-hepatocellular-carcinoma#:~:text=On%20May%2029%2C%202020%2C%20the,not%20received%20prior%20systemic%20therapy. Accessed 21 Jun 2020.
Acknowledgements
The authors would like to thank Sundeep Pathak for their assistance in proof-reading the final version of the manuscript and Mussab Fagery for collecting some cost inputs for the model.
Ethics declarations
Funding
No specific funding was received for this study.
Conflict of interest
The author(s) declared no potential conflicts of interest with respect to the research, authorship and/or publication of this article.
Ethics approval
Not applicable.
Informed consent
Not applicable.
Consent for publication
Not applicable.
Code availability
Not applicable.
Author's contribution
MS conceived the study and developed the model, undertook the analysis, and wrote up the manuscript; TS, JB, MD, and PS helped with model validation and results interpretation, and critically reviewed the manuscript before submission.
Data availability
The authors declare that all input data to parameterize the decision analytic model are available within the article and the OSM. The model can be re-built entirely based on the detailed description of the model structure in the "Method" section (Sect. 2) and information provided.
Electronic supplementary material
Below is the link to the electronic supplementary material.
About this article
Cite this article
Saiyed, M., Byrnes, J., Srivastava, T. et al. Cost-Effectiveness of Lenvatinib Compared with Sorafenib for the First-Line Treatment of Advanced Hepatocellular Carcinoma in Australia. Clin Drug Investig 40, 1167–1176 (2020). https://doi.org/10.1007/s40261-020-00983-7
Accepted:

Published:

Issue Date: