Abstract
Background
Most patients with Parkinson's disease exhibit intracellular accumulation of the α-synuclein protein encoded by the α-synuclein gene. It was recently shown that β2-adrenoreceptor agonists downregulate this gene, decreasing the apparent risk of Parkinson's disease by up to 40%. In contrast, exposure to β-blocking drugs increases production of the α-synuclein protein.
Objective
The aim of this study was to examine whether chronic exposure to β-blockers is associated with an increased risk for Parkinson's disease.
Patients and Methods
From the electronic charts of Maccabi Health Services, we identified all patients receiving their first β-blocker treatment between 1998 and 2004, and followed them up, for a diagnosis of Parkinson's disease, between 2005 and 2016. We calculated the morbidity hazard of Parkinson's disease diagnosis in users of β-blockers compared with non-users, as well as users of angiotensin-converting enzyme (ACE) inhibitors for hypertension, after adjusting for sex, age, weight, smoking status, cholesterol levels and use of statins, employing the Cox proportional hazard model. We also conducted a Kaplan–Meier survival analysis.
Results
Overall, 145,098 patients received β-blockers, and 1,187,151 patients did not. The adjusted hazard ratio for Parkinson's disease among β-blocker users was 1.51 (95% confidence interval 1.28–1.77; p < 0.0001). In contrast, the Parkinson's disease morbidity hazard for patients receiving ACE inhibitors was no different than for the general population. The morbidity risk showed the effect of cumulative dose response with low threshold levels.
Conclusions
Chronic use of β-blockers confers a time- and dose-dependent increased risk for Parkinson's disease. In view of the available alternatives for β-blockers, their chronic use should be carefully reconsidered.
This is a preview of subscription content, log in to check access.
Access options
Buy single article
Instant access to the full article PDF.
US$ 49.95
Price includes VAT for USA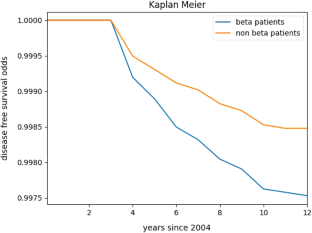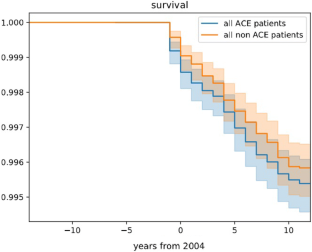 References
1.

Farrer M, Kachergus J, Forno L, et al. Comparison of kindreds with parkinsonism and alpha-synuclein genomic multiplications. Ann Neurol. 2004;55(2):174–9.

2.

Wong SL, Gilmour H, Ramage-Morin PL. Parkinson's disease: prevalence, diagnosis and impact. Health Rep. 2014;25(11):10–4.

3.

de Rijk MC, Launer LJ, Berger K, et al. Prevalence of Parkinson's disease in Europe: a collaborative study of population-based cohorts. Neurologic Diseases in the Elderly Research Group. Neurology. 2000;54(11 Suppl 5):S21–3.

4.

Mittal S, Bjørnevik K, Doo Soon I, et al. Beta 2-adrenoreceptor is a regulator of the alpha-synuclein gene driving risk of Parkinsons disease. Science. 2017;357(6354):891–8.

5.

Wiysonge CS, Bradley HA, Volmink J, et al. Beta-blockers for hypertension. Cochrane Database Syst Rev. 2017;1:CD002003.

6.

Gronich N, Abernathy DR, Auriel E, et al. Beta 2 adrenoceptor agonists and antagonists and the risk of Parkinson's disease. Mov Disord. 2018;33:1465–71.

7.

Searles-Nielsen S, Gross A, Camacho-Soto A, et al. Beta 2 adrenoreceptor medications and risk of Parkinson disease. Ann Neurol. 2018;84:683–93.

8.

Goldshtein I, Shalev V, Zigman N, et al. The Maccabi Glaucoma Study: treatment patterns and persistence with glaucoma therapy in a large Israeli Health Maintenance Organization. J Glaucoma. 2016;25:e386–91.

9.

Ma C, Liu Y, Neumann S, et al. Nicotine from cigarette smoking and diet and Parkinson's disease: a review. Transl Neurodegener. 2017;6:18.

10.

Global RPh. Beta blockers: Comparative properties. 2004. http://www.globalrph.com/beta_blockers.htm. Accessed 22 Feb 2019.

11.

Rodríguez-Violante M, Cervantes-Arriaga A, Fahn S, et al. Two-hundred years later: is Parkinson's disease a single defined entity? Rev Investig Clin. 2017;69:308–9.

12.

Kjeldsen S, Feldman RD, Lisheng L, et al. Updated national and international hypertension guidelines: a review of current recommendations. Drugs. 2014;74:2033–51.

13.

Witte KK, Drozd M, Walker AMN, et al. Mortality reduction associated with β-adrenoceptor inhibition in chronic heart failure is greater in patients with diabetes. Diabetes Care. 2018;41:136–42.

14.

Lee YC, Lin CH, Wu RM, et al. Antihypertensive agents and risk of Parkinson disease: a national cohort study. PLoS One. 2014;9(6):e98961.

15.

ABC News. More Americans taking prescription drugs. https://abcnews.go.com/health/wellness/prescription-drug-soars-us/story?id=11547284. Accessed 26 Feb 2019.

16.

PRB. Population reference bureau. 2016. http://www.prb.org/Publications/Media-Guides/2016/aging-unitedstates-fact-sheet.aspx. Accessed 1 Dec 2018.

17.

Parkinsons News Today. Parkinson's disease statistics. 2018. https://parkinsonsnewstoday.com/parkinsons-disease-statistics. Accessed 1 Dec 2018.
Acknowledgements
The authors wish to thank Esma Herzl for coordinating the data retrieval.
Ethics declarations
Funding
No sources of funding were used to conduct this study.
Conflict of interest
Gideon Koren, Galia Norton, Kira Radinsky and Varda Shalev have no potential conflicts of interest to report.
Data availability
Anonymized data will be shared upon reasonable request from any qualified investigator, pending approval from Maccabi Health Services and the Assuta Research Ethics Committee.
Ethical approval
All procedures in this study were in accordance with the 1964 Helsinki declaration and its amendments, and the study was approved by the Assuta Ethics Committee.
Informed consent
As this study is based on anonymous data, the committee waived informed consent.
About this article
Cite this article
Koren, G., Norton, G., Radinsky, K. et al. Chronic Use of β-Blockers and the Risk of Parkinson's Disease. Clin Drug Investig 39, 463–468 (2019). https://doi.org/10.1007/s40261-019-00771-y