Abstract
Background and Objectives
In 2014, the Italian Medicines Agency (AIFA) amended the summary of product characteristics of codeine-containing medications limiting their use for maximum three days. This study attempted to clarify the impact of AIFA intervention on prescribing trends and appropriateness of use of codeine-containing medications and other opioids.
Methods
Using the Health Search Database, a quasi-experimental interrupted time series analysis was conducted to evaluate changes in prescribing trends and appropriateness of use of codeine-containing medications and opioids between 2013 and 2015.
Results
Prescribing trends of codeine-containing medications significantly decreased (on average, − 352 days of treatment per month of observation), while long-acting opioids (LAOs) had an overall increase. Trends of inappropriate prescriptions significantly increased for two LAOs (i.e. tapentadol, naloxone-oxycodone), both before and after AIFA intervention.
Conclusion
The use of paracetamol-codeine combination was effectively decreased in Italy because of AIFA intervention. Instead, prescriptions of tapentadol and oxycodone-naloxone stably increased over the study period irrespective of regulatory intervention. Given that the choice of the most appropriate opioid therapy is not straightforward, especially in elderly and/or comorbid patients, general practitioners should consider carefully alternative therapies on the bases of regulatory interventions.
This is a preview of subscription content, log in to check access.
Access options
Buy single article
Instant access to the full article PDF.
US$ 49.95
Price includes VAT for USA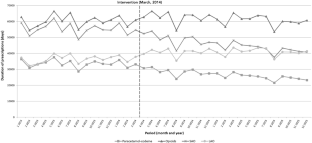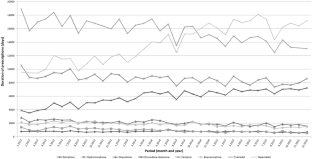 References
1.

Kelly LE, Rieder M, van den Anker J, Malkin B, Ross C, Neely MN, et al. More codeine fatalities after tonsillectomy in North American children. Pediatrics. 2012;129:e1343–7. https://doi.org/10.1542/peds.2011-2538.

2.

Ciszkowski C, Madadi P, Phillips MS, Lauwers AE, Koren G. Codeine, ultrarapid-metabolism genotype, and postoperative death. N Engl J Med. 2009;361:827–8. https://doi.org/10.1056/NEJMc0904266.

3.

European Medicines Agency. Assessment report for codeine-containing medicinal products indicated in the management of pain in children 2013. https://www.ema.europa.eu/documents/referral/codeine-article-31-referral-prac-assessment-report_en.pdf. Accessed 14 Feb 2019.

4.

Benini F, Barbi E. Doing without codeine: why and what are the alternatives? Ital J Pediatr. 2014;40:16. https://doi.org/10.1186/1824-7288-40-16.

5.

Agenzia Italiana del Farmaco (AIFA). Comunicazione relativa a divieto di utilizzo al di sotto dei 12 anni di età per medicinali antidolorifici contenenti codeina e ritiro delle confezioni ad esclusivo uso in bambini al di sotto dei 12 anni. n.d.

6.

Fleming DM, Schellevis FG, Van Casteren V. The prevalence of known diabetes in eight European countries. Eur J Public Health. 2004;14:10–4. https://doi.org/10.1093/eurpub/14.1.10.

7.

Gijsen R, Poos MJJC. Using registries in general practice to estimate countrywide morbidity in The Netherlands. Public Health. 2006;120:923–36. https://doi.org/10.1016/j.puhe.2006.06.005.

8.

Sessa ESF, Niccolai C, Pecchioli S, Ventriglia G, Mazzag Sessa E, Samani F, Niccolai C, Pecchioli S, Ventriglia GMG. La creazione di un campione validato di medici di medicina generale creazione di un campione validato di medici di medicina generale nel database nel database di Health Search di Health Search. SIMG. 2004;3:10–4.

9.

XI Report Health Search. 2018 Edition n.d. https://www.healthsearch.it/report/. Accessed 12 Feb 2019.

10.

Mazzaglia G, Sessa E, Samani F, Cricelli CFL. Use of Computerized General Practice Database for epidemiological studies in Italy: a comparative study with the official national statistics. J Epidemiol Commun Health. 2004;58:A133.

11.

WHO Collaborating Centre for Drug Statistics Methodology. 2017. https://www.whocc.no/. Accessed 14 Feb 2019.

12.

Cricelli C, Mazzaglia G, Samani F, Marchi M, Sabatini A, Nardi R, et al. Prevalence estimates for chronic diseases in Italy: exploring the differences between self-report and primary care databases. J Public Health Med. 2003;25:254–7.

13.

Mazzaglia G, Ambrosioni E, Alacqua M, Filippi A, Sessa E, Immordino V, et al. Adherence to antihypertensive medications and cardiovascular morbidity among newly diagnosed hypertensive patients. Circulation. 2009;120:1598–605. https://doi.org/10.1161/CIRCULATIONAHA.108.830299.

14.

Vena GA, Altomare G, Ayala F, Berardesca E, Calzavara-Pinton P, Chimenti S, et al. Incidence of psoriasis and association with comorbidities in Italy: a 5-year observational study from a national primary care database. Eur J Dermatol 20:593–8. https://doi.org/10.1684/ejd.2010.1017.

15.

Filippi A, Vanuzzo D, Bignamini AA, Mazzaglia G, Cricelli C, Catapano AL. The database of Italian general practitioners allows a reliable determination of the prevalence of myocardial infarction. Ital Heart J. 2005;6:311–4.

16.

Smith HS. Rapid onset opioids in palliative medicine. Ann Palliat Med. 2012;1:45–52. https://doi.org/10.3978/j.issn.2224-5820.2012.01.01.

17.

Zhang F, Wagner AK, Ross-Degnan D. Simulation-based power calculation for designing interrupted time series analyses of health policy interventions. J Clin Epidemiol. 2011;64:1252–61. https://doi.org/10.1016/j.jclinepi.2011.02.007.

18.

Zhang F, Wagner AK, Soumerai SB, Ross-Degnan D. Methods for estimating confidence intervals in interrupted time series analyses of health interventions. J Clin Epidemiol. 2009;62:143–8. https://doi.org/10.1016/j.jclinepi.2008.08.007.

19.

Wagner AK, Soumerai SB, Zhang F, Ross-Degnan D. Segmented regression analysis of interrupted time series studies in medication use research. J Clin Pharm Ther. 2002;27:299–309.

20.

Glasziou P, Irwig L, Mant D. Monitoring in chronic disease: a rational approach. BMJ. 2005;330:644–8. https://doi.org/10.1136/bmj.330.7492.644.

21.

Benneyan JC, Lloyd RC, Plsek PE. Statistical process control as a tool for research and healthcare improvement. Qual Saf Health Care. 2003;12:458–64.

22.

Pereira P, Seghatchian J, Caldeira B, Xavier S, de Sousa G. Statistical control of the production of blood components by control charts of attribute to improve quality characteristics and to comply with current specifications. Transfus Apher Sci. 2018;57:285–90. https://doi.org/10.1016/j.transci.2018.04.009.

23.

Ting S, Schug S. The pharmacogenomics of pain management: prospects for personalized medicine. J Pain Res. 2016;9:49–56. https://doi.org/10.2147/JPR.S55595.

24.

Bradford LD. CYP2D6 allele frequency in European Caucasians, Asians, Africans and their descendants. Pharmacogenomics. 2002;3:229–43. https://doi.org/10.1517/14622416.3.2.229.

25.

Ingelman-Sundberg M. Genetic polymorphisms of cytochrome P450 2D6 (CYP2D6): clinical consequences, evolutionary aspects and functional diversity. Pharmacogenom J. 2005;5:6–13. https://doi.org/10.1038/sj.tpj.6500285.

26.

Crews KR, Caudle KE, Dunnenberger HM, Sadhasivam S, Skaar TC. Considerations for the utility of the CPIC guideline for CYP2D6 genotype and codeine therapy. Clin Chem. 2015;61:775–6. https://doi.org/10.1373/clinchem.2014.237412.

27.

Argoff CE, Silvershein DI. A comparison of long- and short-acting opioids for the treatment of chronic noncancer pain: tailoring therapy to meet patient needs. Mayo Clin Proc. 2009;84:602–12. https://doi.org/10.1016/S0025-6196(11)60749-0.

28.

Battaggia A, Lora Aprile P, Cricelli I, Fornasari D, Fanelli A, Cricelli C, et al. Paracetamol: a probably still safe drug. Ann Rheum Dis. 2016;75:e57. https://doi.org/10.1136/annrheumdis-2016-209713.

29.

Franceschi F, Iacomini P, Marsiliani D, Cordischi C, Forte E, Antonini S, et al. Safety and efficacy of the combination Acetaminophen-Codeine in the treatment of pain of different origin. Eur Rev Med Pharmacol Sci. 2013;17:2129–35.

30.

Vannacci A, Lombardi N, Simonetti M, Fornasari D, Fanelli A, Cricelli I, et al. Regular use of acetaminophen or acetaminophen–codeine combinations and prescription of rescue therapy with non-steroidal anti-inflammatory drugs: a population-based study in primary care. Curr Med Res Opin. 2017;33:1141–8. https://doi.org/10.1080/03007995.2017.1308920.

31.

Harned M, Sloan P. Safety concerns with long-term opioid use. Expert Opin Drug Saf. 2016;15:955–62. https://doi.org/10.1080/14740338.2016.1177509.

32.

Baldini A, Von Korff M, Lin EHB. A review of potential adverse effects of long-term opioid therapy: a practitioner's guide. prim care companion. CNS Disord 2012. https://doi.org/10.4088/pcc.11m01326.

33.

Banta-Green CJ, Merrill JO, Doyle SR, Boudreau DM, Calsyn DA. Opioid use behaviors, mental health and pain–development of a typology of chronic pain patients. Drug Alcohol Depend. 2009;104:34–42. https://doi.org/10.1016/j.drugalcdep.2009.03.021.

34.

Boscarino JA, Rukstalis M, Hoffman SN, Han JJ, Erlich PM, Gerhard GS, et al. Risk factors for drug dependence among out-patients on opioid therapy in a large US health-care system. Addiction. 2010;105:1776–82. https://doi.org/10.1111/j.1360-0443.2010.03052.x.

35.

Fleming MF, Balousek SL, Klessig CL, Mundt MP, Brown DD. Substance use disorders in a primary care sample receiving daily opioid therapy. J Pain. 2007;8:573–82. https://doi.org/10.1016/j.jpain.2007.02.432.

36.

Reid MC, Engles-Horton LL, Weber MB, Kerns RD, Rogers EL, O'Connor PG. Use of opioid medications for chronic noncancer pain syndromes in primary care. J Gen Intern Med. 2002;17:173–9.

37.

FDA. Release from postmarketing requirement n.d. https://www.fda.gov/downloads/Drugs/DrugSafety/InformationbyDrugClass/UCM484415.pdf. Accessed 12 Feb 2019.
Ethics declarations
Funding
This work was supported by the Italian College of General Practitioners and Primary Care, who played no role in the study design, execution, analysis or interpretation of data, writing of the paper, or decision to submit the paper for publication.
Conflicts of interest
Francesco Lapi provided consultancies in protocol preparation for epidemiological studies and data analyses for IBSA and Angelini. Claudio Cricelli provided clinical consultancies for IBSA, Angelini, Grunenthal, Alfa Wasserman, Pfizer, Prostrakan, Molteni, Dompè and Teva. Alberto Magni provided clinical consultancies for Bayer, Angelini, Doc and AlfaSigma. Niccolò Lombardi, Alfredo Vannacci, Alessandra Bettiol, Ettore Marconi, Serena Pecchioli, have no conflict of interest to disclose.
Ethical approval
With regard to the classification and implementation of observational drug-related research, as issued by the Italian National Drug Agency (an entity belonging to the Italian Ministry of Health), the present study does not require approval by an Ethics Committee in Italy (Italian Drug Agency note dated 3 August 2007).
Electronic supplementary material
Below is the link to the electronic supplementary material.
About this article
Cite this article
Lombardi, N., Vannacci, A., Bettiol, A. et al. Prescribing Trends of Codeine-containing Medications and Other Opioids in Primary Care After A Regulatory Decision: An Interrupted Time Series Analysis. Clin Drug Investig 39, 455–462 (2019). https://doi.org/10.1007/s40261-019-00767-8