Abstract
Background
To improve proton pump inhibitor effects, pharmacological modifications have been developed such as the use of enantiomer molecules (e.g., S-omeprazole, S-pantoprazole, or dexlansoprazole), or addition of NaHCO3 (for an immediate release) or magnesium (with a lower absorption for a more sustained effect).
Objective
The objective of this study was to assess the efficacy, safety, and tolerability of pantoprazole magnesium 40 mg once daily for 4 weeks, on the relief of reflux symptoms in gastroesophageal reflux disease (GERD) patients.
Methods
A phase IV, open-label, prospective, multicenter study was designed. Patients included were prescribed pantoprazole magnesium 40 mg orally once daily for 28 ± 2 days. All patients had a history of persistent or recurrent heartburn and/or acid regurgitation for at least 3 months. Effectiveness and tolerability data obtained from patients who completed a minimum of 4 weeks of pantoprazole magnesium treatment were considered for analysis.
Results
The account of baseline characteristics and demographics of GERD symptom intensity was made by analyzing the group of 4,343 patients that fulfilled all inclusion criteria; 54 % were females (n = 2,345) and 46 % (n = 1,998) males, with a mean age of 36.2 ± 7.5 years. Severity of symptoms, assessed by the physician using the 4-point Likert scale, reduced by at least 80 % from baseline intensity after treatment in the per protocol population. In the case of the intention-to-treat population, the improvement in symptom intensity was 73 %. The number of patients that experienced any adverse events was 175/5,027 (3.48 %).
Conclusions
Pantoprazole magnesium is a safe, effective, and well-tolerated drug that significantly improves GERD symptoms.
Access options
Buy single article
Instant access to the full article PDF.
US$ 49.95
Tax calculation will be finalised during checkout.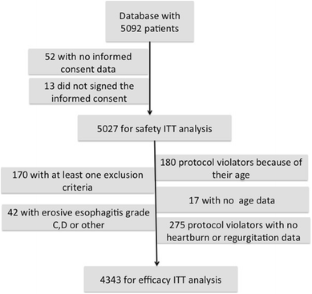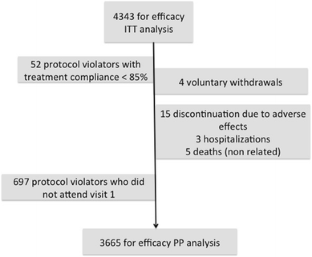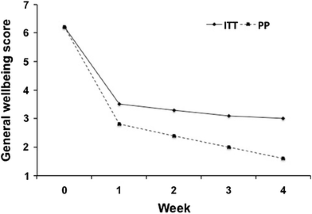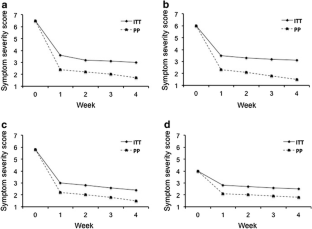 References
1.

DeVault KR, Castell DO. Updated guidelines for diagnosis and treatment of gastroesophageal reflux disease. Am J Gastroenterol. 2005;100:190–200.

2.

Lacy BD, Weiser K, Chertoff J, Fass R. The diagnosis of gastroesophageal reflux disease. Am J Med. 2010;123:583–92.

3.

Sachs G, Shin JM. The basis of differentiation of PPIs. Drugs Today. 2004;40(Suppl A):9–14.

4.

Bruley des Varannes S, Coron E, Galmiche JP. Short and long-term PPI treatment for GERD. Do we need more-potent anti-secretory drugs? Best Pract Res Clin Gastroenterol. 2010;24(6):905–21.

5.

Khan M, Santana J, Donnellan C, et al. Medical treatments in the short term management of reflux esophagitis. Cochrane Database Syst Rev. 2007;18(2):CD003244.

6.

Chiba N, De Gara CJ, Wilkinson JM, et al. Speed of healing and symptom relief in grade II to IV gastroesophageal reflux disease: a meta-analysis. Gastroenterology. 1997;112(6):1798–810.

7.

Regenbogen E, Helkin A, Georgopoulos R, Vasu T, Shroyer AL. Esophageal reflux disease proton pump inhibitor therapy impact on sleep disturbance: a systematic review. Otolaryngol Head Neck Surg. 2012;146(4):524–32.

8.

van Zanten SJ, Henderson C, Hughes N. Patient satisfaction with medication for gastroesophageal reflux disease: a systematic review. Can J Gastroenterol. 2012;26(4):196–204.

9.

Welage LS, Berardi RR. Evaluation of omeprazole, lansoprazole, pantoprazole, and rabeprazole in the treatment of acid-related diseases. J Am Pharm Assoc. 2000;40(1):52–62.

10.

Katz PO, Frissora C. The pharmacology and clinical relevance of proton pump inhibitors. Curr Gastroenterol Rep. 2002;4:459–62.

11.

Kushner PR, Peura DA. Review of proton pump inhibitors for the initial treatment of heartburn: is there a dose ceiling effect? Adv Ther. 2011;28(5):367–88.

12.

Olbe L, Carlsson E, Lindberg P. A proton-pump inhibitor expedition: the case histories of omeprazole and esomeprazole. Nat Rev Drug Discov. 2003;2(2):132–9.

13.

Friedlander EA, Pallentino J, Miller SK, VanBeuge SS. The evolution of proton pump inhibitors for the treatment of gastroesophageal reflux disease. J Am Acad Nurse Pract. 2010;22(12):674–83.

14.

Vakily M, Zhang W, Wu J, Atkinson SN, Mulford D. Pharmacokinetics and pharmacodynamics of a known active PPI with a novel Dual Delayed Release technology, dexlansoprazole MR: a combined analysis of randomized controlled clinical trials. Curr Med Res Opin. 2009;25(3):627–38.

15.

Pai VG, Pai NV, Thacker HP, Shinde JK, Mandora VP, Erram SS. Comparative clinical trial of S-pantoprazole versus racemic pantoprazole in the treatment of gastro-esophageal reflux disease. World J Gastroenterol. 2006;12(37):6017–20.

16.

Health Products and Food Branch. Summary Basis of Decision (SBD): PrPANTOLOC M™. Health Canada; 2006. http://www.hc-sc.gc.ca/dhp-mps/prodpharma/sbd-smd/drug-med/sbd_smd_2006_pantolocm_091462-eng.php. Accessed 20 Aug 2012.

17.

Hein J. Comparison of the efficacy and safety of pantoprazole magnesium and pantoprazole sodium in the treatment of gastro-oesophageal reflux disease: a randomized, double-blind, controlled, multicentre trial. Clin Drug Investig. 2011;31(9):655–64.

18.

Drepper MD, Spahr L, Frossard JL. Clopidogrel and proton pump inhibitors—where do we stand in 2012? World J Gastroenterol. 2012;18(18):2161–71.

19.

Ferreiro JL, Ueno M, Tomasello SD, et al. Pharmacodynamic evaluation of pantoprazole therapy on clopidogrel effects: results of a prospective, randomized, crossover study. Circ Cardiovasc Interv. 2011;4:273–9.

20.

Armstrong D, Monnikes H, Bardhan KD, Stanghellini V. The construction of a new evaluative GERD questionnaire—methods and state of the art. Digestion. 2004;70:71–8.

21.

Bardhan KD. Look—but also listen! ReQuest: a new dimension-oriented GERD symptom scale. Drugs Today (Barc). 2004;40(Suppl A):15–9.

22.

Directive 2001/20/S of the European Parliament and of the Council of 24 April 2001 on the approximation of the laws, regulation and administrative provisions of the member states relating to the implementation of the good clinical practice in the conduct of clinical trials on medicinal products for human use. Official Journal of the European Communities L/21/34 1.5.2001. http://www.eortc.be/services/doc/clinical-eu-directive-04-april-01.pdf. Accessed 12 Dec 2013.

23.

Bardhan KD, Stanghellini V, Armstrong D, Berghofer P, Gatz G, Monnikes H. Evaluation of GERD symptoms during therapy. Part I. Development of the new ERGE questionnaire ReQuest. Digestion. 2004;69:229–37.

24.

Kesselman HJ, Rogan JC, Mendoza JL, Breen LJ. Testing the validity conditions of repeated measures F tests. Psychol Bull. 1980;87:479–81.

25.

Fass R, Shapiro M, Dekel R, Sewell J. Systematic review: proton-pump inhibitor failure in gastro-oesophageal reflux disease—where next? Aliment Pharmacol Ther. 2005;22(2):79–94.

26.

Shin JM, Sachs G. Long lasting inhibitors of the gastric H,K-ATPase. Expert Rev Clin Pharmacol. 2009;2(5):461–8.

27.

Fass R. Therapeutic options for refractory gastroesophageal reflux disease. J Gastroenterol Hepatol. 2012;27(Suppl 3):3–7.

28.

Johnson DA, Katz PO. Nocturnal gastroesophageal reflux disease: issues, implications, and management strategies. Rev Gastroenterol Disord. 2008;8(2):98–108.

29.

Kaplan-Machlis B, Spiegler GE, Revicki DA. Health-related quality of life in primary care patients with gastroesophageal reflux disease. Ann Pharmacother. 1999;33(10):1032–6.

30.

Chen J, Yuan YC, Leontiadis GI, Howden CW. Recent safety concerns with proton pump inhibitors. J Clin Gastroenterol. 2012;46(2):93–114.

31.

Ito T, Jensen RT. Association of long-term proton pump inhibitor therapy with bone fractures and effects on absorption of calcium, vitamin B12, iron, and magnesium. Curr Gastroenterol Rep. 2010;12(6):448–57.

32.

Mistry SD, Trivedi HR, Parmar DM, Dalvi PS, Jiyo C. Impact of proton pump inhibitors on efficacy of clopidrogel: review of evidence. Indian J Pharmacol. 2011;43(2):183–6.

33.

Kwok CS, Loke YK. Effects of proton pump inhibitors on platelet function in patients receiving clopidrogel: a systematic review. Drug Saf. 2012;35(2):127–39.

34.

Katz PO, Gerson LB, Vela MF. Guidelines for the diagnosis and management of gastroesophageal reflux disease. Am J Gastroenterol. 2013;108(3):308–28.
Acknowledgments
The current study was sponsored by Nykomed, Mexico. Nykomed did not participate in the writing of this article or in the decision to submit the article for publication. José M. Remes-Troche has received consultancy honoraria from Takeda, Janssen, and AstraZeneca. Antonio Orozco-Gamiz has worked as a speaker for Takeda, GlaxoSmithKline, and Bristol-Myers Squibb. Julio César Soto-Pérez, Oscar Teramoto-Matsubara, Gualberto Mateos, Sergio Sobrino-Cossío, Miguel Morales-Arámbula, and José Luis Tamayo de la Cuesta have no conflicts of interest that are directly relevant to the content of this study.
About this article
Cite this article
Remes-Troche, J.M., Sobrino-Cossío, S., Soto-Pérez, J.C. et al. Efficacy, Safety, and Tolerability of Pantoprazole Magnesium in the Treatment of Reflux Symptoms in Patients with Gastroesophageal Reflux Disease (GERD): A Prospective, Multicenter, Post-Marketing Observational Study. Clin Drug Investig 34, 83–93 (2014). https://doi.org/10.1007/s40261-013-0135-4
Keywords
Omeprazole

Clostridium Difficile Infection

Pantoprazole

Rabeprazole

Reflux Symptom