Abstract
Background
Previous research indicates an uneven uptake of biologics in patients with moderate-to-severe psoriasis in Sweden. Therefore, it is essential to scrutinise variations in treatment patterns.
Objective
The aim of this study was to evaluate the extent to which the uptake of biologics for psoriasis differs between types of healthcare provider.
Methods
Three types of provider were identified within 52 units participating in the Swedish National Registry for Systemic Psoriasis Treatment (PsoReg): university hospitals, non-university hospitals and individual practices. Biologics-naïve patients (n = 3165) were included in analyses to investigate the probability of switch to biologics. The numbers of patients fulfilling the criteria for moderate-to-severe psoriasis [Psoriasis Area and Severity Index (PASI) ≥10 and Dermatology Life Quality Index (DLQI) ≥10] among patients who switched to biologics and patients who did not switch were reported. A logistic regression model was used to calculate how healthcare provider type influenced the probability of switch to biologics whilst adjusting for patient characteristics and disease severity.
Results
During registration, 16 % of patients switched to biologics while 84 % remained on conventional systemic treatment. In 7 % of patients, the criteria PASI ≥10 and DLQI ≥10 was fulfilled at their last visit without switching to biologics, whereas in 10 % of patients the criteria was not fulfilled prior to switch. After controlling for patient characteristics and disease severity, small or no difference in the probability of switch was observed between provider types.
Conclusions
Disease severity does not explain the decision to switch or not to switch to biologics for a disproportionate number of patients. There seems to be an uneven uptake of biologics in Swedish clinical practice, but the type of healthcare provider cannot explain this variation. More research is needed on what factors influence the prescription of biologics.
This is a preview of subscription content,
to check access.
Access this article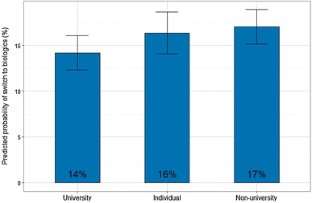 Similar content being viewed by others
References
Zachariae H, Zachariae R, Blomqvist K, Davidsson S, Molin L, Mork C, et al. Quality of life and prevalence of arthritis reported by 5,795 members of the Nordic Psoriasis Associations. Data from the Nordic Quality of Life Study. Acta Derm Venereol. 2002;82(2):108–13.

Kirby B, Richards HL, Woo P, Hindle E, Main CJ, Griffiths CEM. Physical and psychologic measures are necessary to assess overall psoriasis severity. J Am Acad Dermatol. 2001;45(1):72–6.

Sampogna F, Sera F, Abeni D. Measures of clinical severity, quality of life, and psychological distress in patients with psoriasis: a cluster analysis. J Investig Dermatol. 2004;122(3):602–7.

Barzi S, Befrits G, Bergman B, Bruchfeld J, Ettarp L, Flytström I, et al. Läkemedelsbehandling av psoriasis—Ny rekommendation. Information from The Medical Products Agency. 2011;22(4):11–24.

Nast A, Mrowietz U, Kragballe K, de Jong EM, Puig L, Reich K, et al. Barriers to the prescription of systemic therapies for moderate-to-severe psoriasis–a multinational cross-sectional study. Arch Dermatol Res. 2013;305(10):899–907.

Skinner J, Staiger D. Technology diffusion and productivity growth in health care: Working Paper 14865, http://www.nber.org/papers/w14865, National Bureau of Economic Research; 2009.

Skinner J, Staiger D. Technology adoption from hybrid corn to beta blockers: Working Paper 11251, http://www.nber.org/papers/w11251, National Bureau Of Economic Research; 2005.

Chandra ACD, Song ZH. Who ordered that? The economics of treatment choices in medical care. Handb Health Econ. 2012;2:397–431.

Cutler D SJ, Stern AD, Wennberg D. Physician beliefs and patient preferences: a new look at regional variation in health care spending. NBER Working Paper 2013; 2013.

Wennberg JE. Unwarranted variations in healthcare delivery: implications for academic medical centres. BMJ. 2002;325(7370):961–4.

Norlin JM, Steen Carlsson K, Persson U, Schmitt-Egenolf M. Switch to biological agent in psoriasis significantly improved clinical and patient-reported outcomes in real-world practice. Dermatology. 2012;225(4):326–32.

Norlin JM, Carlsson KS, Persson U, Schmitt-Egenolf M. Register-based evaluation of relative effectiveness of new therapies: biologics versus conventional agents in treatment of psoriasis in Sweden. BioDrugs. 2015;29(6):389–98.

Geale K, Henriksson M, Schmitt-Egenolf M. Evaluating equity in psoriasis healthcare: a cohort study of the impact of age on prescription biologics. Br J Dermatol. 2015. doi:10.1111/bjd.14331.

Schmitt-Egenolf M. PsoReg–the Swedish registry for systemic psoriasis treatment. The registry's design and objectives. Dermatology. 2007;214(2):112–7.

Schmitt-Egenolf M. Psoriasis therapy in real life: the need for registries. Dermatology. 2006;213(4):327–30.

Fredriksson T, Pettersson U. Severe psoriasis–oral therapy with a new retinoid. Dermatologica. 1978;157(4):238–44.

Finlay AY, Khan GK. Dermatology Life Quality Index (DLQI)–a simple practical measure for routine clinical use. Clin Exp Dermatol. 1994;19(3):210–6.

Hagg D, Eriksson M, Sundstrom A, Schmitt-Egenolf M. The higher proportion of men with psoriasis treated with biologics may be explained by more severe disease in men. PLoS One. 2013;8(5):e63619.

Hagg D, Sundstrom A, Eriksson M, Schmitt-Egenolf M. Decision for biological treatment in real life is more strongly associated with the Psoriasis Area and Severity Index (PASI) than with the Dermatology Life Quality Index (DLQI). J Eur Acad Dermatol Venereol. 2015;29(3):452–6.

Nestle FO, Kaplan DH, Barker J. Psoriasis. N Engl J Med. 2009;361(5):496–509.

Langley RG, Krueger GG, Griffiths CE. Psoriasis: epidemiology, clinical features, and quality of life. Ann Rheum Dis. 2005;64(Suppl 2):ii18–23 (discussion ii4–5).

Corallo AN, Croxford R, Goodman DC, Bryan EL, Srivastava D, Stukel TA. A systematic review of medical practice variation in OECD countries. Health Policy. 2014;114(1):5–14.

Gyulai R, Bagot M, Griffiths CE, Luger T, Naldi L, Paul C, et al. Current practice of methotrexate use for psoriasis: results of a worldwide survey among dermatologists. J Eur Acad Dermatol Venereol. 2015;29(2):224–31.

Carli C, Ehlin AG, Klareskog L, Lindblad S, Montgomery SM. Trends in disease modifying antirheumatic drug prescription in early rheumatoid arthritis are influenced more by hospital setting than patient or disease characteristics. Ann Rheum Dis. 2006;65(8):1102–5.

Zink A, Listing J, Ziemer S, Zeidler H, German Collaborative Arthritis Centres. Practice variation in the treatment of rheumatoid arthritis among German rheumatologists. J Rheumatol. 2001;28(10):2201–8.

Neovius M, Sundstrom A, Simard J, Wettermark B, Cars T, Feltelius N, et al. Small-area variations in sales of TNF inhibitors in Sweden between 2000 and 2009. Scand J Rheumatol. 2011;40(1):8–15.
Acknowledgments
The authors would like to thank all patients and healthcare professionals for using and advancing PsoReg.
Ethics declarations
Ethical approvals
Research was done in adherence to the Declaration of Helsinki; informed consent was obtained from all individual participants included in the study. Data and consent are collected electronically, to assure effective logistics in this nationwide project. The Umeå Ethical Review Board (Umeå, Sweden) approved the project and the procedure for patient consent.
Funding
PsoReg receives financial support from the Swedish Board of Health and Welfare, Swedish Association of Local Authorities and Regions and Västerbotten County Council. The research has received financial support from Abbvie, Janssen Cilag, Leo Pharma, Novartis and Pfizer. Sponsors had no access to data. None of the authors has any conflict of interest in connection to the article. The authors had full independence regarding data collection, manuscript preparation, decision to publish, study design, interpretation and analysis.
Conflicts of interest
P. S. Calara, J. M. Norlin, R. Althin, K. Steen Carlsson and M. Schmitt-Egenolf have no further conflicts of interest to declare.
Electronic supplementary material
Below is the link to the electronic supplementary material.
About this article
Cite this article
Calara, P.S., Norlin, J.M., Althin, R. et al. Healthcare Provider Type and Switch to Biologics in Psoriasis: Evidence from Real-World Practice. BioDrugs 30, 145–151 (2016). https://doi.org/10.1007/s40259-016-0163-8
Published:

Issue Date:

DOI: https://doi.org/10.1007/s40259-016-0163-8
Keywords