Abstract
Olaparib (Lynparza™) is a first-in-class, orally-active, small molecule, poly (ADP-ribose) polymerase inhibitor that induces synthetic lethality in homozygous BRCA-deficient cells. In the EU, the capsule formulation of olaparib is indicated as monotherapy for the maintenance treatment of adult patients with platinum-sensitive, relapsed, BRCA-mutated (germline and/or somatic), high-grade serous epithelial ovarian, fallopian tube, or primary peritoneal cancer who are in complete or partial response to platinum-based chemotherapy. This approval was based on the results of study 19, a randomized phase II trial in 265 patients with platinum-sensitive, relapsed, high-grade serous ovarian cancer (HGSOC) who had received two or more platinum-based regimens and who had a partial or complete response to their most recent platinum-based regimen. Study 19 met its primary endpoint by demonstrating a significant improvement in progression-free survival in patients receiving olaparib compared with those receiving placebo. Moreover, a preplanned retrospective analysis identified those patients with a BRCA mutation (who comprised one-half of the overall study population) as being the subgroup that derived the greatest clinical benefit from olaparib. Single-agent olaparib was generally well tolerated, with the majority of adverse events being of mild to moderate severity and not requiring interruption of treatment. Fatigue, anaemia and neutropenia were the most frequently reported severe (grade ≥3) adverse events. An as yet unapproved tablet formulation of olaparib that has a lower pill burden than the capsule formulation is currently being investigated in phase III clinical studies.
Access options
Buy single article
Instant access to the full article PDF.
USD 49.95
Price includes VAT (USA)
Tax calculation will be finalised during checkout.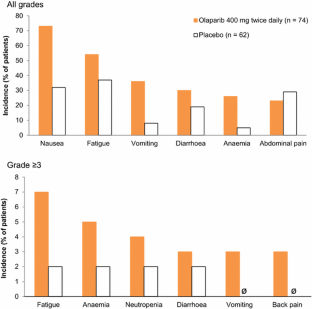 References
1.

Cancer Research UK. Cancer mortality for common cancers. 2011. http://www.cancerresearchuk.org. Accessed 11 Dec 2014.

2.

Siegel R, Naishadham D, Jemal A. Cancer statistics, 2013. CA Cancer J Clin. 2013;63:11–30.

3.

Raja FA, Chopra N, Ledermann JA. Optimal first-line treatment in ovarian cancer. Ann Oncol. 2012;23(Suppl 10):x118–27.

4.

European Medicines Agency. Lynparza. International non-proprietary name: Olaparib. European public assessment report. 2014. http://www.ema.europa.eu. Accessed 4 Mar 2015.

5.

Ledermann JA, Raja FA, Fotopoulou C, et al. Newly diagnosed and relapsed epithelial ovarian carcinoma: ESMO Clinical Practice Guidelines for diagnosis, treatment and follow-up. Ann Oncol. 2013;24(Suppl 6):vi24–32.

6.

Cancer Genome Atlas Research Network. Integrated genomic analyses of ovarian carcinoma. Nature. 2011;474:609–15.

7.

Wiedemeyer WR, Beach JA, Karlan BY. Reversing platinum resistance in high-grade serous ovarian carcinoma: targeting BRCA and the homologous recombination system. Front Oncol. 2014;4:34. doi:10.3389/fonc.2014.00034.

8.

Ledermann J, Harter P, Gourley C, et al. Olaparib maintenance therapy in patients with platinum-sensitive relapsed serous ovarian cancer: a preplanned retrospective analysis of outcomes by BRCA status in a randomised phase 2 trial. Lancet Oncol. 2014;15(8):852–61.

9.

Khalique S, Hook JM, Ledermann JA. Maintenance therapy in ovarian cancer. Curr Opin Oncol. 2014;26(5):521–8.

10.

Garcia A, Singh H. Bevacizumab and ovarian cancer. Ther Adv Med Oncol. 2013;5(2):133–41.

11.

Chen Y, Zhang L, Hao Q. Olaparib: a promising PARP inhibitor in ovarian cancer therapy. Arch Gynecol Obstet. 2013;288(2):367–74.

12.

Shaw HM, Hall M. Emerging treatment options for recurrent ovarian cancer: the potential role of olaparib. Onco Targets Ther. 2013;6:1197–206.

13.

Lheureux S, Oza AM. Olaparib for the treatment of ovarian cancer. Expert Opin Orphan Drugs. 2014;2(5):497–508.

14.

Basu B, Sandhu SK, de Bono JS. PARP inhibitors: mechanism of action and their potential role in the prevention and treatment of cancer. Drugs. 2012;72(12):1579–90.

15.

De Lorenzo SB, Patel AG, Hurley RM, et al. The elephant and the blind men: making sense of PARP inhibitors in homologous recombination deficient tumor cells. Front Oncol. 2013;3:228. doi:10.3389/fonc.2013.00228.

16.

Lee JM, Ledermann JA, Kohn EC. PARP inhibitors for BRCA1/2 mutation-associated and BRCA-like malignancies. Ann Oncol. 2014;25(1):32–40.

17.

Ashworth A. A synthetic lethal therapeutic approach: poly(ADP) ribose polymerase inhibitors for the treatment of cancers deficient in DNA double-strand break repair. J Clin Oncol. 2008;26(22):3785–90.

18.

Lord CJ, Ashworth A. Mechanisms of resistance to therapies targeting BRCA-mutant cancers. Nat Med. 2013;19:1381–8.

19.

Press JZ, De Luca A, Boyd N, et al. Ovarian carcinomas with genetic and epigenetic BRCA1 loss have distinct molecular abnormalities. BMC Cancer. 2008;8:17. doi:10.1186/1471-2407-8-17.

20.

Alsop K, Fereday S, Meldrum C, et al. BRCA mutation frequency and patterns of treatment response in BRCA mutation-positive women with ovarian cancer: a report from the Australian Ovarian Cancer Study Group. J Clin Oncol. 2012;30:2654–63.

21.

AstraZeneca AB. Lynparza 50 mg hard capsules: EU summary of product characteristics. 2015. http://www.ema.europa.eu. Accessed 11 Mar 2015.

22.

Sessa C. Update on PARP1 inhibitors in ovarian cancer. Ann Oncol. 2011;22(Suppl 8):viii72–6.

23.

Fong PC, Boss DS, Yap TA, et al. Inhibition of poly(ADP-ribose) polymerase in tumors from BRCA mutation carriers. N Engl J Med. 2009;361(2):123–34.

24.

Kortmann U, McAlpine JN, Xue H, et al. Tumor growth inhibition by olaparib in BRCA2 germline-mutated patient-derived ovarian cancer tissue xenografts. Clin Cancer Res. 2011;17(4):783–91.

25.

Choi YE, Battelli C, Watson J, et al. Sublethal concentrations of 17-AAG suppress homologous recombination DNA repair and enhance sensitivity to carboplatin and olaparib in HR proficient ovarian cancer cells. Oncotarget. 2014;5(9):2678–87.

26.

Konstantinopoulos PA, Wilson AJ, Saskowski J, et al. Suberoylanilide hydroxamic acid (SAHA) enhances olaparib activity by targeting homologous recombination DNA repair in ovarian cancer. Gynecol Oncol. 2014;133(3):599–606.

27.

Kaufman B, Shapira-Frommer R, Schmutzler RK, et al. Olaparib monotherapy in patients with advanced cancer and a germline BRCA1/2 mutation. J Clin Oncol. 2014;33(3):244–50.

28.

Audeh MW, Carmichael J, Penson RT, et al. Oral poly(ADP-ribose) polymerase inhibitor olaparib in patients with BRCA1 or BRCA2 mutations and recurrent ovarian cancer: a proof-of-concept trial. Lancet. 2010;376(9737):245–51.

29.

Kaye SB, Lubinski J, Matulonis U, et al. Phase II, open-label, randomized, multicenter study comparing the efficacy and safety of olaparib, a poly (ADP-ribose) polymerase inhibitor, and pegylated liposomal doxorubicin in patients with BRCA1 or BRCA2 mutations and recurrent ovarian cancer. J Clin Oncol. 2012;30(4):372–9.

30.

Gelmon KA, Tischkowitz M, Mackay H, et al. Olaparib in patients with recurrent high-grade serous or poorly differentiated ovarian carcinoma or triple-negative breast cancer: a phase 2, multicentre, open-label, non-randomised study. Lancet Oncol. 2011;12(9):852–61.

31.

Ledermann J, Harter P, Gourley C, et al. Olaparib maintenance therapy in platinum-sensitive relapsed ovarian cancer. N Engl J Med. 2012;366(15):1382–92.

32.

AstraZeneca Pharmaceuticals LP. Lynparza™ (olaparib) capsules, for oral use: US prescribing information. 2014. http://www.accessdata.fda.gov. Accessed 11 Mar 2015.

33.

Molife LR, Forster MD, Krebs M, et al. A phase I study to determine the comparative bioavailability of two different oral formulations of the PARP inhibitor, olaparib (AZD2281), in patients with advanced solid tumors (abstract no. 2599). J Clin Oncol. 2010;28(15 Suppl).

34.

Molife LR, Mateo J, McGoldrick T, et al. Safety and efficacy results from two randomized expansions of a phase I study of a tablet formulation of the PARP inhibitor, olaparib, in ovarian and breast cancer patients with BRCA1/2 mutations (abstract no. 3048). J Clin Oncol. 2012;30(Suppl).

35.

Mateo J, Friedlander M, Sessa C, et al. Administration of continuous/intermittent olaparib in ovarian cancer patients with a germline BRCA1/2 mutation to determine an optimal dosing schedule for the tablet formulation (abstract no. 801). Eur J Cancer. 2013;49:S161.

36.

Moore KN, Di Silvestro P, Lowe ES, et al. SOLO1 and SOLO2: randomized phase III trials of olaparib in patients (pts) with ovarian cancer and a BRCA1/2 mutation (BRCAm) (abstract no. TPS5616). J Clin Oncol. 2014;32(5 Suppl).
Disclosure
The preparation of this review was not supported by any external funding. During the peer review process, the manufacturer of the agent under review was offered an opportunity to comment on this article. Changes resulting from comments received were made by the author on the basis of scientific and editorial merit. James Frampton is a salaried employee of Adis/Springer.
Additional information
The manuscript was reviewed by: M. Hall, Department of Medical Oncology, Mount Vernon Cancer Centre, Northwood, UK; M. Markman, Cancer Treatment Centers of America, Philadelphia, Pennsylvania, USA.
About this article
Cite this article
Frampton, J.E. Olaparib: A Review of Its Use as Maintenance Therapy in Patients with Ovarian Cancer. BioDrugs 29, 143–150 (2015). https://doi.org/10.1007/s40259-015-0125-6
Keywords
BRCA Mutation

Base Excision Repair

Advanced Solid Tumour

Capsule Formulation

Synthetic Lethality