Abstract
Background and Objectives
The aim of this study was to increase the serum half-life of recombinant CD44 hyaluronan (HA) binding domain by PEGylation. We have previously found that recombinant soluble CD44 HA binding domain (CD44HABD) and its non-HA-binding triple mutant CD44HABDR41AY78SY79S (CD44-3MUT) inhibits angiogenesis and subcutaneous tumor growth. However, this ~12 kDa recombinant protein displays a high serum clearance rate.
Methods
Here, we report the purification of monomeric CD44-3MUT from urea solubilized inclusion bodies using weak anion exchange chromatography and gel filtration. To increase the serum residence time of CD44-3MUT we PEGylated the resulting protein using 20 kDa methoxy-PEG-propionaldehyde.
Results
PEGylation of CD44-3MUT prolonged its in vivo serum half-life about 70-fold from 0.03 to 1.8 hours. Along with extended plasma residence time, PEGylation also increased the systemic exposure. By cell impedance assay we confirmed that PEGylated CD44-3MUT maintained its in vitro function. The results from the impedance assay additionally demonstrate that the CD44-3MUT effect on endothelial cells is mediated by vimentin.
Conclusions
In summary, we have developed a purification protocol for large-scale production of CD44-3MUT and generated a PEGylated form of CD44-3MUT. HA binding domain of CD44(CD44HABD) and its modified non-HA binding form (CD44-3MUT) inhibit angiogenesis and tumor growth in vivo without disturbing HA-binding functions. CD44-3MUT has been PEGylated for use as a new type of anti-angiogenic human drug. PEGylation of CD44-3MUT improved pharmacokinetic properties but retains its functional activity.
Access options
Buy single article
Instant access to the full article PDF.
US$ 49.95
Tax calculation will be finalised during checkout.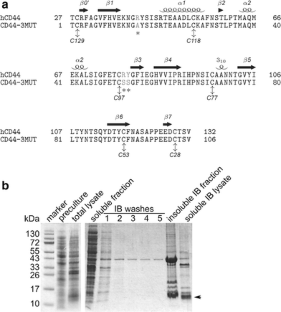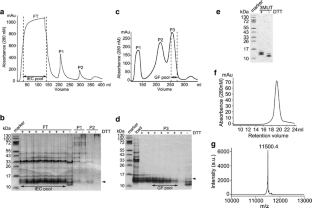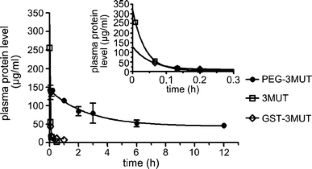 Abbreviations
AUC:

Area under curve

C0 :

Initial plasma protein concentration

CD44HABD:

CD44 hyaluronan binding domain

CD44-3MUT:

Non-hyaluronan binding mutant of CD44HABD–CD44HABDR41AR78SY79S

CL:

Total body clearance

CV:

Column volumes

FT:

Flow through fraction

GF:

Gel filtration chromatography

GST-CD44-3MUT:

CD44-3MUT GST-fusion protein

HA:

Hyaluronan

IB:

Inclusion bodies

ID:

Initial dose of injected protein

IEC:

Ion exchange chromatography

MLEC:

Mouse lung endothelial cells

MS:

Mass-spectrometric analysis

PEG:

Polyethylene glycol

T 1/2 :

Plasma half-life

%TBW:

Percent of total body weight

V d :

Volume of distribution
References
1.

Cichy J, Bals R, Potempa J, Mani A, Puré E. Proteinase-mediated release of epithelial cell-associated CD44. Extracellular CD44 complexes with components of cellular matrices. J Biol Chem. 2002;277:44440–7.

2.

Guo YJ, Liu G, Wang X, Jin D, Wu M, Ma J, Sy MS. Potential use of soluble CD44 in serum as indicator of tumor burden and metastasis in patients with gastric or colon cancer. Cancer Res. 1994;54:422–6.

3.

Katoh S, McCarthy JB, Kincade PW. Characterization of soluble CD44 in the circulation of mice. Levels are affected by immune activity and tumor growth. J Immunol. 1994;153:3440–9.

4.

Nakamura H, Suenaga N, Taniwaki K, Matsuki H, Yonezawa K, Fujii M, Okada Y, Seiki M. Constitutive and induced CD44 shedding by ADAM-like proteases and membrane-type 1 matrix metalloproteinase. Cancer Res. 2004;64:876–82.

5.

Ristämaki R, Joensuu H, Grön-Virta K, Salmi M, Jalkanen S. Origin and function of circulating CD44 in non-Hodgkin's lymphoma. J Immunol. 1997;158:3000–8.

6.

Okamoto I, Kawano Y, Tsuiki H, Sasaki J, Nakao M, Matsumoto M, Suga M, Ando M, Nakajima M, Saya H. CD44 cleavage induced by a membrane-associated metalloprotease plays a critical role in tumor cell migration. Oncogene. 1999;18:1435–46.

7.

Ahrens T, Sleeman JP, Schempp CM, Howells N, Hofmann M, Ponta H, Herrlich P, Simon JC. Soluble CD44 inhibits melanoma tumor growth by blocking cell surface CD44 binding to hyaluronic acid. Oncogene. 2001;20:3399–408.

8.

Päll T, Gad A, Kasak L, Drews M, Strömblad S, Kogerman P. Recombinant CD44-HABD is a novel and potent direct angiogenesis inhibitor enforcing endothelial cell-specific growth inhibition independently of hyaluronic acid binding. Oncogene. 2004;23:7874–81.

9.

Banerji S, Day AJ, Kahmann JD, Jackson DG. Characterization of a functional hyaluronan-binding domain from the human CD44 molecule expressed in Escherichia coli. Protein Expr Purif. 1998;14:371–81.

10.

Takeda M, Terasawa H, Sakakura M, Yamaguchi Y, Kajiwara M, Kawashima H, Miyasaka M, Shimada I. Hyaluronan recognition mode of CD44 revealed by cross-saturation and chemical shift perturbation experiments. J Biol Chem. 2003;278:43550–5.

11.

Pasut G, Veronese FM. State of the art in PEGylation: the great versatility achieved after forty years of research. J Control Release. 2012;161:461–72.

12.

Kontermann RE. Strategies for extended serum half-life of protein therapeutics. Curr Opin Biotechnol. 2011;22:868–76.

13.

Päll T, Pink A, Kasak L, Turkina M, Anderson W, Valkna A, Kogerman P. Soluble CD44 interacts with intermediate filament protein vimentin on endothelial cell surface. PLoS ONE. 2011;6:e29305.

14.

Studier FW. Protein production by auto-induction in high density shaking cultures. Protein Expr Purif. 2005;41:207–34.

15.

Carpenter AE, Jones TR, Lamprecht MR, Clarke C, Kang IH, Friman O, Guertin DA, Chang JH, Lindquist RA, Moffat J, Golland P, Sabatini DM. Cell Profiler: image analysis software for identifying and quantifying cell phenotypes. Genome Biol. 2006;7:R100.

16.

R Development Core Team. R: a language and environment for statistical computing. Vienna, Austria; 2012.

17.

Bajorath J, Greenfield B, Munro SB, Day AJ, Aruffo A. Identification of CD44 residues important for hyaluronan binding and delineation of the binding site. J Biol Chem. 1998;273:338–43.

18.

Cattelino A, Liebner S, Gallini R, Zanetti A, Balconi G, Corsi A, Bianco P, Wolburg H, Moore R, Oreda B, Kemler R, Dejana E. The conditional inactivation of the beta-catenin gene in endothelial cells causes a defective vascular pattern and increased vascular fragility. J Cell Biol. 2003;162:1111–22.

19.

Teriete P, Banerji S, Noble M, Blundell CD, Wright AJ, Pickford AR, Lowe E, Mahoney DJ, Tammi MI, Kahmann JD, Campbell ID, Day AJ, Jackson DG. Structure of the regulatory hyaluronan binding domain in the inflammatory leukocyte homing receptor CD44. Mol Cell. 2004;13:483–96.

20.

Banerji S, Wright AJ, Noble M, Mahoney DJ, Campbell ID, Day AJ, Jackson DG. Structures of the Cd44-hyaluronan complex provide insight into a fundamental carbohydrate-protein interaction. Nat Struct Mol Biol. 2007;14:234–9.

21.

Ouellette T, Destrau S, Ouellette T, Zhu J, Roach JM, Coffman JD, Hecht T, Lynch JE, Giardina SL. Production and purification of refolded recombinant human IL-7 from inclusion bodies. Protein Expr Purif. 2003;30:156–66.

22.

Pasut G, Veronese FM. PEGylation, successful approach to drug delivery. Drug Discov Today. 2005;10:1451–8.

23.

Bailon P, Palleroni A, Schaffer CA, Spence CL, Fung WJ, Porter JE, Ehrlich GK, Pan W, Xu ZX, Modi MW, Farid A, Berthold W, Graves M. Rational design of a potent, long-lasting form of interferon: a 40 kDa branched polyethylene glycol-conjugated interferon alpha-2a for the treatment of hepatitis C. Bioconjug Chem. 2001;12:195–202.
Acknowledgments and Disclosures
We are grateful to Anne Meikas for protein expression. This research was supported by the European Regional Development Fund via Enterprise Estonia grants (EU28138/EU28658, EU30013) to Competence Centre for Cancer Research and by Estonian Science Fund Grant 8116 to Priit Kogerman. The authors have no conflicts of interest that are directly relevant to the content of this article.
Electronic Supplementary Material
Below is the link to the electronic supplementary material.
About this article
Cite this article
Pink, A., Kallastu, A., Turkina, M. et al. Purification, Characterization and Plasma Half-Life of PEGylated Soluble Recombinant Non-HA-Binding CD44. BioDrugs 28, 393–402 (2014). https://doi.org/10.1007/s40259-014-0089-y
Keywords
Nonreducing Condition

Disulphide Bridge

Autoinduction Medium

Subcutaneous Tumor Growth

Recombinant CD44