Abstract
The transmembrane surface glycoprotein CD6 was one of the first antigens identified on T lymphocytes. The recognition of its involvement in T-cell signaling processes heralds the potential of CD6 as a target for therapy in a number of pathologies associated with imbalances in T-cell function. Its tissue distribution, cellular expression, and overall molecular structure are well described, and the interaction with its physiological ligand CD166 has been determined to the amino-acid level. Nevertheless, the involvement of CD6 in signaling pathways remains poorly characterized and its biological function is controversial; still unresolved are whether CD6 is a co-stimulatory molecule in T-cell activation or, similar to the related CD5 antigen, a modulator of intracellular signaling. Here we revisit the earliest attempts of modulating immune function using CD6 monoclonal antibodies, and review the current thinking behind the recent developments in immunotherapy targeting CD6. Notwithstanding the promises and hopes brought by monoclonals already in clinical trials, the fact is that very little is known about the mechanism of action of these reagents, whether they enhance the physiological role of the receptor or whether they may induce a completely novel biochemical response that might, nevertheless, be beneficially used to treat human immune pathology.
Access options
Buy single article
Instant access to the full article PDF.
USD 49.95
Price excludes VAT (USA)
Tax calculation will be finalised during checkout.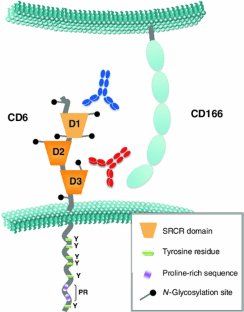 References
Kamoun M, Kadin ME, Martin PJ, Nettleton J, Hansen JA. A novel human T cell antigen preferentially expressed on mature T cells and shared by both well and poorly differentiated B cell leukemias and lymphomas. J Immunol. 1981;127(3):987–91.

Aruffo A, Melnick MB, Linsley PS, Seed B. The lymphocyte glycoprotein CD6 contains a repeated domain structure characteristic of a new family of cell surface and secreted proteins. J Exp Med. 1991;174(4):949–52.

Freeman M, Ashkenas J, Rees DJ, Kingsley DM, Copeland NG, Jenkins NA, et al. An ancient, highly conserved family of cysteine-rich protein domains revealed by cloning type I and type II murine macrophage scavenger receptors. Proc Natl Acad Sci USA. 1990;87(22):8810–4.

Tarakhovsky A, Kanner SB, Hombach J, Ledbetter JA, Müller W, Killeen N, et al. A role for CD5 in TCR-mediated signal transduction and thymocyte selection. Science. 1995;269(5223):535–7.

Azzam HS, DeJarnette JB, Huang K, Emmons R, Park CS, Sommers CL, et al. Fine tuning of TCR signaling by CD5. J Immunol. 2001;166(9):5464–72.

Axtell RC, Webb MS, Barnum SR, Raman C. Critical role for CD5 in experimental autoimmune encephalomyelitis: inhibition of engagement reverses disease in mice. J Immunol. 2004;173(5):2928–32.

Teh SJ, Killeen N, Tarakhovsky A, Littman DR, Teh HS. CD2 regulates the positive selection and function of antigen-specific CD4- CD8+ T cells. Blood. 1997;89(4):1308–18.

Ryan KR, McCue D, Anderton SM. Fas-mediated death and sensory adaptation limit the pathogenic potential of autoreactive T cells after strong antigenic stimulation. J Leukoc Biol. 2005;78(1):43–50.

Bastin JM, Granger S, Tidman N, Janossy G, McMichael AJ. Recognition of a human T-lymphocyte differentiation antigen by an IgM monoclonal antibody. Clin Exp Immunol. 1981;46(3):597–606.

Reinherz EL, Geha R, Rappeport JM, Wilson M, Penta AC, Hussey RE, et al. Reconstitution after transplantation with T-lymphocyte-depleted HLA haplotype-mismatched bone marrow for severe combined immunodeficiency. Proc Natl Acad Sci USA. 1982;79(19):6047–51.

Haynes BF, Heinly CS. Early human T cell development: analysis of the human thymus at the time of initial entry of hematopoietic stem cells into the fetal thymic microenvironment. J Exp Med. 1995;181(4):1445–58.

Singer NG, Fox DA, Haqqi TM, Beretta L, Endres JS, Prohaska S, et al. CD6: expression during development, apoptosis and selection of human and mouse thymocytes. Int Immunol. 2002;14(6):585–97.

Rasmussen RA, Counts SL, Daley JF, Schlossman SF. Isolation and characterization of CD6− T cells from peripheral blood. J Immunol. 1994;152(2):527–36.

Rasmussen RA, Counts SL, Lambert JM, Collinson AR. Blocked ricin-conjugated T cell immunotoxins: effect of anti-CD6-blocked ricin on normal T cell function. Cancer Immunol Immunother. 1992;35(5):355–63.

Endres N, Riethmueller G, Rieber EP. Functional characterization of a novel B-cell subset defined by the CD6 antigen. In: Knapp W, Dörken B, Gilks WR, Rieber EP, Schmidt RE, Stein H, et al., editors. Leukocyte typing IV: white cell differentiation antigens. Oxford: Oxford University Press;1989, p. 340.

Mayer B, Funke I, Seed B, Riethmüller G, Weiss E. Expression of the CD6 T lymphocyte differentiation antigen in normal human brain. J Neuroimmunol. 1990;29(1–3):193–202.

Swack JA, Mier JW, Romain PL, Hull SR, Rudd CE. Biosynthesis and post-translational modification of CD6, a T cell signal-transducing molecule. J Biol Chem. 1991;266(11):7137–43.

Swack JA, Gangemi RM, Rudd CE, Morimoto C, Schlossman SF, Romain PL. Structural characterization of CD6: properties of two distinct epitopes involved in T cell activation. Mol Immunol. 1989;26(11):1037–49.

Cardenas L, Carrera AC, Yague E, Pulido R, Sánchez-Madrid F, de Landázuri MO. Phosphorylation-dephosphorylation of the CD6 glycoprotein renders two isoforms of 130 and 105 kilodaltons: effect of serum and protein kinase C activators. J Immunol. 1990;145(5):1450–5.

Wee S, Schieven GL, Kirihara JM, Tsu TT, Ledbetter JA, Aruffo A. Tyrosine phosphorylation of CD6 by stimulation of CD3: augmentation by the CD4 and CD2 coreceptors. J Exp Med. 1993;177(1):219–23.

Gangemi RM, Swack JA, Gaviria DM, Romain PL. Anti-T12, an anti-CD6 monoclonal antibody, can activate human T lymphocytes. J Immunol. 1989;143(8):2439–47.

Tsuge I, Utsumi KR, Ueda R, Takamoto S, Takahashi T. Assignment of gene coding human T-cell differentiation antigen, Tp120, to chromosome 11. Somat Cell Mol Genet. 1985;11(3):217–22.

Robinson WH, Neuman de Vegvar HE, Prohaska SS, Rhee JW, Parnes JR. Human CD6 possesses a large, alternatively spliced cytoplasmic domain. Eur J Immunol. 1995;25(10):2765–9.

Bowen MA, Whitney GS, Neubauer M, Starling GC, Palmer D, Zhang J, et al. Structure and chromosomal location of the human CD6 gene: detection of five human CD6 isoforms. J Immunol. 1997;158(3):1149–56.

Castro MAA, Oliveira MI, Nunes RJ, Fabre S, Barbosa R, Peixoto A, et al. Extracellular isoforms of CD6 generated by alternative splicing regulate targeting of CD6 to the immunological synapse. J Immunol. 2007;178(7):4351–61.

Osorio LM, Garcia CA, Jondal M, Chow SC. The anti-CD6 mAb, IOR-T1, defined a new epitope on the human CD6 molecule that induces greater responsiveness in T cell receptor/CD3-mediated T cell proliferation. Cell Immunol. 1994;154(1):123–33.

Walker C, Bettens F, Pichler WJ. Activation of T cells by cross-linking an anti-CD3 antibody with a second anti-T cell antibody: mechanism and subset-specific activation. Eur J Immunol. 1987;17(6):873–80.

Bott CM, Doshi JB, Morimoto C, Romain PL, Fox DA. Activation of human T cells through CD6: functional effects of a novel anti-CD6 monoclonal antibody and definition of four epitopes of the CD6 glycoprotein. Int Immunol. 1993;5(7):783–92.

Singer NG, Richardson BC, Lialios F, Bott CM, Fox DA. Anti-CD6 mAb inhibit the antigen-specific and autoreactive responses of cloned human T lymphocytes. In: Schlossman SF, Boumsell L, Gilks W, Harlan JM, Kishimoto T, Morimoto C, et al., editors. Leukocyte typing V: white cell differentiation antigens. Oxford: Oxford University Press; 1995. p. 419–22.

Singer NG, Richardson BC, Powers D, Hooper F, Lialios F, Endres J, et al. Role of the CD6 glycoprotein in antigen-specific and autoreactive responses of cloned human T lymphocytes. Immunology. 1996;88(4):537–43.

Morimoto C, Rudd CE, Letvin NL, Hagan M, Schlossman SF. 2H1: a novel antigen involved in T lymphocyte triggering. J Immunol. 1988;140(7):2165–70.

Ceuppens JL, Baroja ML. Monoclonal antibodies to the CD5 antigen can provide the necessary second signal for activation of isolated resting T cells by solid-phase-bound OKT3. J Immunol. 1986;137(6):1816–21.

Imboden JB, June CH, McCutcheon MA, Ledbetter JA. Stimulation of CD5 enhances signal transduction by the T cell antigen receptor. J Clin Invest. 1990;85(1):130–4.

June CH, Rabinovitch PS, Ledbetter JA. CD5 antibodies increase intracellular ionized calcium concentration in T cells. J Immunol. 1987;138(9):2782–92.

Ledbetter JA, June CH, Grosmaire LS, Rabinovitch PS. Crosslinking of surface antigens causes mobilization of intracellular ionized calcium in T lymphocytes. Proc Natl Acad Sci USA. 1987;84(5):1384–8.

Ledbetter JA, Norris NA, Grossmann A, Grosmaire LS, June CH, Uckun FM, et al. Enhanced transmembrane signalling activity of monoclonal antibody heteroconjugates suggests molecular interactions between receptors on the T cell surface. Mol Immunol. 1989;26(2):137–45.

Alberola-Ila J, Places L, Cantrell DA, Vives J, Lozano F. Intracellular events involved in CD5-induced human T cell activation and proliferation. J Immunol. 1992;148(5):1287–93.

Spertini F, Stohl W, Ramesh N, Moody C, Geha RS. Induction of human T cell proliferation by a monoclonal antibody to CD5. J Immunol. 1991;146(1):47–52.

Bowen MA, Patel DD, Li X, Modrell B, Malacko AR, Wang WC, et al. Cloning, mapping, and characterization of activated leukocyte-cell adhesion molecule (ALCAM), a CD6 ligand. J Exp Med. 1995;181(6):2213–20.

Patel DD, Wee SF, Whichard LP, Bowen MA, Pesando JM, Aruffo A, et al. Identification and characterization of a 100-kD ligand for CD6 on human thymic epithelial cells. J Exp Med. 1995;181(4):1563–8.

Wee S, Wang WC, Farr AG, Nelson AJ, Patel DD, Haynes BF, et al. Characterization of a CD6 ligand(s) expressed on human- and murine-derived cell lines and murine lymphoid tissues. Cell Immunol. 1994;158(2):353–64.

Bowen MA, Bajorath J, Siadak AW, Modrell B, Malacko AR, Marquardt H, et al. The amino-terminal immunoglobulin-like domain of activated leukocyte cell adhesion molecule binds specifically to the membrane-proximal scavenger receptor cysteine-rich domain of CD6 with a 1:1 stoichiometry. J Biol Chem. 1996;271(29):17390–6.

Hassan NJ, Barclay AN, Brown MH. Optimal T cell activation requires the engagement of CD6 and CD166. Eur J Immunol. 2004;34(4):930–40.

Whitney GS, Starling GC, Bowen MA, Modrell B, Siadak AW, Aruffo A. The membrane-proximal scavenger receptor cysteine-rich domain of CD6 contains the activated leukocyte cell adhesion molecule binding site. J Biol Chem. 1995;270(31):18187–90.

Bodian DL, Skonier JE, Bowen MA, Neubauer M, Siadak AW, Aruffo A, et al. Identification of residues in CD6 which are critical for ligand binding. Biochemistry. 1997;36(9):2637–41.

Skonier JE, Bodian DL, Emswiler J, Bowen MA, Aruffo A, Bajorath J. Mutational analysis of the CD6 ligand binding domain. Protein Eng. 1997;10(8):943–7.

Gimferrer I, Farnós M, Calvo M, Mittelbrunn M, Enrich C, Sánchez-Madrid F, et al. The accessory molecules CD5 and CD6 associate on the membrane of lymphoid T cells. J Biol Chem. 2003;278(10):8564–71.

Hassan NJ, Simmonds SJ, Clarkson NG, Hanrahan S, Puklavec MJ, Bomb M, et al. CD6 regulates T-cell responses through activation-dependent recruitment of the positive regulator SLP-76. Mol Cell Biol. 2006;26(17):6727–38.

Gimferrer I, Calvo M, Mittelbrunn M, Farnós M, Sarrias MR, Enrich C, et al. Relevance of CD6-mediated interactions in T cell activation and proliferation. J Immunol. 2004;173(4):2262–70.

Zimmerman AW, Joosten B, Torensma R, Parnes JR, van Leeuwen FN, Figdor CG. Long-term engagement of CD6 and ALCAM is essential for T-cell proliferation induced by dendritic cells. Blood. 2006;107(8):3212–20.

Nair P, Melarkode R, Rajkumar D, Montero E. CD6 synergistic co-stimulation promoting proinflammatory response is modulated without interfering with the activated leucocyte cell adhesion molecule interaction. Clin Exp Immunol. 2010;162(1):116–30.

Oliveira MI, Gonçalves CM, Pinto M, Fabre S, Santos AM, Lee SF, et al. CD6 attenuates early and late signaling events, setting thresholds for T-cell activation. Eur J Immunol. 2012;42(1):195–205.

Wild MK, Cambiaggi A, Brown MH, Davies EA, Ohno H, Saito T, et al. Dependence of T cell antigen recognition on the dimensions of an accessory receptor–ligand complex. J Exp Med. 1999;190(1):31–42.

Kirchhausen T, Staunton DE, Springer TA. Location of the domains of ICAM-1 by immunolabeling and single-molecule electron microscopy. J Leukoc Biol. 1993;53(3):342–6.

Bowen MA, Bajorath J, D'Egidio M, Whitney GS, Palmer D, Kobarg J, et al. Characterization of mouse ALCAM (CD166): the CD6-binding domain is conserved in different homologs and mediates cross-species binding. Eur J Immunol. 1997;27(6):1469–78.

Singer NG, Mitra R, Lialios F, Richardson BC, Marks RM, Pesando JM, et al. CD6 dependent interactions of T cells and keratinocytes: functional evidence for a second CD6 ligand on gamma-interferon activated keratinocytes. Immunol Lett. 1997;58(1):9–14.

Joo YS, Singer NG, Endres JL, Sarkar S, Kinne RW, Marks RM, et al. Evidence for the expression of a second CD6 ligand by synovial fibroblasts. Arthritis Rheum. 2000;43(2):329–35.

Saifullah MK, Fox DA, Sarkar S, Abidi SM, Endres J, Piktel J, et al. Expression and characterization of a novel CD6 ligand in cells derived from joint and epithelial tissues. J Immunol. 2004;173(10):6125–33.

Castro MAA, Nunes RJ, Oliveira MI, Tavares PA, Simões C, Parnes JR, et al. OX52 is the rat homologue of CD6: evidence for an effector function in the regulation of CD5 phosphorylation. J Leukoc Biol. 2003;73(1):183–90.

Osorio LM, Rottenberg M, Jondal M, Chow SC. Simultaneous cross-linking of CD6 and CD28 induces cell proliferation in resting T cells. Immunology. 1998;93(3):358–65.

Walker C, Bettens F, Pichler WJ. T cell activation by cross-linking anti-CD3 antibodies with second anti-T cell antibodies: dual antibody cross-linking mimics physical monocyte interaction. Eur J Immunol. 1987;17(11):1611–8.

Zhang X, Chen Z, Huang H, Gordon JR, Xiang J. DNA microarray analysis of the gene expression profiles of naïve versus activated tumor-specific T cells. Life Sci. 2002;71(25):3005–17.

Burgess KE, Yamamoto M, Prasad KV, Rudd CE. CD5 acts as a tyrosine kinase substrate within a receptor complex comprising T-cell receptor zeta chain/CD3 and protein-tyrosine kinases p56lck and p59fyn. Proc Natl Acad Sci USA. 1992;89(19):9311–5.

Perez-Villar JJ, Whitney GS, Bowen MA, Hewgill DH, Aruffo AA, Kanner SB. CD5 negatively regulates the T-cell antigen receptor signal transduction pathway: involvement of SH2-containing phosphotyrosine phosphatase SHP-1. Mol Cell Biol. 1999;19(4):2903–12.

Carmo AM, Castro MAA, Arosa FA. CD2 and CD3 associate independently with CD5 and differentially regulate signaling through CD5 in Jurkat T cells. J Immunol. 1999;163(8):4238–45.

Bamberger M, Santos AM, Gonçalves CM, Oliveira MI, James JR, Moreira A, et al. A new pathway of CD5 glycoprotein-mediated T cell inhibition dependent on inhibitory phosphorylation of Fyn kinase. J Biol Chem. 2011;286(35):30324–36.

Castro MAA, Tavares PA, Almeida MS, Nunes RJ, Wright MD, Mason D, et al. CD2 physically associates with CD5 in rat T lymphocytes with the involvement of both extracellular and intracellular domains. Eur J Immunol. 2002;32(5):1509–18.

Carmo AM, Mason DW, Beyers AD. Physical association of the cytoplasmic domain of CD2 with the tyrosine kinases p56lck and p59fyn. Eur J Immunol. 1993;23(9):2196–201.

Nunes RJ, Castro MAA, Gonçalves CM, Bamberger M, Pereira CF, Bismuth G, et al. Protein interactions between CD2 and Lck are required for the lipid raft distribution of CD2. J Immunol. 2008;180(2):988–97.

Bell GM, Fargnoli J, Bolen JB, Kish L, Imboden JB. The SH3 domain of p56lck binds to proline-rich sequences in the cytoplasmic domain of CD2. J Exp Med. 1996;183(1):169–78.

Kobarg J, Whitney GS, Palmer D, Aruffo A, Bowen MA. Analysis of the tyrosine phosphorylation and calcium fluxing of human CD6 isoforms with different cytoplasmatic domains. Eur J Immunol. 1997;27(11):2971–80.

Ota K, Matsui M, Milford EL, Mackin GA, Weiner HL, Hafler DA. T-cell recognition of an immunodominant myelin basic protein epitope in multiple sclerosis. Nature. 1990;346(6280):183–7.

Schubert DA, Gordo S, Sabatino JJ, Vardhana S, Gagnon E, Sethi DK, et al. Self-reactive human CD4 T cell clones form unusual immunological synapses. J Exp Med. 2012;209(2):335–52.

De Jager PL, Jia X, Wang J, de Bakker PI, Ottoboni L, Aggarwal NT, et al. Meta-analysis of genome scans and replication identify CD6, IRF8 and TNFRSF1A as new multiple sclerosis susceptibility loci. Nat Genet. 2009;41(7):776–82.

The International Multiple Sclerosis Genetics Consortium. The genetic association of variants in CD6, TNFRSF1A and IRF8 to multiple sclerosis: a multicenter case-control study. PLoS One. 2011;2011(6):e18813.

Johnson BA, Wang J, Taylor EM, Caillier SJ, Herbert J, Khan OA, et al. Multiple sclerosis susceptibility alleles in African Americans. Genes Immun. 2010;11(4):343–50.

Swaminathan B, Matesanz F, Cavanillas ML, Alloza I, Otaegui D, Olascoaga J, et al. Validation of the CD6 and TNFRSF1A loci as risk factors for multiple sclerosis in Spain. J Neuroimmunol. 2010;223(1–2):100–3.

Heap GA, Yang JH, Downes K, Healy BC, Hunt KA, Bockett N, et al. Genome-wide analysis of allelic expression imbalance in human primary cells by high-throughput transcriptome resequencing. Hum Mol Genet. 2010;19(1):122–34.

Kofler DM, Severson CA, Mousissian N, De Jager PL, Hafler DA. The CD6 multiple sclerosis susceptibility allele is associated with alterations in CD4+ T cell proliferation. J Immunol. 2011;187(6):3286–91.

Kusaba M, Honda J, Fukuda T, Oizumi K. Analysis of type 1 and type 2 T cells in synovial fluid and peripheral blood of patients with rheumatoid arthritis. J Rheumatol. 1998;25(8):1466–71.

Simon AK, Seipelt E, Sieper J. Divergent T-cell cytokine patterns in inflammatory arthritis. Proc Natl Acad Sci USA. 1994;91(18):8562–6.

Alzabin S, Williams RO. Effector T cells in rheumatoid arthritis: lessons from animal models. FEBS Lett. 2011;585(23):3649–59.

Krintel SB, Essioux L, Wool A, Johansen JS, Schreiber E, Zekharya T, et al. CD6 and syntaxin binding protein 6 variants and response to tumor necrosis factor alpha inhibitors in Danish patients with rheumatoid arthritis. PLoS One. 2012;7(6):e38539.

Levesque MC, Heinly CS, Whichard LP, Patel DD. Cytokine-regulated expression of activated leukocyte cell adhesion molecule (CD166) on monocyte-lineage cells and in rheumatoid arthritis synovium. Arthritis Rheum. 1998;41(12):2221–9.

Ramos-Casals M, Font J, García-Carrasco M, Calvo J, Places L, Padilla O, et al. High circulating levels of soluble scavenger receptors (sCD5 and sCD6) in patients with primary Sjögren's syndrome. Rheumatology (Oxford). 2001;40(9):1056–9.

Dauphinée MJ, Tovar Z, Ballester A, Talal N. The expression and function of CD3 and CD5 in patients with primary Sjögren's syndrome. Arthritis Rheum. 1989;32(4):420–9.

Jamin C, Magadur G, Lamour A, Mackenzie L, Lydyard P, Katsikis P, et al. Cell-free CD5 in patients with rheumatic diseases. Immunol Lett. 1992;31(1):79–83.

Alonso R, Buors C, Le Dantec C, Hillion S, Pers JO, Saraux A, et al. Aberrant expression of CD6 on B-cell subsets from patients with Sjögren's syndrome. J Autoimmun. 2010;35(4):336–41.

Christodoulou MI, Kapsogeorgou EK, Moutsopoulos HM. Characteristics of the minor salivary gland infiltrates in Sjögren's syndrome. J Autoimmun. 2010;34(4):400–7.

Osorio LM, De Santiago A, Aguilar-Santelises M, Mellstedt H, Jondal M. CD6 ligation modulates the Bcl-2/Bax ratio and protects chronic lymphocytic leukemia B cells from apoptosis induced by anti-IgM. Blood. 1997;89(8):2833–41.

Sembries S, Pahl H, Stilgenbauer S, Döhner H, Schriever F. Reduced expression of adhesion molecules and cell signaling receptors by chronic lymphocytic leukemia cells with 11q deletion. Blood. 1999;93(2):624–31.

Soiffer RJ, Murray C, Mauch P, Anderson KC, Freedman AS, Rabinowe SN, et al. Prevention of graft-versus-host disease by selective depletion of CD6-positive T lymphocytes from donor bone marrow. J Clin Oncol. 1992;10(7):1191–200.

Soiffer RJ, Fairclough D, Robertson M, Alyea E, Anderson K, Freedman A, et al. CD6-depleted allogeneic bone marrow transplantation for acute leukemia in first complete remission. Blood. 1997;89(8):3039–47.

Kirkman RL, Araujo JL, Busch GJ, Carpenter CB, Milford EL, Reinherz EL, et al. Treatment of acute renal allograft rejection with monoclonal anti-T12 antibody. Transplantation. 1983;36(6):620–6.

Carpenter CB, Milford EL, Reinherz EL, Schlossman SF, Tilney NL, Strom TB, et al. Monoclonal anti-T12 antibody as therapy for renal allograft rejection. Trans Assoc Am Physicians. 1983;96:84–92.

Gordon PR, Leimig T, Mueller I, Babarin-Dorner A, Holladay MA, Houston J, et al. A large-scale method for T cell depletion: towards graft engineering of mobilized peripheral blood stem cells. Bone Marrow Transpl. 2002;30(2):69–74.

Handgretinger R, Klingebiel T, Lang P, Schumm M, Neu S, Geiselhart A, et al. Megadose transplantation of purified peripheral blood CD34(+) progenitor cells from HLA-mismatched parental donors in children. Bone Marrow Transpl. 2001;27(8):777–83.

Patel NC, Chinen J, Rosenblatt HM, Hanson IC, Brown BS, Paul ME, et al. Long-term outcomes of nonconditioned patients with severe combined immunodeficiency transplanted with HLA-identical or haploidentical bone marrow depleted of T cells with anti-CD6 mAb. J Allergy Clin Immunol. 2008;122(6):1185–93.

Ippoliti G, Fronterrè A. Usefulness of CD3 or CD6 anti-T monoclonal antibodies in the treatment of acute corneal graft rejection. Transplant Proc. 1989;21(1 Pt 3):3133–4.

Garcia CA, Faxas ME, Gavilondo J, Amador JF, Exposito G. Topical treatment of cutaneous T cell lymphoma skin lesion with the mouse anti-CD6 antibody iort1. Biotecnología Aplicada. 1990;7:176–81.

Montero E, Falcon L, Morera Y, Delgado J, Amador JF, Perez R. CD6 molecule may be important in the pathological mechanisms of lymphocytes adhesion to human skin in psoriasis and ior t1 MAb a possible new approach to treat this disease. Autoimmunity. 1999;29(2):155–6.

Mateo C, Lombardero J, Moreno E, Morales A, Bombino G, Coloma J, et al. Removal of amphipathic epitopes from genetically engineered antibodies: production of modified immunoglobulins with reduced immunogenicity. Hybridoma. 2000;19(6):463–71.

Alonso R, Huerta V, de Leon J, Piedra P, Puchades Y, Guirola O, et al. Towards the definition of a chimpanzee and human conserved CD6 domain 1 epitope recognized by T1 monoclonal antibody. Hybridoma (Larchmt). 2008;27(4):291–301.

Alonso-Ramirez R, Loisel S, Buors C, Pers JO, Montero E, Youinou P, et al. Rationale for targeting CD6 as a treatment for autoimmune diseases. Arthritis. 2010:130646. Epub 2011 Feb 10.

Reichert JM. Antibody-based therapeutics to watch in 2011. MAbs. 2011;3(1):76–99.

Montero E, Reyes G, Guibert M, Torres O, Rodriguez N, Estrada J, et al. Immunodiagnosis and therapeutic immunosuppression in rheumatoid arthritis with ior t1 (anti-CD6) monoclonal antibody [abstract]. 22nd European Workshop for Rheumatology Research Leiden, The Netherlands; 28 Feb–3 Mar 2002. Arthritis Res 2002;4 (Suppl. 1):114.

Beck A, Wurch T, Reichert JM. 6th Annual European Antibody Congress 2010: Nov 29–Dec 1, 2010, Geneva, Switzerland. MAbs. 2011;3(2):111–32.

Hafler DA, Fallis RJ, Dawson DM, Schlossman SF, Reinherz EL, Weiner HL. Immunologic responses of progressive multiple sclerosis patients treated with an anti-T-cell monoclonal antibody, anti-T12. Neurology. 1986;36(6):777–84.

Duarte J, Carrié N, Oliveira VG, Almeida C, Agua-Doce A, Rodrigues L, et al. T cell apoptosis and induction of foxp3+ regulatory T cells underlie the therapeutic efficacy of CD4 blockade in experimental autoimmune encephalomyelitis. J Immunol. 2012;189(4):1680–8.
Acknowledgements
We thank Simon Lee (IBMC) and Simon Davis (University of Oxford) for reviewing the manuscript. This work was supported by the European Regional Development Fund (FEDER) through Programa Operacional Factores de Competitividade – COMPETE, and by the Portuguese Government through FCT – Fundação para a Ciência e a Tecnologia, projects PTDC/SAU-MII/98041/2008 and PEst-C/SAU/LA0002/2011. M.P. is funded by Programa Ciência 2007 (FCT). The authors have no conflict of interest.
About this article
Cite this article
Pinto, M., Carmo, A.M. CD6 as a Therapeutic Target in Autoimmune Diseases: Successes and Challenges. BioDrugs 27, 191–202 (2013). https://doi.org/10.1007/s40259-013-0027-4
Published:

Issue Date:

DOI: https://doi.org/10.1007/s40259-013-0027-4
Keywords
Experimental Autoimmune Encephalomyelitis

Activate Leukocyte Cell Adhesion Molecule

Bone Marrow Graft

Immune Synapse

SRCR Domain