Abstract
Purpose
On 17 October 2018 recreational cannabis became legal in Canada, thereby increasing access and reducing the stigma associated with its use for pain management. This study assessed total opioid prescribing volumes and expenditures prior to and following cannabis legalization.
Methods
National monthly claims data for public and private payers were obtained from January 2016 to June 2019. The drugs evaluated consisted of morphine, codeine, fentanyl, hydrocodone, hydromorphone, meperidine, oxycodone, tramadol, and the non-opioids gabapentin and pregabalin. All opioid volumes were converted to a mean morphine equivalent dose (MED)/claim, which is analogous to a prescription from a physician. Gabapentin and pregabalin claims data were analyzed separately from the opioids. Time-series regression modelling was undertaken with dependent variables being mean MED/claim and total monthly spending. The slopes of the time-series curves were then compared pre- versus post-cannabis legalization.
Results
Over the 42-month period, the mean MED/claim declined within public plans (p < 0.001). However, the decline in MED/claim was 5.4 times greater in the period following legalization (22.3 mg/claim post vs. 4.1 mg/claim pre). Total monthly opioid spending was also reduced to a greater extent post legalization ($Can267,000 vs. $Can95,000 per month). The findings were similar for private drug plans; however, the absolute drop in opioid use was more pronounced (76.9 vs. 30.8 mg/claim). Over the 42-month period, gabapentin and pregabalin usage also declined.
Conclusions
Our findings support the hypothesis that easier access to cannabis for pain may reduce opioid use for both public and private drug plans.
Access options
Buy single article
Instant access to the full article PDF.
US$ 49.95
Tax calculation will be finalised during checkout.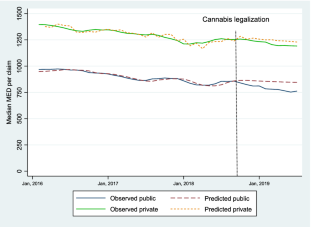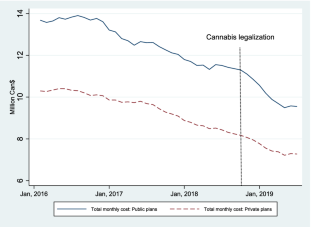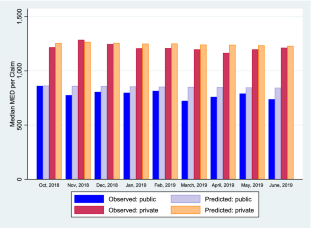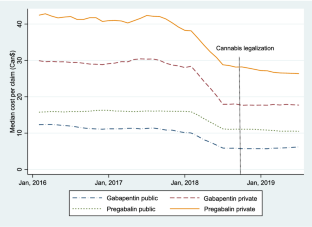 References
1.

National Report: Apparent Opioid-related Deaths in Canada, 2019. https://health-infobase.canada.ca/datalab/national-surveillance-opioid-mortality.html. Accessed 12 Dec 2019.

2.

Fischer B, Jones W, Urbanoski K, Skinner R, Rehm J. Correlations between prescription opioid analgesic dispensing levels and related mortality and morbidity in Ontario, Canada, 2005–2011. Drug Alcohol Rev. 2014;33:19–26.

3.

Fischer B, Jones W, Rehm J. High correlations between levels of consumption and mortality related to strong prescription opioid analgesics in British Columbia and Ontario, 2005–2009. Pharmacoepidemiol Drug Saf. 2013;22:438–42.

4.

Pan-Canadian Trends in the Prescribing of Opioids, 2012 to 2016. CIHI 2019. https://secure.cihi.ca/free_products/pan-canadian-trends-opioid-prescribing-2017-en-web.pdf. Accessed 12 Dec 2019.

5.

Fischer B, Pang M, Jones W. The opioid mortality epidemic in North America: do we understand the supply side dynamics of this unprecedented crisis? Subst Abuse Treat Prev Policy. 2020;15:14.

6.

Haroutounian S, Ratz Y, Ginosar Y, et al. The effect of medicinal cannabis on pain and quality-of-life outcomes in chronic pain: a prospective open-label study. Clin J Pain. 2016;32:1036–43.

7.

Cudmore J, Daeninck PJ. Use of medical cannabis reduces pain and improves quality of life in cancer patients. J Clin Oncol. 2015;33(suppl 29):198–198.

8.

Abuhasira R, Schleider LB, Mechoulam R, Novack V. Epidemiological characteristics, safety and efficacy of medical cannabis in the elderly. Eur J Intern Med. 2018;49:44–50.

9.

Vigil JM, Stith SS, Adams IM, Reeve AP. Associations between medical cannabis and prescription opioid use in chronic pain patients: a preliminary cohort study. PLoS One. 2017;12:e0187795.

10.

Bradford AC, Bradford WD. Medical marijuana laws reduce prescription medication use In Medicare Part D. Health Aff. 2016;35:1230–6.

11.

Accessing Cannabis for Medical Purposes, Government of Canada. https://www.canada.ca/en/health-canada/topics/cannabis-for-medical-purposes.html. Accessed 12 Dec 2020.

12.

Department of Justice, Government of Canada. Cannabis Legalization and Regulation, October 17, 2018. https://www.justice.gc.ca/eng/cj-jp/cannabis/. Accessed 12 Dec 2020.

13.

Bolatova T, Law MR. Income-related disparities in private prescription drug coverage in Canada. CMAJ Open. 2019;7:E618–23.

14.

Pereira J, Lawlor P, Vigano A, et al. Equianalgesic dose ratios for opioids. a critical review and proposals for long-term dosing. J Pain Symptom Manage. 2001;22:672–87.

15.

Goodman CW, Brett AS. A clinical overview of off-label use of gabapentinoid drugs. JAMA Intern Med. 2019;179:695–701.

16.

Becketti S. Introduction to time series using Stata. College Station: Stata Press; 2013.

17.

Bernal JL, Cummins S, Gasparrini A. Interrupted time series regression for the evaluation of public health interventions: a tutorial. Int J Epidemiol. 2017;46:348–55.

18.

Government of Canada: Responding to Canada's opioid crisis. https://www.canada.ca/en/health-canada/services/substance-use/problematic-prescription-drug-use/opioids/responding-canada-opioid-crisis.html. Accessed 27 Aug 2020.

19.

Canadian Medical Association: Opioids: https://www.cma.ca/opioids. Accessed 27 Aug 2020.

20.

Busse JW, Craigie S, Juurlink DN, et al. Guideline for opioid therapy and chronic noncancer pain. CMAJ. 2017;189:E659–66.

21.

Shupler MS, Kramer JK, Cragg JJ, et al. Pan-Canadian estimates of chronic pain prevalence from 2000 to 2014: a repeated cross-sectional survey analysis. J Pain. 2019;20:557–65.

22.

Reddon H, DeBeck K, Socias ME, et al. Cannabis use is associated with lower rates of initiation of injection drug use among street-involved youth: a longitudinal analysis. Drug Alcohol Rev. 2019;37:421–8.

23.

McMichael B, Van Horn R. The impact of cannabis access laws on opioid prescribing. J Health Econ. 2020. https://doi.org/10.1016/j.jhealeco.2019.102273.

24.

Carrera PM, Kantarjian HM, Blinder VS. The financial burden and distress of patients with cancer: understanding and stepping-up action on the financial toxicity of cancer treatment. CA Cancer J Clin. 2018;68:153–65.

25.

Corroon JM Jr, Mischley LK, Sexton M. Cannabis as a substitute for prescription drugs - a cross-sectional study. J Pain Res. 2017;10:989–98.

26.

Lucas P, Walsh Z, Crosby K, et al. Substituting cannabis for prescription drugs, alcohol and other substances among medical cannabis patients: the impact of contextual factors. Drug Alcohol Rev. 2016;35:326–33.

27.

Philpot LM, Ebbert JO, Hurt RT. A survey of the attitudes, beliefs, and knowledge about medical cannabis among primary care providers. BMC Fam Pract. 2019;20:17. https://doi.org/10.1186/s12875-019-0906-y.

28.

Thirlwell S, Mason TM, Davis D, Machowski TP. Integrating palliative care at the point of care: development of electronic interdisciplinary plans of care for oncology inpatients. J Hosp Palliat Nurs. 2018;20:129–36.

29.

Shi Y. Medical marijuana policies and hospitalizations related to marijuana and opioid pain reliever. Drug Alcohol Depend. 2017;173:144–50.

30.

Bachhuber MA, Saloner B, Cunningham CO, Barry CL. Medical cannabis laws and opioid analgesic overdose mortality in the United States, 1999–2010. JAMA Intern Med. 2014;174:1668–73.

31.

Caputi TL, Humphreys K. Medical marijuana users are more likely to use prescription drugs medically and nonmedically. J Addict Med. 2018;12:295–9.

32.

Degenhardt L, Lintzeris N, Campbell G, et al. Experience of adjunctive cannabis use for chronic non-cancer pain: findings from the Pain and Opioids IN Treatment (POINT) study. Drug Alcohol Depend. 2015;147:144–50.
Ethics declarations
Funding
This study was sponsored in part by Scientus Pharma Inc.
Conflicts of interest
LM and BPE are employees of Scientus Pharma Inc. All authors had full access to the data, participated in the design of the study, interpretation of the results, and preparation of the final manuscript. There are no other conflicts of interest to declare.
Ethics approval
Not applicable.
Consent to participate
Not applicable.
Consent for publication
All authors have provided their consent for publication.
Availability of data and material
All original data are available from the primary author upon request.
Code availability
Not applicable.
Authors' contributions
GD: Study design, data analysis, preparation of the manuscript. CD: Study design, contribution from a clinical perspective, revisions to the manuscript. BP: Study design, contribution from a clinical perspective, revisions to the manuscript. LM: Study design, data analysis, preparation of the manuscript. BPE: Study design, contribution from a clinical perspective, revisions to the manuscript.
About this article
Cite this article
Dranitsaris, G., DeAngelis, C., Pearson, B. et al. Opioid Prescribing in Canada following the Legalization of Cannabis: A Clinical and Economic Time-Series Analysis. Appl Health Econ Health Policy 19, 537–544 (2021). https://doi.org/10.1007/s40258-021-00638-4
Accepted:

Published:

Issue Date: