Abstract
Background
Community pharmacists' scope of practice has been evolving from a traditional dispensing role to providing patient-centered services. Given the constraints in healthcare budget and a need for efficient use of finite resources, decision makers may require convincing evidence of value to recommend these services for public funding. Several economic evaluations have aimed to demonstrate the value of services provided by community pharmacists.
Objective
The objective of this study was to systematically review the reporting and methodological quality of full economic evaluations of services provided by community pharmacists.
Methods
A literature search was conducted in the bibliographic databases MEDLINE, EMBASE, and the NHS Economic Evaluations Database since their inception to February 2019. Two independent reviewers performed title, abstract, full text screening, and data abstraction and assessed the quality of reporting and methodological approaches using the Consolidated Health Economic Evaluation Reporting Standards (CHEERS) and Quality of Health Economic Studies (QHES) checklists.
Results
Twenty full economic evaluations were included in the review. Most of these studies were conducted in the UK (40%), followed by the USA (35%), Canada (10%), the Netherlands (5%), Thailand (5%), and Australia (5%). The efficacy or effectiveness data were drawn from individual level or cluster randomized trials, or observational studies. About half of these studies (45%) adopted the perspective of the public healthcare system. Four studies used decision analytic modeling. We identified issues in these studies with selection of study population, efficacy or effectiveness data, time horizon, outcomes measured, measurement or resources used and cost estimation, analytical approaches, and handling of uncertainty with study parameters. The quality of reporting and methodological considerations was variable across these studies, with none of the studies adequately fulfilling all 24 items of CHEERS or 16 questions of QHES checklists.
Conclusions
Our findings suggest there are various issues related to the quality of conduct and reporting of economic evaluations of services provided by community pharmacists. Interpretation of these studies should be treated with caution to facilitate decision making in the local context. In an era of scarce resources and demand for evidence-informed decision making, there may be a need for guidance on methodological approaches to assess the value of these services.
Access options
Buy single article
Instant access to the full article PDF.
US$ 49.95
Tax calculation will be finalised during checkout.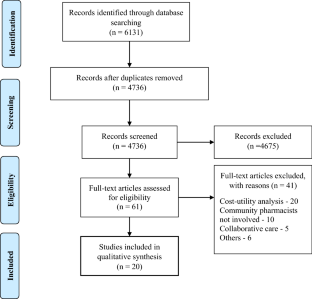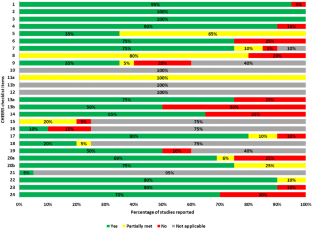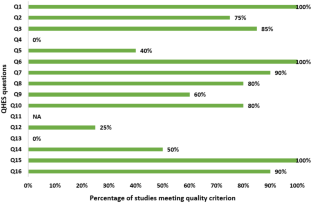 References
1.

Tsuyuki RT, Houle SKD, Okada H. Time to give up on expanded scope of practice. Can Pharm J. 2018. https://doi.org/10.1177/1715163518793844.

2.

Tannenbaum C, Tsuyuki RT. The expanding scope of pharmacists' practice: implications for physicians. CMAJ. 2013;185:1228–32. https://doi.org/10.1503/cmaj.121990.

3.

Dolovich L, Austin Z, Waite N, Chang F, Farrell B, Grindrod K, et al. Pharmacy in the 21st century: enhancing the impact of the profession of pharmacy on people's lives in the context of health care trends, evidence and policies. Can Pharm J (Ott). 2019;152:45–53. https://doi.org/10.1177/1715163518815717.

4.

Flowerdew L, Brown R, Russ S, Vincent C, Woloshynowych M. Teams under pressure in the emergency department: an interview study. Emerg Med J. 2012;29:e2. https://doi.org/10.1136/emermed-2011-200084.

5.

Drummond MF, Sculpher MJ, Claxton K, Stoddart GL, Torrance GW. Methods for the economic evaluation of health care programmes. 4th ed. New York: Oxford University Press; 2015.

6.

Sanyal C, Husereau D. Community-based services by pharmacists: a systematic review of cost-utility analyses. Value in Health. 2019. https://doi.org/10.1016/j.jval.2019.08.013.

7.

Moher D, Liberati A, Tetzlaff J, Altman DG. Preferred reporting items for systematic reviews and meta-analyses: the PRISMA statement. PLoS Med. 2009;6:e1000097. https://doi.org/10.1371/journal.pmed.1000097.

8.

Husereau D, Drummond M, Petrou S, Carswell C, Moher D, Greenberg D, et al. Consolidated health economic evaluation reporting standards (CHEERS) statement. BMC Med. 2013;11:80. https://doi.org/10.1186/1741-7015-11-80.

9.

Chiou C-F, Hay JW, Wallace JF, Bloom BS, Neumann PJ, Sullivan SD, et al. Development and validation of a grading system for the quality of cost-effectiveness studies. Med Care. 2003;41:32–44. https://doi.org/10.1097/01.MLR.0000039824.73620.E5.

10.

Walker DG, Wilson RF, Sharma R, Bridges J, Niessen L, Bass EB, et al. Best practices for conducting economic evaluations in health care: a systematic review of quality assessment tools. Rockville: Agency for Healthcare Research and Quality (US); 2012.

11.

Spiegel BMR, Targownik LE, Kanwal F, Derosa V, Dulai GS, Gralnek IM, et al. The quality of published health economic analyses in digestive diseases: a systematic review and quantitative appraisal. Gastroenterology. 2004;127:403–11.

12.

Avery AJ, Rodgers S, Cantrill JA, Armstrong S, Cresswell K, Eden M, et al. A pharmacist-led information technology intervention for medication errors (PINCER): a multicentre, cluster randomised, controlled trial and cost-effectiveness analysis. Lancet. 2012;379:1310–9. https://doi.org/10.1016/S0140-6736(11)61817-5.

13.

Bosmans JE, Brook OH, van Hout HP, de Bruijne MC, Nieuwenhuyse H, Bouter LM, et al. Cost effectiveness of a pharmacy-based coaching programme to improve adherence to antidepressants. Pharmacoeconomics. 2007;25:25–37.

14.

Csikar JI, Douglas GV, Pavitt S, Hulme C. The cost-effectiveness of smoking cessation services provided by general dental practice, general medical practice, pharmacy and NHS Stop Smoking Services in the North of England. Community Dent Oral Epidemiol. 2016;44:119–27. https://doi.org/10.1111/cdoe.12195.

15.

Elliott RA, Barber N, Clifford S, Horne R, Hartley E. The cost effectiveness of a telephone-based pharmacy advisory service to improve adherence to newly prescribed medicines. Pharm World Sci. 2008;30:17–23. https://doi.org/10.1007/s11096-007-9134-y.

16.

Hendrie D, Miller TR, Woodman RJ, Hoti K, Hughes J. Cost-effectiveness of reducing glycaemic episodes through community pharmacy management of patients with type 2 diabetes mellitus. J Prim Prev. 2014;35:439–49. https://doi.org/10.1007/s10935-014-0368-x.

17.

Shireman TI, Svarstad BL. Cost-effectiveness of Wisconsin TEAM model for improving adherence and hypertension control in black patients. J Am Pharm Assoc. 2003;2016(56):389–96. https://doi.org/10.1016/j.japh.2016.03.002.

18.

Simpson SH, Lier DA, Majumdar SR, Tsuyuki RT, Lewanczuk RZ, Spooner R, et al. Cost-effectiveness analysis of adding pharmacists to primary care teams to reduce cardiovascular risk in patients with Type 2 diabetes: results from a randomized controlled trial. Diabet Med. 2015;32:899–906. https://doi.org/10.1111/dme.12692.

19.

Sinclair HK, Silcock J, Bond CM, Lennox AS, Winfield AJ. The cost-effectiveness of intensive pharmaceutical intervention in assisting people to stop smoking. Int J Pharm Pract. 1999;7:107–12.

20.

Thavorn K, Chaiyakunapruk N. A cost-effectiveness analysis of a community pharmacist-based smoking cessation programme in Thailand. Tob Control. 2008;17:177–82. https://doi.org/10.1136/tc.2007.022368.

21.

Tran MT, Holdford DA, Kennedy DT, Small RE. Modeling the cost-effectiveness of a smoking-cessation program in a community pharmacy practice. Pharmacotherapy. 2002;22:1623–31.

22.

Akinbosoye OE, Taitel MS, Grana J, Hill J, Wade RL. Improving medication adherence and health care outcomes in a commercial population through a community pharmacy. Popul Health Manag. 2016;19:454–61.

23.

Crealey GE, McElnay JC, Maguire TA, O'Neill C. Costs and effects associated with a community pharmacy-based smoking-cessation programme. Pharmacoeconomics. 1998;14:323–33.

24.

Desborough JA, Sach T, Bhattacharya D, Holland RC, Wright DJ. A cost-consequences analysis of an adherence focused pharmacist-led medication review service. Int J Pharm Pract. 2012;20:41–9. https://doi.org/10.1111/j.2042-7174.2011.00161.x.

25.

Marciante KD, Gardner JS, Veenstra DL, Sullivan SD. Modeling the cost and outcomes of pharmacist-prescribed emergency contraception. Am J Public Health. 2001;91:1443–5.

26.

Munroe WP, Kunz K, Dalmady-Israel C, Potter L, Schonfeld WH. Economic evaluation of pharmacist involvement in disease management in a community pharmacy setting. Clin Ther. 1997;19:113–23.

27.

Rashed SM, Goldstein S, Tolley EA, Wilson-Relyea BJ. Cost outcomes of diabetes education in a specialized community pharmacy. Am J Pharm Benef. 2010;2:421–8.

28.

Rodriguez de Bittner M, Chirikov VV, Breunig IM, Zaghab RW, Shaya FT. Clinical effectiveness and cost savings in diabetes care, supported by pharmacist counselling. J Am Pharm Assoc (2003). 2017;57:102.e4–108.e4. https://doi.org/10.1016/j.japh.2016.08.010.

29.

Wright D, Twigg M, Thornley T. Chronic obstructive pulmonary disease case finding by community pharmacists: a potential cost-effective public health intervention. Int J Pharm Pract. 2015;23:83–5. https://doi.org/10.1111/ijpp.12161.

30.

Cote I, Gregoire JP, Moisan J, Chabot I, Lacroix G. A pharmacy-based health promotion programme in hypertension: cost-benefit analysis. Pharmacoeconomics. 2003;21:415–28.

31.

Scott A, Tinelli M, Bond C, Community Pharmacy Medicines Management Evaluation T. Costs of a community pharmacist-led medicines management service for patients with coronary heart disease in England: healthcare system and patient perspectives. Pharmacoeconomics. 2007;25:397–411.

32.

Moullin JC, Sabater-Hernandez D, Fernandez-Llimos F, Benrimoj SI. Defining professional pharmacy services in community pharmacy. Res Soc Adm Pharm. 2013;9:989–95. https://doi.org/10.1016/j.sapharm.2013.02.005.

33.

Hoffmann TC, Glasziou PP, Boutron I, Milne R, Perera R, Moher D, et al. Better reporting of interventions: template for intervention description and replication (TIDieR) checklist and guide. BMJ. 2014;348:g1687. https://doi.org/10.1136/bmj.g1687.

34.

Delgado-Rodriguez M, Llorca J. Bias. J Epidemiol Community Health. 2004;58:635–41. https://doi.org/10.1136/jech.2003.008466.

35.

Schneeweiss S, Avorn J. A review of uses of health care utilization databases for epidemiologic research on therapeutics. J Clin Epidemiol. 2005;58:323–37. https://doi.org/10.1016/j.jclinepi.2004.10.012.

36.

Higgins JPT, Altman DG, Gotzsche PC, Juni P, Moher D, Oxman AD, et al. The Cochrane Collaboration's tool for assessing risk of bias in randomised trials. BMJ. 2011;343:d5928. https://doi.org/10.1136/bmj.d5928.

37.

Ho AMH, Phelan R, Mizubuti GB, Murdoch JAC, Wickett S, Ho AK, et al. Bias in before–after studies: narrative overview for anesthesiologists. Anesth Analg. 2018;126:1755–62. https://doi.org/10.1213/ANE.0000000000002705.

38.

Morton V, Torgerson DJ. Effect of regression to the mean on decision making in health care. BMJ. 2003;326:1083–4. https://doi.org/10.1136/bmj.326.7398.1083.

39.

McCambridge J, Witton J, Elbourne DR. Systematic review of the Hawthorne effect: new concepts are needed to study research participation effects. J Clin Epidemiol. 2014;67:267–77. https://doi.org/10.1016/j.jclinepi.2013.08.015.

40.

Briggs A, Sculpher M, Claxton K. Decision modelling for health economic evaluation. Oxford: Oxford University Press; 2006.

41.

Morrison A, Polisena J, Husereau D, Moulton K, Clark M, Fiander M, et al. The effect of English-language restriction on systematic review-based meta-analyses: a systematic review of empirical studies. Int J Technol Assess Health Care. 2012;28:138–44. https://doi.org/10.1017/S0266462312000086.
Ethics declarations
Funding
The Canadian Pharmacists Association funded the writing of the manuscript.
Conflict of interest
Chiranjeev Sanyal is an employee of the Canadian Pharmacists Association. Don Husereau has received consultancy fees from the Canadian Pharmacists Association.
Ethical approval
This study did not involve participation of human subjects; therefore, ethical approval was not required.
Informed consent
Not required.
Data availability statement
Data sharing is not applicable to this article as no datasets were generated or analyzed during the current review.
Electronic supplementary material
Below is the link to the electronic supplementary material.
About this article
Cite this article
Sanyal, C., Husereau, D. Systematic Review of Economic Evaluations of Services Provided by Community Pharmacists. Appl Health Econ Health Policy 18, 375–392 (2020). https://doi.org/10.1007/s40258-019-00535-x