Abstract
The purpose of this paper is to briefly present a methodological framework that does not require cumbersome investigations for a first assessment of the financial sustainability of policies aiming to remove or reduce healthcare user fees (the so-called free healthcare policy [FHCP]). This paper is organized in two main sections. The first analyzes the various possibilities available to finance an FHCP. Using several scenarios, it includes a special focus devoted to the calculus of what to consider when assessing the sustainability of expanding fiscal space for financing the FHCP. The second section relies on the current FHCP being implemented in Burkina Faso to illustrate a selection of specific issues raised in the methodological framework. The results suggest that sustainable FHCP financing is not outside the range of the government but does represent a significant challenge, as it will require, both currently and in the future, complex and delicate budget trade-offs at the highest governmental levels, regardless of other policy options to be considered.
This is a preview of subscription content, log in to check access.
Access options
Buy single article
Instant access to the full article PDF.
US$ 49.95
Price includes VAT for USA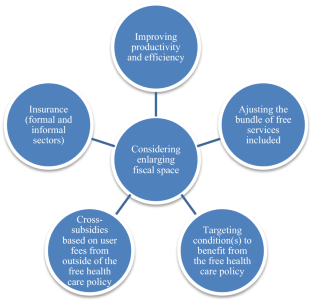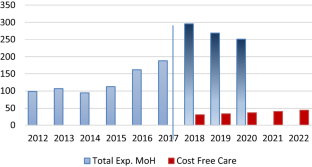 Notes
1.

How much will it cost? Where will the resources come from? What is the most appropriate scheme to make them available to stakeholders?

2.

Notably, the aid directly dedicated to health is a much higher proportion of health expenditures in some countries. For example, in 2015, it accounted for 80% in Mozambique, approximately 57% in the Central African Republic and Burundi, and 40–50% in Congo, Ethiopia, Eritrea, Guinea, Guinea Bissau, Malawi, and Tanzania [23]. In some countries, user fee policies are largely donor driven.

3.

For example, Ghana imposed an additional 2.5% value-added tax (VAT) that goes specifically to fund the National Health Insurance Scheme (NHIS) (it has expanded its fiscal space), but the government could have assigned it to another sector, such as education.

4.

We do not address here the numerous issues that potentially arise from increasing tax revenues, aid, or public spending on health, with or without an increase in total public spending. Examples include issues of tax distortions and optimal taxation, taxation and growth, the effects of crowding out the private sector or not, changes in the relative price structure, differentiated evolutions in sectoral productivity (Baumol effects), and the effects of increased aid on growth. These issues are essential in the problematic expanding of fiscal space. They are highly debated, are often context dependent, and cannot be reduced to a handful of simple conclusions. However, they must be carefully considered because they can generate "negative" effects that will more than offset the expected health benefits of an expansion of fiscal space.

5.

We assumed that there are no capital expenditures and no inflation (which does not alter the analysis).

6.

Channeled through the treasury, from an extra-budgetary account, or going directly to an implementing entity such as a health center or NGO.

7.

That is, currently $US686.

8.

Burkina Faso is one of the few countries in sub-Saharan Africa to have been approaching the so-called Abuja indicator for several years.

9.

First, for those aged < 5 years and pregnant women and, in 2010, for the entire population.

10.

Delays in providing the MoF and donors with the information required for aid disbursement; cumbersome procedures for verifying the information provided by health facilities; slowness in the process of making funds available to health facilities (a matter of public financial management).

11.

Presented at the workshop on free healthcare policy, Ouagadougou, 26 July 2017.

12.

Consolidated operations of the central government are from the IMF, 2017 [32].

13.

This would bring the share of PHE closer to the 15% Abuja "target." However, despite its popularity, one must be very careful in interpreting this indicator, which is not intended to provide information on the sustainability or unsustainability of such a level of spending.

14.

In nominal value; however, inflation will remain stable at 2%.

15.

Mainly debt service and the civil servants' wage bill.
References
1.

WHO (2010) World health report, Geneva.

2.

Akazili J, McIntyre D, Kanmiki EW, Gyapong J, Oduro A, Sankoh O, Ataguba JE. Assessing the catastrophic effects of out-of-pocket healthcare payments prior to the uptake of a nationwide health insurance scheme in Ghana. Glob Health Action. 2017;10(1):1289735.

3.

Khan J, Ahmed S, Evans TG. Catastrophic healthcare expenditure and poverty related to out-of-pocket payments for healthcare in Bangladesh—an estimation of financial risk protection of universal health coverage. Health Pol Plan. 2017;32(8):1102–10.

4.

Xu K, Evans DB, Kadama P, Nabyonga J, Ogwang Ogwal P, Nabukhonzo P, Aguilar AM. Understanding the impact of eliminating user fees: utilization and catastrophic health expenditures in Uganda. Soc Sci Med. 2006;62:866–76.

5.

Qin VM, Hone T, Millett C, et al. The impact of user charges on health outcomes in low-income and middle-income countries: a systematic review. BMJ Global Health. 2019;3:e001087.

6.

Wiysonge CS, Paulsen E, Lewin S, Ciapponi A, Herrera CA, Opiyo N, Pantoja T, Rada G, Oxman AD. Financial arrangements for health systems in low-income countries: an overviews of systematic reviews. Cochrane Data Base Syst Rev. 2017. https://doi.org/10.1002/14651858.CD011084.pub2.

7.

Lagarde M, Palmer N. The impact of user fees on health service utilization in low- and middle-income countries: how strong is the evidence? Bull World Health Organ. 2008;86:839–47.

8.

Nguyen HT, Zombré D, Ridde V, De Allegri M. The impact of reducing and eliminating user fees on facility-based delivery: a controlled interrupted time series in Burkina Faso. Health Pol Plan. 2018;33(8):948–56.

9.

Koné G, Audibert M, Lalou R, Lafarge H, Le Hesran J-Y. Subsidized antimalarial drugs in Dakar (Senegal): do the poor benefit? Études et Documents CERDI, ED 2017;11. halshs-01535112, version 1

10.

Mladovsky P, Ba M. Removing user fees for health services: a multi-epistemological perspective on access inequities in Senegal. Soc Sci Med. 2017;188:91–9.

11.

Pyone T, Smith H, van den Broek N. Implementation of the free maternity services policy and its implications for health system governance in Kenya. BMJ Glob Health. 2017. https://doi.org/10.1136/bmjgh-2016-000249.

12.

Witter S, et al. Cost and impact of policies to remove and reduce fees for obstetric care in Benin, Burkina Faso, Mali and Morocco. Int J Equity Health. 2016;15(1):123. https://doi.org/10.1186/s12939-016-0412-y.

13.

McKinnon B, Harper S, Kaufman JS. Who benefits from removing user fees for facility-based delivery services? Evidence of socioeconomic differences from Ghana, Senegal, and Sierra Leone. Soc Sci Med. 2015;2(135):117–23.

14.

Ridde V. From institutionalization of user fees to their abolition in West Africa: a story of pilot projects and public policies. BMC Health Serv Res. 2015;15(3):S6. https://doi.org/10.1186/1472-6963-15-S3-S6.

15.

Toure L. User fee exemption policies in Mali: sustainability jeopardized by the malfunctioning of the health system. BMC Health Serv Res. 2015;15(Suppl. 3):S8. https://doi.org/10.1186/1472-6963-15-S3-S8.

16.

Dzakpasu S, Powell-Jackson T, Campbell OM. Impact of user fees on maternal health service utilization and related health outcomes: a systematic review. Health Pol Plan. 2014;29(2):137–50. https://doi.org/10.1093/heapol/czs142 (Epub 2013 Jan 30).

17.

Ridde V, Robert E, Meessen B. A literature review of the disruptive effects of user fee exemption policies on health systems. BMC Public Health. 2012;12:289.10.

18.

Meessen B, Hercot D, Noirhomme M, Ridde V, Tibouti A, Tashobya C, et al. Removing user fees in the health sector: a review of policy processes in six sub-Saharan African countries. Health Pol Plan. 2011;26(2):ii16–29.

19.

Walugembe D, Sibbald S, Le Ber M, Kothari A. Sustainability of public health interventions: where are the gaps? Health Res Pol Syst. 2019;17:8.

20.

Moore JE, Mascarenhas A, Bain J, Straus SE. Developing a comprehensive definition of sustainability. Implement Sci. 2017;12(1):110. https://doi.org/10.1186/s13012-017-0637-1.

21.

Birch S, Murphy GT, MacKenzie A, Cumming J. In place of fear: aligning health care planning with system objectives to achieve financial sustainability. J Health Serv Res Pol. 2015;20(2):109–14. https://doi.org/10.1177/1355819614562053 (Epub 2014 Dec 11).

22.

Liaropoulos L, Goranitis I. Health care financing and the sustainability of health systems. Int J Equity Health. 2015;14:80. https://doi.org/10.1186/s12939-015-0208-5.

23.

WHO, Global expenditure data base. https://apps.who.int/nha/database

24.

WHO-GTZ, SimIns health financing policy tool. https://www.who.int/health_financing/tools/simins/en/

25.

Okungu V, Chuma J, McIntyre D. The cost of free health care for all Kenyans: assessing the financial sustainability of contributory and non-contributory financing mechanisms. Int J Equity Health. 2017;16:39. https://doi.org/10.1186/s12939-017-0535-.

26.

Heller P. Understanding the fiscal space, IMF Policy Discussion Paper, PDP 05/04. 2005.

27.

Mathonnat J, Petitfour L, Tapsoba Y. 2017. Espace budgétaire pour la santé—mesure, évolution, déterminants, Report for WHO and Agence Française de Développement, p 107.

28.

Mathonnat J, Audibert M. 2016. Fonds fiduciaires et programmes verticaux : quelles contributions aux politiques sectorielles? Revue de la littérature et exemple du secteur de la santé, Research Paper Serie 20, Agence Française de Développement, p 84.

29.

Barroy H, Sparkes S, Dale E, Mathonnat J. Can low-and-middle income countries increase domestic fiscal space for health: a mixed-methods approach to assess possible sources of expansion. Health Syst Reform. 2018;4(2):1–13.

30.

Reich MR, Harris J, Ikegami N, Maeda A, Cashin C, Araujo EC, Takemi K, Evans TG. Moving towards universal health coverage: lessons from 11 country studies. Lancet. 2016;387(10020):811–6.

31.

Shan L, Wu Q, Liu C, Li Y, Cui Y, Liang Z, Hao Y, Liang L, Ning N, Ding D, Pan Q, Han L. Perceived challenges to achieving universal health coverage: a cross-sectional survey of social health insurance managers/administrators in China. BMJ Open. 2017;7(5):e014425.

32.

IMF. 2017. Burkina Faso: Seventh Review Under the Extended Credit Facility Arrangement, Staff Report, Country Report No. 17/222, July 18.

33.

WHO Global Health Observatory. https://www.who.int/gho/en/

34.

Ministère de la Santé Publique. Stratégie nationale de gratuité des soins chez la femme enceinte, des accouchements, de la césarienne, et des autres SONU. Ougadougou, Burkina Faso: Mimeo; 2016 (unpublished documents).

35.

Ministère de la Santé Publique. Stratégie nationale d'exemption de paiement des soins curatifs pour les enfants de moins de 5 ans. Ougadougou, Burkina Faso: Mimeo; 2016 (unpublished documents).

36.

Ministère de la Santé Publique. Stratégie nationale de gratuité du dépistage et de destruction des lésions précancéreuses du col de l'utérus et de l'examen clinique du sein. Ougadougou, Burkina Faso: Mimeo; 2016 (unpublished documents).

37.

Ministère de la Santé Publique. Manuel d'éxécution des stratégies de gratuité au Burkina Faso. Ougadougou, Burkina Faso: Mimeo; 2016 (unpublished documents).

38.

Ministère de la Santé publique. Politique nationale des mesures de gratuité des soins – Stratégie de mise en oeuvre 2018–2022. Ougadougou, Burkina Faso: Mimeo; 2017 (unpublished documents).
Acknowledgements
This article is based on a research report that was prepared and funded by the Health Care Financing in Sub-Saharan African Collaborative Research Program of the African Economic Research Consortium (AERC; http://www.aercafrica.org) with the support of the FERDI (Fondation pour les Etudes et Recherches sur le Développement International). The authors thank two anonymous referees and the participants of the AERC's Final Review Workshop (31 May–1 June 2018) and two anonymous referees from this journal for their comments and suggestions. However, the authors are solely responsible for the analyses presented in this article.
Ethics declarations
Conflict of interest
Jacky Mathonnat, Martine Audibert, and Salam Belem have no conflicts of interest that are directly relevant to the content of this review/study.
Electronic supplementary material
Below is the link to the electronic supplementary material.
About this article
Cite this article
Mathonnat, J., Audibert, M. & Belem, S. Analyzing the Financial Sustainability of User Fee Removal Policies: A Rapid First Assessment Methodology with a Practical Application for Burkina Faso. Appl Health Econ Health Policy (2019). https://doi.org/10.1007/s40258-019-00506-2