Abstract
Introduction
Glycated hemoglobin (A1C) is considered a "gold standard" measure of glycemic control in patients with diabetes and is correlated with a lower risk of diabetes complications and cost savings. This retrospective claims-analysis assessed the impact of A1C reduction on healthcare costs in patients with uncontrolled Type 1 and Type 2 diabetes.
Methods
Using a large repository of US health plan administrative data linked to A1C values, patients with a diabetes diagnosis and at least two A1C values between 1 January 2009 and 31 December 2014 were selected to identify changes in A1C and associated changes in healthcare expenditure. We used all medical and pharmacy claims to calculate direct healthcare costs from 1 year prior to the index A1C to 2 years after the index A1C. A propensity score method was used to match patients with decreased A1C to patients whose A1C did not decrease, based on potentially confounding variables. Then, a generalized linear model regression was used to estimate the difference-in-difference (DD) effect on costs between the two groups.
Results
Of the 3,197 patients who had a first A1C ≥ 9%, 2,273 patients (71%) had a decrease in A1C (Decreasers) and 924 patients (27%) had an increase in A1C (Non-decreasers). After matching, we compared 912 Decreasers to 912 Non-decreasers. Patients in the former group had average annual healthcare costs that were 24% lower during the first year of follow-up and 17% lower during the second year of follow-up, compared to patients whose A1C did not decrease. This reflected a savings of US$2503 and US$1690, respectively. For both time periods, the outpatient category was the largest contributor to cost savings.
Discussion
In our analysis, A1C reduction among patients with T1DM and T2DM was associated with slower growth in healthcare costs within 1–2 years. These findings suggest that programs aimed at reducing A1C over a short timeframe may lead to substantial savings and may be worth pursuing by health plans and other payers.
Access options
Buy single article
Instant access to the full article PDF.
US$ 49.95
Tax calculation will be finalised during checkout.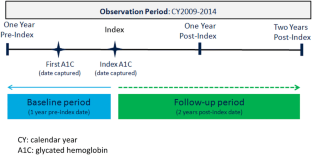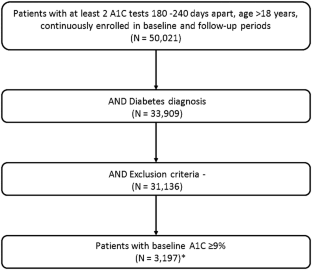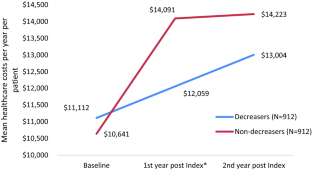 References
1.

Centers for Disease Control and Prevention. National Diabetes Statistics Report. 2017. Atlanta, GA: Centers for Disease Control and Prevention, US Dept of Health and Human Services, 2017.

2.

American Diabetes Association. Economic costs of diabetes in the US in 2012. Diabetes Care. 2013;36(4):1033–46.

3.

Boyle JP, Thompson TJ, Gregg EW, Barker LE, Williamson DF. Projection of the year 2050 burden of diabetes in the US adult population: dynamic modeling of incidence, mortality, and prediabetes prevalence. Popul Health Metr. 2010;8:29-7954-8-29.

4.

American Diabetes Association. Standards of medical care in diabetes-2017 abridged for primary care providers. Clin Diabetes. 2017;35(1):5–26.

5.

Diabetes Control and Complications Trial Research Group, Nathan DM, Genuth S, Lachin J, Cleary P, Crofford O, et al. The effect of intensive treatment of diabetes on the development and progression of long-term complications in insulin-dependent diabetes mellitus. N Engl J Med. 1993 Sep 30;329(14):977–86.

6.

Herman WH, Eastman RC. The effects of treatment on the direct costs of diabetes. Diabetes Care. 1998 Dec;21(Suppl 3):C19–24.

7.

American Diabetes Association. 6. Glycemic Targets. Diabetes Care. 2017;40(Suppl 1):S48–56.

8.

Disease Management Performance Measures. 2017. http://www.ncqa.org/programs/accreditation/disease-management-dm/dm-performance-measures. Accessed 1 Nov 2017.

9.

Comprehensive Diabetes Care. 2017. http://www.ncqa.org/report-cards/health-plans/state-of-health-care-quality/2016-table-of-contents/diabetes-care. Accessed 17 Nov 2017.

10.

Eastman RC, Javitt JC, Herman WH, Dasbach EJ, Zbrozek AS, Dong F, et al. Model of complications of NIDDM. I. Model construction and assumptions. Diabetes Care. 1997;20(5):725–34.

11.

Eastman RC, Javitt JC, Herman WH, Dasbach EJ, Copley-Merriman C, Maier W, et al. Model of complications of NIDDM. II. Analysis of the health benefits and cost-effectiveness of treating NIDDM with the goal of normoglycemia. Diabetes Care. 1997 May;20(5):735–44.

12.

Wagner EH, Sandhu N, Newton KM, McCulloch DK, Ramsey SD, Grothaus LC. Effect of improved glycemic control on health care costs and utilization. JAMA. 2001;285(2):182–9.

13.

Gilmer TP, O'Connor PJ, Rush WA, Crain AL, Whitebird RR, Hanson AM, et al. Predictors of health care costs in adults with diabetes. Diabetes Care. 2005;28(1):59–64.

14.

Shetty S, Secnik K, Oglesby AK. Relationship of glycemic control to total diabetes-related costs for managed care health plan members with type 2 diabetes. J Manag Care Pharm. 2005;11(7):559–64.

15.

Menzin J, Korn JR, Cohen J, Lobo F, Zhang B, Friedman M, et al. Relationship between glycemic control and diabetes-related hospital costs in patients with type 1 or type 2 diabetes mellitus. J Manag Care Pharm. 2010;16(4):264–75.

16.

Juarez D, Goo R, Tokumaru S, Sentell T, Davis J, Mau M. Association between sustained glycated hemoglobin control and healthcare costs. Am J Pharm Benefits. 2013;5(2):59–64.

17.

Degli Esposti L, Saragoni S, Buda S, Sturani A, Degli Esposti E. Glycemic control and diabetes-related health care costs in type 2 diabetes; retrospective analysis based on clinical and administrative databases. Clinicoecon Outcomes Res. 2013 May;14(5):193–201.

18.

Oglesby AK, Secnik K, Barron J, Al-Zakwani I, Lage MJ. The association between diabetes related medical costs and glycemic control: a retrospective analysis. Cost Eff Resour Alloc. 2006;4:1-7547-4-1.

19.

Menzin J, Langley-Hawthorne C, Friedman M, Boulanger L, Cavanaugh R. Potential short-term economic benefits of improved glycemic control: a managed care perspective. Diabetes Care. 2001;24(1):51–5.

20.

Charlson ME, Pompei P, Ales KL, MacKenzie CR. A new method of classifying prognostic comorbidity in longitudinal studies: development and validation. J Chronic Dis. 1987;40(5):373–83.

21.

Clinformatics Data Mart. 2018. https://www.optum.com/content/dam/optum/resources/productSheets/Clinformatics_for_Data_Mart.pdf. Accessed 30 Apr 2018.

22.

Young BA, Lin E, Von Korff M, Simon G, Ciechanowski P, Ludman EJ, et al. Diabetes complications severity index and risk of mortality, hospitalization, and healthcare utilization. Am J Manag Care. 2008;14(1):15–23.

23.

Testa MA, Simonson DC. Health economic benefits and quality of life during improved glycemic control in patients with type 2 diabetes mellitus: a randomized, controlled, double-blind trial. JAMA. 1998;280(17):1490–6.

24.

Schwartz DS, Dick DE, McMahon C, Cohen DO, Knoulton J, Arunachalam S. Novel medtronic turning point program improves compliance and HBA1C in at-risk patients with type 1 or type 2 diabetes. Diabetes Technol Ther. 2017;19(S1):A59.
Acknowledgements
The authors thank Keren Price, MS, RD, for her assistance with writing this manuscript, and Toni Cordero, PhD, for her assistance with manuscript review.
Ethics declarations
Data availability statement
According to our contract with OptumInsight, we are not permitted to share data from the Optum Clinformatics® Data Mart database outside of our organization. We have provided details of the model in an Appendix (see Online Supplementary Material).
Ethical standards
All authors (Megha Bansal, Mona Shah, Brian Reilly, Susan Willman, Max Gill, and Francine R. Kaufman) are employees of Medtronic. Medtronic has an interest in this paper because it illustrates the impact of decreasing versus increasing A1C on short-term costs in patients with uncontrolled diabetes.
Funding
No financial assistance was used to conduct this study or prepare this manuscript.
Electronic supplementary material
Below is the link to the electronic supplementary material.
About this article
Cite this article
Bansal, M., Shah, M., Reilly, B. et al. Impact of Reducing Glycated Hemoglobin on Healthcare Costs Among a Population with Uncontrolled Diabetes. Appl Health Econ Health Policy 16, 675–684 (2018). https://doi.org/10.1007/s40258-018-0398-2