Abstract
Background and Objective
The economic burden of providing maintenance dialysis to those with end-stage kidney disease continues to increase. Home dialysis, including both haemodialysis and peritoneal dialysis, is commonly assumed to be more cost effective than facility dialysis, with some countries adopting a home-first policy in an attempt to reduce costs. However, the cost effectiveness of this approach is uncertain. The aim of this study is to review all published cost-effectiveness analyses comparing all alternative dialysis modalities for people with end-stage kidney disease.
Methods
We conducted a systematic review of MEDLINE, the National Health Service Economic Evaluation Database, and Health Technology Assessment Database from the Centre of Reviews and Dissemination, The Cochrane Library and Econlit from January 2000 to December 2017. Published economic evaluations were included if they provided comparative information on the costs and health outcomes of alternative dialysis modalities.
Results
The review identified 16 economic evaluations comparing dialysis modalities from both high- and low-income countries. The majority (69%) were undertaken solely from the perspective of the payer or service provider, 14 (88%) included a cost-utility analysis and eight (50%) were modelled evaluations. The studies addressed costs and health outcomes of multiple dialysis modalities, with many reporting average cost effectiveness rather than incremental cost effectiveness. Almost all evaluations suggest home dialysis to be less costly and to offer comparable or better health outcomes than in-centre haemodialysis. However, the quality-of-life benefit for each modality was poorly defined and inconsistent in terms of magnitude and direction of differences between modalities and across studies. Other issues include exclusion of competing modalities and use of arbitrary assumptions with regard to the mix of modalities.
Conclusions
The ability to identify the mix of dialysis modalities that provides best outcomes for patients and health budgets is uncertain particularly given the lack of societal perspectives and inconsistencies between published studies.
This is a preview of subscription content, log in to check access.
Access options
Buy single article
Instant access to the full article PDF.
US$ 49.95
Price includes VAT for USA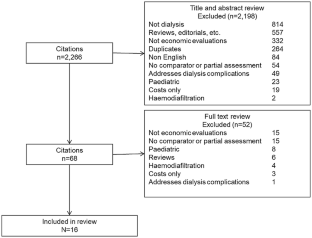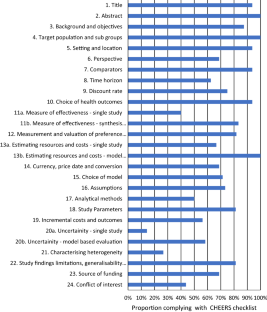 References
1.

Jha V, Garcia-Garcia G, Iseki K, Li Z, Naicker S, Plattner B, et al. Chronic kidney disease: global dimension and perspectives. Lancet. 2013;382(9888):260–72.

2.

Lozano R, Naghavi M, Foreman K, Lim S, Shibuya K, Aboyans V, et al. Global and regional mortality from 235 causes of death for 20 age groups in 1990 and 2010: a systematic analysis for the Global Burden of Disease Study 2010. Lancet. 2012;380(9859):2095–128.

3.

White SL, Chadban SJ, Jan S, Chapman JR, Cass A. How can we achieve global equity in provision of renal replacement therapy? Bull World Health Org. 2008;86(3):229–37.

4.

United States Renal Data System. 2015 annual data report: epidemiology of kidney disease in the United States. International comparisons. Bethesda (MD): United States Renal Data System; 2016.

5.

Liyanage T, Ninomiya T, Jha V, Neal B, Patrice HM, Okpechi I, et al. Worldwide access to treatment for end-stage kidney disease: a systematic review. Lancet. 2015;385(9981):1975–82.

6.

Li PK-T, Chow KM. Peritoneal dialysis-first policy made successful: perspectives and actions. Am J Kidney Dis. 2013;62(5):993–1005.

7.

Yu AW-Y, Chau K-F, Ho Y-W, Li PK-T. Development of the "peritoneal dialysis first" model in Hong Kong. Perit Dial Int. 2007;27(Suppl. 2):S53–5.

8.

Walker R, Marshall M, Morton RL, McFarlane P, Howard K. The cost effectiveness of contemporary home haemodialysis modalities compared to facility haemodialysis: a systematic review of full economic evaluations. Nephrology. 2014;19(8):459–70.

9.

Mowatt G, Vale L, MacLeod A. Systematic review of the effectiveness of home versus hospital or satellite unit hemodialysis for people with end-stage renal failure. Int J Technol Assess Health Care. 2004;20(3):258–68.

10.

Husereau D, Drummond M, Petrou S, Carswell C, Moher D, Greenberg D, et al. Consolidated Health Economic Evaluation Reporting Standards (CHEERS) statement. Value Health. 2013;16(2):e1–5.

11.

Afiatin, Khoe LC, Kristin E, Masytoh LS, Herlinawaty E, Werayingyong P, et al. Economic evaluation of policy options for dialysis in end-stage renal disease patients under the universal health coverage in Indonesia. PLoS One. 2017;12(5):e0177436.

12.

Beby AT, Cornelis T, Zinck R, Liu FX. Cost-effectiveness of high dose hemodialysis in comparison to conventional in-center hemodialysis in the Netherlands. Adv Ther. 2016;33(11):2032–48.

13.

Gonzalez-Perez JG, Vale L, Stearns SC, Wordsworth S. Hemodialysis for end-stage renal disease: a cost-effectiveness analysis of treatment-options. Int J Technol Assess Health Care. 2005;21(1):32–9.

14.

de Wit GA, Ramsteijn PG, de Charro FT. Economic evaluation of end stage renal disease treatment. Health Policy. 1998;44(3):215–32.

15.

Haller M, Gutjahr G, Kramar R, Harnoncourt F, Oberbauer R. Cost-effectiveness analysis of renal replacement therapy in Austria. Nephrol Dial Transpl. 2011;26(9):2988–95.

16.

Hooi LS, Lim TO, Goh A, Wong HS, Tan CC, Ahmad G, et al. Economic evaluation of centre haemodialysis and continuous ambulatory peritoneal dialysis in Ministry of Health hospitals, Malaysia. Nephrology. 2005;10(1):25–32.

17.

Howard K, Salkeld G, White S, McDonald S, Chadban S, Craig JC, et al. The cost-effectiveness of increasing kidney transplantation and home-based dialysis. Nephrology. 2009;14(1):123–32.

18.

Klarenbach S, Tonelli M, Pauly R, Walsh M, Culleton B, So H, et al. Economic evaluation of frequent home nocturnal hemodialysis based on a randomized controlled trial. J Am Soc Nephrol. 2014;25(3):587–94.

19.

Kontodimopoulos N, Niakas D. An estimate of lifelong costs and QALYs in renal replacement therapy based on patients' life expectancy. Health Policy. 2008;86(1):85–96.

20.

Kroeker A, Clark WF, Heidenheim AP, Kuenzig L, Leitch R, Meyette M, et al. An operating cost comparison between conventional and home quotidian hemodialysis. Am J Kidney Dis. 2003;42(1 Suppl.):49–55.

21.

Liu FX, Treharne C, Arici M, Crowe L, Culleton B. High-dose hemodialysis versus conventional in-center hemodialysis: a cost-utility analysis from a UK payer perspective. Value Health. 2015;18(1):17–24.

22.

European Renal Association (ERA) and European Dialysis and Transplant Association (EDTA). ERA-EDTA Registry annual report 2011. Available from: http://www.era-edta-reg.org/files/annualreports/pdf/AnnRep2011.pdf. Accessed Nov 2013.

23.

Liem YS, Bosch JL, Myriam Hunink M. Preference-based quality of life of patients on renal replacement therapy: a systematic review and meta-analysis. Value Health. 2008;11(4):733–41.

24.

Malmstrom RK, Roine RP, Heikkila A, Rasanen P, Sintonen H, Muroma-Karttunen R, et al. Cost analysis and health-related quality of life of home and self-care satellite haemodialysis. Nephrol Dial Transpl. 2008;23(6):1990–6.

25.

McFarlane PA, Bayoumi AM, Pierratos A, Redelmeier DA. The quality of life and cost utility of home nocturnal and conventional in-center hemodialysis. Kidney Int. 2003;64(3):1004–11.

26.

Pike E, Hamidi V, Ringerike T, Wisloff T, Klemp M. More use of peritoneal dialysis gives significant savings: a systematic review and health economic decision model. J Clin Med Res. 2017;9(2):104.

27.

Salonen T, Reina T, Oksa H, Rissanen P, Pasternack A. Alternative strategies to evaluate the cost-effectiveness of peritoneal dialysis and hemodialysis. Int Urol Nephrol. 2007;39(1):289–98.

28.

Treharne C, Liu FX, Arici M, Crowe L, Farooqui U. Peritoneal dialysis and in-centre haemodialysis: a cost-utility analysis from a UK payer perspective. Appl Health Econ Health Policy. 2014;12(4):409–20.

29.

Yang F, Lau T, Luo N. Cost-effectiveness of haemodialysis and peritoneal dialysis for patients with end-stage renal disease in Singapore. Nephrology. 2016;21(8):669–77.

30.

Wyld M, Morton RL, Hayen A, Howard K, Webster AC. A systematic review and meta-analysis of utility-based quality of life in chronic kidney disease treatments. PLoS Med. 2012;9(9):e1001307.

31.

Just PM, de Charro FT, Tschosik EA, Noe LL, Bhattacharyya SK, Riella MC. Reimbursement and economic factors influencing dialysis modality choice around the world. Nephrol Dial Transplant. 2008;23(7):2365–73.

32.

Souqiyyeh MZ, Al-Attar MBA, Zakaria H, Shaheen FA. Dialysis centers in the kingdom of Saudi Arabia. Saudi J Kidney Dis Transpl. 2001;12(3):293.

33.

Rizk R, Hiligsmann M, Karavetian M, Salameh P, Evers SM. A societal cost-of-illness study of hemodialysis in Lebanon. J Med Econ. 2016;19(12):1157–66.

34.

Liyanage T, Ninomiya T, Jha V, Neal B, Patrice HM, Okpechi I, et al. Worldwide access to treatment for end-stage kidney disease: a systematic review. Lancet. 2015;385(9981):16–22.

35.

van Amstel SP, Noordzij M, Warady BA, Cano F, Craig JC, Groothoff JW, et al. Renal replacement therapy for children throughout the world: the need for a global registry. Pediatr Nephrol. 2018;33(5):863–71.

36.

Culleton BF, Walsh M, Klarenbach SW, Mortis G, Scott-Douglas N, Quinn RR, et al. Effect of frequent nocturnal hemodialysis vs conventional hemodialysis on left ventricular mass and quality of life: a randomized controlled trial. JAMA. 2007;298(11):1291–9.

37.

Laupacis A, Keown P, Pus N, Krueger H, Ferguson B, Wong C, et al. A study of the quality of life and cost-utility of renal transplantation. Kidney Int. 1996;50(1):235–42.

38.

Sennfalt K, Magnusson M, Carlsson P. Comparison of hemodialysis and peritoneal dialysis: a cost-utility analysis. Perit Dial Int. 2002;22(1):39–47.
Ethics declarations
Funding
No funding was received for the preparation of this study. Martin Howell is funded by the Better Evidence and Translation in Chronic Kidney Disease (BEAT-CKD) National Health and Medical Research Council Program Grant (1092957).
Conflict of interest
Martin Howell, Rachael C. Walker and Kirsten Howard have no conflicts of interest that are directly relevant to the contents of this article.
Data availability
All data generated or analysed during this study are included in this published article (and its supplementary information files).
Electronic supplementary material
Below is the link to the electronic supplementary material.
About this article
Cite this article
Howell, M., Walker, R.C. & Howard, K. Cost Effectiveness of Dialysis Modalities: A Systematic Review of Economic Evaluations. Appl Health Econ Health Policy 17, 315–330 (2019). https://doi.org/10.1007/s40258-018-00455-2