Abstract
Background
Shared care in chronic disease management aims at improving service delivery and patient outcomes, and reducing healthcare costs. The introduction of shared-care models is coupled with mixed evidence in relation to both patient health status and cost of care. Professional interactions among health providers are critical to a successful and efficient shared-care model.
Objective
This article investigates whether the strength of formal professional relationships between general practitioners (GPs) and specialists (SPs) in shared care affects either the health status of patients or their pharmacy costs. In strong GP–SP relationships, the patient health status is expected to be high, due to efficient care coordination, and the pharmacy costs low, due to effective use of resources.
Methods
This article measures the strength of formal professional relationships between GPs and SPs through the number of shared patients and proxies the patient health status by the number of comorbidities diagnosed and treated. To test the hypotheses and compare the characteristics of the strongest GP–SP connections with those of the weakest, this article concentrates on diabetes—a chronic condition where patient care coordination is likely important. Diabetes generates the largest shared patient cohort in Hungary, with the highest frequency of specialist medication prescriptions.
Results
This article finds that stronger ties result in lower pharmacy costs, but not in higher patient health status.
Conclusion
Overall drug expenditure may be reduced by lowering patient care fragmentation through channelling a GP's patients to a small number of SPs.
Access options
Buy single article
Instant access to the full article PDF.
US$ 49.95
Tax calculation will be finalised during checkout.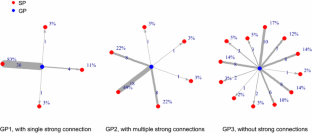 Notes
1.

The term general practitioner (GP) is synonymous with family doctor, family medical practitioner, generalist medical practitioner, and primary care doctor—GPs provide continuing and comprehensive medical care to individuals, families, and communities [4]. In contrast, the term specialist (SP) refers to a medical practitioner who focuses on certain disease categories, types of patients, or methods of treatment [4]. The term doctor describes any medical practitioner who holds a professional medical degree.

2.

3.

Drugs are classified into groups by the World Health Organization—through the Anatomical Therapeutic Chemical (ATC) Classification System. Groups reflect the organ or system on which drugs act and/or their therapeutic and chemical characteristics.

4.

International Statistical Classification of Diseases and Related Health Problems 10th Revision [22].

5.

ATC code for drugs used in diabetes.

6.

The third level of an ATC code includes the main anatomical group (first level, one letter), the main therapeutic group (second level, two digits), and the therapeutic/pharmacological subgroup (third level, one letter), but excludes the chemical/therapeutic/pharmacological subgroup (fourth level, one letter) and the chemical substance (fifth level, two digits) [43].

7.

Cardiovascular system drugs for treating angina, irregular heartbeats, heart attack, heart failure, and high blood pressure.

8.

Cardiovascular system drugs for treating angina, irregular heartbeats, and high blood pressure.

9.

Nervous system drugs for alleviating pain.

10.

Nervous system drugs with calming effects.

11.

Alimentary tract and metabolism drugs for acid-related disorders.
References
1.

Hickman M, Drummond N, Grimshaw J. A taxonomy of shared care for chronic disease. J Public Health Med. 1994;16(4):447–54.

2.

Keating NL, Zaslavsky AM, Ayanian JZ. Physicians' experiences and beliefs regarding informal consultation. JAMA. 1998;280(10):900–4.

3.

Barnett ML, Landon BE, O'Malley AJ, Keating NL, Christakis NA. Mapping physician networks with self-reported and administrative data. Health Serv Res. 2011;46(5):1592–609.

4.

WHO. Classifying health workers: mapping occupation to the international standard classification. In: Health workforce—data and statistics. WHO [Internet]. 2010. Available from: http://www.who.int/hrh/statistics/Health_workers_classification.pdf. Cited 4 Jul 2013.

5.

Hill RD. Shared care for diabetics. Update. 1978;16:1339–45.

6.

Worth RC, Nicholson A, Bradley P. Shared care for diabetes in Chester: Preliminary experience with a 'clinic-wide'scheme. Pract Diab Int. 1990;7(6):266–8.

7.

NHIFH. Tasks of the National Health Insurance Fund of Hungary. In The National Health Insurance Fund mission, core activities and powers. NHIFH [Internet]. 2014. Available from: http://www.oep.hu/felso_menu/rolunk/kozerdeku_adatok/tevekenysegre_mukodesre_vonatkozo_adatok/a_szerv_feladata_alaptevekenysege_es_hatarkore/en_a_szerv_alaptevekenyege_feladata_es_hatarkore. Cited 16 Feb 2015.

8.

WHO. Global status report on noncommunicable diseases 2010: description of the global burden of NCDs, their risk factors and determinants. In: Publications. WHO [Internet]. 2011. Available from: http://www.who.int/nmh/publications/ncd_report2010/en. Cited 15 May 2014.

9.

Pollack CE, Weissman GE, Lemke KW, Hussey PS, Weiner JP. Patient sharing among physicians and costs of care: a network analytic approach to care coordination using claims data. J Gen Intern Med. 2013;28(3):459–65.

10.

Wagner EH, Austin BT, Von Korff M. Organizing care for patients with chronic illness. Milbank Q. 1996;74(4):511–44.

11.

Pham HH, O'Malley AS, Bach PB, Saiontz-Martinez C, Schrag D. Primary care physicians' links to other physicians through Medicare patients: the scope of care coordination. Ann Intern Med. 2009;150(4):236–42.

12.

Barnett ML, Christakis NA, O'Malley AJ, Onnela JP, Keating NL, Landon BE. Physician patient-sharing networks and the cost and intensity of care in US hospitals. Med Care. 2012;50(2):152–60.

13.

Landon BE, Keating NL, Barnett ML, Onnela JP, Paul S, O'Malley AJ, Keegan T, Christakis NA. Variation in patient-sharing networks of physicians across the United States. JAMA. 2012;308(3):265–73.

14.

Greenhalgh PM. Shared care for diabetes. A systematic review. Occas Pap R Coll Gen Pract. 1994;(67):i–viii,1–35.

15.

Griffin S. Diabetes care in general practice: meta-analysis of randomised control trial. BMJ. 1998;317(7155):390–6.

16.

Craven MA, Bland R. Better practices in collaborative mental health care: an analysis of the evidence base. Can J Psychiatry. 2006;51(6 Suppl 1):7S–72S.

17.

Smith SM, Allwright S, O'Dowd T. Effectiveness of shared care across the interface between primary and specialty care in chronic disease management. Cochrane Database Syst Rev. 2007;(3):CD004910.

18.

Renders CM, Valk GD, Griffin SJ, Wagner EH, Assendelft WJ. Interventions to improve the management of diabetes in primary care, outpatient, and community settings a systematic review. Diabetes Care. 2001;24(10):1821–33.

19.

Lou B, De Civita M, Ehrmann Feldmann D, Bissonauth A, Bernatsky S. Care partnerships between family physicians and rheumatologists. J Rheumatol. 2011;38(9):1981–5.

20.

Wensing M, van der Eijk M, Koetsenruijter J, Bloem BR, Munneke M, Faber M. Connectedness of healthcare professionals involved in the treatment of patients with Parkinson's disease: a social networks study. Implement Sci. 2011;6:67.

21.

Lublóy Á, Váradi K. General practitioner–specialist relationships in shared care systems: insights from a review of the literature. Pannon Manag Rev. 2013;2(3):79–111.

22.

WHO. International statistical classification of diseases and related health problems 10th revision. In: Classifications. WHO [Internet]. 2015. Available from: http://apps.who.int/classifications/icd10/browse/2015/en. Cited 31 Jan 2015.

23.

Lemieux-Charles L, McGuire WL. What do we know about health care team effectiveness? A review of the literature. Med Care Res Rev. 2006;63(3):263–300.

24.

Bosch M, Fabe MJ, Cruijsberg J, Voerman GE, Leatherman S, Grol RPTM, Hulscher M, Wensing M. Review article: effectiveness of patient care teams and the role of clinical expertise and coordination: a literature review. Med Care Res Rev. 2009;66(6 Suppl):5S–35S.

25.

van Walraven C, Oake N, Jennings A, Forster AJ. The association between continuity of care and outcomes: a systematic and critical review. J Eval Clin Pract. 2010;16(5):947–56.

26.

WHO. Constitution. In basic documents. Geneva: WHO; 1948.

27.

Blackwood R. Measures of health status, quality of life and health care. HealthKnowledge [Internet]. 2009. Available from: http://www.healthknowledge.org.uk/public-health-textbook/research-methods/1c-health-care-evaluation-health-care-assessment/measures-health-status. Cited 1 Jun 2015.

28.

OECD Organization for Economic Co-operation and Development. OECD StatExtracts Health Status. OECD [Internet]. 2015. Available from: https://stats.oecd.org/index.aspx?DataSetCode=HEALTH_STAT. Cited 2 Jun 2015.

29.

WHO Statistical Information System (WHOSIS). Indicator definitions and metadata. WHO [Internet]. 2015. Available from: http://www.who.int/whosis/indicatordefinitions/en/. Cited 2 Jun 2015.

30.

Charlson ME, Pompei P, Ales KL, MacKenzie CR. A new method of classifying prognostic comorbidity in longitudinal studies: development and validation. J Chronic Dis. 1987;40(5):373–83.

31.

Lix LM, Quail J, Fadahunsi O, Teare GF. Predictive performance of comorbidity measures in administrative databases for diabetes cohorts. BMC Health Serv Res. 2013;13:340.

32.

Li B, Evans D, Faris P, Dean S, Quan H. Risk adjustment performance of Charlson and Elixhauser comorbidities in ICD-9 and ICD-10 administrative databases. BMC Health Serv Res. 2008;8(1):12.

33.

Sharabiani MTA, Aylin P, Bottle A. Systematic review of comorbidity indices for administrative data. Med Care. 2012;50(12):1109–18.

34.

Quail JM, Lix LM, Osman BA, Teare GF. Comparing comorbidity measures for predicting mortality and hospitalization in three population-based cohorts. BMC Health Serv Res. 2011;11(1):146.

35.

Quan H, Li B, Couris CM, Fushimi K, Graham P, Hider P, Januel JM, Sundararajan V. Updating and validating the Charlson comorbidity index and score for risk adjustment in hospital discharge abstracts using data from 6 countries. Am J Epidemiol. 2011;173(6):676–82.

36.

Huntley AL, Johnson R, Purdy S, Valderas JM, Salisbury C. Measures of multimorbidity and morbidity burden for use in primary care and community settings: a systematic review and guide. Ann Fam Med. 2012;10(2):134–41.

37.

de Groot V, Beckerman H, Lankhorst GJ, Bouter LM. How to measure comorbidity: a critical review of available methods. J Clin Epidemiol. 2003;56(3):221–9.

38.

Kieszak SM, Flanders WD, Kosinski AS, Shipp CC, Karp H. A comparison of the Charlson comorbidity index derived from medical record data and administrative billing data. J Clin Epidemiol. 1999;52:137–42.

39.

Rochon PA, Katz JN, Morrow LA, McGlinchey-Berroth R, Ahlquist MM, Sarkarati M, et al. Comorbid illness is associated with survival and length of hospital stay in patients with chronic disability. A prospective comparison of three comorbidity indices. Med Care. 1996;34(11):1093–101.

40.

Elixhauser A, Steiner C, Harris DR, Coffey RM. Comorbidity measures for use with administrative data. Med Care. 1998;36(1):8–27.

41.

Quan H, Sundararajan V, Halfon P, Fong A, Burnand B, Luthi JC, Saunders LD, Beck CA, Feasby TE, Ghali WA. Coding algorithms for defining comorbidities in ICD-9-CM and ICD-10 administrative data. Med Care. 2005;43(11):1130–9.

42.

D'Hoore W, Bouckaert A, Tilquin C. Practical considerations on the use of the Charlson comorbidity index with administrative data bases. J Clin Epidemiol. 1996;49(12):1429–33.

43.

WHO. Introduction to drug utilization research. In: Essential medicines and health products information portal: a World Health Organization resource. WHO [Internet]. 2003. Available from: http://apps.who.int/medicinedocs/pdf/s4876e/s4876e.pdf. Cited 9 Feb 2015.

44.

Bayliss EA, Ellis JL, Steiner JF. Subjective assessments of comorbidity correlate with of life health outcomes: initial validation of a comorbidity assessment instrument. Health Qual Life Outcomes. 2005;3:51.

45.

de Jonge P, Ormel J, van den Brink RH, van Melle JP, Spijkerman TA, Kuijper A, et al. Symptom dimensions of depression following myocardial infarction and their relationship with somatic health status and cardiovascular prognosis. Am J Psychiatry. 2006;163(1):138–44.

46.

van Manen JG, Korevaar JC, Dekker FW, Boeschoten EW, Bossuyt PM, Krediet RT. Adjustment for comorbidity in studies on health status in ESRD patients: which comorbidity index to use? J Am Soc Nephrol. 2003;14(2):478–85.

47.

Rebollo P, Ortega F, Baltar JM, Badia X, Alvarez-Ude F, Diaz-Corte C, et al. Health related quality of life (HRQOL) of kidney transplanted patients: variables that influence it. Clin Transplant. 2000;14(3):199–207.

48.

O'Connor PJ, Rush WA, Solberg LI, Whitebird RR, Crain AL, Davidson G, et al. Peer reviewed: variation in quality of diabetes care at the levels of patient, physician, and clinic. Prev Chronic Dis. 2008;5(1):A15.

49.

Meyers JL, Parasuraman S, Bell KF, Graham JP, Candrilli SD. The high-cost, type 2 diabetes mellitus patient: an analysis of managed care administrative data. Arch Public Health. 2014;72(1):6.
Acknowledgments
The authors are grateful to DoktorInfo Ltd, for waiving the subscription charge in the interest of scientific research; Petra Baji, Edina Berlinger, László Gulyás, and three anonymous reviewers, for valuable comments and suggestions on an earlier draft; participants at the 2014 Joint International Health Economics Association (iHEA) and European Conference on Health Economics (ECHE) Congress and participants at the 2014 Annual Meeting of the Decision Sciences Institute (DSI), for helpful discussions; Anamaria M. Cristescu-Martin, for editorial assistance; and AXA Research Fund (http://www.axa-research.org), for awarding Ágnes Lublóy the post-doctoral research grant that enabled this research.
Author contributions
Ágnes Lublóy conceived and designed the study, developed the methodology, analysed and interpreted the data, drafted the manuscript, revised it critically, and gave final approval. Judit Lilla Keresztúri designed the study, developed the methodology, analysed and interpreted the data, drafted the manuscript, revised it critically, and gave final approval. Gábor Benedek conceived and designed the study, acquired the data, supervised the data analysis, revised the manuscript critically, and gave final approval.
Ethics declarations
Ethical standards
The prescription data used in this article were collected by a reputable government-endorsed organisation in agreement with the relevant Hungarian and international legislation—they are available for market research by subscription. This article used the prescription data in an aggregate format, in no way detrimental to individual or collective patients and doctors—patients and doctors cannot be identified either individually or collectively on the basis of this article. The use of prescription data in this article was in accordance with the ethical standards laid down in the 1964 Declaration of Helsinki and its later amendments and as such was approved by the Ethics Committee of Corvinus University of Budapest.
Funding and conflicts of interest
DoktorInfo Ltd has played no role in study design; in the analysis and interpretation of data; in the writing of this article; or in the decision to submit it for publication. Ágnes Lublóy is the beneficiary of a post-doctoral grant from the AXA Research Fund. AXA Research Fund has played no role in the preparation of this manuscript. Gábor Benedek is a partner at Lynx Analytics and Thesys SEA Pte Ltd; neither company has been involved in study design; in the analysis and interpretation of data; in the writing of this article; or in the decision to submit it for publication. Judit Lilla Keresztúri has no conflicts of interest to disclose.
Electronic supplementary material
Below is the link to the electronic supplementary material.
About this article
Cite this article
Lublóy, Á., Keresztúri, J.L. & Benedek, G. Formal Professional Relationships Between General Practitioners and Specialists in Shared Care: Possible Associations with Patient Health and Pharmacy Costs. Appl Health Econ Health Policy 14, 217–227 (2016). https://doi.org/10.1007/s40258-015-0206-1
Keywords
General Practitioner

Charlson Comorbidity Index

Shared Care

Oral Antidiabetic Agent

Pharmacy Cost