Abstract
Background
In 2001, Thailand implemented a universal coverage program by expanding government-funded health coverage to uninsured citizens and limited their out-of-pocket payments to 30 Baht per encounter and, in 2006, eliminated out-of-pocket payments entirely. Prior research covering the early years of the program showed that the program effectively expanded coverage while a more recent paper of the early effects of the program found that improved access from the program led to a reduction in infant mortality.
Objective
We expand and update previous analyses of the effects of the 30 Baht program on access and out-of-pocket payments.
Data and Methods
We analyze national survey and governmental budgeting data through 2011 to examine trends in health care financing, coverage and access, including out-of-pocket payments.
Results
By 2011, only 1.64 % of the population remained uninsured in Thailand (down from 2.61 % in 2009). While government funding increased 75 % between 2005 and 2010, budgetary requests by health care providers exceeded approved amounts in many years. The 30 Baht program beneficiaries paid zero out-of-pocket payments for both outpatient and inpatient care. Inpatient and outpatient contact rates across all insurance categories fell slightly over time.
Conclusions
Overall, the statistical results suggest that the program is continuing to achieve its goals after 10 years of operation. Insurance coverage is now virtually universal, access has been more or less maintained, government funding has continued to grow, though at rates below requested levels and 30 Baht patients are still guaranteed access to care with limited or no out-of-pocket costs. Important issues going forward are the ability of the government to sustain continued funding increases while minimizing cost sharing.
Access options
Buy single article
Instant access to the full article PDF.
US$ 49.95
Tax calculation will be finalised during checkout.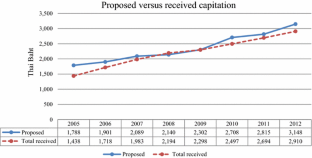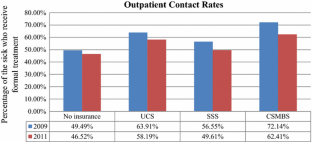 References
1.

James CD, Hanson K, McPake B, Balabanova D, Gwatkin D, Hopwood I, et al. To retain or remove user fees? Appl Health Econ Health Policy. 2006;5(3):137–53.

2.

Cheng L, Xuan Y, James B, Vasoontara Y, Min Y. Moving towards universal health insurance in China: performance, issues and lessons from Thailand. Soc Sci Med. 2011;73(3):359–66.

3.

Tangcharoensathien V, Patcharanarumol W, Ir P, Aljunid SM, Mukti AG, Akkhavong K, et al. Health-financing reforms in southeast Asia: challenges in achieving universal coverage. Lancet. 2011;377(9768):863–73.

4.

Lewis M. Informal payments and the financing of health care in developing and transition countries. Health Aff. 2007;26(4):984–97.

5.

Barber S, Bonnet F, Bekedam H. Formalizing under-the-table payments to control out-of-pocket hospital expenditures in Cambodia. Health Policy Plan. 2004;19(4):199–208.

6.

Killingsworth JR, Hossain N, Hedrick-Wong Y, Thomas SD, Rahman A, Begum T. Unofficial fees in Bangladesh: price, equity, and institutional issues. Health Policy Plan. 1999;14(2):152–63.

7.

Stepurko T, Pavlova M, Gryga I, Groot W. Empirical studies on informal patient payments for health care services: a systematic and critical review of research methods and instruments. BMC Health Serv Res. 2010;10:273.

8.

Chereches RM, Ungureanu MI, Sandu P, Rus IA. Defining informal payments in healthcare: a systematic review. Health Policy. 2013;110(2–3):105–14.

9.

Falkingham J, Akkazieva B, Baschieri A. Trends in out-of-pocket payments for health care in Kyrgyzstan, 2001–2007. Health Policy Plan. 2010;25(5):427–36.

10.

Baji P, Pavlova M, Gulacsi L, Zsofia HC, Groot W. Informal payments for healthcare services and short-term effects of the introduction of visit fee on these payments in Hungary. Int J Health Plan Manag. 2012;27(1):63–79.

11.

Rechel B, Ahmedov M, Akkazieva B, Katsaga A, Khodjamurodov G, Mckee M. Lessons from two decades of health reform in central Asia. Health Policy Plan. 2012;27(4):281–7.

12.

Damrongplasit K, Melnick GA. Early results from Thailand's 30 Baht health reform: something to smile about. Health Aff. 2009;28(3):w457–66.

13.

Limpiyakorn K, Unsook R. Civil servant medical benefit scheme. In: Soonthrontham S, editor. Thai health insurance. Bangkok: National Health Security Office; 2012. p. 122.

14.

Social Security Office, Thailand. Social Security Annual Report 2011. Bangkok: Social Security Office; 2011.

15.

Gruber J, Hendren N, Townsend R. The great equalizer: health care access and infant mortality in Thailand. Am Econ J Appl Econ. 2014;6(1):91–107.

16.

National Health Security Office, Thailand. Annual handbook for Universal health coverage. Bangkok: National Health Security Office; 2012. pp. 29–37.
Disclosure
No external funding was received for the conduct of this study and/or preparation of this manuscript. Both authors have no conflicts of interest to declare.
Author contributions
Kannika Damrongplasit was the main researcher of this study. Her responsibilities included obtaining the data, conducting empirical analysis, interpreting the results as well as writing up the manuscript. Professor Glenn Melnick helped with the study concept and design, as well as writing up the manuscript. Revision of the manuscript was done by both authors. Kannika Damrongplasit is the guarantor for the overall content of the manuscript.
About this article
Cite this article
Damrongplasit, K., Melnick, G. Funding, Coverage, and Access Under Thailand's Universal Health Insurance Program: An Update After Ten Years. Appl Health Econ Health Policy 13, 157–166 (2015). https://doi.org/10.1007/s40258-014-0148-z
Keywords
Inpatient Care

Health Insurance Coverage

Contact Rate

Universal Health Insurance Coverage

Informal Payment