Abstract
Background
Millions of peripheral intravenous catheters are used worldwide. The current guidelines recommend routine catheter replacement every 72–96 h. This practice requires increasing healthcare resource use. The clinically indicated catheter replacement strategy is proposed as an alternative.
Objectives
To assess the cost effectiveness of clinically indicated versus routine replacement of peripheral intravenous catheters.
Methods
A cost-effectiveness analysis from the perspective of Queensland Health, Australia, was conducted alongside a randomized controlled trial. Adult patients with an intravenous catheter of expected use for longer than 4 days were randomly assigned to receive either clinically indicated replacement or third-day routine replacement. The primary outcome was phlebitis during catheterization or within 48 h after catheter removal. Resource use data were prospectively collected and valued (2010 prices). The incremental net monetary benefit was calculated with uncertainty characterized using bootstrap simulations. Additionally, value of information (VOI) and value of implementation analyses were performed.
Results
The clinically indicated replacement strategy was associated with a cost saving per patient of AU$7.60 (95 % confidence interval [CI] 4.96–10.62) and a non-significant difference in the phlebitis rate of 0.41 % (95 % CI −1.33 to 2.15). The incremental net monetary benefit was AU$7.60 (95 % CI 4.96–10.62). The expected VOI was zero, whereas the expected value of perfect implementation of the clinically indicated replacement strategy was approximately AU$5 million over 5 years.
Conclusion
The clinically indicated catheter replacement strategy is cost saving compared with routine replacement. It is recommended that healthcare organizations consider changing to a policy whereby catheters are changed only if clinically indicated.
Access options
Buy single article
Instant access to the full article PDF.
US$ 49.95
Tax calculation will be finalised during checkout.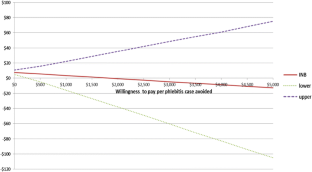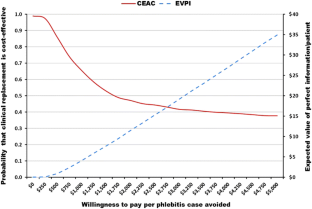 References
1.

Hadaway L. Short peripheral intravenous catheters and infections. J Infus Nurs. 2012;35(4):230–40.

2.

Gupta A, Mehta Y, Juneja R, Trehan N. The effect of cannula material on the incidence of peripheral venous thrombophlebitis. Anaesthesia. 2007;62(11):1139–42.

3.

Maki DG, Kluger DM, Crnich CJ. The risk of bloodstream infection in adults with different intravascular devices: a systematic review of 200 published prospective studies. Mayo Clin Proc Mayo Clin. 2006;81(9):1159–71.

4.

White SA. Peripheral intravenous therapy-related phlebitis rates in an adult population. J Intraven Nurs. 2001;24(1):19–24.

5.

O'Grady N, Alexander M, Burns L, Dellinger E. Guidelines for the prevention of intravascular catheter-related infections. 2011. http://www.cdc.gov/hicpac/BSI/BSI-guidelines-2011.html. Accessed May 2013.

6.

Webster J, Osborne S, Rickard CM, New K. Clinically-indicated replacement versus routine replacement of peripheral venous catheters. Cochrane Database Syst Rev (Online). 2013;4:CD007798.

7.

Rickard CM, Webster J, Wallis MC, Marsh N, McGrail MR, French V, et al. Routine versus clinically indicated replacement of peripheral intravenous catheters: a randomised controlled equivalence trial. Lancet. 2012;380(9847):1066–74.

8.

Rickard CM, McCann D, Munnings J, McGrail MR. Routine resite of peripheral intravenous devices every 3 days did not reduce complications compared with clinically indicated resite: a randomised controlled trial. BMC Med. 2010;8:53.

9.

Van Donk P, Rickard CM, McGrail MR, Doolan G. Routine replacement versus clinical monitoring of peripheral intravenous catheters in a regional hospital in the home program: a randomized controlled trial. Infect Control hosp Epidemiol. 2009;30(9):915–7.

10.

Webster J, Clarke S, Paterson D, Hutton A, van Dyk S, Gale C, et al. Routine care of peripheral intravenous catheters versus clinically indicated replacement: randomised controlled trial. BMJ (Clinical Research Ed.). 2008;337:a339.

11.

Stinnett AA, Mullahy J. Net health benefits: a new framework for the analysis of uncertainty in cost-effectiveness analysis. Med Decis Mak. 1998;18(2):S68–80.

12.

Briggs AH, O'Brien BJ, Blackhouse G. Thinking outside the box: recent advances in the analysis and presentation of uncertainty in cost-effectiveness studies. Annu Rev Public Health. 2002;23(1):377–401.

13.

Fenwick E, O'Brien BJ, Briggs A. Cost-effectiveness acceptability curves—facts, fallacies and frequently asked questions. Health Econ. 2004;13(5):405–15.

14.

Claxton K. Exploring uncertainty in cost-effectiveness analysis. Pharmacoeconomics. 2008;26(9):781–98.

15.

Australian hospital statistics 2011–12. Australian Institute of Health and Welfare. 2013. http://www.aihw.gov.au/publication-detail/?id=60129543133. Accessed December 2013.

16.

Claxton K, Posnett J. An economic approach to clinical trial design and research priority-setting. Health Econ. 1996;5(6):513–24.

17.

Eckermann S, Karnon J, Willan AR. The value of value of information best informing research design and prioritization using current methods. Pharmacoeconomics. 2010;28(9):699–709.

18.

Fenwick E, Claxton K, Sculpher M. The value of implementation and the value of information: combined and uneven development. Med Decis Mak. 2008;28(1):21–32.

19.

Koerkamp BG, Spronk S, Stijnen T, Hunink MGM. Value of information analyses of economic randomized controlled trials: the treatment of intermittent claudication. Value Health. 2010;13(2):242–50.

20.

Eckermann S, Willan AR. Expected value of information and decision making in HTA. Health Econ. 2007;16(2):195–209.

21.

Ades AE, Lu G, Claxton K. Expected value of sample information calculations in medical decision modeling. Med Decis Mak. 2004;24(2):207–27.

22.

Dakin H, Wordsworth S. Cost-minimisation analysis versus cost-effectiveness analysis, revisited. Health Econ. 2013;22(1):22–34 Epub 2011/11/24.

23.

Fast facts on US hospitals. American Hospital Association. 2011. http://www.aha.org/research/rc/stat-studies/fast-facts.shtml. Accessed May 2013.
Acknowledgements
The Australian Centre for Health Services Innovation funded this study through its competitive stimulus grants scheme.
H.T. is supported by an NHMRC PhD scholarship through the NHMRC Centre for Research Excellence in Nursing Interventions for Hospital Patients.
Conflict of Interest/Disclosure
The authors declare no conflict of interest.
Author Contributions
All authors made substantial contributions to the writing and the final review of the manuscript. H.T., L.G. and P.S. performed the economic analysis. C.R., N.M., J.W. and M.W. contributed to the acquisition and analysis of the clinical data. H.T. is the guarantor for the overall content.
About this article
Cite this article
Tuffaha, H.W., Rickard, C.M., Webster, J. et al. Cost-Effectiveness Analysis of Clinically Indicated Versus Routine Replacement of Peripheral Intravenous Catheters. Appl Health Econ Health Policy 12, 51–58 (2014). https://doi.org/10.1007/s40258-013-0077-2
Keywords
Phlebitis

Intravenous Catheter

Catheter Replacement

Queensland Health

Peripheral Venous Catheter