Abstract
Background
Universal access to health care in most western European countries has been a given for many decades; however, macroeconomic developments and increased pressure on health care budgets could mean the status quo cannot be maintained. As populations age, a declining proportion of economically active citizens are being required to support a larger burden of health and social care, while increasing availability of novel technologies for extending and improving life continues to push health care costs upwards. With health expenditure continuing to rise as a proportion of national income, concerns are raised about the current and future financial sustainability of Organisation for Economic Co-Operation and Development (OECD) health care systems. Against this backdrop, a discussion about options to fund health care in the future, including whether to raise additional health care finance (and the ways to do so), reallocate resources and/or ration services becomes very pertinent.
Objective
This study elicits preferences among a group of key stakeholders (payers, providers, government, academia and health-related industry) on the issue of health care financial sustainability and the future funding of health care services, with a view to understanding the different degrees of acceptability between policy interventions and future funding options as well as their feasibility.
Study Design and Participants
We invited 842 individuals from academia, other research organisations (eg. think tanks), national health services, providers, health insurance organisations, government representatives and health-related industry and related advisory stakeholders to participate in an online survey collecting preferences on a variety of revenue-generating mechanisms and cost/demand reducing policies. Respondents represented the 28 EU member states as well as Norway, Iceland, Switzerland, Australia, Russian Federation, Canada and New Zealand.
Results
We received 494 responses to our survey from all stakeholder groups. Across all groups, the highest preference was for policies to modify lifestyle and implement more extensive screening within risk groups for high burden illnesses. There was a broad consensus not to reallocate resources from social security/education. Between stakeholders, there were differences of opinion between industry/advisory and a range of other groups, with industry being generally more in favour of market-based interventions and an increased role for the private sector in health care financing/delivery. Conversely, stakeholders from academia, government, national health services and insurance were relatively more in favour of more restrictive purchasing of new and expensive technologies, and (to varying extent) of higher income/corporate taxes. Taxes on cigarettes/alcohol were by far considered the most politically feasible option.
Conclusions
According to this study, policy options that are broadly acceptable across stakeholder groups with different inherent interests exist but are limited to lifestyle modification, screening interventions and excise taxes on harmful products. Representatives from the private sector tend to view solutions rooted in the private sector as both effective and politically feasible options, while stakeholders from academia and the public sector seem to place more emphasis on solutions that do not disproportionately impact certain population groups.
This is a preview of subscription content, log in to check access.
Access options
Buy single article
Instant access to the full article PDF.
US$ 49.95
Tax calculation will be finalised during checkout.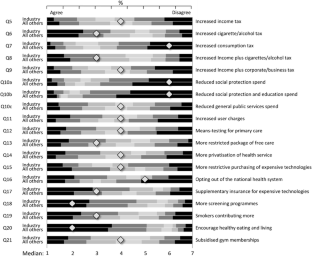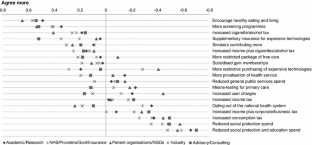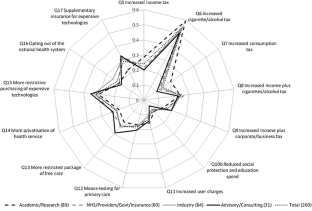 Notes
1.

Opinion polls carried out before accession of Croatia in 2013, where EU consisted of 27 member states.

2.

For example, three respondents answering 1, 3 and 7 to a question, respectively, would result in that question having a summary score of 1*1 + 1*(1/3) + 1*(−1) = 1/3.
References
1.

Olshansky SJ, Rudberg MA, Carnes BA, Cassel CK, Brody JA. Trading off longer life for worsening health: the expansion of morbidity hypothesis. J Aging Health. 1991;3(2):194–216.

2.

Fries JF. Aging, natural death, and the compression of morbidity. N Engl J Med. 1980;303(3):130–5.

3.

Lafortune G, Balestat G. Trends in severe disability among elderly people: assessing the evidence in 12 OECD countries and the future implications: OECD Publishing. 2007 Mar.

4.

Meier V, Werding M. Ageing and the welfare state: securing sustainability. Oxford Rev Econ Policy. 2010;26(4):655–73.

5.

Weisbrod B. The health care quadrilemma: an essay on technological change, insurance, quality of care, and cost containment. J Econ Lit. 1991;29(2):523–52.

6.

Hartwig J. What drives health care expenditure? Baumol's model of 'unbalanced growth' revisited. J Health Econ. 2008;27(3):603–23.

7.

Abel-Smith B. An international study of health expenditure and its relevance for health planning. Public Health Papers. 1967;32:1–127.

8.

Gerdtham U-G, Søgaard J, Andersson F, Jönsson B. An econometric analysis of health care expenditure: a cross-section study of the OECD countries. J Health Econ. 1992;11(1):63–84.

9.

Parkin D, McGuire A, Yule B. Aggregate health care expenditures and national income: is health care a luxury good? J Health Econ. 1987;6(2):109–27.

10.

Baltagi BH, Moscone F. Health care expenditure and income in the OECD reconsidered: evidence from panel data. Econ Model. 2010;27(4):804–11.

11.

Appleby J. Rises in healthcare spending: where will it end? BMJ. 2012;345:e7127.

12.

EC. Flash Eurobarometer 356. Public opinion in EU regions. European Commission; 2012 [cited 18 December 2012]; Available from: http://ec.europa.eu/public_opinion/flash/fl_356_present.pdf.

13.

Angelis A, Tordrup D, Kanavos P. Is the funding of socialised medical insurance sustainable over the long term? An analysis of 10 OECD countries. J Soc Policy. 2013; Submitted for consideration.

14.

Mann H, Whitney D. On a test of whether one of two random variables is stochastically larger than the other. Ann Math Stat. 1947;18(1):50–60.

15.

Yach D. HCGCHKJ. The global burden of chronic diseases: overcoming impediments to prevention and control. JAMA. 2004;291(21):2616–22.

16.

Dixon J. Social determinants of health. Health Promot Int. 2000;15(1):87–9.

17.

Steinbrook R. Saying no isn't NICE : the travails of Britain's National Institute for Health and Clinical Excellence. N Engl J Med. 2008;359(19):1977–81.

18.

Thomson S, Mossialos E. Choice of public or private health insurance: learning from the experience of Germany and the Netherlands. J Eur Soc Policy. 2006;16(4):315–27.

19.

Creese AL. User charges for health care: a review of recent experience. Health Policy Plann. 1991;6(4):309–19.

20.

OECD. OECD.StatExtracts. Organisation for Economic Co-Operation and Development; 2012 [cited 2012 November]. Available from: http://stats.oecd.org/.

21.

IMF. World economic outlook October 2012. International Monetary Fund; 2012 [cited 2012 November]. Available from: http://www.imf.org/external/pubs/ft/weo/2012/02/weodata/index.aspx.

22.

World Bank Data. World Bank; 2012 [cited 2012 November]. Available from: http://data.worldbank.org/.
Acknowledgements
We are grateful to the anonymous reviewers and editors for their valuable comments and insights. We also thank the participants of the "Recent trends and future challenges in the EU pharmaceutical P&R policies" session chaired by Anastasia Ventouri at the European Health Economics Conference, Zurich, July 2013, for useful feedback and comments.
Authors contributions
Panos Kanavos conceptualised and initiated the study. David Tordrup, Aris Angelis and Panos Kanavos designed the questionnaire. David Tordrup administered the questionnaire and analysed the data. David Tordrup created illustrations and wrote the paper, with input from Panos Kanavos. Panos Kanavos is the guarantor for the overall content.
Sources of funding and conflicts of interest
There are no sources of funding for this project. All authors declare that there are no conflicts of interest.
About this article
Cite this article
Tordrup, D., Angelis, A. & Kanavos, P. Preferences on Policy Options for Ensuring the Financial Sustainability of Health Care Services in the Future: Results of a Stakeholder Survey. Appl Health Econ Health Policy 11, 639–652 (2013). https://doi.org/10.1007/s40258-013-0056-7
Keywords
Gross Domestic Product

National Health Service

Stakeholder Group

Policy Option

User Charge